Abstract
In this study, we assess image analysis techniques as automatic identifiers of three Anastrepha species of quarantine importance, Anastrepha fraterculus (Wiedemann), Anastrepha obliqua (Macquart), and Anastrepha sororcula Zucchi, based on wing and aculeus images. The right wing and aculeus of 100 individuals of each species were mounted on microscope slides, and images were captured with a stereomicroscope and light microscope. For wing image analysis, we used the color descriptor Local Color Histogram; for aculei, we used the contour descriptor Edge Orientation Autocorrelogram. A Support Vector Machine classifier was used in the final stage of wing and aculeus classification. Very accurate species identifications were obtained based on wing and aculeus images, with average accuracies of 94 and 95%, respectively. These results are comparable to previous identification results based on morphometric techniques and to the results achieved by experienced entomologists. Wing and aculeus images produced equally accurate classifications, greatly facilitating the identification of these species. The proposed technique is therefore a promising option for separating these three closely related species in the fraterculus group.
Access options
Buy single article
Instant access to the full article PDF.
US$ 39.95
Tax calculation will be finalised during checkout.
Subscribe to journal
Immediate online access to all issues from 2019. Subscription will auto renew annually.
US$ 79
Tax calculation will be finalised during checkout.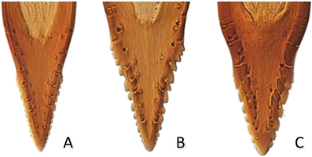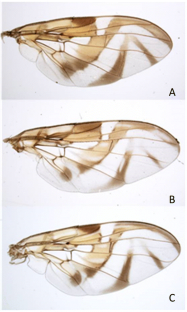 References
Araujo EL, Nascimento FM, Zucchi RA (1998) Utilização de análise discriminante em estudos taxonômicos de moscas-das-frutas do gênero Anastrepha Schiner, 1868 (Diptera, Tephritidae). Sci Agric 55:105–110

Arbuckle T, Schrder S, Steinhage V, Wittmann D (2001) Biodiversity informatics in action: identification and monitoring of bee species using ABIS. International Symposium for Environmental Protection 425–430

Arribas JI, Sánchez-Ferrero GV, Ruiz-Ruiz G, Gómez-Gil J (2011) Leaf classification in sunflower crops by computer vision and neural networks. Comput Electron Agric 78:9–18

Baylac M, Villemant C, Simbolotti G (2003) Combining geometric morphometrics with pattern recognition for the investigation of species complexes. Biol J Linn Soc 80:89–98

Bomfim ZV, Lima KM, Silva JG, Zucchi RA (2011) A morphometric and molecular study of Anastrepha pickeli Lima (Diptera: Tephritidae). Neotrop Entomol 40:587–594

Bortolus A. (2008) Error cascades in the biological science: the unwanted consequences of using bad taxanomy in ecology. AmBio 37:114–118

Breisman L (1996) Bagging predictors. Mach Learn 24:123–140

Faria FA, Perre P, Zucchi RA, Jorge LR, Lewinsohn TM, Rocha A, Torres RS (2014) Automatic identification of fruit flies (Diptera: Tephritidae). J Vis Commun Image Represent 25:1516–1527

Gaston KJ, O'Neil MAL (2004) Automated species identification: why not? Philos Trans R Soc B 359:655–667

Godfray HCJ (2002) Challenge for taxonomy: the discipline will have to reinvent itself if it is to survive and flourish. Nature 417:17–19

Hall M, Frank E, Holmes G, Pfahringer B, Reutemann P, Witten IH (2009) The WEKA data mining software: an update. SIGKDD Explor 11:10–18

Hebert PDN, Gregory TR (2005) The promise of DNA barcoding for taxonomy. Syst Biol 54:852–859

Hebert PDN, Cywinska AS, Gall L, De Waard JR (2003) Biological identification through DNA Barcodes. Proc R Soc Lond B 270:313–332

Hortal J, De Bello F, Diniz-Filho JAF, Lewinsohn TM, Lobo JM, Ladle RJ (2015) Seven shortfalls that beset large-scale knowledge of biodiversity. Annu Rev Ecol Evol Syst 46:523–549

LaSalle J, Wheeler Q, Jackway P, Winterton S, Hobern D, Lovell D (2009) Accelerating taxonomic discovery through automated extraction. Zootaxa 2217:43–55

Lopes GN, Arias OR, Cônsoli FL, Zucchi RA (2013) The identity of specimens of the Anastrepha fraterculus complex (Diptera, Tephritidae) with atypical aculeus tip. Neotrop Entomol 42:618–627

MacLeod N, Genfield M, Culverhouse P (2010) Time to automate identification. Nature 467:154–155

Mahmoudi F, Shanbehzadeh J, Eftekhari-Moghadam A, Soltanian-Zadeh H (2003) Image retrieval based on shape similarity by edge orientation autocorrelogram. Pattern Recognit 36:1725–1736

Otsu N (1979) A threshold selection method from gray-level histograms, systems. IEEE Trans Man Cybernet 9:62–66

Perre P, Jorge LR, Lewinsohn TM, Zucchi RA (2014) Morphometric differentiation of fruit fly pest species of the Anastrepha fraterculus group (Diptera: Tephritidae). Ann Entomol Soc Am 107:490–495

Russell K, Do M, Huv J, Platnick N (2007) Introducing SPIDA-web: wavelets, neural networks and Internet accessibility in an image-based automated identification system. Syst Assoc 74:131–152

Santana FS, Costa AHR, Truzzi FS, Silva FL, Santos SL, Francoy TM, Saraiva AM (2014) A reference process for automating bee species identification based on wing images and digital image processing. Ecol Inform 24:248–260

Silva OLR (2000) Controle do trânsito de hospedeiros de moscas-das-frutas. In: Malavasi A, Zucchi RA (eds) Moscas-das-frutas de importância econômica no Brasil: conhecimento básico e aplicado. Holos Editora, Ribeirão Preto, pp 29–40

Smith-Caldas MRB, McPheron BA, Silva JG, Zucchi RA (2001) Phylogenetic relationship among species of the fraterculus group (Anastrepha: Diptera: Tephritidae) inferred from DNA sequences of mitochondrial cytochrome oxidase I. Neotrop Entomol 30:565–573

Swain M, Ballard D (1991) Color indexing. Int J Comput Vis 1:11–32

Watson AT, O'Neill MA, Kitching IJ (2003) A qualitative study investigating automated identification of living macrolepidoptera using the Digital Automated Identification SYstem (DAISY). Syst Biodivers 1:287–300

Weeks PJD, Gaston KJ (1997) Image analysis, neural networks, and the taxonomic impediment to biodiversity studies. Biodivers Conserv 6:263–274

Weeks PJD, O'Neill MA, Gaston KJ, Gauld ID (1999) Automating insect identification: exploring the limitation of a prototype system. J Appl Entomol 123:1–8

Wheeler QD, Raven PH, Willson EO (2004) Taxonomy: impediment or expedient? Science 303:285

Zucchi RA (2000) Taxonomia. In: Malavasi A, Zucchi RA (eds) Moscas-das-frutas de importância econômica no Brasil: conhecimento básico e aplicado. Holos Editora, Ribeirão Preto, pp 13–24
Acknowledgments
PP was supported by a graduate scholarship from the Coordenação de Aperfeiçoamento de Pessoal de Nível Superior (CAPES). LRJ was supported by graduate and post-doctoral grants by Fapesp (grants 09/54806-0 and 14/16082-9). RAZ, RST, and AR are research fellows of the National Council for Scientific Research (CNPq). This study is part of the dissertation presented by PP to obtain a M.Sc. in Entomology at ESALQ/University of São Paulo.
Additional information
Edited by Ranyse B Querino – Embrapa
About this article
Cite this article
Perre, P., Faria, F.A., Jorge, L.R. et al. Toward an Automated Identification of Anastrepha Fruit Flies in the fraterculus group (Diptera, Tephritidae). Neotrop Entomol 45, 554–558 (2016). https://doi.org/10.1007/s13744-016-0403-0
Received:

Accepted:

Published:

Issue Date:
Keywords
Identification

image analysis

machine learning

taxonomy