Abstract
Camponotus textor Forel is, to date, the only weaver ant recorded from Brazil, and all existing studies on the species are restricted to describing its weaving and nesting behaviors. The aim of this work is to establish the molecular profile of the species. We sampled eight different colonies by sequencing mitochondrial genes (COI, transfer DNA (tRNA), and an intergenic spacer) and the nuclear gene 28S ribosomal DNA (rDNA). We then assessed haplotype diversity and also analyzed distribution patterns of this species based on the correlation between genetic and geographic distances. Our results provide an additional tool for species identification by identifying new regions that can be used as molecular markers for barcoding (such as the intergenic spacer (IGS) and tRNA-Leu). In addition, the phylogenetic analysis revealed that C. textor has features that could be associated with deep population divergences. We identified a wide range of mitotypes and three distinct groups, suggesting a possible reduction of gene flow between colonies.
Access options
Buy single article
Instant access to the full article PDF.
USD 39.95
Price excludes VAT (USA)
Tax calculation will be finalised during checkout.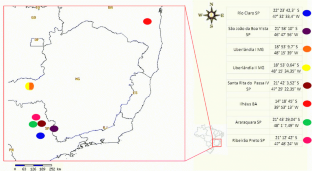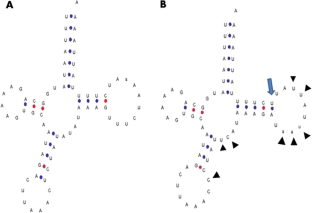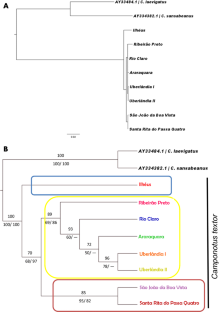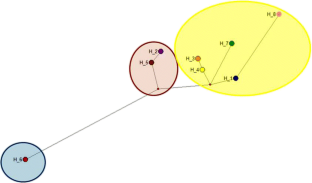 References
Ahrens ME, Ross KG, Shoemaker DD (2005) Phylogeographic structure of the fire ant Solenopsis invicta in its native South American range: roles of natural barriers and habitat connectivity. Evolution 59(8):1733–1743

Akre RD, Hansen LD (1990) Management of carpenter ants. Applied myrmecology, a world perspective. Westview Press, Boulder, pp 693–700

Bandelt HJ, Forster P, Röhl A (1999) Median-joining networks for inferring intraspecific phylogenies. Mol Biol Evol 16(1):37–48

Belshaw R, Quicke DL (1997) A molecular phylogeny of the Aphidiinae (Hymenoptera: Braconidae). Mol Phylogenet Evol 7(3):281–293

Bivand R, Keitt T, Rowlingson B (2013) rgdal: bindings for the geospatial data abstraction library. R package version 0.8-11. http://CRAN.Rproject.org/package=rgdal

Bolton B (2014) An online catalog of the ants of the world. Available from http://antcat.org. Accessed Aug 2015

Bulgin NL, Gibbs HL, Vickery P, Baker AJ (2003) Ancestral polymorphisms in genetic markers obscure detection of evolutionarily distinct populations in the endangered Florida grasshopper sparrow (Ammodramus savannarum floridanus). Mol Ecol 12(4):831–844

Chiotis M, Jermiin LS, Crozier RH (2000) A molecular framework for the phylogeny of the ant subfamily Dolichoderinae. Mol Phylogenet Evol 17(1):108–116

Clary DO, Wolstenholme DR (1985) The mitochondrial DNA molecule of Drosophila yakuba: nucleotide sequence, gene organization, and genetic code. J Mol Evol 22(3):252–271

Cox AJ, Hebert PD (2001) Colonization, extinction, and phylogeographic patterning in a freshwater crustacean. Mol Ecol 10(2):371–386

Crozier RH, Crozier YC (1993) The mitochondrial genome of the honeybee Apis mellifera: complete sequence and genome organization. Genetics 133(1):97–117

Degnan PH, Lazarus AB, Brock CD, Wernegreen JJ (2004) Host–symbiont stability and fast evolutionary rates in an ant–bacterium association: Cospeciation of Camponotus species and their endosymbionts, Candidatus Blochmannia. Syst Biol 53(1):95–110

DeHeer CJ, Goodisman MA, Ross KG (1999) Queen dispersal strategies in the multiple‐queen form of the fire ant Solenopsis invicta. Am Nat 153(6):660–675

Del-Claro K (2004) Multitrophic relationships, conditional mutualisms, and the study of interaction biodiversity in tropical savannas. Neotrop Entomol 33(6):665–672

Del-Claro K, Berto V, Réu W (1996) Effect of herbivore deterrence by ants on the fruit set of an extrafloral nectary plant, Qualea multiflora (Vochysiaceae). J Trop Ecol 12(06):887–892

Feldhaar H, Straka J, Krischke M, Berthold K, Stoll S, MuellerMJ, Gross R (2007) Nutritional upgrading for omnivorous carpenter ants by the endosymbiont Blochmannia. BMC Biol 5(1):48

Franck P, Garnery L, Solignac M Cornuet JM (1998) The origin of west European subspecies of honeybees (Apis mellifera): new insights from microsatellite and mitochondrial data. Evolution:1119–1134

Friedrich M, Tautz D (1997) An episodic change of rDNA nucleotide substitution rate has occurred during the emergence of the insect order Diptera. Mol Biol Evol 14(6):644–653

Fujita MK, Leaché AD, Burbrink FT, McGuire JA, Moritz C (2012) Coalescent-based species delimitation in an integrative taxonomy. Trends Ecol Evol 27(9):480–488

Guindon S, Gascuel O (2003) A simple, fast, and accurate algorithm to estimate large phylogenies by maximum likelihood. Syst Biol 52(5):696–704

Hall TA (1999) BioEdit: a user-friendly biological sequence alignment editor and analysis program for Windows 95/98/NT. In Nucleic acids symposium series 41:95–98

Hebert PD, Cywinska A, Ball SL (2003) Biological identifications through DNA barcodes. P Roy Soc Lond B Bio 270(1512):313–321

Higgins DG, Bleasby AJ, Fuchs R (1992) CLUSTAL V: improved software for multiple sequence alignment. Comput Appl Biosci 8(2):189–191

Higgs PG, Jameson D, Jow H, Rattray M (2003) The evolution of tRNA-Leu genes in animal mitochondrial genomes. J Mol Evol 57(4):435–445

Hölldobler B, Wilson EO (1977) Weaver ants. Sci Am 237(6):146–154

Hölldobler B, Wilson EO (1990) The ants. Springer–Verlag, Berlin

Huelsenbeck JP, Ronquist F (2001) MRBAYES: Bayesian inference of phylogenetic trees. Bioinformatics 17(8):754–755

Ishikawa H (1989) Biochemical and molecular aspects of endosymbiosis in insects. Int Rev Cytol 116:1–45

Kimura M (1980) A simple method for estimating evolutionary rates of base substitutions through comparative studies of nucleotide sequences. J Mol Evol 16(2):111–120

Koulianos S, Crozier RH (1999) Current intraspecific dynamics of sequence evolution differs from long-term trends and can account for the AT-richness of honeybee mitochondrial DNA. J Mol Evol 49(1):44–48

Kronauer DJC, Hölldobler B, Gadau J (2004) Phylogenetics of the new world honey ants (genus Myrmecocystus) estimated from mitochondrial DNA sequences. Mol Phylogenet Evol 32(1):416–421

Longino JT (2006) New species and nomenclatural changes for the Costa Rican ant fauna (Hymenoptera: Formicidae). Myrmecol Nachr 8:131–143

Lowe TM, Eddy SR (1997) tRNAscan-SE: a program for improved detection of transfer RNA genes in genomic sequence. Nucleic Acids Res 25(5):0955–964

Markin GP, Dillier JH, Hill SO, Blum MS, Hermann HR (1971) Nuptial flight and flight ranges of the imported fire ant Solenopsis saevissima richteri (Hymenoptera: Formicidae). J Georgia Entomol So 6:145–156

Martins J, Solomon SE, Mikheyev AS, Mueller UG, Ortiz A, Bacci M (2007) Nuclear mitochondrial‐like sequences in ants: evidence from Atta cephalotes (Formicidae: Attini). Insect Mol Biol 16(6):777–784

Mayr G (1861) Die europäischen Formiciden. Nach der analytischen Methode bearbeitet. Wien: C. Gerolds Sohn, 80 pp

Moritz C (1994) Applications of mitochondrial DNA analysis in conservation: a critical review. Mol Ecol 3(4):401–411

Oksanen J, Blanchet FG, Kindt R, Legendre P, Minchin PR, O'Hara RB, Simpson GL, Solymos P, Stevens MHH, Wagner H (2015) vegan: Community Ecology Package. R package version 2.3-0. http://CRAN.R-project.org/package=vegan

Posada D, Crandall KA (1998) Modeltest: testing the model of DNA substitution. Bioinformatics 14(9):817–818

Ratnasingham S, Hebert PD (2007) BOLD: the barcode of life data system (http://www.barcodinglife. org). Mol Ecol Notes 7(3):355–364

R Core Team (2013) R: a language and environment for statistical computing. R Foundation for Statistical Computing, Vienna, 2012. ISBN 3-900051-07-0

Ross KG, Shoemaker DD (2005) Species delimitation in native South American fire ants. Mol Ecol 14(11):3419–3438

Ross KG, Krieger MJ, Keller L, Shoemaker DD (2007) Genetic variation and structure in native populations of the fire ant Solenopsis invicta: evolutionary and demographic implications. Biol J Linn Soc 92(3):541–560

Santos JC, Del-Claro K (2009) Ecology and behaviour of the weaver ant Camponotus (Myrmobrachys) senex. J Nat Hist 43(23–24):1423–1435

Saux C, Fisher BL, Spicer GS (2004) Dracula ant phylogeny as inferred by nuclear 28S rDNA sequences and implications for ant systematics (Hymenoptera: Formicidae: Amblyoponinae). Mol Phylogenet Evol 33(2):457–468

Schremmer F (1979) Die Nahezu unbekannte neotropische weberameise Camponotus (Myrmobrachys) senex (Hymenoptera: Formicidae). Entomol Gen 5:363–378

Shoemaker DD, Ahrens M, Sheill L, Mescher M, Keller L, Ross KG (2003) Distribution and prevalence of Wolbachia infections in native populations of the fire ant Solenopsis invicta (Hymenoptera: Formicidae). Environ Entomol 32(6):1329–1336

Simon C, Frati F, Beckenbach A, Crespi B, Liu H, Flook P (1994) Evolution, weighting, and phylogenetic utility of mitochondrial gene sequences and a compilation of conserved polymerase chain reaction primers. Ann Entomol Soc Am 87(6):651–701

Sites JW, Crandall KA (1997) Testing species boundaries in biodiversity studies. Conserv Biol 11(6):1289–1297

Smith MA, Fisher BL, Hebert PD (2005) DNA barcoding for effective biodiversity assessment of a hyperdiverse arthropod group: the ants of Madagascar. Philos T Roy Soc B 360(1462):1825–1834

Strehl CP, Gadau J (2004) Cladistic analysis of paleo-island populations of the Florida harvester ant (Hymenoptera: Formicidae) based upon divergence of mitochondrial DNA sequences. Fla Entomol 87(4):576–581

Swofford DL (1996) PAUP*. Phylogenetic analysis using parsimony. Version 4

Ward PS, Downie DA (2005) The ant subfamily Pseudomyrmecinae (Hymenoptera: Formicidae): phylogeny and evolution of big‐eyed arboreal ants. Syst Entomol 30(2):310–335

Wares JP, Cunningham CW (2001) Phylogeography and historical ecology of the North Atlantic intertidal. Evolution 55(12):2455–2469

Wetterer JK, Schultz TR, Meier R (1998) Phylogeny of fungus-growing ants (Tribe Attini) based on mtDNA sequence and morphology. Mol Phylogenet Evol 9(1):42–47

Wilson EO (1987) Causes of ecological success: the case of the ants. J ANIM Ecol 1–9

Xia X, Xie Z (2001) DAMBE: software package for data analysis in molecular biology and evolution. J Hered 92(4):371–373
Acknowledgments
We thank all our colleagues for their assistance: Dr. Corrie S. Moreau, Rodolfo Probst, Dr. Kleber Del-Claro, Dr. Jacques Hubert Charles Delabie, Dr. Alexsandro Santana Vieira, Dr. Viviane Cristina Tofolo Chaud, Dr. Maria Santina de Castro Morini, Dr. Cynara de Melo Rodovalho, and Marilia de Oliveira Ramalho and reviewers and editors who provided valuable suggestions for elaboration in this study. Benjamin Blanchard and Matthew Boot assisted with English editing. This work was developed in CEIS, Universidade Estadual Paulista "Júlio de Mesquita Filho" UNESP–Campus Rio Claro, and supported by the CAPES Foundation, Ministry of Education of Brazil, Brasília DF 70.040-020, Brazil.
Additional information
Edited by Andrew Michel – OSU
About this article
Cite this article
Ramalho, M.O., Martins, C., Silva, L.M.R. et al. Molecular Profile of the Brazilian Weaver Ant Camponotus textor Forel (Hymenoptera, Formicidae). Neotrop Entomol 45, 463–470 (2016). https://doi.org/10.1007/s13744-016-0392-z
Received:

Accepted:

Published:

Issue Date:

DOI: https://doi.org/10.1007/s13744-016-0392-z
Keywords