Abstract
Although several studies have shown that ants can recognize chemical cues from their host plants in ant-plant systems, it is poorly demonstrated in ant gardens (AGs). In this interaction, ant species constantly interact with various epiphyte species. Therefore, it is possible to expect a convergence of chemical signals released by plants that could be acting to ensure that ants are able to recognize and defend epiphyte species frequently associated with AGs. In this study, it was hypothesized that ants recognize and differentiate among chemical stimuli released by AG epiphytes and non-AG epiphytes. We experimentally simulated leaf herbivore damage on three epiphyte species restricted to AGs and a locally abundant understory herb, Piper hispidum, in order to quantify the number of recruited Camponotus femoratus (Fabricius) defenders. When exposed to the AG epiphytes Peperomia macrostachya and Codonanthe uleana leaves, it was observed that the recruitment of C. femoratus workers was, on average, respectively 556% and 246% higher than control. However, the number of ants recruited by the AG epiphyte Markea longiflora or by the non-AG plant did not differ from paper pieces. This indicated that ants could discern between chemicals released by different plants, suggesting that ants can select better plants. These results can be explained by evolutionary process acting on both ants' capability in discerning plants' chemical compounds (innate attraction) or by ants' learning based on the epiphyte frequency in AGs (individual experience). To disentangle an innate behavior, a product of classical coevolutionary process, from an ant's learned behavior, is a complicated but important subject to understand in the evolution of ant-plant mutualisms.
Access options
Buy single article
Instant access to the full article PDF.
US$ 39.95
Tax calculation will be finalised during checkout.
Subscribe to journal
Immediate online access to all issues from 2019. Subscription will auto renew annually.
US$ 79
Tax calculation will be finalised during checkout.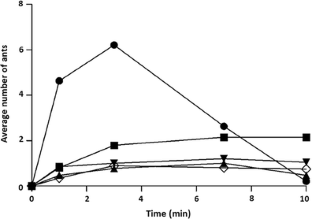 References
Alvares CA, Stape JL, Sentelhas PC, De-Moraes-Gonçalves JL, Sparovek G (2013) Köppen's climate classification map for Brazil. Meteorol Z (Berlin) 22:711–728. doi:10.1127/0941-2948/2013/0507

Benzing DH (1990) Vascular epiphytes. General biology and related biota. Cambridge University Press, Cambridge, p 354

Blatrix R, Sermage C (2005) Role of early experience in ant enslavement: a comparative analysis of a host and a non-host species. Front Zool 2:13. doi:10.1186/1742-9994-2-13

Blüthgen N, Schmit-Neuerburg V, Engwald S, Barthlott W (2001) Ants as epiphyte gardeners: comparing the nutrient quality of ant and termite canopy substrates in a Venezuelan lowland rain forest. J Trop Ecol 17:887–894. doi:10.1017/S0266467401001651

Bos N, Guerrieri FJ, d'Ettorre P (2010) Significance of chemical recognition cues is context dependent in ants. Anim Behav 80:839–844. doi:10.1016/j.anbehav.2010.08.001

Bronstein JL (1998) The contribution of ant-plant protection studies to our understanding of mutualism. Biotropica 30:150–161

Bronstein JL (2001) The costs of mutualism. Am Zool 41:127–141

Bruna EM, Darrigo MR, Furuya-Pacheco AM, Vasconcelos HL (2008) Interspecific variation in the defensive responses of ant mutualists to plant volatiles. Biol J Linn Soc 94:241–249. doi:10.1111/j.1095-8312.2008.00962.x

Byk J, Del-Claro K (2011) Ant plant interaction in the Neotropical savanna: direct beneficial effects of extrafloral nectar on ant colony fitness. Popul Ecol 53:327–332. doi:10.1007/s10144-010-0240-7

Carvalho-Silva M (2008) Peperomia Ruiz & Pav. No Brasil: morfologia e taxonomia do subgênero Rhynchophorum (Miq.) Dahlst. PhD. Thesis, Instituto de Pesquisas Jardim Botânico do Rio de Janeiro/Escola Nacional de Botânica Tropical, Rio de Janeiro, Brasil, p 145

Christianini AV, Machado G (2004) Induced biotic responses to herbivory and associated cues in the Amazonian ant-plant Maieta poeppigii. Entomol Exp Appl 112:81–88. doi:10.1111/j.0013-8703.2004.00188.x

Dáttilo WFC, Izzo TJ, Inouye BD, Vasconcelos HL, Bruna EM (2009) Recognition of host plant volatiles by Pheidole minutula Mayr (Myrmicinae), an Amazonian ant-plant specialist. Biotropica 41:642–646. doi:10.1111/j.1744-7429.2009.00518.x

Davidson DW (1988) Ecological studies of neotropical ant gardens. Ecology 69:1138–1152

Dejean A, Corbara B, Orivel J, Snelling RR, Delabie JHC, Belin-Depoux M (2000) The importance of ant gardens in the pioneer vegetal formations of French Guiana. Sociobiology 35:425–439

Dejean A, Corbara B, Orivel J, Leponce M (2007) Rainforest canopy ants: the implications of territoriality and predatory behavior. Funct Ecosyst Communities 1:105–120

Djieto-Lordon C, Dejean A (1999a) Innate attraction supplants experience during host plant selection in an obligate plant-ant. Behav Process 46(3):181–187. doi:10.1016/S0376-6357(99)00032-7

Djieto-Lordon C, Dejean A (1999b) Tropical arboreal ant mosaics: innate attraction and imprinting determine nest site selection in dominant ants. Behav Ecol Sociobiol 45:219–225. doi:10.1007/s002650050556

Dupuy F, Sandoz JC, Giurfa M, Josens R (2006) Individual olfactory learning in Camponotus ants. Anim Behav 72:1081–1091. doi:10.1016/j.anbehav.2006.03.011

Errard C, Le Guisquet AM, Christides JP, Mercier JL, Lenoir A, Hefetz A (2008) Early learning of volatile chemical cues leads to interspecific recognition between two ant species. Insect Soc 55:115–122. doi:10.1007/s00040-008-0979-4

Fonseca CR, Ganade G (1996) Asymmetries, compartments and null interactions in an Amazonian ant-plant community. J Anim Ecol 65(10.2307/5880):339–347

Heil M (2008) Indirect defence via tritrophic interactions. New Phytol 178:41–61. doi:10.1111/j.1469-8137.2007.02330.x

Heil M, McKey D (2003) Protective ant-plant interactions as model systems in ecological and evolutionary research. Annu Rev Ecol Evol Syst 34:425–453. doi:10.1146/annurev.ecolsys.34.011802.132410

Hoeksema JD, Bruna EM (2000) Pursuing the big questions about interspecific mutualism: a review of theoretical approaches. Oecologia 125:321–330. doi:10.1007/s004420000496

Hölldobler B, Wilson EO (1990) The ants. Belknap Press of Harvard University Press, Cambridge, p 764

Izzo TJ, Vasconcelos HL (2002) Cheating the cheater: domatia loss minimizes the effects of ant castration in an Amazonian ant-plant. Oecologia 133:200–205. doi:10.1007/s00442-002-1027-0

Kaufmann E, Maschwitz U (2006) Ant-gardens of tropical Asian rainforests. Naturwissenschaften 93:216–227. doi:10.1007/s00114-005-0081-y

Kessler A, Heil M (2011) The multiple faces of indirect defenses and their agents of natural selection. Funct Ecol 25:348–357. doi:10.1111/j.1365-2435.2010.01818.x

Kleinfeldt SE (1986) Ant-gardens: mutual exploitation. In: Juniper B, Southwood TRE (eds) Insects and the plant surface. Edward Arnold, London, pp 283–291

Langridge EA, Franks NR, Sendova-Franks AB (2004) Improvement in collective performance with experience in ants. Behav Ecol Sociobiol 56:523–529. doi:10.1007/s00265-004-0824-3

Langridge EA, Sendova-Franks AB, Franks NR (2008) How experienced individuals contribute to an improvement in collective performance in ants. Behav Ecol Sociobiol 62:447–456. doi:10.1007/s00265-007-0472-5

Longino JT (2003) The Crematogaster (Hymenoptera, Formicidae, Myrmicinae) of Costa Rica. Zootaxa 151:1–150

Madison M (1979) Additional observations on ant-gardens in Amazonas. Selbyana 5:107–115

Mertl AL, Sorenson MD, Traniello JFA (2010) Community-level interactions and functional ecology of major workers in the hyperdiverse ground-foraging Pheidole (Hymenoptera, Formicidae) of Amazonian Ecuador. Insect Soc 57:441–452. doi:10.1007/s00040-010-0102-5

Motulsky H (1999) Analyzing data with GraphPad Prism software. Graph Pad Software, San Diego

Ness J, Morris WF, Bronstein J (2009) For ant-protected plants, the best defense is a hungry offense. Ecology 90:2823–2831

Orivel J, Dejean A (1999) Selection of epiphyte seeds by ant-garden ants. Ecoscience 6(1):56–61

Orivel J, Leroy C (2011) The diversity and ecology of ant gardens (Hymenoptera: Formicidae, Spermatophyta: Angiospermae). Myrmecol News 14:73–85

Ravary F, Lecoutey E, Kaminski G, Chaline N, Jaisson P (2007) Individual experience alone can generate lasting division of labor in ants. Curr Biol 17:1308–1312. doi:10.1016/j.cub.2007.06.047

Rico-Gray V, Oliveira PS (2007) The ecology and evolution of ant–plant interactions. The University of Chicago Press, Chicago, p 331

Ryder-Wilkie KT, Mertl AL, Traniello JFA (2010) Species diversity and distribution patterns of the ants of Amazonian Ecuador. PLoS ONE 5(10):e13146. doi:10.1371/journal.pone.0013146

Romero GQ, Izzo TJ (2004) Leaf damage induces ant recruitment in the Amazonian ant-plant Hirtella myrmecophila. J Trop Ecol 20:675–682. doi:10.1017/S0266467404001749

Santos MJL, Machado IC (1998) Biologia floral e heterostilia em Vismia guianensis (Aubl.) Choisy (Clusiaceae). Acta Bot Bras 12:451–464. doi:10.1590/S0102-33061998000400014

Santos JC, Korndörfer AP, Del-Claro K (2005) Defensive behavior of the weaver ant Camponotus (Myrmobrachys) senex (Formicidae: Formicidae): drumming and mimicry. Sociobiology 46(2):279–288

Schmit-Neuerburg V, Blüthgen N (2007) Ant gardens protect epiphytes against drought in a Venezuelan lowland rain forest. Ecotropica 13:93–100

Schupp GW, Feener DHJ (1991) Phylogeny, lifeform, and habitat dependence of ant-defended plants in a Panamanian forest. In: Huxley CR, Cutler DF (eds) Ant-plant interactions. Oxford University Press, Oxford, pp 175–197

Sanhudo CED, Izzo TJ, Brandão CRF (2008) Parabiosis between basal fungus-growing ants (Formicidae, Attini). Insect Soc 55:296–300

Swain RB (1980) Trophic competition among parabiotic ants. Insect Soc 27:377–390

Takabayashi J, Sabelis M, Janssen A, Shiojiri K, van-Wijk M (2006) Can plants betray the presence of multiple herbivore species to predators and parasitoids? The role of learning in phytochemical information networks. Ecological Research 2:3-8. doi:10.1007/s11284-005-0129-7

Thompson JN (2005) The geographic mosaic of coevolution. University of Chicago Press, Chicago, p 400

Van-Wilgenburg E, Clémencet J, Tsutsui ND (2010) Experience influences aggressive behaviour in the Argentine ant. Biol Lett 6:152–155. doi:10.1098/rsbl.2009.0616

Vantaux A, Dejean A, Dor A, Orivel J (2007) Parasitism versus mutualism in the ant-garden parabiosis between Camponotus femoratus and Crematogaster levior. Insect Soc 54:95–99. doi:10.1007/s00040-007-0914-0

Vicente RE, Dambroz J, Barreto M (2011) New distribution record of Daceton boltoni Azorsa and Sosa-Calvo, 2008 (Insecta: Hymenoptera) ant in the Brazilian Amazon. Check List 7:878–879

Vicente RE, Dáttilo W, Izzo TJ (2012) New record of a very specialized interaction: Myrcidris epicharis Ward 1990 (Pseudomyrmecinae) and its myrmecophyte host Myrcia madida McVaugh (Myrtaceae) in Brazilian Meridional Amazon. Acta Amazon 42:567–570. doi:10.1590/S0044-59672012000400016

Wilson EO (1987) The arboreal ant fauna of Peruvian Amazon forests: a first assessment. Biotropica 19:245–251

Yamamoto M, Del-Claro K (2008) Natural history and foraging behavior of the carpenter ant Camponotus sericeiventris Guérin, 1838 (Formicinae, Campotonini) in the Brazilian tropical savanna. Acta Ethol 11:55–65. doi:10.1007/s10211-008-0041-6

Youngsteadt E, Nojima S, Haberlein C, Schulz S, Schal C (2008) Seed odor mediates an obligate ant-plant mutualism in Amazonian rainforest. P Natl Acad Sci USA 105:4571–4575. doi:10.1073/pnas.0708643105

Youngsteadt E, Guerra-Bustios P, Schal C (2010) Divergent chemical cues elicit seed collecting by ants in an obligate multi-species mutualism in lowland Amazonia. PLoS ONE 5(12):e15822. doi:10.1371/journal.pone.0015822

Yu DW (1994) The structural role of epiphytes in ant gardens. Biotropica 26:222–226

Wilkinson L (1998) Systat: the system for statistics. SYSTAT Inc., Evaston
Acknowledgments
We thank Rafael Arruda and Georgia Sinimbu for reviewing and useful contribution over the previous design of the manuscript; also, to the anonymous reviewers for their great contribution to the final version of the work, and Jéssica Falcão for her invaluable fieldwork support in the collection data. We also would like to thank the Office National des Forêts Brazil and the National Council for Scientific and Technological Development, Brazil (CNPq no 479243/2012–3) for the logistical and financial support. REV thanks Enhancement Coordination of Personnel of Superior Level, Brazil (CAPES) for the doctoral fellowship. WD is grateful for the financial support by the National Council for Scientific and Technological Development, Brazil (CNPq) and the National Council on Science and Technology, Mexico (CONACYT). TJI is grateful to CAPES (BEX 2548-14-3). This work is part of the doctoral thesis of REV in Ecology and Biodiversity Conservation Postgraduate Program—UFMT—and is publication 43 in the NEBAM technical series.
Additional information
Edited by Kleber del Claro—UFU
About this article
Cite this article
Vicente, R.E., Dáttilo, W. & Izzo, T.J. Differential Recruitment of Camponotus femoratus (Fabricius) Ants in Response to Ant Garden Herbivory. Neotrop Entomol 43, 519–525 (2014). https://doi.org/10.1007/s13744-014-0245-6
Received:

Accepted:

Published:

Issue Date:
Keywords
Ant-gardens

ant-plant system

Peperomia macrostachya
Codonanthe uleana

herbivory

mutualism