Abstract
The nymphalid Paulogramma hydarnis (Godart) (n. comb., previously in the genus Callicore) is an endangered butterfly present in a few montane sites in the Atlantic Forest in the Southeastern Brazil. The precise systematic position of P. hydarnis was previously unknown. Based on molecular data, we find that it is sister to Paulogramma pygas (Godart) (n. comb., also previously in Callicore), a common and widespread species in the Neotropics. In addition, we find that Callicore is not monophyletic and that "Callicore" hydarnis (along with other species) is more related to the genus Paulogramma, and should thus be placed in that genus. The genus Paulogramma is now composed by the following species: Paulogramma pyracmon (Godart), Paulogramma eunomia (Hewitson) n. comb., Paulogramma hydarnis (Godart) n. comb., Paulogramma hystaspes (Fabricius) n. comb., Paulogramma pygas (Godart) n. comb., and Paulogramma tolima (Hewitson, 1852) n. comb. Museum specimens and field data report P. hydarnis in four sites in Southeastern Brazil. Recently, P. hydarnis was recorded for the first time at Parque Nacional do Caparaó, states of Espírito Santo and Minas Gerais, expanding its distribution about 200 km northward of the previously known limit. Although regularly recorded in some sites, most records are historic, before the 1960s, and the current conservation situation of this species is delicate, deserving attention.
Access options
Buy single article
Instant access to the full article PDF.
US$ 39.95
Tax calculation will be finalised during checkout.
Subscribe to journal
Immediate online access to all issues from 2019. Subscription will auto renew annually.
US$ 79
Tax calculation will be finalised during checkout.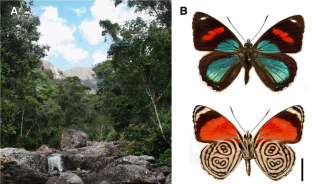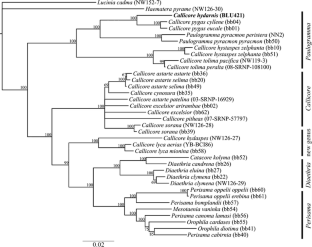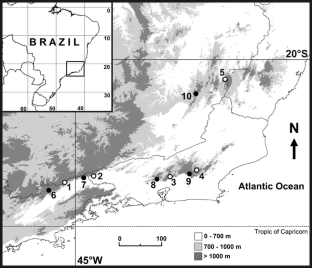 References
Barbosa EP, Kaminski LA, Freitas AVL (2010) Immature stages of the butterfly Diaethria clymena janeira (Lepidoptera: Nymphalidae: Biblidinae). Zoologia 27:696–702

Beccaloni GW, Hall SK, Viloria AL, Robinson GS (2008) Catalogue of the hostplants of the Neotropical Butterflies/Catálogo de las plantas huésped de las mariposas Neotropicales. In: m3m-Monografias Tercer Milenio, Vol. 8. Zaragoza, S.E.A., RIBES-CYTED, The Natural History Museum, Instituto Venezolano de Investigaciones Científicas, Zaragoza, p 536

Beirão MV, Campos-Neto FC, Pimenta IA, Freitas AVL (2012) Population biology and natural history of Parides burchellanus (Papilionidae: Papilioninae: Troidini), an endangered Brazilian butterfly. Ann Entomol Soc Am 105:36–43

Brown KS Jr (1996) Conservation of threatened species of Brazilian butterflies. Decline and conservation of Butterflies in Japan. In: Ae SA, Hirowatari T, Ishii M, Brower LP (eds) Decline and conservation of butterflies in Japan III. Lepidopterological Society of Japan, Osaka, pp 45–62

Brown KS Jr, Brown GG (1992) Habitat alteration and species loss in Brazilian forests. In: Whitmore TC, Sayer J (eds) Tropical deforestation and species extinction. Chapman & Hall, London, pp 119–142

Brown KS Jr, Freitas AVL (2000a) Diversidade de Lepidoptera em Santa Teresa, Espírito Santo. Bol Mus Biol Mello Leitão (N Sér) 11/12:71–118

Brown KS Jr, Freitas AVL (2000b) Atlantic Forest butterflies: indicators for landscape conservation. Biotropica 32:934–956

Brown KS Jr, Mielke OHH (1998) Callicore hydarnis (Godart [1824]). In: Machado ABM, Fonseca GAB, Machado RB, Aguiar LMS, Lins LV (eds) Livro Vermelho das Espécies Ameaçadas de Extinção da Fauna de Minas Gerais. Fundação Biodiversitas, Belo Horizonte, pp 544–545

Canals GR (2003) Mariposas de Misiones. L.O.L.A., Buenos Aires, p 476

Casagrande MM, Mielke OHH (2008) Callicore hydarnis (Godart, 1824). In: Machado ABM, Drummond GMM, Paglia AP (eds) Livro vermelho da fauna brasileira ameaçada de extinção. MMA, Fundação Biodiversitas, Belo Horizonte, pp 405–406

Casagrande MM, Mielke OHH, Brown KS Jr (1998) Borboletas (Lepidoptera) ameaçadas de extinção em Minas Gerais, Brasil. Rev Bras Zool 15:241–259

Coimbra-Filho AF, Câmara IG (1996) Os limites originais do bioma Mata Atlântica na Região Nordeste do Brasil. FBCN, Rio de Janeiro, p viii + 86

Dean W (1996) A ferro e fogo. A história e a devastação da Mata Atlântica brasileira. Companhia das Letras, São Paulo, p 484

Devictor V, van Swaay C, Brereton T, Brotons L, Chamberlain D, Heliölä J, Herrando S, Julliard R, Kuussaari M, Lindström Å, Reif J, Roy DB, Schweiger O, Settele J, Stefanescu C, Van Strien A, Van Turnhout C, Vermouzek Z, WallisDeVries M, Wynhoff I, Jiguet F (2012) Differences in the climatic debts of birds and butterflies at a continental scale. Nat Clim Chang 2:121–124

Dias FMS, Carneiro E, Casagrande MM, Mielke OHH (2012) Biology and external morphology of immature stages of the butterfly, Diaethria candrena candrena. J Insect Sci 12:1–9

Dillon LS (1948) The tribe Catagrammini (Lepidoptera: Nymphalidae). Part 1. The genus Catagramma and allies. Sci Publ Reading publ Mus 8, p vii + 113, 14 pls

Emery EO, Brown KS Jr, Pinheiro CEG (2006) As borboletas (Lepidoptera, Papilionoidea) do Distrito Federal, Brasil. Rev Bras Entomol 50:85–92

Francini RB, Barbosa EP, Freitas AVL (2011a) Immature stages of Actinote zikani (Nymphalidae: Heliconiinae), a critically endangered butterfly from southeastern Brazil. Trop Lepid Res 21:20–26

Francini RB, Duarte M, Mielke OHH, Caldas A, Freitas AVL (2011b) Butterflies (Lepidoptera, Papilionoidea and Hesperioidea) of the "Baixada Santista" region, coastal São Paulo, southeastern Brazil. Rev Bras Entomol 55:55–68

Freitas AVL, Marini-Filho OJ (2011) Plano de Ação Nacional para Conservação dos Lepidópteros Ameaçados de Extinção. Instituto Chico Mendes de Conservação da Biodiversidade, Brasília 122pp

Freitas AVL, Kaminski LA, Iserhard CA, Barbosa EP, Marini-Filho OJ (2011) The endangered butterfly Charonias theano (Boisduval) (Lepidoptera: Pieridae): current status, threats and its rediscovery in São Paulo state, southeastern Brazil. Neotrop Entomol 40:669–676

Freitas AVL, Wahlberg N, Matos-Maravi PF, Marin MA, Mielke OHH (2012) Euptychia boulleti (Le Cerf) n. comb. (Lepidoptera: Nymphalidae: Satyrinae), a rare and endangered butterfly from Southeastern Brazil. Neotrop Entomol 41:461–467

Gareca Y, Forno E, Pyrcz TW, Willmott K, Reichle S (2006) Lista preliminar de mariposas diurnas de Bolivia. In: Gareca Y, Reichle S (eds) Mariposas diurnas de Bolivia. PROMETA, Tarija, pp 4–65

Greve RR, Callaghan C, Kaminski LA, Freitas AVL (2013) The rediscovery of Joiceya praeclarus Talbot 1928 (Lepidoptera: Riodinidae), more than 80 years after its description. J Lep Soc 67:56–57

Herkenhoff EV, Monteiro RF, Esperanço AP, Freitas AVL (2013) Population biology of the endangered fluminense swallowtail butterfly Parides ascanius (Papilionidae: Papilioninae: Troidini). J Lep Soc 67:29–34

IUCN (2012) IUCN Red List Categories and Criteria: Version 3.1, 2nd edn. IUCN, Gland, p iv + 32

Lamas G (2004) Biblidinae. In: Lamas G (ed) Checklist: Part 4A. Hesperioidea-Papilionoidea. In Heppner J B (ed.). Atlas of Neotropical Lepidoptera, Vol. 5A. Association for Tropical Lepidoptera, Scientific Publishers, Gainesville, pp 234–247

Lamas G, Campos L, Ramírez JJ (2003) Mariposas de la Zona Reservada Allpahuayo-Mishana, Iquitos, Loreto, Perú (Lepidoptera: Hesperioidea y Papilionoidea). Instituto de Investigaciones de la Amazonía Peruana (IIAP), Programa de Biodiversidad (PBIO), Iquitos, p 29

Machado ABM, Drummond GM, Paglia AP (2008) Livro vermelho da fauna brasileira ameaçada de extinção. MMA, Brasília, p 1420

Neild AFE (1996) The Butterflies of Venezuela. Part 1: Nymphalidae I (Limenitidinae, Apaturinae, Charaxinae). A comprehensive guide to the identification of adult Nymphalidae, Papilionidae, and Pieridae. Meridian Publications, Greenwich, p 144

Otero LS, Brown KS Jr, Mielke OHH, Moreira RF, Costa JM, Macêdo MV, Maciel NC, Becker J, Salgado NC, Santos SB, Moya GE, Almeida JM, Silva MD (2000) Invertebrados terrestres. In: Bergallo HG, Rocha CFD, Alves MAS, Sluys MV (eds) A Fauna Ameaçada de Extinção do Estado do Rio de Janeiro. EDUERJ, Rio de Janeiro, pp 53–62

Ribeiro DB, Freitas AVL (2012) The effect of reduced-impact logging on fruit-feeding butterflies in Central Amazon, Brazil. J Insect Conserv 16:733–744

Salazar JA, Vargas JI, Mora AM, Benavides J (2010) Identificación preliminar de los Rhopalocera que habitan el Centro Experimental Amazónico (C.E.A.) Mocoa-Putumayo—y algunas especies aptas para criar en cautiverio (Insecta: Lepidóptera [sic]). Bol Cient Mus Hist Nat Univ Caldas 14:150–188

Talbot G (1928) List of Rhopalocera collected by Mr. C. L. Collenette in Matto Grosso, Brazil. Bull Hill Mus 2:192–220

Tamura K, Peterson D, Peterson N, Stecher G, Nei M, Kumar S (2011) MEGA5: molecular evolutionary genetics analysis using maximum likelihood, evolutionary distance, and maximum parsimony methods. Mol Biol Evol 28:2731–2739

Zikán JF, Zikán W (1968) Inseto-fauna do Itatiaia e da Mantiqueira. III. Lepidoptera. Pesq Agrop Bras 3:45–109
Acknowledgments
We thank Waldomiro de Paula Lopes, who facilitated the work in the Parque Nacional do Caparaó, to Léo Nascimento, who facilitated the work in the Parque Nacional do Itatiaia, to ICMBio for the research permits (SISBIO nº 10802-5), and to Ricardo Campos and the Field Ecology Course of "Universidade Federal de Viçosa" for the logistic support. We thank Gerardo Lamas and three anonymous reviewers for several suggestions and critical reading of the manuscript. The following people helped with information from the Museums: Olaf Mielke (DZUP), Blanca Huertas and John Chainey (BMNH), Bob Robbins and Brian Harris (USNM), Alexandre Soares (MNRJ), Marcio Felix (CEIOC), Marcelo Duarte (MZSP), Jacques Pierre and Rose Nguyen (MNHN), and Keith Willmott and Elena Ortiz Acevedo (FLMNH). Pierre Boyer kindly provided pictures of two individuals from the ZMUC. Mr. Nirton Tangerini also provided information from coastal Rio de Janeiro. AVLF thanks the Brazilian Research Council—CNPq (fellowship 302585/2011-7), and the National Science Foundation (DEB-1256742). LAK was supported by FAPESP (10/51340-8) and CNPq (163119/2013-9). CAI was supported by FAPESP (2011/08433-8). This publication is part of the RedeLep "Rede Nacional de Pesquisa e Conservação de Lepidópteros" SISBIOTA-Brasil/CNPq (563332/2010-7), of the project "Identificação Molecular de Biodiversidade de Invertebrados Terrestres" (grant 564954/2010-1) included in the "Rede Nacional de Identificação Molecular da Biodiversidade—BR-BoL" (MCT/CNPq/FNDCT 50/2010), and of the BIOTA-FAPESP Program (11/50225-3).
Additional information
Edited by Takumasa Kondo — CORPOICA
About this article
Cite this article
Freitas, A.V.L., Kaminski, L.A., Iserhard, C.A. et al. Paulogramma hydarnis (n. comb.) (Nymphalidae: Biblidinae): Distribution, Systematic Position, and Conservation Status of a Rare and Endangered Butterfly. Neotrop Entomol 43, 218–226 (2014). https://doi.org/10.1007/s13744-014-0200-6
Received:

Accepted:

Published:

Issue Date:
Keywords
Atlantic Forest

Callicore

Callicorini

Caparaó

montane fauna