Abstract
In this work, the physicochemical properties were combined with the multivariate statistical techniques (factor analysis and correlation analysis) aimed at characterizing different South Pars gas condensate samples. A total of 224 samples from four phases (i.e., PH 1, PH 4,5, PH 9,10 and PH 12) of South Pars gas field, a non-associated gas reservoir in the Persian Gulf between Iran and Qatar, were collected, and five physicochemical parameters including Reid vapor pressure, specific gravity, initial boiling point, mercaptan sulfur and total sulfur were analyzed in order to identify the reservoir origin of gas condensate samples. The factor analysis results showed that the two rotated factors explain 88.9% of the original information. The first factor is linked to total sulfur, mercaptan sulfur and specific gravity and has a significant effect to differentiate between the condensate samples of the four phases. The second factor, which is attributed to Reid vapor pressure and initial boiling point, has a small impact on the characterization of four groups, and it is more related to the within variance of each group. The results showed that the gas condensate samples were correctly and clearly differentiated into four groups according to reservoir origin.
Access options
Buy single article
Instant access to the full article PDF.
USD 39.95
Price excludes VAT (USA)
Tax calculation will be finalised during checkout.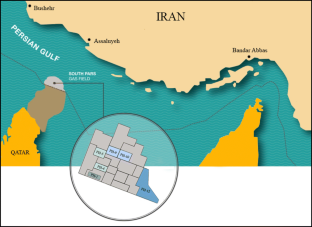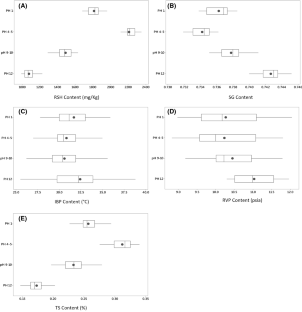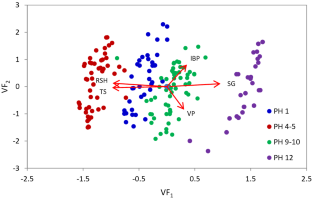 References
M. Franco-Aguirre, R.D. Zabala, S.H. Lopera, C.A. Franco, F.B. Cortés, J. Nat. Gas Sci. Eng. 51(2018), 53 (2018)

A. Dandekar, J. Nat. Gas Sci. Eng. 27, 298 (2015)

S. Mokhatab, W.A. Poe, J.G. Speight, Handbook of Natural Gas Transmission and Processing (Gulf Professional Publishing, Burlington, 2006)

N. Rahmanian, L.S. Bt Jusoh, M. Homayoonfard, K. Nasrifar, M. Moshfeghian, J. Nat. Gas Sci. Eng. 32, 453 (2016)

N. Moghadam, M. Samadi, Int. J. Chem. Eng. Appl. 3, 461 (2012)

J. Aali, O. Rahmani, J. Petrol. Sci. Eng. 76, 85 (2011)

D. Kiany, Palma J. 16, 150 (2017)

N. Miller, H. Nasrabadi, D. Zhu, International Oil and Gas Conference and Exhibition in China (Society of Petroleum Engineers, Beijing, China, 2010)

http://www.pogc.ir. Accessed 23 Nov 2018

K.M. Pierce, J.L. Hope, K.J. Johnson, B.W. Wright, R.E. Synovec, J. Chromatogr. A 1096, 101 (2005)

M.G. Nespeca, J.F.V.L. Munhoz, D.L. Flumignan, J.E. de Oliveira, Fuel 215, 204 (2018)

M. Novák, D. Palya, Z. Bodai, Z. Nyiri, N. Magyar, J. Kovács, Z. Eke, Forensic Sci. Int. 270, 61 (2017)

L.J. Marshall, J.W. McIlroy, V.L. McGuffin, R. Waddell Smith, Anal. Bioanal. Chem. 394, 2049 (2009)

L.S. Moreira, L.A. d'Avila, D.A. Azevedo, Chromatographia 58, 501 (2003)

M. Monfreda, A. Gregori, J. Forensic Sci. 56, 372 (2011)

L.S.G. Teixeira, F.S. Oliveira, H.C. dos Santos, P.W.L. Cordeiro, S.Q. Almeida, Fuel 87, 346 (2008)

M.A. Al-Ghouti, Y.S. Al-Degs, M. Amer, Talanta 76, 1105 (2008)

J. Burri, R. Crockett, R. Hany, D. Rentsch, Fuel 83, 187 (2004)

R.C.C. Pereira, V.L. Skrobot, E.V.R. Castro, I.C.P. Fortes, V.M.D. Pasa, Energy Fuels 20, 1097 (2006)

ASTM D4052, Standard Test Method for Density, Relative Density, and API Gravity of Liquids by Digital Density Meter (ASTM International, West Conshohocken, PA)

ASTM D5191, Standard Test Method for Vapor Pressure of Petroleum Products and Liquid Fuels (Mini Method) (ASTM International, West Conshohocken, PA)

ASTM D86, Standard Test Method for Distillation of Petroleum Products and Liquid Fuels at Atmospheric Pressure (ASTM International, West Conshohocken, PA)

UOP163, Hydrogen Sulfide and Mercaptan Sulfur in Liquid Hydrocarbons by Potentiometric Titration (ASTM International, West Conshohocken, PA)

ASTM D6667, Standard Test Method for Determination of Total Volatile Sulfur in Gaseous Hydrocarbons and Liquefied Petroleum Gases by Ultraviolet Fluorescence (ASTM International, West Conshohocken, PA)

M. Huerta, V. Leiva, C. Lillo, M. Rodríguez, Appl. Stoch. Mod. Bus. Ind. 34, 305 (2017)

P. Filzmoser, R.G. Garrett, C. Reimann, Comput. Geosci. 31, 579 (2005)

M. Nekoeinia, R. Mohajer, M.H. Salehi, O. Moradlou, Environ. Earth Sci. 75, 760 (2016)

M.F. Acevedo, Data Analysis and Statistics for Geography, Environmental Science, and Engineering (CRC Press, Boca Raton, 2012)

T.T.H. Le, S. Zeunert, M. Lorenz, G. Meon, Environ. Sci. Poll. Res. 24, 13845 (2017)

A. Gibrilla, E.K.P. Bam, D. Adomako, S. Ganyaglo, S. Osae, T.T. Akiti, S. Kebede, E. Achoribo, E. Ahialey, G. Ayanu, E.K. Agyeman, Water Qual. Exposure. Health 3, 63 (2011)

Q. Geng, P. Wu, X. Zhao, Y. Wang, Int. J. Climatol. 34, 2163 (2013)

S. Li, Z. Li, J. Gong, Int. J. Image Data Fusion 1(2010), 47 (2010)

K. McGarigal, S. Cushman, S. Stafford, Multivariate Statistics for Wildlife and Ecology Research (Springer, New York, 2000)
About this article
Cite this article
Shirazinia, S.R., Semnani, A., Nekoeinia, M. et al. Characterization of South Pars gas condensates by physicochemical properties and multivariate modeling. J IRAN CHEM SOC 17, 663–669 (2020). https://doi.org/10.1007/s13738-019-01800-5
Received:

Accepted:

Published:

Issue Date:

DOI: https://doi.org/10.1007/s13738-019-01800-5
Keywords
Characterization

Gas condensate

Factor analysis

South Pars gas field