Abstract
CoMo-supported micro/mesoporous catalysts (CoMo/HZSM5(x)-HMS) were synthesized by varying the weight percent of zeolite (10, 20, 30 and 40 wt%). Catalytic functionalities were investigated for hydrodesulphurization reaction of dibenzothiophene over a wide temperature range of 250–400 °C. Characterization methods as XRD, XRF, FT-IR, UV–Vis DRS, NH3-TPD, H2-chemisorption, nitrogen adsorption–desorption and TGA confirmed the obtained results from these catalysts. A significant enhancement of the catalytic activity was observed for the catalysts supported on CoMo/HZSM5(20)-HMS at T = 350 °C (>97%).
Access options
Buy single article
Instant access to the full article PDF.
US$ 39.95
Tax calculation will be finalised during checkout.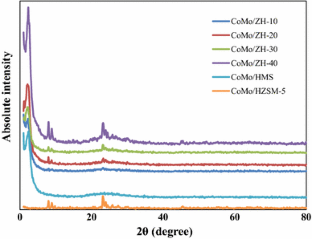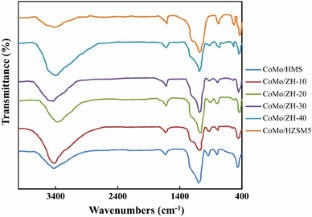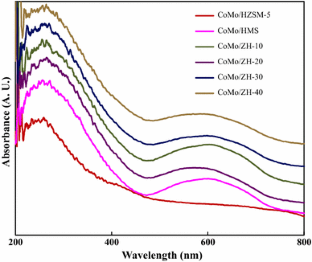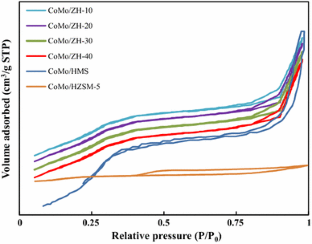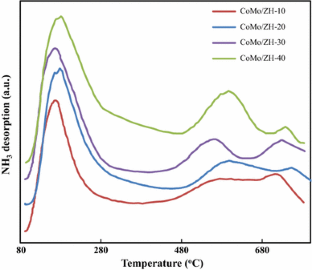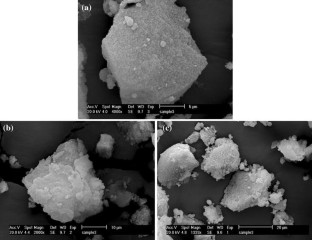 References
1.

M.J. Souza, A.M.G. Pedrosa, J.A. Cecilia, A.M. Gil-Mora, E. Rodríguez-Castellón, Catal. Commun. 69, 217 (2015)

2.

T.F. Wang, Y. Zhang, G.E. Hui, M.X. Tang, L.G. Zhou, Z.J. Lü, X.K. Li, J. Fuel. Chem. Tech. 43, 202 (2015)

3.

H. Wu, A. Duan, Z. Zhao, D. Qi, J. Li, B. Liu, G. Jiang, J. Liu, Y. Wei, X. Zhang, Fuel 130, 203 (2014)

4.

K. Soni, B.S. Rana, A.K. Sinha, A. Bhaumik, M. Nandi, M. Kumar, G.M. Dhar, Appl. Catal. B: Env. 90, 55 (2009)

5.

Y. Sun, R. Prins, Angew. Chem. Int. Ed. 47, 8478 (2008)

6.

S. Garg, K. Soni, M. Kumar, T. Bhaskar, J.K. Gupta, K.R. Rao, G.M. Dhar, Catal. Today 198, 263 (2012)

7.

Y. Okamoto, M. Breysse, G.M. Dhar, C. Song, Catal. Today 86, 1 (2003)

8.

M. Zdražil, Catal. Today 86, 151 (2003)

9.

M. Breysse, P. Afanasiev, C. Geantet, M. Vrinat, Catal. Today 86, 5 (2003)

10.

T. Chiranjeevi, G.M. Kumaran, J.K. Gupta, G.M. Dhar, Catal. Commun. 6, 101 (2005)

11.

T. Chiranjeevi, P. Kumar, M.S. Rana, G.M. Dhar, T.P. Rao, J. Mol. Catal. A: Chem. 181, 109 (2002)

12.

V. La Parola, B. Dragoi, A. Ungureanu, E. Dumitriu, A.M. Venezia, Appl. Catal. A: Gen. 386, 43 (2010)

13.

T. Klimova, J. Reyes, O. Gutiérrez, L. Lizama, Appl. Catal. A: Gen. 335, 159 (2008)

14.

G.M. Kumaran, S. Garg, K. Soni, M. Kumar, L.D. Sharma, G.M. Dhar, K.R. Rao, Appl. Catal. A: Gen. 305, 123 (2006)

15.

K. Soni, K.C. Mouli, A.K. Dalai, J. Adjaye, Catal. Let. 136, 116 (2010)

16.

T. Li, A. Duan, Z. Zhao, B. Liu, G. Jiang, J. Liu, Y. Wei, H. Pan, Fuel 117, 974 (2014)

17.

M.A. Guzmán, R. Huirache-Acuña, C.V. Loricera, J.R. Hernández, J.D. de León, J.A. de los Reyes, B. Pawelec, Fuel 103, 321 (2013)

18.

F.J. Méndez, A. Llanos, M. Echeverría, R. Jáuregui, Y. Villasana, Y. Díaz, J.L. Brito, Fuel 110, 249 (2013)

19.

N. Bejenaru, C. Lancelot, P. Blanchard, C. Lamonier, L. Rouleau, E. Payen, S. Royer, Chem. Mater. 21, 522 (2009)

20.

T.I. Korányi, Z. Vít, D.G. Poduval, R. Ryoo, H.S. Kim, E.J. Hensen, J. Catal. 253, 119 (2008)

21.

J. Čejka, S. Mintova, Catal. Rev. 49, 457 (2007)

22.

Y. Liu, W. Zhang, T.J. Pinnavaia, J. Am. Chem. Soc. 122, 8791 (2000)

23.

S. Zeng, J. Blanchard, M. Breysse, Y. Shi, X. Su, H. Nie, D. Li, Appl. Catal. A: Gen. 298, 88 (2006)

24.

Y. Han, F.S. Xiao, S. Wu, Y. Sun, X. Meng, D. Li, X. Ai, J. Phys. Chem. B 105, 7963 (2001)

25.

A. Prabhu, L. Kumaresan, M. Palanichamy, V. Murugesan, Appl. Catal. A: Gen. 360, 59 (2009)

26.

N. Parsafard, M.H. Peyrovi, M. Rashidzadeh, Microporous Mesoporous Mater. 200, 190 (2014)

27.

T. Hamoule, M.H. Peyrovi, M. Rashidzadeh, M.R. Toosi, Catal. Commun. 16, 234 (2011)

28.

Y. Xia, R. Mokaya, J. Mater. Chem. 14, 863 (2004)

29.

T.A. Zepeda, A. Infantes-Molina, J.D. de León, S. Fuentes, G. Alonso-Núñez, G. Torres-Otañez, B. Pawelec, Appl. Catal. A: Gen. 484, 108 (2014)

30.

B. Pawelec, T. Halachev, A. Olivas, T.A. Zepeda, Appl. Catal. A: Gen. 348, 30 (2008)

31.

D. Valencia, T. Klimova, Catal. Today 166, 91 (2011)

32.

J. Ramírez, R. Contreras, P. Castillo, T. Klimova, R. Zárate, R. Luna, Appl. Catal. A: Gen. 197, 69 (2000)

33.

J.O. Shim, D.W. Jeong, W.J. Jang, K.W. Jeon, S.H. Kim, B.H. Jeon, C.H. Ko, Catal. Commun. 67, 16 (2015)
About this article
Cite this article
Parsafard, N., Peyrovi, M.H. & Parsafard, N. Influence of HZSM-5 content on behavior of CoMo/HZSM5-HMS composite catalysts in hydrodesulphurization of dibenzothiophene. J IRAN CHEM SOC 14, 1489–1495 (2017). https://doi.org/10.1007/s13738-017-1089-x
Received:

Accepted:

Published:

Issue Date:
Keywords
Micro/mesoporous catalysts

Hydrodesulphurization

Dibenzothiophene

Catalytic activity