Abstract
In this study, the synthesis, morphology, gas transport and thermal properties of novel functional aromatic polyimides and polyimide/titania nanohybrid films were investigated. The novel dianhydride containing functional trifluoromethyl groups was prepared in two steps by the nucleophilic substitution reaction, and it was fully characterized by different techniques. The tensile stress–strain of the hybrids was investigated, and the resulting nanocomposites showed good mechanical properties. The permeability and selectivity of the PI/TiO2 membranes as a function of the titania weight percentage were studied, and the results indicated that the permeabilities of CO2 and N2 increase with increasing the titania content.
Graphical Abstract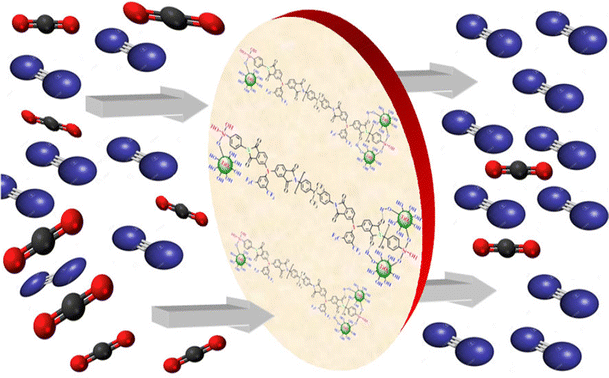 Access options
Buy single article
Instant access to the full article PDF.
USD 39.95
Price excludes VAT (USA)
Tax calculation will be finalised during checkout.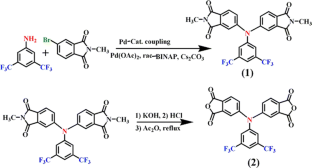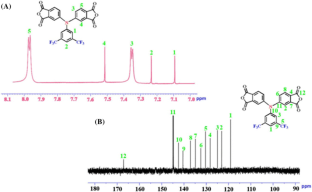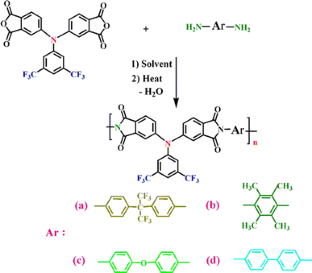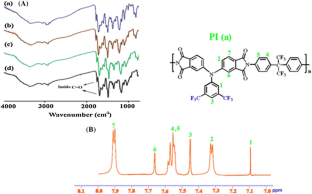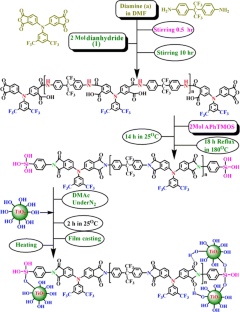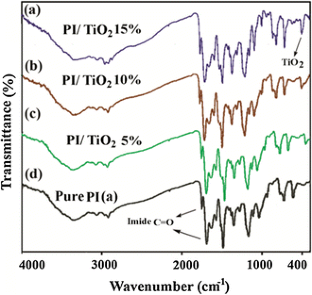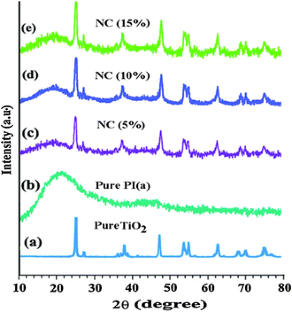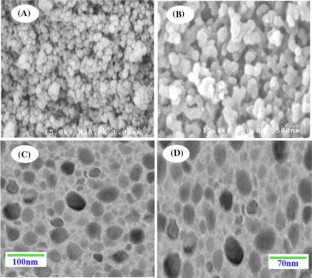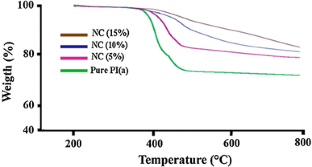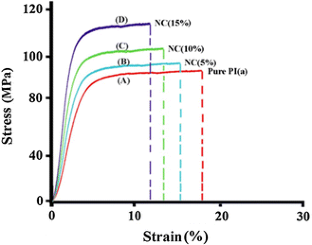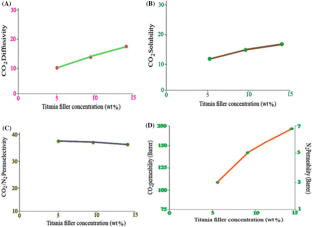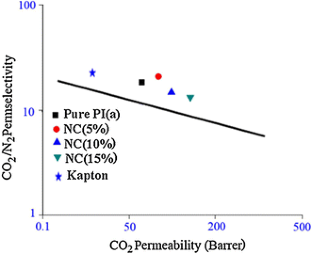 References
N.W. Ockwig, T.M. Nenoff, Membranes for hydrogen separation. Chem. Rev. 107, 4078–4110 (2007)

V. Grosso, D. Vuono, M.A. Bahattab, G.D. Profio, E. Curcio, S.A. Al-Jilil, F. Alsubaie, M. Alfife, J.B. Nagy, E. Drioli, E. Fontananova, Polymeric and mixed matrix polyimide membranes. Sep. Purif. Technol. 132, 684–696 (2014)

N. Du, H.B. Park, M.M. Dal-Ci, M.D. Guiver, Advances in high permeability polymeric membrane materials for CO2 separations. Energy Environ. Sci. 5, 7306–7322 (2012)

M.G. Dhara, S. Banerjee, Fluorinated high-performance polymers: poly(arylene ether)s and aromatic polyimides containing trifluoromethyl groups. Prog. Polym. Sci. 35, 1022–1077 (2010)

I. Sava, S. Chisca, A.W. Grabczyk, A. Jankowski, M. Sava, E. Grabiec, M. Bruma, Synthesis and thermal, mechanical and gas permeation properties of aromatic polyimides containing different linkage groups. Polym. Int. 64, 154–164 (2015)

I. Bacosca, E. Hamciuc, M. Bruma, I.A. Ronova, Comparative study of polyimides containing different flexible linkages. J. Iran. Chem. Soc. 9, 901–910 (2012)

Z.L. Xu, L.Y. Lu, L.F. Han, Polymer-nanoinorganic particles composite membranes: a brief overview. Front. Chem. Eng. China 3, 318–329 (2009)

E. Holder, N. Tessler, A.L. Rogach, Hybrid nanocomposite materials with organic and inorganic components for opto-electronic devices. J. Mater. Chem. 18, 1064–1078 (2008)

F. Yang, J. Zhao, Y. Li, S. Zhang, Y. Shao, H. Shao, T. Ma, C. Gong, Synthesis and properties of novel organosoluble polyimides derived from bis[3-(4-amino-2-trifluoromethylphenoxy) phenyl] ether. Eur. Polym. J. 45, 2053–2059 (2009)

C. Wang, W. Chen, Y. Chen, X. Zhao, J. Li, Q. Ren, New fluorinated poly(ether sulfone imide)s with high thermal stability and low dielectric constant. Mater. Chem. Phys. 143, 773–778 (2014)

J.M. Arsuaga, A. Sotto, G. del Rosario, A. Martínez, S. Molina, S.B. Teli, J. Abajo, Influence of the type, size, and distribution of metal oxide particles on the properties of nanocomposite ultrafiltration membranes. J. Membr. Sci. 428, 131–141 (2013)

M. Dinari, H. Ahmadizadegan, Preparation, characterization and gas separation properties of nanocomposite materials based on novel silane functionalizing polyimide bearing pendent naphthyl units and ZnO nanoparticles. RSC Adv. 5, 8630–8639 (2015)

H. Seyedjamali, A. Pirisedigh, Synthesis and morphology of new functional polyimide/titania nanohybrid materials. J. Mater. Sci. 46, 6744–6750 (2011)

L.Y. Ng, A.W. Mohammad, C.P. Leo, N. Hilal, Polymeric membranes incorporated with metal/metal oxide nanoparticles: a comprehensive review. Desalination 308, 15–33 (2013)

L. Weng, H.X. Li, X.P. Yang, L.Z. Liu, Preparation and characterization of silica/polyimide nanocomposite films based on water-soluble poly(amic acid) ammonium salt. Polym. Compos. (2015). doi:10.1002/pc.23637

Z. Ahamd, A.A. Arbash, A.A.M. Ali, F. Al-Sagheer, Synthesis and characterization of chemically cross-linked polyimide-siloxane hybrid films. J. Non-Cryst. Solids 355, 507–517 (2009)

J. Lin, Y. Liu, W. Yang, Z. Xie, P. Zhang, X. Li, H. Lin, G. Chen, Q. Lei, Structure and mechanical properties of the hybrid films of well dispersed SiO2 nanoparticle in polyimide (PI/SiO2) prepared by sol-gel process. J. Polym. Res. 21, 531–538 (2014)

H. Cong, B. Yu, Aminosilane cross-linked PEG/PEPEG/PPEPG membrane for CO2/N2 and CO2/H2 separation. Ind. Eng. Chem. Res. 49, 9363–9369 (2010)

W.J. Koros, A.H. Chan, D.R. Paul, Sorption and transport of various gases in polycarbonate. J. Membr. Sci. 2, 165–190 (1977)

R.M. Felder, G.S. Huvard, R. Fava, Permeation, Diffusion and Sorption of Gases and Vapors (Academic Press, New York, 1978)

H. Cizchos, T. Saito, L. Smith, Springer Handbook of Materials Measurement Methods (Springer, New York, 2006)

W.H. Lin, R.H. Vora, T.S. Chung, Gas transport properties of 6FDA-durene/1,4-phenylenediamine (pPDA) copolyimides. J. Polym. Sci., Part B: Polym. Phys. 38, 2703–2713 (2000)

T.C. Merkel, B.D. Freeman, R.G. Spontak, Z. He, I. Pinnau, P. Meakin, A.J. Hill, Ultrapermeable, reverse-selective nanocomposite membranes. Science 296, 519–522 (2002)

M.D. Guiver, G.P. Robertson, Y. Dai, F. Bilodeau, Y.S. Kang, K.J. Lee, J.Y. Jho, J. Won, Structural characterization and gas-transport properties of brominated matrimid polyimide. J. Polym. Sci., Part A: Polym. Chem. 40, 4193–4204 (2002)

J.H. Kim, Y.M. Lee, Gas permeation properties of poly(amide-6-b-ethylene oxide)–silica hybrid membranes. J. Membr. Sci. 193, 209–225 (2001)

L.M. Robeson, Correlation of separation factor versus permeability for polymeric membranes. J. Membr. Sci. 62, 165–185 (1991)
Acknowledgements
H.A. acknowledges financial support from Iran Nanotechnology Initiative Council (INIC).
About this article
Cite this article
Ahmadizadegan, H., Khajavian, R. Novel functional aromatic polyimides and polyimide/titania nanocomposite thin films for gas separation: preparation and structural characterization. J IRAN CHEM SOC 14, 777–789 (2017). https://doi.org/10.1007/s13738-016-1028-2
Received:

Accepted:

Published:

Issue Date:

DOI: https://doi.org/10.1007/s13738-016-1028-2
Keywords
Dianhydride

Nanohybrid films

Titania nanoparticle

Thermal properties

Gas separation