Abstract
In this paper, a novel molecularly imprinted polymer coated stir bar has been used to selectively extract naphthalene sulfonates (NSs) directly from seawater sample. 1-Naphthalene sulfonic acid (1-NS) was used as template molecule. The effects of different parameters were optimized on the extraction efficiency and the optimum conditions were established as: the absorption and desorption times were fixed, respectively, at 10 and 15 min, stirring speed was 700 rpm, pH was adjusted to 4.1, amount of NaCl was 1 mol L−1 and extraction process was performed at a temperature of 50 °C. The linear ranges were 2–250 µg L−1 for 3,6-NDS-1-OH (1-naphthol-3,6-disulfonic acid), 4–250 µg L−1 for 2-NS (2-naphthalene sulfonate) and 3–250 µg L−1 for 1-NS. The detection limits were within the range of 0.32–0.95 µg L−1. Under optimum conditions, the detection limits of the NSs were 0.84, 0.95 and 0.32 µg L−1 with the enrichment factor of 117-, 41- and 77-fold for 2-NS, 1-NS, and 6-NDS-1-OH, respectively. The repeatability of the method was satisfactory (0.53 ≤ RSD ≤6.0 %, n = 10). The method has been successfully applied for the analysis of trace amounts of three naphthalene sulfonates in seawater of Chabahar Bay.
Access options
Buy single article
Instant access to the full article PDF.
USD 39.95
Price excludes VAT (USA)
Tax calculation will be finalised during checkout.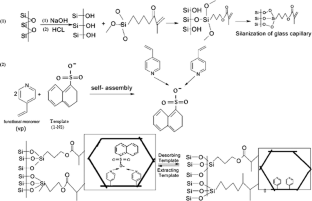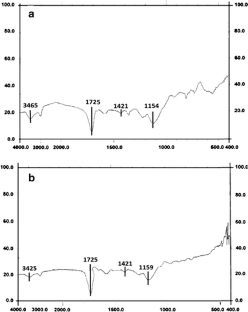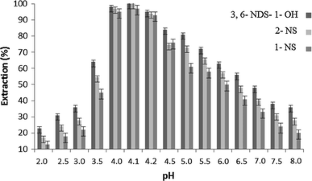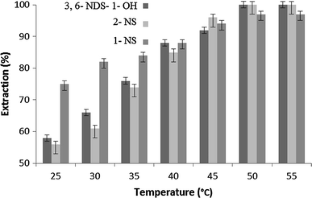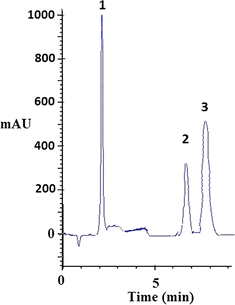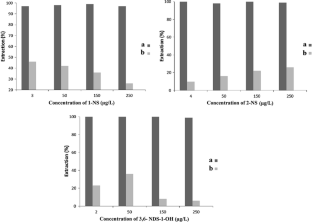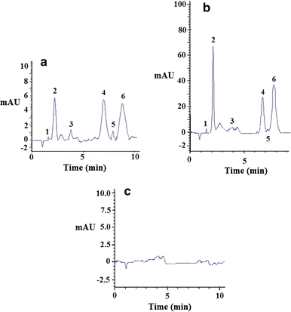 References
E. Caro, R.M. Marcé, P.A.G. Cormack, D.C. Sherrington, F. Borrull, J. Chromatogr. A. 1047, 175 (2004)

T. Olmez-Hanci, Z. Kartal, İ. Arslan-Alaton, J. Environ. Manage. 99, 44 (2012)

C.H. Liu, W.H. Ding, J. Chin. Chem. Soc. 49, 349 (2002)

R.A. Gimeno, J.L. Beltrán, R.M. Marcé, F. Borrull, J. Chromatogr. A. 890, 289 (2000)

V. Gianotti, F. Gosetti, S. Polati, M.C. Gennaro, Chemosphere 67, 1993 (2007)

C.H. Liu, W.H. Ding, J. Chromatogr. A. 926, 341 (2001)

I.S. Kim, F.I. Sasinos, D.K. Rishi, R.D. Stephens, M.A. Brown, J. Chromatogr. A. 589, 177 (1991)

M. Nottebohm, T. Licha, J. Chromatogr. Sci. 50, 477 (2012)

M. Kaykhaii, G.W. Dicinoski, P.R. Haddad, Anal. Lett. 43, 1546 (2010)

W.M. Mullett, P. Martin, J. Pawliszyn, Anal. Chem. 73, 2383 (2001)

Z. Xu, Z. Yang, Z. Liu, J. Chromatogr. A. 1358, 52 (2014)

Z. Zhang, W. Zhang, T. Bao, Z. Chen, J. Chromatogr. A. 1407, 1 (2015)

Z. Xu, Y. Hu, Y. Hu, G. Li, J. Chromatogr. A. 1217, 3612 (2010)

C. Hu, M. He, B. Chen, C. Zhong, B. Hu, J. Chromatogr. A. 1356, 45 (2014)

F. David, P. Sandra, J. Chromatogr. A. 1152, 54 (2007)

N. Zhang, B. Hu, Anal. Chim. Acta. 723, 54 (2012)

Y. Hu, J. Li, Y. Hu, G. Li, Talanta 82, 464 (2010)

S.H. Hashemi, M. Kaykhaii, M. Khajeh, Anal. Lett. 48, 1815 (2015)

M. Khajeh, M. Bohlooli, H. Hashemi, J. Macromol. Sci. 46, 526 (2009)

M. Kaykhaii, M. Khajeh, S.H. Hashemi, J. Adv. Res. Anal. Chem. 70, 1318 (2015)

M. Khajeh, M. Kaykhaii, M. Mirmoghaddam, H. Hashemi, J. Environ. Anal. Chem. 89, 981 (2009)

H. Hashemi, M. Khajeh, M. Kaykhaii, Anal. Methods 5, 2778 (2013)

M. Khajeh, M. Kaykhaii, H. Hashemi, M. Mirmoghaddam, Polym. Sci. Ser. B. 51, 344 (2009)
About this article
Cite this article
Hashemi, S.H., Kaykhaii, M. & Tabehzar, F. Molecularly imprinted stir bar sorptive extraction coupled with high-performance liquid chromatography for trace analysis of naphthalene sulfonates in seawater. J IRAN CHEM SOC 13, 733–741 (2016). https://doi.org/10.1007/s13738-015-0785-7
Received:

Accepted:

Published:

Issue Date:

DOI: https://doi.org/10.1007/s13738-015-0785-7
Keywords
Naphthalene sulfonates (NSs)

Molecularly imprinted polymer coated stir bar (MIPSB)

Seawater

Chabahar Bay