Abstract
An efficient catalyst-free and diastereoselective synthesis of novel dihydropyrano[2,3-d]pyrimidine and dihydropyrano[3,2-c]chromen-annulated benzosultams is described. A number of (E)-N-(2-formylphenyl)-N-methyl-2-phenylethenesulfonamides were synthesized and underwent a one-pot domino Knoevenagel hetero-Diels–Alder reaction, respectively, with N,N-dimethylbarbituric acid and 4-hydroxycoumarin in water, giving the desired products, in moderate to excellent yields.
Access options
Buy single article
Instant access to the full article PDF.
USD 39.95
Price excludes VAT (USA)
Tax calculation will be finalised during checkout.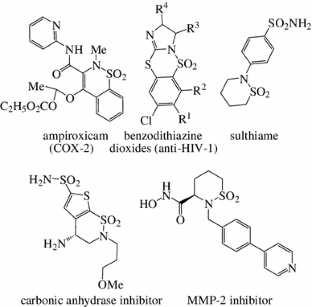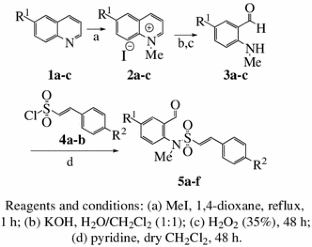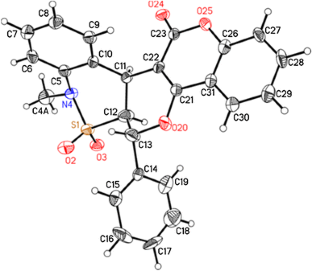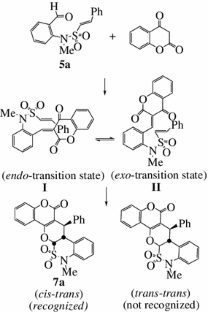 References
J. Drews, Science 287, 1960 (2000)

T. Owa, A. Mastrolorenzo, C.T. Supuran, Curr Med Chem 10, 925 (2003)

J.R. Carreon, K.P. Mahon Jr, S.O. Kelley, Org Lett 6, 517 (2004)

U. Asseline, M. Chassignol, Y. Aubert, V. Roig, Org Biomol Chem 4, 1949 (2006)

N. Lebegue, S. Gallet, N. Flouquet, P. Carato, B. Pfeiffer, P. Renard, S. Léonce, A. Pierré, P. Chavatte, P. Berthelot, J Med Chem 48(7363), 7363 (2005)

R. Silvestri, G. Marfè, M. Artico, G. La Regina, A. Lavecchia, E. Novellino, M. Morgante, C. Di Stefano, G. Catalano, G. Filomeni, E. Abruzzese, M.R. Ciriolo, M.A. Russo, S. Amadori, R. Cirilli, F. La Torre, P.S. Salimei, J Med Chem 49, 5840 (2006)

Y.R. Lee, T.V. Hung, Tetrahedron 64, 7338 (2008)

X. Rabasseda, S.J. Hopkins, Drugs Today 30, 557 (1994)

F. Brzozowski, F. Saczewski, N. Neamati, Bioorg Med Chem Lett 16, 5298 (2006)

H. Tanimukai, M. Inui, S. Hariguchi, Z. Kaneko, Biochem Pharmacol 14, 961 (1965)

C.-Y. Kim, D.A. Whittington, J.S. Chang, J. Liao, J.A. May, D.W. Christianson, J Med Chem 45, 888 (2002)

R.J. Cherney, R. Mo, D.T. Meyer, K.D. Hardman, R.-Q. Liu, M.B. Covington, M. Qian, Z.R. Wasserman, D.D. Christ, J.M. Trzaskos, R.C. Newton, C.P. Decicco, J Med Chem 47, 2981 (2004)

E. Differding, R. Lang, Helv Chim Acta 72, 1248 (1989)

F.A. Davis, B.-C. Chen, Chem Rev 92, 919 (1992)

P. Dauban, R.H. Dodd, Org Lett 10, 2223 (2008)

R.D. Bravo, A.S. Canepa, Synth Commun 32, 3675 (2002)

O.O. Orazi, R.A. Corral, R. Bravo, J Heterocycl Chem 23, 1701 (1986)

A.R. Katritzky, J. Wu, S. Rachwal, B. Rachwal, D.W. Macomber, T.P. Smith, Org Prep Proced Int 24, 463 (1992)

J. Lee, Y.-L. Zhong, R.A. Reamer, D. Askin, Org Lett 5, 4175 (2003)

D. Enders, A. Moll, J.W. Bats, Eur J Org Chem 71, 1271 (2006)

U. Chiacchio, A. Corsaro, A. Rescifina, M. Bkaithan, M.G. Grassi, A. Piperno, Tetrahedron 57, 3425 (2001)

P. Metz, D. Seng, R. Frohlich, Synlett 741 (1996)

B. Plietker, D. Seng, R. Frohlich, P. Metz, Tetrahedron 56, 873 (2000)

V.O. Rogatchov, H. Bernsmann, P. Schwab, R. Fröhlich, B. Wibbeling, P. Metz, Tetrahedron Lett 43, 4753 (2002)

I.R. Greig, M.J. Trozer, P.T. Wright, Org Lett 3, 369 (2001)

J. Wanner, A.M. Harned, D.A. Probst, K.W.C. Poon, T.A. Klein, K.A. Snelgrove, P.R.A. Hanson, Tetrahedron Lett 43, 917 (2002)

S. Merten, R. Frohlich, O. Kataeva, P. Metz, Adv Synth Catal 347, 754 (2005)

M. Wang, Y. Wang, X. Qi, G. Xia, K. Tong, J. Tu, C.U. Pittman Jr, A. Zhou, Org Lett 14, 3700 (2012)

A. Vasudevan, P.-S. Tseng, S.W. Djuric, Tetrahedron Lett 47, 8591 (2006)

X.-Y. Liu, C.-H. Li, C.-M. Che, Org Lett 8, 2707 (2006)

P. Dauban, R.H. Dodd, Org Lett 2, 2327 (2000)

P. Dauban, L. Sanière, T. Aurélie, R.H. Dodd, J Am Chem Soc 123, 7707 (2001)

E.S. Sherman, S.R. Chemler, T.B. Tan, O. Gerlits, Org Lett 6, 1573 (2004)

W. Zeng, S.R. Chemler, J Am Chem Soc 129, 12948 (2007)

J.-L. Liang, S.-X. Yuan, P.W.H. Chan, C.-M. Che, Org Lett 4, 4507 (2002)

A. Padwa, A.C. Flick, C.A. Leverett, T. Stengel, J Org Chem 69, 6377 (2004)

L.F. Tietze, J Heterocycl Chem 27, 47 (1990)

L.F. Tietze, A. Modi, Med Res Rev 20, 304 (2000)

L.F. Tietze, N. Rackelmann, Pure Appl Chem 76, 1967 (2004)

L.F. Tietze, N. Rackelmann, I. Muller, Chem Eur J 10, 2722 (2004)

K.C. Majumdar, A. Taher, S. Ponra, Tetrahedron Lett 51, 2297 (2010)

M. Kiamehr, F.M. Moghaddam, Tetrahedron Lett 50, 6723 (2009)

M. Ghandi, S.H. Nazari, A. Hasani Bozcheloei, M. Sadeghzadeh, R. Kia, Tetrahedron Lett 52, 6613 (2011)

P.A. Grieco, Organic synthesis in water (Blacky Academic & Professional, London, 1998), p. 82

U.M. Lindstrom, Chem Rev 102, 2751 (2002)

C.-J. Li, Chem Rev 105, 3095 (2005)

C.-J. Li, T.-H. Chan, Comprehensive organic reaction in aqueous media (Wiley, New York, 2007)

I.A. Apple, O. Meth-Cohn, Arkivoc vi, 4 (2002)

U. Chiacehio, A. Corsaro, G. Gumina, V. Pistara, A. Rescifina, M. Alessi, A. Piperno, G. Romeo, R. Romeo, Tetrahedron 43, 13855 (1997)

L.F. Tietze, Chem Rev 96, 115 (1996)

Y.R. Yong, R. Lee, Y.M. Kim, S.H. Kim, Tetrahedron 65, 101 (2009)

K.C. Majumdar, A. Taher, K. Ray, Tetrahedron Lett 50, 3889 (2009)

H.K. Oh, J.E. Park, D.D. Sung, I. Lee, J Org Chem 69, 69 (2004)
Acknowledgments
The authors acknowledge the University of Tehran and Radioisotope Research Group of NSTRI for financial support of this research.
About this article
Cite this article
Ghandi, M., Sheibani, S., Sadeghzadeh, M. et al. Synthesis of novel tetra- and pentacyclic benzosultam scaffolds via domino Knoevenagel hetero-Diels–Alder reactions in water. J IRAN CHEM SOC 10, 1057–1065 (2013). https://doi.org/10.1007/s13738-013-0247-z
Received:

Accepted:

Published:

Issue Date:

DOI: https://doi.org/10.1007/s13738-013-0247-z
Keywords