Abstract
30% of the patients suffering from hyperoxaluria type 1 are diagnosed only when they already had reached end-stage renal disease. We report the case of a 57-year-old woman with history of chronic kidney failure presenting with paraplegia due to spinal cord compression by thoracic mass-like lesions. Bone biopsy specimen obtained by decompressive laminectomy revealed calcium oxalate deposits. Once diagnosis of primary hyperoxaluria was confirmed, she underwent haemodialysis with incomplete improvement of her neurological disorders and was registered on the waiting list for transplantation.
This is a preview of subscription content, log in to check access.
Access options
Buy single article
Instant access to the full article PDF.
US$ 39.95
Price includes VAT for USA
Subscribe to journal
Immediate online access to all issues from 2019. Subscription will auto renew annually.
US$ 99
This is the net price. Taxes to be calculated in checkout.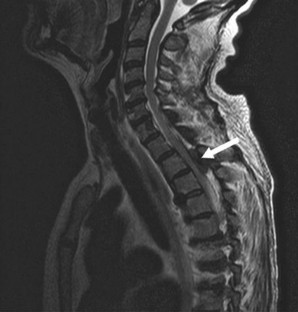 References
1.

Worcester EM, Coe FL. Calcium kidney stones. N Engl J Med. 2010;363:954–63.

2.

Cochat P. Primary hyperoxaluria type 1. Kidney Int. 1999;55:2533–47.

3.

Bacchetta J, Boivin G, Cochat P. Bone Impairment in primary hyperoxaluria: a review. Pediatr Nephrol. 2016;31:1–6.

4.

Mulay SR, Kulkarni OP, Rupanagudi KV, Migliorini A, Darisipudi MN, Vilaysane A, Muruve D, Shi Y, Munro F, Liapis H, Anders HJ. Calcium oxalate crystals induce renal inflammation by NLRP3-mediated IL-1β secretion. J Clin Invest. 2013;12:236–46.

5.

Cochat P, Rumsby G. Primary hyperoxaluria. N Engl J Med. 2013;369:649–58.

6.

Hoppe B. An update on primary hyperoxaluria. Nat Rev Nephrol. 2012;8:467–75.

7.

Hoppe B, Beck BB, Milliner DS. The primary hyperoxalurias. Kidney Int. 2009;75:1264–71.

8.

Tang X, Bergstralh EJ, Mehta RA, Vrtiska TJ, Milliner DS, Lieske JC. Nephrocalcinosis is a risk factor for kidney failure in primary hyperoxaluria. Kidney Int. 2015;87:623–31.

9.

Nair P, Al-Otaibi T, Nampoory N, Al-Qabandi W, Said T, Halim MA, Gheith O. Combined liver and kidney transplantation in primary hyperoxaluria: a report of three cases and review of the literature. Saudi J Kidney Dis Transpl. 2013;24:969–75.

10.

Bhasin B, Ürekli HM, Atta MG. Primary and secondary hyperoxaluria: understanding the enigma. World J Nephrol. 2015;4:235–44.
Ethics declarations
Conflict of interest
The authors have declared that no conflict of interest exists.
Ethical approval
This article does not contain any studies with human participants or animals performed by any of the authors.
Informed consent
Written informed consent was obtained from the patient's parents for publication of this case report and accompanying images. A copy of the written consent may be requested for review from the corresponding author.
About this article
Cite this article
Dieudonné, Y., Eprinchard, L., Léon, E. et al. Paraplegia as a presentation of primary hyperoxaluria. CEN Case Rep 7, 313–315 (2018). https://doi.org/10.1007/s13730-018-0349-7
Received:

Accepted:

Published:

Issue Date:
Keywords
Hyperoxaluria

End-stage renal disease

Nephrocalcinosis

Oxalosis

Paraplegia