Abstract
A 53-year-old woman was admitted to our hospital with a 1-month history of gradually progressive resting dyspnea and lumbar backache. For the preceding 6 years, she had received regular hemodialysis for end-stage renal disease caused by autosomal dominant polycystic kidney disease and had taken tamoxifen for 3 years as post-operative chemotherapy for breast cancer. Before admission, the patient's symptoms had been attributed to volume overload, based on right thoracic fluid and leg edema. However, despite volume correction by dialysis therapy, her symptoms had not improved. The patient was transferred to our hospital, where she was diagnosed with subacute pulmonary embolism (PE). Emergent pulmonary thrombectomy was performed using cardio-pulmonary bypass. The patient was discharged from our hospital on post-operative day 23. Recent reports have shown that hemodialysis patients have a relatively higher risk of PE compared with the general population. Our case had additional risk factors for PE: female sex, decreased protein C level, tamoxifen use, and autosomal dominant polycystic kidney disease. These factors may have had a synergistic effect on the onset of PE.
This is a preview of subscription content, log in to check access.
Access options
Buy single article
Instant access to the full article PDF.
US$ 39.95
Price includes VAT for USA
Subscribe to journal
Immediate online access to all issues from 2019. Subscription will auto renew annually.
US$ 99
This is the net price. Taxes to be calculated in checkout.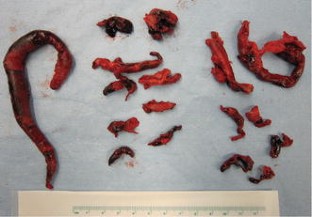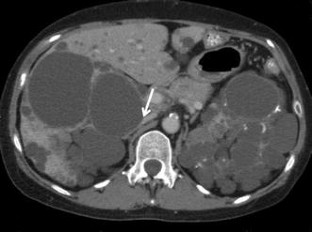 References
1.

Tveit DP, Hypolite IO, Hshieh P, Cruess D, Agodoa LY, Welch PG, Abbott KC. Chronic dialysis patients have high risk for pulmonary embolism. Am J Kidney Dis. 2002;39:1011–7.

2.

Kumar G, Sakhuja A, Taneja A, Majumdar T, Patel J, Whittle J, Nanchal R. Pulmonary embolism in patients with CKD and ESRD. Clin J Am Soc Nephrol. 2012;7:1584–90.

3.

Mohan B, Chhabra ST, Aslam N, Wander GS, Sood NK, Verma S, Mehra AK, Sharma S. Mechanical breakdown and thrombolysis in subacute massive pulmonary embolism: a prospective trial. World J Cardiol. 2013;26:141–7.

4.

JCS Joint Working Group. Guidelines for the diagnosis treatment and prevention of pulmonary thromboembolism and deep vein thrombosis (JCS 2009). Circ J. 2011;75:1258–81.

5.

Casserly LF, Dember LM. Thrombosis in end-stage renal disease. Semin Dial. 2003;16:245–6.

6.

Molino D, De Lucia D, Gaspare De Santo N. Coagulation disorders in uremia. Semin Nephrol. 2006;26:46–51.

7.

Wattanakit K, Cushman M, Stehman-Breen C, Heckbert SR, Folsom AR. Chronic kidney disease increases risk for venous thromboembolism. J Am Soc Nephrol. 2008;19:135–40.

8.

Hernandez RK, Sorensen HT, Pedersen L, Jacobsen J, Lash TL. Tamoxifen treatment and risk of deep venous thrombosis and pulmonary embolism: a Danish population-based cohort study. Cancer. 2009;115:4442–9.

9.

Early Breast Cancer Trialists' Collaborative Group (EBCTCG). Effects of chemotherapy and hormonal therapy for early breast cancer on recurrence and 15-year survival: an overview of the randomised trials. Lancet. 2005;365:1687–717.

10.

Bushnell CD, Goldstein LB. Risk of ischemic stroke with tamoxifen treatment for breast cancer: a meta-analysis. Neurology. 2004;63:1230–3.

11.

Torres VE, Rastogi S, King BF, Stanson AW, Gross JB Jr, Nogorney DM. Hepatic venous outflow obstruction in autosomal dominant polycystic kidney disease. J Am Soc Nephrol. 1994;5:1186–92.

12.

Chauveau D, Grunfeld JP, Durand F, Belghiti J. Ascites in a polycystic patient. Nephrol Dial Transplant. 1997;12:228–30.

13.

O'Sullivan DA, Torres VE, Heit JA, Liggett S, King BF. Compression of the inferior vena cava by right renal cysts: an unusual cause of IVC and/or iliofemoral thrombosis with pulmonary embolism in autosomal dominant polycystic kidney disease. Clin Nephrol. 1998;49:332–4.

14.

Jacquet A, Pallet N, Kessler M, Hourmant M, Garrigue V, Rostaing L, Kreis H, Legendre C, Mamzer-Bruneel MF. Outcomes of renal transplantation in patients with autosomal dominant polycystic kidney disease: a nationwide longitudinal study. Transpl Int. 2011;24:582–7.

15.

Maruyama Y, Yamauchi S, Ogasawara H, Imura H, Ochi M, Shimizu K. Surgical experience of subacute pulmonary thromboembolism with severe pulmonary hypertension. Ann Thorac Cardiovasc Surg. 2006;12:60–2.

16.

Sise ME, Courtwright AM, Channick RN. Pulmonary hypertension in patients with chronic and end-stage kidney disease. Kidney Int. 2013;84:682–92.

17.

Moser KM, Auger WR, Fedullo PF. Chronic major-vessel thromboembolic pulmonary hypertension. Circulation. 1990;81:1735–43.

18.

Nampoory MR, Das KC, Johny KV, Al-Hilali N, Abraham M, Easow S, Saed T, Al-Muzeirei IA, Sugathan TN, Al Mousawi M. Hypercoagulability, a serious problem in patients with ESRD on maintenance hemodialysis, and its correction after kidney transplantation. Am J Kidney Dis. 2003;42:797–805.
Ethics declarations
Conflict of interest
Honoraria: Takanari Kitazono (Bayer Pharmaceutical Co., Bristol-Myers Squibb Co., Daiichi-Sankyo Co.), Kazuhiko Tsuruya (Chugai Pharmaceutical Co., Kyowa Hakko Kirin Co.); Takanari Kitazono (Astellas Pharma Inc., Daiichi-Sankyo Co., Eisai Co., Kyowa Hakko Kirin Co., Mitsubishi Tanabe Pharma Co., MSD K.K., Ono Pharmaceutical Co., Otsuka Pharmaceutical Co., Sanofi-Aventis Pharmaceutical Co., Takeda Pharmaceutical Co.), Kazuhiko Tsuruya (Chugai Pharmaceutical Co., Kyowa Hakko Kirin Co., Otsuka Pharmaceutical Co., Takeda Pharmaceutical Co.); Endowed department: Kazuhiko Tsuruya (Baxter).
About this article
Cite this article
Yamasaki, K., Haruyama, N., Taniguchi, M. et al. Subacute pulmonary embolism in a hemodialysis patient, successfully treated with surgical thrombectomy. CEN Case Rep 5, 74–77 (2016). https://doi.org/10.1007/s13730-015-0195-9
Received:

Accepted:

Published:

Issue Date:
Keywords
ADPKD

Hemodialysis

Pulmonary embolism

Tamoxifen