Abstract
The disposal of recycled tires is a problem that has gained considerable importance since it has involved the environmental as well as various disciplines and points of view. Currently, the burning and outdoor storage of disposed tires are forbidden practices because of their polluting effect, damage to health and the fact that they contribute to the spread of diseases due to vectors such as insects. Therefore, it is important to research alternative methods that provide added value. In this work, waste ground tire rubber was treated by applying a combination of oxidation with potassium permanganate/hydrogen peroxide, followed by microwave exposure in the presence of a devulcanizing agent. Devulcanized tire rubber was analyzed by Fourier transform infrared spectroscopy, differential scanning calorimetry, thermogravimetric analysis, cross-link density and sol fraction. Styrene butadiene rubber composites were prepared using devulcanized tire rubber and sulfur cure system. The blends were mixed in a two roll mill laboratory. The vulcanized specimens were obtained by compression molding. Curing properties, tensile and tear strength, elongation at break, hardness (Shore A units), abrasion resistance (mm3), and compression set of these rubber composites were evaluated and the morphology of the fractured surfaces from tensile specimens were analyzed with scanning electron microscopy. The results showed that microwave exposure with devulcanizing agent reduced the cross-link density and increased the soluble fraction of rubber tire. Improved flow through viscosity reduction (low torque) and higher mechanical strength were obtained by compounding styrene butadiene rubber with ground rubber tire (thermo-oxidized followed by microwave exposure with devulcanizing agent), whose market values were similar to those obtained for virgin styrene butadiene rubber/silica composite.
Access options
Buy single article
Instant access to the full article PDF.
USD 39.95
Price excludes VAT (USA)
Tax calculation will be finalised during checkout.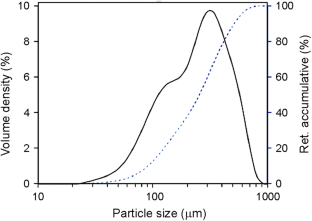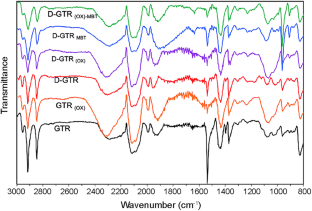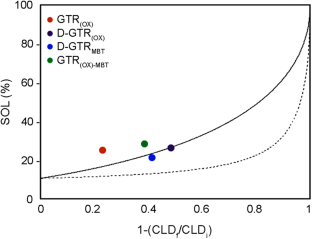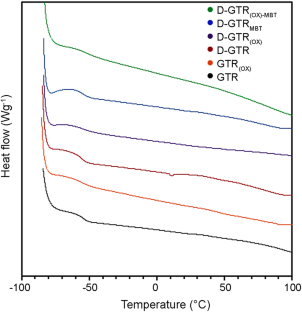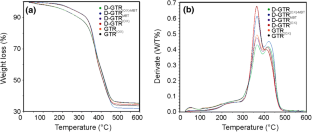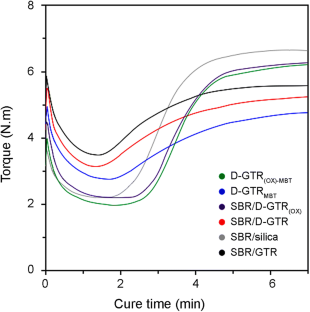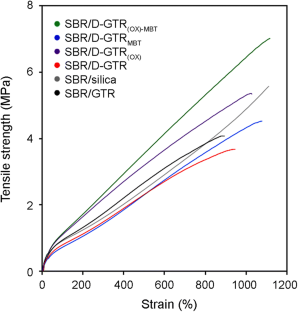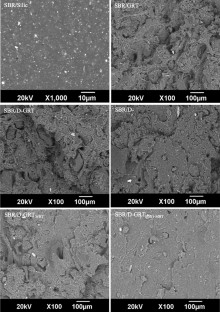 References
Sienkiewicz M, Janik H, Borzędowska K, Kucińska J (2017) Environmentally friendly polymer–rubber composites obtained from waste tyres: a review. J Clean Prod 147:560–571

Molanorouzi M, Mohaved S (2016) Reclaiming waste tire rubber by an irradiation technique. Polym Degrad Stab 128:115–125

Bin A (2016) A comparative study of natural rubber modified with devulcanized ground tire rubber (CAR). Thesis Universitat Politecnica de Catalunya, Barcelona España

El-Nemr K, Khalil A, Fathy E (2018) Thermoplastic elastomers based on waste rubber and expanded polystyrene: role of devulcanization and ionizing radiation. Int J Polym Anal Charact 23:58–69

Scuracchio C, Waki D, Da Silva M (2007) Thermal analysis of ground tire rubber devulcanized by microwaves. J Therm Anal Calorim 87:893–897

Aoudia K, Azem S, Aït Hocine N, Gratton M, Pettarin V, Seghar S (2017) Recycling of waste tire rubber: microwave devulcanization and incorporation in a thermoset resin. Waste Manage 60:471–481

Bilgili E, Arastoopour H, Bernstein B (2001) Pulverization of rubber granulates using the solid-state shear extrusion (SSSE) process. Part I. Process concepts and characteristics. Powder Technol 115:265–276

Asaro L, Gratton S, Seghar S, Aït Hocine N (2018) Recycling of rubber wastes by devulcanization. Resour Conserv Recycle 133:250–262

Ramarad S, Khalid M, Ratnam C, Chuah A, Rashmi W (2015) Waste tire rubber in polymer blends: a review on the evolution, properties and future. J Prog Mater Sci 72:100–140

Bhadra A (2006) An experimental study on the microstructure-mechanical property relationship of crumb rubber-polyurethane foam composites. Jadavpur University, Kolkata, India, Thesis

Yu G, Li Z, Zhou X, Li C (2011) Crumb rubber-modified asphalt: microwave treatment effects. Pet Sci Technol 29:411–417

Sonnier R, Leroy E, Clerc L, Bergeret A, Lopez-Cuesta J (2007) Polyethylene/ground tyre rubber blends: influence of particle morphology and oxidation on mechanical properties. Polym Test 26:274–281

Mangili I, Collina E, Anzano M, Pitea D, Lasagni M (2014) Characterization and supercritical CO2 devulcanization of cryo-ground tire rubber: influence of devulcanization process on reclaimed material. Polym Degrad Stab 102:15–24

Dobrotă D, Dobrotă G (2018) An innovative method in the regeneration of waste rubber and the sustainable development. J Clean Prod 172:3591–3599

Luo M, Liao X, Lio S, Zhao Y (2013) Mechanical and dynamic mechanical properties of natural rubber blended with waste rubber powder modified by both microwave and sol-gel method. J Appl Polym Sci 129:2313–2320

Tao G, He Q, Xia Y, Jia G, Yang H, Ma W (2013) The effect of devulcanization level on mechanical properties of reclaimed rubber by thermal-mechanical shearing devulcanization. J Appl Polym Sci 129:2598–2605

Bastos F, Gouveia J, Camargo P, Vidotti S, Scuracchio C, Goncalves L, Sanches T (2015) Blends of ground tire rubber devulcanized by microwaves/HDPE. Part B: Influence of clay addition. Polimeros 25:382–391

Rooj S, Basak G, Maji P, Bhowmick A (2011) New route for devulcanization of natural rubber and the properties of devulcanized rubber. J Polym Environ 19:382–390

Khavarnia M, Movahed S (2016) Butyl rubber reclamation by combined microwave radiation and chemical reagents. J Appl Polym Sci 133:43363–43373

Movahed S, Ansarifar A, Zohuri G, Ghaneie N, Kermany Y (2016) Devulcanization of ethylene-propylene-diene waste rubber by microwaves and chemical agents. J Elastom Plast 48:122–144

Jana G, Mahaling R, Das C (2006) A novel devulcanization technology for vulcanized natural rubber. J Polym Sci 99:2831–2840

Hassan M, Aly R, Aal S, El-Masry A, Fathy E (2013) Styrene butadiene-based blends containing waste rubber powder: physico-mechanical effects of mechanochemical devulcanization and gamma irradiation. J Ind Eng Chem 19:1735–1742

Ghorai S, Bhunia S, Roy M, De D (2016) Mechanochemical devulcanization of natural rubber vulcanizate by dual function disulfide chemicals. Polym Degrad Stab 129:34–46

Sripornsawat B, Saiwari S, Pichaiyut S, Nakason C (2016) Influence of ground tire rubber devulcanization conditions on properties of its thermoplastic vulcanizate blends with copolyester. Eur Polym J 85:279–297

Sabzekar M, Chenar M, Mortazavi S, Kariminejad M, Asadi S, Zohuri G (2015) Influence of process variables on chemical devulcanization of sulfur-cured natural rubber. Polym Degrad Stab 118:88–95

Jana G, Das C (2005) Devulcanization of natural rubber vulcanizates by mechanochemical process. J Polym Plast Technol Eng 44:1399–1412

Liu Z, Li X, Xu X, Wang X, Dong C, Liu F, Wei W (2015) Influence of process variables on chemical devulcanization of sulfur-cured natural rubber. Polym Degrad Stab 119:198–207

Feng W, Isayev A, Von E (2004) Molecular mobility in ultrasonically treated butyl gum and devulcanized butyl rubber. Polymer 45:8459–8467

Seghar S, Aït Hocine N, Mittal V, Azem S, Al-Zohbi F, Schmaltz B, Poirot N (2015) Devulcanization of styrene butadiene rubber by microwave energy: effect of the presence of ionic liquid. Express Polym Lett 9:1076–1086

Mishra RR, Sharma AK (2016) Microwave-material interaction phenomena: heating mechanisms, challenges and opportunities in material processing. Compos Part A: Appl Sci Manuf 81:78–97

Leonelli C, Mason TJ (2010) Microwave and ultrasonic processing: now a realistic option for industry. Chem Eng Proc: Proc Intensif 49:885–900

Zanchet A, Carli L, Giovanela M, Brandalise R, Crespo J (2012) Use of styrene butadiene rubber industrial waste devulcanized by microwave in rubber composites for automotive application. Mater Des 39:437–443

Bastos F, Scuracchio C, Hu G, Hoppe S (2017) Devulcanization of waste tire rubber by microwaves. Polym Degrad Stab 138:169–181

Simon DÁ, Pirityi D, Tamás-Bényei P, Bárány T (2020) Microwave devulcanization of ground tire rubber and applicability in SBR compounds. J Appl Polym Sci 137:48351

de Sousa FD, Zanchet A, Scuracchio CH (2019) From devulcanization to revulcanization: challenges in getting recycled tire rubber for technical applications. ACS Sustain Chem Eng 7:8755–8765

Formela K, Hejna A, Zedler L, Colom Fajula X, Cañavate Ávila FJ (2019) Microwave treatment in waste rubber recycling–recent advances and limitations. eXPRESS Polym Lett 13:565-588

Mangili I, Lasagni M, Anzano M, Collina E, Tatangelo V, Franzetti A, Caracino P, Isayev A (2015) Mechanical and rheological properties of natural rubber compounds containing devulcanized ground tire rubber from several methods. Polym Degrad Stab 121:369–377

Bilgili E, Arastoopour H, Bernstein B (2001) Pulverization of rubber granulates using the solid state shear extrusion process. Part II. Powder characterization. Powder Technol 115:277–289

Beck N, Navarro S, Lazzarini R (2015) TG/FT-IR characterization of additives typically employed in EPDM formulations. Polimeros 25:247–255

Colthup N, Daly L, Wiberle S (1990) Introduction to infrared and raman spectroscopy. Academic Press Massachusetts 215

Colom X, Falik A, Formela K, Cañavate J (2016) FTIR spectroscopic and thermogravimetric characterization of ground tyre rubber devulcanized by microwave treatment. Polym Test 52:200–208

Walvekar R, Kunju K, Saputra R, Siddiqui K, Ramarad S (2018) Parametric study for devulcanization of waste tire rubber utilizing deep eutectic solvent (DES). MATEC Web Conf 152:01005

Munteanu S, Vasile C (2005) Spectral and thermal characterization of styrene-butadiene copolymers with different architectures. J Optoelectron Adv Mater 7:3135–3148

Baeta D, Zattera J, Oliveira M, Oliveira P (2009) The use of styrene-butadiene rubber waste as a potential filler in nitrile rubber: order of addition and size of waste particles. Brazil J Chem Eng 26:23–31

Shi J, Jian K, Ren D, Zou H, Wang Y, Lv X, Zhang L (2013) Structure and performance of reclaimed rubber obtained by different methods. J Appl Polym Sci 129:999–1007

Seghar S, Asaro L, Rolland-Monnet M, Hocine NA (2019) Thermo-mechanical devulcanization and recycling of rubber industry waste. Resour Conserv Recycle 144:180–186

Charlesby A, Freeth F (1954) Gel formation and molecular weight distribution in long-chain polymers. Proc R Soc A 222:542–557

Garcia P, De Sousa F, De Lima J, Cruz S, Scuracchio C (2015) Devulcanization of ground tire rubber: physical and chemical changes after different microwave exposure times. Express Polym Lett 9:1015–1026

Pistor V, Ornaghi FG, Fiorio R, Zattera AJ, Oliveira PJ, Scuracchio CH (2010) Desvulcanização do resíduo de terpolímero de etileno-propileno-dieno (EPDM-r) por micro-ondas. Polimeros 20:165–169

de Sousa FD, Scuracchio C, Hu GH, Hoppe S (2017) Devulcanization of waste tire rubber by microwaves. Polym Degrad Stabil 138:169–181

Ghorai S, Jalan A, Roy M, Das A, De D (2018) Tuning of accelerator and curing system in devulcanized green natural rubber compounds. Polym Test 69:133–145

Maridass B, Gupta B (2004) Performance optimization of a counter rotating twin screw extruder for recycling natural rubber vulcanizates using response surface methodology. Polym Test 23:377–385
Acknowledgements
This work is the product of the INV-ING-2627 Project funded by the Vice-Rectory of Research at Universidad Militar Nueva Granada—in effect for 2018.
About this article
Cite this article
Buitrago-Suescún, O., Britto, R. Devulcanization of ground tire rubber: thermo-oxidation followed by microwave exposure in the presence of devulcanizing agent. Iran Polym J 29, 553–567 (2020). https://doi.org/10.1007/s13726-020-00818-4
Received:

Accepted:

Published:

Issue Date:

DOI: https://doi.org/10.1007/s13726-020-00818-4
Keywords
Tire rubber

Devulcanization

Microwave

Styrene butadiene rubber

Composites