Abstract
We present a case of prostate-specific antigen (PSA) bounce in a 76 year old man who underwent salvage radiotherapy to the prostate bed following biochemical relapse 6 years post-radical prostatectomy for a T2N0 Gleason grade 3 + 3 prostate adenocarcinoma; 10 months following completion of salvage radiotherapy for biochemical PSA recurrence of 0.2 μg/L. Following undetectable results (<0.03 μg/L), his PSA rose from 0.04 to 0.3 μg/L with no evidence of prostate cancer recurrence before returning to undetectable levels without medical intervention. This PSA 'bounce phenomenon' is well described following radiotherapy to an intact prostate and has been proposed to be the result of a late fibrotic effect on irradiated prostate tissue. To our knowledge, this is the first case published describing the effect in the post-prostatectomy setting. It highlights the importance of serial PSA monitoring to confirm biochemical relapse before committing the patient to androgen deprivation therapy (with its inherent risks and side effects).
Access options
Buy single article
Instant access to the full article PDF.
USD 39.95
Price includes VAT (USA)
Tax calculation will be finalised during checkout.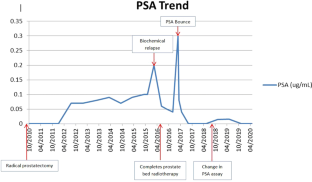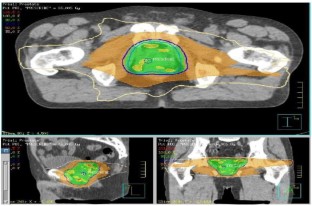 References
1.

Sheinbein C, Teh BS, Mai WY et al (2010) Prostate-specific antigen bounce after intensity-modulated radiotherapy for prostate cancer. Urology 76:728–733

2.

Caloglu M, Ciezki JP, Reddy CA et al (2011) PSA bounce and biochemical failure after brachytherapy for prostate cancer: a study of 820 patients with a minimum of 3 years of follow-up. Int J Radiat Oncol Biol Phys 80(3):735–741 Epub 2010 Jun 18

3.

Akyol F, Ozyigit G, Selek U et al (2005) PSA bouncing after short term androgen deprivation and 3D-conformal radiotherapy for localized prostate adenocarcinoma and the relationship with the kinetics of testosterone. Eur Urol 48:40–45

4.

Roy S, Loblaw A, Cheung P et al (2019) Prostate-specific antigen bounce after stereotactic body radiotherapy for prostate cancer: a pooled analysis of four prospective trials. Clin Oncol (R Coll Radiol) 31(9):621–629 Epub 2019 May 21

5.

Horwitz EM, Levy LB, Thames HD et al (2006) Biochemical and clinical significance of the posttreatment prostate-specific antigen bounce for prostate cancer patients treated with external beam radiation therapy alone: a multiinstitutional pooled analysis. Cancer 107:1496–1502

6.

Ciezki JP, Reddy CA, Garcia J et al (2006) PSA kinetics after prostate brachytherapy: PSA bounce phenomenon and its implications for PSA doubling time. Int J Radiat Oncol Biol Phys 64(2):512–517 Epub 2005 Oct 6

7.

Naghavi AO, Strom TJ et al (2015) Clinical implications of a prostate-specific antigen bounce after radiation therapy for prostate cancer. Int J Clin Oncol 20(3):598–604

8.

Critz FA, Williams WH, Benton JB et al (2000) Prostate specific antigen bounce after radioactive seed implantation followed by external beam radiation for prostate cancer. J Urol 163(4):1085–1089

9.

Mitchell DM, Swindell R, Elliott T et al (2008) Analysis of prostate-specific antigen bounce after I(125) permanent seed implant for localised prostate cancer. Radiother Oncol 88(1):102–107

10.

Yamamoto Y, Offord CP, Kimura G et al (2016) Tumour and immune cell dynamics explain the PSA bounce after prostate cancer brachytherapy. Br J Cancer 115(2):195–202

11.

Romesser PB, Pei X, Shi W et al (2018) Prostate-specific antigen (PSA) bounce after dose-escalated external beam radiation therapy is an independent predictor of psa recurrence, metastasis, and survival in prostate adenocarcinoma patients. Int J Radiat Oncol Biol Phys 100(1):59–67 Epub 2017 Oct 13

12.

Agarwal M, Canan T, Glover G et al (2019) Cardiovascular effects of androgen deprivation therapy in prostate cancer. Curr Oncol Rep 21(10):91
Funding
The authors have received no financial support for the research, authorship, or publication of this manuscript.
Ethics declarations
Conflict of interest
The authors have no conflicts of interest to declare for this manuscript.
Additional information
Publisher's Note
Springer Nature remains neutral with regard to jurisdictional claims in published maps and institutional affiliations.
About this article
Cite this article
Rowe, M., Adamson, E. & McGrane, J. Prostate-specific antigen (PSA) bounce following salvage radiotherapy to the prostate bed in a patient with prostate cancer post-prostatectomy. Int Canc Conf J 9, 217–220 (2020). https://doi.org/10.1007/s13691-020-00428-0
Received:

Accepted:

Published:

Issue Date:
Keywords
Prostate cancer

Radiotherapy

PSA bounce