Abstract
Purpose of Review
This review examines the food addiction model and the role of food hedonic pathways in the pathogenesis and treatment of obesity.
Recent Findings
The hedonic pathway interacts with the obesogenic environment to override homeostatic mechanisms to cause increase in body weight. Weight gain sustained over time leads to "upward setting" of defended level of body-fat mass. There are neurobiological and phenotypic similarities and differences between hedonic pathways triggered by food compared with other addictive substances, and the entity of food addiction remains controversial. Treatment for obesity including pharmacotherapy and bariatric surgery impacts on neural pathways governing appetite and hedonic control of food intake. The food addiction model may also have significant impact on public health policy, regulation of certain foods, and weight stigma and bias.
Summary
Recent rapid progress in delineation of food hedonic pathways advances our understanding of obesity and facilitates development of effective treatment measures against the disease.
Access options
Buy single article
Instant access to the full article PDF.
US$ 39.95
Tax calculation will be finalised during checkout.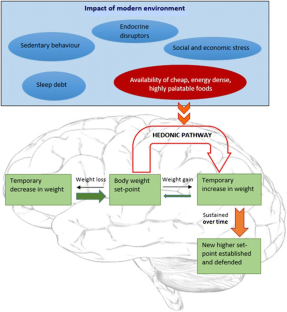 References
Papers of particular interest, published recently, have been highlighted as: • Of importance
1.

Bray GA, Kim KK, Wilding JPH, World Obesity F. Obesity: a chronic relapsing progressive disease process. A position statement of the World Obesity Federation. Obes Rev. 2017;18(7):715–23.

2.

O'Rahilly S, Farooqi IS. Human obesity as a heritable disorder of the central control of energy balance. Int J Obes. 2008;32(Suppl 7):S55–61.

3.

Locke AE, Kahali B, Berndt SI, Justice AE, Pers TH, Day FR, et al. Genetic studies of body mass index yield new insights for obesity biology. Nature. 2015;518(7538):197–206.

4.

Heymsfield SB, Wadden TA. Mechanisms, pathophysiology, and management of obesity. N Engl J Med. 2017;376(3):254–66.

5.

McAllister EJ, Dhurandhar NV, Keith SW, Aronne LJ, Barger J, Baskin M, et al. Ten putative contributors to the obesity epidemic. Crit Rev Food Sci Nutr. 2009;49(10):868–913.

6.

Randolph TG. The descriptive features of food addiction; addictive eating and drinking. Q J Stud Alcohol. 1956;17(2):198–224.

7.

Ziauddeen H, Fletcher PC. Is food addiction a valid and useful concept? Obes Rev. 2013;14(1):19–28.

8.

Schwartz MW, Woods SC, Porte D Jr, Seeley RJ, Baskin DG. Central nervous system control of food intake. Nature. 2000;404(6778):661–71.

9.

Sumithran P, Prendergast LA, Delbridge E, Purcell K, Shulkes A, Kriketos A, et al. Long-term persistence of hormonal adaptations to weight loss. N Engl J Med. 2011;365(17):1597–604.

10.

Speakman JR, Levitsky DA, Allison DB, Bray MS, de Castro JM, Clegg DJ, et al. Set points, settling points and some alternative models: theoretical options to understand how genes and environments combine to regulate body adiposity. Dis Model Mech. 2011;4(6):733–45.

11.

Berthoud HR. Metabolic and hedonic drives in the neural control of appetite: who is the boss? Curr Opin Neurobiol. 2011;21(6):888–96.

12.

Bergstrom HC, Pinard CR. Corticolimbic circuits in learning, memory, and disease. J Neurosci Res. 2017;95(3):795–6.

13.

Palmiter RD. Is dopamine a physiologically relevant mediator of feeding behavior? Trends Neurosci. 2007;30(8):375–81.

14.

Seeley RJ, Berridge KC. The hunger games. Cell. 2015;160(5):805–6.

15.

Yu YH, Vasselli JR, Zhang Y, Mechanick JI, Korner J, Peterli R. Metabolic vs. hedonic obesity: a conceptual distinction and its clinical implications. Obes Rev. 2015;16(3):234–47.

16.

Gearhardt AN, Davis C, Kuschner R, Brownell KD. The addiction potential of hyperpalatable foods. Curr Drug Abuse Rev. 2011;4(3):140–5.

17.

Cameron JD, Chaput JP, Sjodin AM, Goldfield GS. Brain on fire: incentive salience, hedonic hot spots, dopamine, obesity, and other hunger games. Annu Rev Nutr. 2017.

18.

Finlayson G. Food addiction and obesity: unnecessary medicalization of hedonic overeating. Nat Rev Endocrinol. 2017.

19.

Lawrence NS, Hinton EC, Parkinson JA, Lawrence AD. Nucleus accumbens response to food cues predicts subsequent snack consumption in women and increased body mass index in those with reduced self-control. NeuroImage. 2012;63(1):415–22.

20.

Paolini BM, Laurienti PJ, Simpson SL, Burdette JH, Lyday RG, Rejeski WJ. Global integration of the hot-state brain network of appetite predicts short term weight loss in older adult. Front Aging Neurosci. 2015;7:70.

21.

Murdaugh DL, Cox JE, Cook EW 3rd, Weller RE. fMRI reactivity to high-calorie food pictures predicts short- and long-term outcome in a weight-loss program. NeuroImage. 2012;59(3):2709–21.

22.

Demos KE, Heatherton TF, Kelley WM. Individual differences in nucleus accumbens activity to food and sexual images predict weight gain and sexual behavior. J Neurosci. 2012;32(16):5549–52.

23.

McCaffery JM, Haley AP, Sweet LH, Phelan S, Raynor HA, Del Parigi A, et al. Differential functional magnetic resonance imaging response to food pictures in successful weight-loss maintainers relative to normal-weight and obese controls. Am J Clin Nutr. 2009;90(4):928–34.

24.

Ziauddeen H, Farooqi IS, Fletcher PC. Obesity and the brain: how convincing is the addiction model? Nat Rev Neurosci. 2012;13(4):279–86.

25.

Koob GF, Volkow ND. Neurocircuitry of addiction. Neuropsychopharmacology. 2010;35(1):217–38.

26.

Volkow ND, Koob GF, McLellan AT. Neurobiologic advances from the brain disease model of addiction. N Engl J Med. 2016;374(4):363–71.

27.

Meule A, Gearhardt AN. Food addiction in the light of DSM-5. Nutrients. 2014;6(9):3653–71.

28.

Lerma-Cabrera JM, Carvajal F, Lopez-Legarrea P. Food addiction as a new piece of the obesity framework. Nutr J. 2016;15:5.

29.

Gearhardt AN, Yokum S, Orr PT, Stice E, Corbin WR, Brownell KD. Neural correlates of food addiction. Arch Gen Psychiatry. 2011;68(8):808–16.

30.

Westwater ML, Fletcher PC, Ziauddeen H. Sugar addiction: the state of the science. Eur J Nutr. 2016;55(Suppl 2):55–69.

31.

Berridge KC, Robinson TE. Liking, wanting, and the incentive-sensitization theory of addiction. Am Psychol. 2016;71(8):670–9.

32.

• Gearhardt AN, Corbin WR, Brownell KD. Preliminary validation of the Yale Food Addiction Scale. Appetite. 2009;52(2):430–6. This study proposes a novel questionnaire to diagnose food addiction based on substance addiction criteria and has spurred research into the area of food addiction.

33.

Long CG, Blundell JE, Finlayson G. A systematic review of the application and correlates of YFAS-diagnosed 'food addiction' in humans: are eating-related 'addictions' a cause for concern or empty concepts? Obes Facts. 2015;8(6):386–401.

34.

Carter A, Hendrikse J, Lee N, Yucel M, Verdejo-Garcia A, Andrews Z, et al. The neurobiology of "food addiction" and its implications for obesity treatment and policy. Annu Rev Nutr. 2016;36:105–28.

35.

Lent MR, Eichen DM, Goldbacher E, Wadden TA, Foster GD. Relationship of food addiction to weight loss and attrition during obesity treatment. Obesity (Silver Spring). 2014;22(1):52–5.

36.

Sawamoto R, Nozaki T, Nishihara T, Furukawa T, Hata T, Komaki G, et al. Predictors of successful long-term weight loss maintenance: a two-year follow-up. Biopsychosoc Med. 2017;11:14.

37.

American Psychiatric Association. Diagnostic and statistical manual of mental disorders. 5th ed. Washington, DC: American Psychiatric Association; 2013.

38.

Davis C. A narrative review of binge eating and addictive behaviors: shared associations with seasonality and personality factors. Front Psychiatry. 2013;4:183.

39.

Blum K, Braverman ER, Holder JM, Lubar JF, Monastra VJ, Miller D, et al. Reward deficiency syndrome: a biogenetic model for the diagnosis and treatment of impulsive, addictive, and compulsive behaviors. J Psychoactive Drugs. 2000;32(Suppl:i-iv):1–112.

40.

Wang F, Simen A, Arias A, Lu QW, Zhang H. A large-scale meta-analysis of the association between the ANKK1/DRD2 Taq1A polymorphism and alcohol dependence. Hum Genet. 2013;132(3):347–58.

41.

Smith L, Watson M, Gates S, Ball D, Foxcroft D. Meta-analysis of the association of the Taq1A polymorphism with the risk of alcohol dependency: a HuGE gene-disease association review. Am J Epidemiol. 2008;167(2):125–38.

42.

Benton D, Young HA. A meta-analysis of the relationship between brain dopamine receptors and obesity: a matter of changes in behavior rather than food addiction? Int J Obes. 2016;40(Suppl 1):S12–21.

43.

• Cornelis MC, Flint A, Field AE, Kraft P, Han J, Rimm EB, et al. A genome-wide investigation of food addiction. Obesity (Silver Spring). 2016;24(6):1336–41. This study involved genome-wide investigation of YFAS-diagnosed food addiction cohort and found limited similarities between food addiction and drug addiction.

44.

Forman EM, Butryn ML. A new look at the science of weight control: how acceptance and commitment strategies can address the challenge of self-regulation. Appetite. 2015;84:171–80.

45.

Mason AE, Epel ES, Aschbacher K, Lustig RH, Acree M, Kristeller J, et al. Reduced reward-driven eating accounts for the impact of a mindfulness-based diet and exercise intervention on weight loss: data from the SHINE randomized controlled trial. Appetite. 2016;100:86–93.

46.

Mason AE, Epel ES, Kristeller J, Moran PJ, Dallman M, Lustig RH, et al. Effects of a mindfulness-based intervention on mindful eating, sweets consumption, and fasting glucose levels in obese adults: data from the SHINE randomized controlled trial. J Behav Med. 2016;39(2):201–13.

47.

Deckersbach T, Das SK, Urban LE, Salinardi T, Batra P, Rodman AM, et al. Pilot randomized trial demonstrating reversal of obesity-related abnormalities in reward system responsivity to food cues with a behavioral intervention. Nutr Diabetes. 2014;4:e129.

48.

Bak M, Fransen A, Janssen J, van Os J, Drukker M. Almost all antipsychotics result in weight gain: a meta-analysis. PLoS One. 2014;9(4):e94112.

49.

Apovian CM, Aronne LJ, Bessesen DH, McDonnell ME, Murad MH, Pagotto U, et al. Pharmacological management of obesity: an endocrine society clinical practice guideline. J Clin Endocrinol Metab. 2015;100(2):342–62.

50.

Vetter ML, Faulconbridge LF, Webb VL, Wadden TA. Behavioral and pharmacologic therapies for obesity. Nat Rev Endocrinol. 2010;6(10):578–88.

51.

Wang GJ, Tomasi D, Volkow ND, Wang R, Telang F, Caparelli EC, et al. Effect of combined naltrexone and bupropion therapy on the brain's reactivity to food cues. Int J Obes. 2014;38(5):682–8.

52.

Contrave Product Information Website. [Available from: https://contrave.com/.]

53.

De Silva A, Salem V, Long CJ, Makwana A, Newbould RD, Rabiner EA, et al. The gut hormones PYY 3-36 and GLP-1 7-36 amide reduce food intake and modulate brain activity in appetite centers in humans. Cell Metab. 2011;14(5):700–6.

54.

Farr OM, Sofopoulos M, Tsoukas MA, Dincer F, Thakkar B, Sahin-Efe A, et al. GLP-1 receptors exist in the parietal cortex, hypothalamus and medulla of human brains and the GLP-1 analogue liraglutide alters brain activity related to highly desirable food cues in individuals with diabetes: a crossover, randomised, placebo-controlled trial. Diabetologia. 2016;59(5):954–65.

55.

Bray GA. Medical treatment of obesity: the past, the present and the future. Best Pract Res Clin Gastroenterol. 2014;28(4):665–84.

56.

Astrup A, Greenway FL, Ling W, Pedicone L, Lachowicz J, Strader CD, et al. Randomized controlled trials of the D1/D5 antagonist ecopipam for weight loss in obese subjects. Obesity (Silver Spring). 2007;15(7):1717–31.

57.

Di Marzo V, Ligresti A, Cristino L. The endocannabinoid system as a link between homoeostatic and hedonic pathways involved in energy balance regulation. Int J Obes. 2009;33(Suppl 2):S18–24.

58.

Topol EJ, Bousser MG, Fox KA, Creager MA, Despres JP, Easton JD, et al. Rimonabant for prevention of cardiovascular events (CRESCENDO): a randomised, multicentre, placebo-controlled trial. Lancet. 2010;376(9740):517–23.

59.

Dixon JB, Lambert EA, Lambert GW. Neuroendocrine adaptations to bariatric surgery. Mol Cell Endocrinol. 2015;418(Pt 2):143–52.

60.

Munzberg H, Laque A, Yu S, Rezai-Zadeh K, Berthoud HR. Appetite and body weight regulation after bariatric surgery. Obes Rev. 2015;16(Suppl 1):77–90.

61.

Ullrich J, Ernst B, Wilms B, Thurnheer M, Hallschmid M, Schultes B. The hedonic drive to consume palatable foods appears to be lower in gastric band carriers than in severely obese patients who have not undergone a bariatric surgery. Obes Surg. 2013;23(4):474–9.

62.

Behary P, Miras AD. Food preferences and underlying mechanisms after bariatric surgery. Proc Nutr Soc. 2015;74(4):419–25.

63.

Dixon JB, Eaton LL, Vincent V, Michaelson R. LAP-BAND for BMI 30-40: 5-year health outcomes from the multicenter pivotal study. Int J Obes. 2016;40(2):291–8.

64.

Sevincer GM, Konuk N, Bozkurt S, Coskun H. Food addiction and the outcome of bariatric surgery at 1-year: prospective observational study. Psychiatry Res. 2016;244:159–64.

65.

• Bruce AS, Bruce JM, Ness AR, Lepping RJ, Malley S, Hancock L, et al. A comparison of functional brain changes associated with surgical versus behavioral weight loss. Obesity (Silver Spring). 2014;22(2):337–43.

66.

• Scholtz S, Miras AD, Chhina N, Prechtl CG, Sleeth ML, Daud NM, et al. Obese patients after gastric bypass surgery have lower brain-hedonic responses to food than after gastric banding. Gut. 2014;63(6):891–902. This study compares the brain hedonic responses to different bariatric procedures using fMRI.

67.

Scholtz S, Goldstone AP, le Roux CW. Changes in reward after gastric bypass: the advantages and disadvantages. Curr Atheroscler Rep. 2015;17(10):61.

68.

Andrews ZB. The extra-hypothalamic actions of ghrelin on neuronal function. Trends Neurosci. 2011;34(1):31–40.

69.

Sanmiguel CP, Jacobs J, Gupta A, Ju T, Stains J, Coveleskie K, et al. Surgically induced changes in gut microbiome and hedonic eating as related to weight loss: preliminary findings in obese women undergoing bariatric surgery. Psychosom Med. 2017.

70.

• King WC, Chen JY, Mitchell JE, Kalarchian MA, Steffen KJ, Engel SG, et al. Prevalence of alcohol use disorders before and after bariatric surgery. JAMA. 2012;307(23):2516–2525. This study examined the prevalence and factors associated with alcohol use disorders in the prospective Longitudinal Assessment of Bariatric Surgery-2 cohort.

71.

Conason A, Teixeira J, Hsu CH, Puma L, Knafo D, Geliebter A. Substance use following bariatric weight loss surgery. JAMA Surg. 2013;148(2):145–50.

72.

Ostlund MP, Backman O, Marsk R, Stockeld D, Lagergren J, Rasmussen F, et al. Increased admission for alcohol dependence after gastric bypass surgery compared with restrictive bariatric surgery. JAMA Surg. 2013;148(4):374–7.

73.

Cuellar-Barboza AB, Frye MA, Grothe K, Prieto ML, Schneekloth TD, Loukianova LL, et al. Change in consumption patterns for treatment-seeking patients with alcohol use disorder post-bariatric surgery. J Psychosom Res. 2015;78(3):199–204.

74.

Woodard GA, Downey J, Hernandez-Boussard T, Morton JM. Impaired alcohol metabolism after gastric bypass surgery: a case-crossover trial. J Am Coll Surg. 2011;212(2):209–14.

75.

Reslan S, Saules KK, Greenwald MK, Schuh LM. Substance misuse following Roux-en-Y gastric bypass surgery. Subst Use Misuse. 2014;49(4):405–17.

76.

Dixon JB. Self-harm and suicide after bariatric surgery: time for action. Lancet Diabetes Endocrinol. 2016;4(3):199–200.

77.

Lee NM, Lucke J, Hall WD, Meurk C, Boyle FM, Carter A. Public views on food addiction and obesity: implications for policy and treatment. PLoS One. 2013;8(9):e74836.

78.

Schulte EM, Tuttle HM, Gearhardt AN. Belief in food addiction and obesity-related policy support. PLoS One. 2016;11(1):e0147557.

79.

Wright A, Smith KE, Hellowell M. Policy lessons from health taxes: a systematic review of empirical studies. BMC Public Health. 2017;17(1):583.

80.

Puhl RM, Heuer CA. The stigma of obesity: a review and update. Obesity (Silver Spring). 2009;17(5):941–64.

81.

Latner JD, Puhl RM, Murakami JM, O'Brien KS. Food addiction as a causal model of obesity. Effects on stigma, blame, and perceived psychopathology. Appetite. 2014;77:77–82.

82.

Lee NM, Hall WD, Lucke J, Forlini C, Carter A. Food addiction and its impact on weight-based stigma and the treatment of obese individuals in the U.S. and Australia. Nutrients. 2014;6(11):5312–26.

83.

Ruddock HK, Hardman CA. Food addiction beliefs amongst the lay public: what are the consequences for eating behaviour? Curr Addict Rep. 2017;4(2):110–5.
Ethics declarations
Conflict of Interest
Phong Ching Lee declares that he has no conflict of interest.
John B. Dixon has a Senior Research Fellowship with the National Health and Medical Research Council (Australia); has received compensation from Apollo Endosurgery, Bariatric Advantage, and Covidien for service as a consultant; has received compensation from iNova Pharmaceuticals for service as a consultant and guest speaker; has received compensation from Nestlé for serving as a guest speaker as well as on a scientific advisory board(s); has received compensation from Novartis for serving as a guest speaker as well as on a scientific advisory board(s); has received compensation from Novo Nordisk for service on scientific advisory boards; and has received compensation from mdBriefCase for providing assistance in the development of educational materials.
Human and Animal Rights and Informed Consent
This article does not contain any studies with human or animal subjects performed by any of the authors.
About this article
Cite this article
Lee, P.C., Dixon, J.B. Food for Thought: Reward Mechanisms and Hedonic Overeating in Obesity. Curr Obes Rep 6, 353–361 (2017). https://doi.org/10.1007/s13679-017-0280-9
Keywords
Obesity

Hedonic overeating

Food reward pathway

Energy homeostasis

Neural control of appetite