Abstract
Several jurisdictions are now imposing taxes on food and beverages to prevent obesity (and related conditions). Existing evidence concerning their effects comes largely from simulation studies and trials in closed settings, both of which have limitations. Rigorous evaluation of actual taxes may provide richer evidence with greater external validity to support policy making. This article describes existing evaluation studies and outlines an implicit underlying theoretical framework for how taxes are expected to affect health. It then explores three important issues for future studies: selection of an appropriate evaluative perspective (comparing realist and biomedical experimental paradigms); approaches to causal inference; and the challenge of a low signal-to-noise ratio. We argue that evaluation should be informed by a realist perspective as well as making appropriate use of established empirical quasi-experimental approaches to testing causal effects. This should be underpinned by a theoretical framework that acknowledges complexity and the potential diversity of impacts.
Access options
Buy single article
Instant access to the full article PDF.
USD 39.95
Price excludes VAT (USA)
Tax calculation will be finalised during checkout.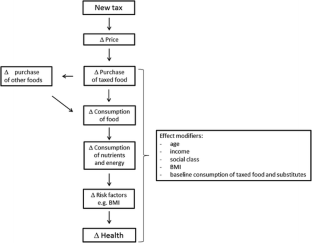 References
Papers of particular interest, published recently, have been highlighted as: • Of importance
Mytton OT, Clarke D, Rayner M. Taxing unhealthy food and drinks to improve health. BMJ Br Med J. 2012;2931(May):1–7.

Brownell KD, Frieden TR. Ounces of prevention–the public policy case for taxes on sugared beverages. N Engl J Med. 2009;360:1805–8.

Academy of Medical Royal Colleges. Measuring up: the medical professions's prescription for the nation's obesity crisis. London; 2013.

Shemilt I, Hollands GJ, Marteau TM, Nakamura R, Jebb SA, Kelly MP, et al. Economic instruments for population diet and physical activity behaviour change: a systematic scoping review. PLoS One. 2013;8:e75070.

Powell LM, Chriqui JF, Khan T, Wada R, Chaloupka FJ. Assessing the potential effectiveness of food and beverage taxes and subsidies for improving public health: a systematic review of prices, demand and body weight outcomes. Obes Rev. 2013;14:110–28.

Eyles H, Ni Mhurchu C, Nghiem N, Blakely T. Food pricing strategies, population diets, and non-communicable disease: a systematic review of simulation studies. PLoS Med. 2012;9:e1001353.

Mytton O, Gray A, Rayner M, Rutter H. Could targeted food taxes improve health? J Epidemiol Community Health. 2007;61:689–94.

Shemilt I, Marteau TM, Smith RD, Ogilvie D. Biting off more than we can chew? Limitations in the use of modelling to inform policy on food tax and subsidy. Press.

Mytton O, Clarke D, Rayner M, Mytton OT. Taxes on unhealthy food and drinks. 2012;2931(May):1–7.

Smed S, Robertson A. Are taxes on fatty foods having their desired effects on health? BMJ. 2012;345:e6885.

Boseley S. Mexico enacts soda tax in effort to combat world's highest obesity rate. Theguardian.com. 2014.

Pipe S. St Helena shows UK the way with fizzy drinks tax. St Helena Online 2014. http://sthelenaonline.org/2014/03/28/st–helena–sho.

Sustain. A children' s future fund. London; 2012.

FIZZ - Fighting sugar in softdrinks. http://www.fizz.org.nz/.

Brunner J. Mayor McGinn suggest soft-drink tax for parks money. The Seattle Times. 2013.

Kearney L. California city tests waters for soft drinks tax. Reuters. 2014.

Beesley A. Reilly sought 20 % tax on sugary drinks in Budget, records who. The Irish Times. 2014.

Chriqui JF, Chaloupka FJ, Powell LM, Eidson SS. A typology of beverage taxation: multiple approaches for obesity prevention and obesity prevention-related revenue generation. J Public Health Policy. 2013;34:403–23.

Stafford N. Denmark cancels "fat tax" and shelves "sugar tax" because of threat of job losses. BMJ. 2012;345:e7889.

Consultation on standardised packaging of tobacco products. https://www.gov.uk/government/news/consultation-on-standardised-packaging-of-tobacco-products.

Pawson R, Tilley N. Realistic evaluation. London: Sage; 1997.

Ogilvie D, Bull F, Powell J, Cooper AR, Brand C, Mutrie N, et al. An applied ecological framework for evaluating infrastructure to promote walking and cycling: the iConnect study. Am J Public Health. 2011;101:473–81.

Ogilvie D, Cummins S, Petticrew M, White M, Jones A, Wheeler K. Assessing the evaluability of complex public health interventions: five questions for researchers, funders, and policymakers. Milbank Q. 2011;89:206–25.

Bahl R. The uneasy case against discriminatory excise taxation: soft drink taxes in Ireland. Public Financ Rev. 2003;31. doi:10.1177/1091142103253753.

Taxable food. http://www.ato.gov.au/Business/GST/In-detail/Your-industry/Food/GST-food-guide/?page=3%23Taxable_food.

Faculty of Public Health. A duty on sugar sweetened beverages. London; 2013.

Landon J, Graff H. What is the role of health-related food duties? London; 2012.

Powell LM, Chriqui J, Chaloupka FJ. Associations between state-level soda taxes and adolescent body mass index. J Adolesc Health. 2009;45(3 Suppl):S57–63.

Thow AM, Quested C, Juventin L, Kun R, Khana N, Swinburn B. Taxing soft drinks in the Pacific: implementation lessons for improving health. Health Promot Int. 2011;26:55–64.

Ball K, Timperio AF, Crawford DA. Understanding environmental influences on nutrition and physical activity behaviors: where should we look and what should we count? Int J Behav Nutr Phys Act. 2006;3:33.

Smed S, Jensen JD, Denver S. Socio-economic characteristics and the effect of taxation as a health policy instrument. Food Policy. 2007;32:624–39.

Briggs ADM, Mytton OT, Kehlbacher A, Tiffin R, Rayner M, Scarborough P. Overall and income specific effect on prevalence of overweight and obesity of 20 % sugar sweetened drink tax in UK: econometric and comparative risk assessment modelling study. BMJ. 2013;347:f6189.

Finkelstein EA, Zhen C, Nonnemaker J, Todd JE. Impact of targeted beverage taxes on higher- and lower-income households. Arch Intern Med. 2010;170:2028–34.

Petticrew M, Anderson L, Elder R, Grimshaw J, Hopkins D, Hahn R, et al. Complex interventions and their implications for systematic reviews: a pragmatic approach. J Clin Epidemiol. 2013;66:1209–14. A discussion fo complexity within public health interventions and its implications for evaluation of interventions, with a particular focus on how to piece together information from different studies in diffferent contexts.

Kim D, Kawachi I. Food taxation and pricing strategies to "thin out" the obesity epidemic. Am J Prev Med. 2006;30:430–7.

Jensen JD, Smed S. The Danish tax on saturated fat – Short run effects on consumption, substitution patterns and consumer prices of fats. Food Policy. 2013;42:18–31. An example of an evaulation of an actual tax on food with the use of robust statistical techniques and consideration of appropriate confounding influences.

Berardi N, Sevestere P, Tepaut M, Vigneron A. The impact of a "soda Tax" on prices: evidence from French micro data. Paris; 2012.

Sturm R, Powell LM, Chriqui JF, Chaloupka FJ. Soda taxes, soft drink consumption, and children's body mass index. Health Aff (Millwood). 2010;29:1052–8.

Victora CG, Habicht J-P, Bryce J. Evidence-based public health: moving beyond randomized trials. Am J Public Health. 2004;94:400–5.

Datta J, Petticrew M. Challenges to evaluating complex interventions: a content analysis of published papers. BMC Public Health. 2013;13:568.

Finegood DT, Merth TDN, Rutter H. Implications of the foresight obesity system map for solutions to childhood obesity. Obesity (Silver Spring). 2010;18 Suppl 1:S13–6.

Butland B, Jebb S, Kopelman P, McPherson K, Thomas S, Mardell J, et al. Foresight Tackling Obesities: Future Choices. London; 2007.

Rutter H. Where next for obesity? Lancet. 2011;378:746–7.

Craig P, Cooper C, Gunnell D, Haw S, Lawson K, Macintyre S, et al. Using natural experiments to evaluate population health interventions: guidance for producers and users of evidence. London: MRC; 2011.

Humphreys DK, Panter J, Sahlqvist S, Goodman A, Ogilvie D. A framework for considering exposure in place-based natural experimental studies in public health. Press.

Edwards P, Steinbach R, Green J, Petticrew M, Goodman A, Jones A, et al. Health impacts of free bus travel for young people: evaluation of a natural experiment in London. J Epidemiol Community Health. 2013;67:641–7.

Andreyeva T, Long MW, Brownell KD. The impact of food prices on consumption: a systematic review of research on the price elasticity of demand for food. Am J Public Health. 2010;100:216–22.

Howel D. Trends in the prevalence of obesity and overweight in English adults by age and birth cohort, 1991-2006. Public Health Nutr. 2011;14:27–33.

Lin B-H, Smith TA, Lee J-Y, Hall KD. Measuring weight outcomes for obesity intervention strategies: the case of a sugar-sweetened beverage tax. Econ Hum Biol. 2011;9:329–41.

Bland JM, Altman DG. Statistics notes: multiple significance tests: the Bonferroni method. BMJ. 1995;310:170.
Acknowledgements
We acknowledge Ian Shelmit for his constructive comments on our thinking in this area.
Compliance with Ethics Guidelines
ᅟ
Conflict of Interest
Helen Eyles received grants from Heart Foundation of New Zealand and Health Research Council of New Zealand.
Oliver T Mytton and David Ogilvie declare that they have no conflict of interest.
Human and Animal Rights and Informed Consent
This article does not contain any studies with human or animal subjects performed by any of the authors.
About this article
Cite this article
Mytton, O.T., Eyles, H. & Ogilvie, D. Evaluating the Health Impacts of Food and Beverage Taxes. Curr Obes Rep 3, 432–439 (2014). https://doi.org/10.1007/s13679-014-0123-x
Published:

Issue Date:

DOI: https://doi.org/10.1007/s13679-014-0123-x
Keywords