Abstract
In the design of service facilities, whenever the behaviour of customers is impacted by queueing or congestion, the resulting equilibrium cannot be ignored by a firm that strives to maximize revenue within a competitive environment. In the present work, we address the problem faced by a firm that makes decisions with respect to location, service levels and prices and that takes explicitly into account user behaviour. This situation is modelled as a nonlinear mathematical program with equilibrium constraints that involves both discrete and continuous variables, and for which we propose an efficient algorithm based on an approximation that can be solved for its global optimum.
Access options
Buy single article
Instant access to the full article PDF.
US$ 39.95
Tax calculation will be finalised during checkout.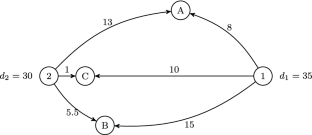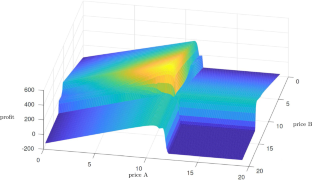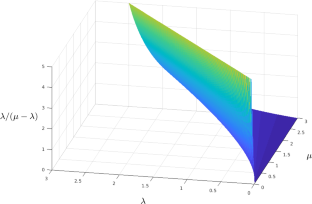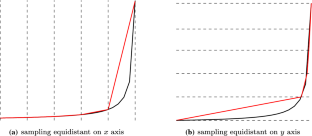 References
Aboolian R, Berman O, Krass D (2008) Optimizing pricing and location decisions for competitive service facilities charging uniform price. J Oper Res Soc 59(11):1506–1519. https://doi.org/10.1057/palgrave.jors.2602493

Aboolian R, Berman O, Krass D (2012) Profit maximizing distributed service system design with congestion and elastic demand. Transp Sci 46(2):247–261. https://doi.org/10.1287/trsc.1110.0392

Abouee-Mehrizi H, Babri S, Berman O, Shavandi H (2011) Optimizing capacity, pricing and location decisions on a congested network with balking. Math Methods Oper Res 74(2):233–255

Berman O, Drezner Z (2006) Location of congested capacitated facilities with distance-sensitive demand. IIE Trans 38(3):213–221

Berman O, Krass D (2015) Stochastic location models with congestion. Springer, Cham, pp 443–486. https://doi.org/10.1007/978-3-319-13111-5_17

Brotcorne L, Labbé M, Marcotte P, Savard G (2008) Joint design and pricing on a network. Oper Res 56:1104–1115. https://hal.archives-ouvertes.fr/hal-01255555. Language of publication: en

Castillo I, Ingolfsson A, Sim T (2009) Socially optimal location of facilities with fixed servers, stochastic demand and congestion. Prod Oper Manag 18(6):721–736

Cheung FK, Wang X (1995) Spatial price discrimination and location choice with non-uniform demands. Reg Sci Urb Econ 25(1):59–73

D'Ambrosio C, Lodi A, Martello S (2010) Piecewise linear approximation of functions of two variables in MILP models. Oper Res Lett 38(1):39–46

Dan T (2018) Algorithmic contributions to bilevel location problems with queueing and user equilibrium: exact and semi-exact approaches. Ph.D. thesis, University of Montreal

Dan T, Marcotte P (2019) Competitive facility location with selfish users and queues. Oper Res 67(2):479–497. https://doi.org/10.1287/opre.2018.1781

Desrochers M, Marcotte P, Stan M (1995) The congested facility location problem. Locat Sci 3(1):9–23

Dobson G, Stavrulaki E (2007) Simultaneous price, location, and capacity decisions on a line of time-sensitive customers. NRL 54(1):1–10. https://doi.org/10.1002/nav.20169

Eiselt HA, Marianov V, Drezner T (2015) Competitive location models. Springer, Cham, pp 365–398. https://doi.org/10.1007/978-3-319-13111-5_14

Fischetti M, Ljubić I, Sinnl M (2016) Benders decomposition without separability: a computational study for capacitated facility location problems. Eur J Oper Res 253(3):557–569. https://doi.org/10.1016/j.ejor.2016.03.002

Hajipour V, Farahani RZ, Fattahi P (2016) Bi-objective vibration damping optimization for congested location-pricing problem. Comput Oper Res 70(C):87–100. https://doi.org/10.1016/j.cor.2016.01.001

Hanjoul P, Hansen P, Peeters D, Thisse JF (1990) Uncapacitated plant location under alternative spatial price policies. Manag Sci 36(1):41–57. https://doi.org/10.1287/mnsc.36.1.41

Hassin R (2016) Rational queueing. CRC Press, Boca Raton

Hotelling H (1929) Stability in competition. Econ J 39(153):41–57

Hwang H, Mai CC (1990) Effects of spatial price discrimination on output, welfare, and location. Am Econ Rev 80(3):567–575

Julsain H (1999) Tarification dans les réseaux de télécommunications [microforme] : une approche par programmation mathématique à deux niveaux. Canadian theses. Thèse (M.Sc.A.)–École polytechnique de Montréal. https://books.google.ca/books?id=5uiKtgAACAAJ

Kolodziej S, Castro PM, Grossmann IE (2013) Global optimization of bilinear programs with a multiparametric disaggregation technique. J Glob Optim 57(4):1039–1063. https://doi.org/10.1007/s10898-012-0022-1

Labbé M, Marcotte P, Savard G (1998) A bilevel model of taxation and its application to optimal highway pricing. Manag Sci 44(12):1608–1622. https://doi.org/10.1287/mnsc.44.12.1608

Ljubić I, Moreno E (2018) Outer approximation and submodular cuts for maximum capture facility location problems with random utilities. Eur J Oper Res 266(1):46–56

Lüer-Villagra A, Marianov V (2013) A competitive hub location and pricing problem. Eur J Oper Res 231(3):734–744. https://doi.org/10.1016/j.ejor.2013.06.006

Marianov V (2003) Location of multiple-server congestible facilities for maximizing expected demand, when services are non-essential. Ann Oper Res 123(1–4):125–141. https://doi.org/10.1023/A:1026171212594

Marianov V, Ríos M, Icaza MJ (2008) Facility location for market capture when users rank facilities by shorter travel and waiting times. Eur J Oper Res 191(1):32–44

Meng Q, Liu Z, Wang S (2012) Optimal distance tolls under congestion pricing and continuously distributed value of time. Transp Res Part E Logist Transp Rev 48(5):937–957. https://doi.org/10.1016/j.tre.2012.04.004(Selected papers from the 14th ATRS and the 12th WCTR Conferences, 2010)

Pahlavani A, Saidi-Mehrabad M (2011) Optimal pricing for competitive service facilities with balking and veering customers. Int J Innov Comput Inf Control 7:3171–3191

Panin AA, Pashchenko M, Plyasunov AV (2014) Bilevel competitive facility location and pricing problems. Autom Remote Control 75(4):715–727

Pérez MDG, Hernández PF, Pelegrín BP (2004) On price competition in location-price models with spatially separated markets. Top 12(2):351–374. https://doi.org/10.1007/BF02578966

Sun H, Gao Z, Wu J (2008) A bi-level programming model and solution algorithm for the location of logistics distribution centers. Appl Math Model 32(4):610–616

Tavakkoli-Moghaddam R, Vazifeh-Noshafagh S, Taleizadeh AA, Hajipour V, Mahmoudi A (2017) Pricing and location decisions in multi-objective facility location problem with m/m/m/k queuing systems. Eng Optim 49(1):136–160. https://doi.org/10.1080/0305215X.2016.1163630

Teles JP, Castro PM, Matos HA (2011) Multi-parametric disaggregation technique for global optimization of polynomial programming problems. J Glob Optim 55(2):227–251. https://doi.org/10.1007/s10898-011-9809-8

Tong D (2011) Optimal pricing and capacity planning in operations management. Ph.D. thesis

Wächter A, Biegler LT (2006) On the implementation of an interior-point filter line-search algorithm for large-scale nonlinear programming. Mathe Program 106(1):25–57. https://doi.org/10.1007/s10107-004-0559-y

Zhang Y, Berman O, Marcotte P, Verter V (2010) A bilevel model for preventive healthcare facility network design with congestion. IIE Trans 42(12):865–880
Additional information
Publisher's Note
Springer Nature remains neutral with regard to jurisdictional claims in published maps and institutional affiliations.
Electronic supplementary material
Below is the link to the electronic supplementary material.
About this article
Cite this article
Dan, T., Lodi, A. & Marcotte, P. Joint location and pricing within a user-optimized environment. EURO J Comput Optim 8, 61–84 (2020). https://doi.org/10.1007/s13675-019-00120-w
Received:

Accepted:

Published:

Issue Date:
Keywords
Pricing

Location pricing

Bilevel programming

Mixed-integer programming

Equilibrium

Queueing

Nonconvex
Mathematics Subject Classification