Abstract
Purpose of Review
Toxic erythema of chemotherapy is an umbrella term for several non-allergic cutaneous reactions to chemotherapeutic agents. Given the heterogenous range of presentations, we will review the differential diagnoses and treatment approaches, particularly for hospitalized patients.
Recent Findings
Early recognition, holding chemotherapy, or dose reduction and monitoring fluid balance for severely ill patients is the mainstay of treatment. Supportive care with topical steroids, emollients, and wound care have shown benefit.
Summary
Toxic erythema of chemotherapy can mimic several common eruptions seen in oncologic patients. The recognition of both clinical and pathological features by inpatient dermatologists allows for appropriate management, and dose reduction if necessary, in order for patients to continue oncologic treatment.
Access options
Buy single article
Instant access to the full article PDF.
USD 39.95
Price includes VAT (USA)
Tax calculation will be finalised during checkout.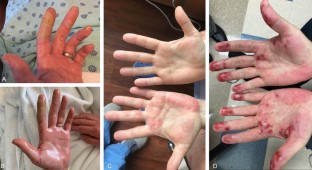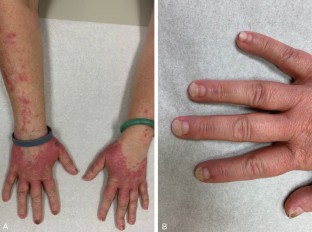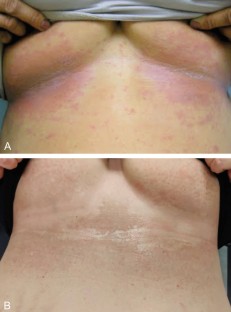 References
Papers of particular interest, published recently, have been highlighted as: • Of importance •• Of major importance
1.

Bolognia JL, Cooper DL, Glusac EJ. Toxic erythema of chemotherapy: a useful clinical term. J Am Acad Dermatol. 2008;59(3):524–9.

2.

Horn TD. Antineoplastic chemotherapy, sweat, and the skin. Arch Dermatol. 1997;133(7):905–6.

3.

Jacobi U, Waibler E, Schulze P, et al. Release of doxorubicin in sweat: first step to induce the palmar-plantar erythrodysesthesia syndrome? Ann Oncol. 2005;16(7):1210–1.

4.

Martschick A, Sehouli J, Patzelt A, et al. The pathogenetic mechanism of anthracycline-induced palmar-plantar erythrodysesthesia. Anticancer Res. 2009;29(6):2307–13.

5.

•• Hunjan MK, Nowsheen S, Ramos-Rodriguez AJ, et al. Clinical and histopathological spectrum of toxic erythema of chemotherapy in patients who have undergone allogeneic hematopoietic cell transplantation. Hematol Oncol Stem Cell Ther. 2019;12(1):19–25. Retrospective analysis of 40 stem cell transplant patients with suspected toxic erythema of chemotherapy. Presented a clinical spectrum and histopathological examples of toxic erythema of chemotherapy, and summarized criteria necessary for diagnosis.

6.

Miller KK, Gorcey L, McLellan BN. Chemotherapy-induced hand-foot syndrome and nail changes: a review of clinical presentation, etiology, pathogenesis, and management. J Am Acad Dermatol. 2014;71(4):787–94.

7.

Burgdorf WH, Gilmore WA, Ganick RG. Peculiar acral erythema secondary to high-dose chemotherapy for acute myelogenous leukemia. Ann Intern Med. 1982;97(1):61–2.

8.

Chidharla A, Kanderi T, Kasi A. Chemotherapy Acral Erythema. StatPearls. Treasure Island (FL)2021.

9.

Rodríguez-Lomba E, Molina-López I, Suárez-Fernández R, Baniandrés-Rodríguez O. Periarticular thenar erythema and onycholysis syndrome: a manifestation of taxane-induced cutaneous toxicity. Actas Dermo-Sifiliográficas (English Edition). 2017;108(6):595–7.

10.

Childress J, Lokich J. Cutaneous hand and foot toxicity associated with cancer chemotherapy. Am J Clin Oncol. 2003;26(5):435–6.

11.

Bachmeyer C, Aractingi S. Neutrophilic eccrine hidradenitis. Clin Dermatol May-Jun. 2000;18(3):319–30.

12.

Smith SM, Milam PB, Fabbro SK, Gru AA, Kaffenberger BH. Malignant intertrigo: a subset of toxic erythema of chemotherapy requiring recognition. JAAD Case Rep. 2016;2(6):476–81.

13.

Wolf R, Tuzun Y. Baboon syndrome and toxic erythema of chemotherapy: fold (intertriginous) dermatoses. Clin Dermatol Jul-Aug. 2015;33(4):462–5.

14.

Prieto-Barrios M, Velasco-Tamariz V, Tous-Romero F, et al. Ara-C ears: an actual drug-induced reaction or a distinctive manifestation of a neutrophilic dermatosis? J Dtsch Dermatol Ges. 2018;16(2):214–6.

15.

Cuellar-Barboza A, Ocampo-Candiani J, Herz-Ruelas ME. A practical approach to the diagnosis and treatment of adult erythroderma. Actas Dermosifiliogr. 2018;109(9):777–90.

16.

Siddall E, Khatri M, Radhakrishnan J. Capillary leak syndrome: etiologies, pathophysiology, and management. Kidney Int. 2017;92(1):37–46.

17.

Gill J, Dominguez AR. Cutaneous manifestations of chemotherapeutic drugs. Current Dermatology Reports. 2016/03/01 2016;5(1):58–69.

18.

Ramachandran V, Kolli SS, Strowd LC. Review of graft-versus-host disease. Dermatol Clin. 2019;37(4):569–82.

19.

Yang CH, Lin WC, Chuang CK, et al. Hand-foot skin reaction in patients treated with sorafenib: a clinicopathological study of cutaneous manifestations due to multitargeted kinase inhibitor therapy. Br J Dermatol. 2008;158(3):592–6.

20.

Mann N, King T, Murphy R. Review of primary and secondary erythromelalgia. Clin Exp Dermatol. 2019;44(5):477–82.

21.

Sehgal VN, Jain S. Acrodermatitis enteropathica. Clin Dermatol Nov-Dec. 2000;18(6):745–8.

22.

Hegyi J, Schwartz RA, Hegyi V. Pellagra: dermatitis, dementia, and diarrhea. Int J Dermatol. 2004;43(1):1–5.

23.

Patel GK, Finlay AY. Staphylococcal scalded skin syndrome. Am J Clin Dermatol. 2003/03/01 2003;4(3):165–175.

24.

Villarreal-Villarreal CD, Ocampo-Candiani J, Villarreal-Martinez A. Sweet syndrome: a review and update. Actas Dermosifiliogr. 2016;107(5):369–78.

25.

Martinez-Leborans L, Victoria-Martinez AM, Torregrosa-Calatayud JL, Alegre de Miquel V. Leukemia cutis: a report of 17 cases and a review of the literature. Actas Dermosifiliogr. Nov 2016;107(9):e65-e69.

26.

Beer J, Rosenbach M. Grover disease associated with chemotherapy: review of potential pathophysiology, current treatments, and future directions. J Drugs Dermatol. 2020;19(11):1056–64.

27.

Gantz M, Butler D, Goldberg M, Ryu J, McCalmont T, Shinkai K. Atypical features and systemic associations in extensive cases of Grover disease: a systematic review. J Am Acad Dermatol. Nov 2017;77(5):952–957 e951.

28.

Nelson CA, Stephen S, Ashchyan HJ, James WD, Micheletti RG, Rosenbach M. Neutrophilic dermatoses: pathogenesis, sweet syndrome, neutrophilic eccrine hidradenitis, and Behcet disease. J Am Acad Dermatol. 2018;79(6):987–1006.

29.

Bray FN, Simmons BJ, Wolfson AH, Nouri K. Acute and chronic cutaneous reactions to ionizing radiation therapy. Dermatol Ther (Heidelb). 2016;6(2):185–206.

30.

Burris HA 3rd, Hurtig J. Radiation recall with anticancer agents. Oncologist. 2010;15(11):1227–37.

31.

Ji YZ, Geng L, Qu HM, et al. Acute generalized exanthematous pustulosis induced by docetaxel. Int J Dermatol. 2011;50(6):763–5.

32.

Chiu A, Kohler S, McGuire J, Kimball AB. Cytarabine-induced acute generalized exanthematous pustulosis. J Am Acad Dermatol. 2002;47(4):633–5.

33.

Janniger CK, Schwartz RA, Szepietowski JC, Reich A. Intertrigo and common secondary skin infections. Am Fam Physician. 2005;72(5):833–8.

34.

•• Mowad CM, Anderson B, Scheinman P, Pootongkam S, Nedorost S, Brod B. Allergic contact dermatitis: patient diagnosis and evaluation. J Am Acad Dermatol. 2016;74(6):1029–40. Systemic review and expert consensus on management of dermatologic adverse events from cancer therapies

35.

Chen AP, Setser A, Anadkat MJ, et al. Grading dermatologic adverse events of cancer treatments: the Common Terminology Criteria for Adverse Events Version 4.0. J Am Acad Dermatol. Nov 2012;67(5):1025–1039.

36.

Shekelle PG, Woolf SH, Eccles M, Grimshaw J. Developing clinical guidelines. West J Med. 1999;170(6):348–51.

37.

Martorell-Calatayud A, Sanmartin O, Botella-Estrada R, et al. Chemotherapy-related bilateral dermatitis associated with eccrine squamous syringometaplasia: reappraisal of epidemiological, clinical, and pathological features. J Am Acad Dermatol. 2011;64(6):1092–103.

38.

Herzig RH, Wolff SN, Lazarus HM, Phillips GL, Karanes C, Herzig GP. High-dose cytosine arabinoside therapy for refractory leukemia. Blood. 1983;62(2):361–9.

39.

Reyes-Habito CM, Roh EK. Cutaneous reactions to chemotherapeutic drugs and targeted therapies for cancer: part I. Conventional chemotherapeutic drugs. J Am Acad Dermatol. Aug 2014;71(2):203 e201–203 e212; quiz 215–206.

40.

Cury-Martins J, Eris APM, Abdalla CMZ, Silva GB, Moura VPT, Sanches JA. Management of dermatologic adverse events from cancer therapies: recommendations of an expert panel. An Bras Dermatol. Mar - Apr 2020;95(2):221–237.

41.

Yoshino Y, Ohtsuka M, Kawaguchi M, et al. The wound/burn guidelines - 6: Guidelines for the management of burns. J Dermatol. 2016;43(9):989–1010.

42.

Wasiak J, Cleland H, Campbell F. Dressings for superficial and partial thickness burns. Cochrane Database Syst Rev. Oct 8 2008(4):CD002106.

43.

Bittner EA, Shank E, Woodson L, Martyn JA. Acute and perioperative care of the burn-injured patient. Anesthesiology. 2015;122(2):448–64.

44.

Hau P, Fabel K, Baumgart U, et al. Pegylated liposomal doxorubicin-efficacy in patients with recurrent high-grade glioma. Cancer. 2004;100(6):1199–207.

45.

von Moos R, Thuerlimann BJ, Aapro M, et al. Pegylated liposomal doxorubicin-associated hand-foot syndrome: recommendations of an international panel of experts. Eur J Cancer. 2008;44(6):781–90.

46.

von Gruenigen V, Frasure H, Fusco N, et al. A double-blind, randomized trial of pyridoxine versus placebo for the prevention of pegylated liposomal doxorubicin-related hand-foot syndrome in gynecologic oncology patients. Cancer. 2010;116(20):4735–43.

47.

Fabian CJ, Molina R, Slavik M, Dahlberg S, Giri S, Stephens R. Pyridoxine therapy for palmar-plantar erythrodysesthesia associated with continuous 5-fluorouracil infusion. Invest New Drugs. 1990;8(1):57–63.

48.

Vail DM, Chun R, Thamm DH, Garrett LD, Cooley AJ, Obradovich JE. Efficacy of pyridoxine to ameliorate the cutaneous toxicity associated with doxorubicin containing pegylated (Stealth) liposomes: a randomized, double-blind clinical trial using a canine model. Clin Cancer Res. 1998;4(6):1567–71.

49.

Macedo LT, Lima JP, dos Santos LV, Sasse AD. Prevention strategies for chemotherapy-induced hand-foot syndrome: a systematic review and meta-analysis of prospective randomised trials. Support Care Cancer. 2014;22(6):1585–93.

50.

Drake RD, Lin WM, King M, Farrar D, Miller DS, Coleman RL. Oral dexamethasone attenuates Doxil-induced palmar-plantar erythrodysesthesias in patients with recurrent gynecologic malignancies. Gynecol Oncol. 2004;94(2):320–4.

51.

Mangili G, Petrone M, Gentile C, De Marzi P, Vigano R, Rabaiotti E. Prevention strategies in palmar-plantar erythrodysesthesia onset: the role of regional cooling. Gynecol Oncol. 2008;108(2):332–5.

52.

Scotte F, Tourani JM, Banu E, et al. Multicenter study of a frozen glove to prevent docetaxel-induced onycholysis and cutaneous toxicity of the hand. J Clin Oncol. 2005;23(19):4424–9.

53.

Scotte F, Banu E, Medioni J, et al. Matched case-control phase 2 study to evaluate the use of a frozen sock to prevent docetaxel-induced onycholysis and cutaneous toxicity of the foot. Cancer. 2008;112(7):1625–31.

54.

Templeton AJ, Ribi K, Surber C, et al. Prevention of palmar-plantar erythrodysesthesia with an antiperspirant in breast cancer patients treated with pegylated liposomal doxorubicin (SAKK 92/08). Breast. 2014;23(3):244–9.
Ethics declarations
Human and Animal Rights and Informed Consent
This article does not contain any studies with human or animal subjects performed by any of the authors.
Additional information
Publisher's Note
Springer Nature remains neutral with regard to jurisdictional claims in published maps and institutional affiliations.
This article is part of the Topical Collection on Hospital-Based Dermatology
About this article
Cite this article
Lee, N., Zheng, L. Recognition and Management of Toxic Erythema of Chemotherapy for the Inpatient Dermatologist. Curr Derm Rep (2021). https://doi.org/10.1007/s13671-021-00344-3
Keywords
Chemotherapy

Oncodermatology

Hand-foot syndrome

Toxic erythema of chemotherapy