Abstract
Purpose of Review
To review bedside diagnostic techniques in the modern dermatologic landscape.
Recent Findings
Microscopy has been a commonly used bedside technique for the diagnosis of various fungal, parasitic, and bacterial infections. Tzanck smears are another useful technique often used for diagnosing herpesvirus lesions, but evidence shows that its use could be expanded to include other conditions as well. Wood's light fluorescence is a simple non-invasive technique that has often been utilized to diagnose various bacterial, fungal, and pigmentation disorders, although its list of uses has not been exhausted. Cellophane tape scraping can provide a scalpel-free alternative to traditional scrapings. With the ever-decreasing costs of technologies such as PCR, swabbing for PCR may become a more common method of diagnosing more infectious skin pathologies.
Summary
Bedside diagnostic techniques in dermatology are a useful adjunct to the dermatologic physical exam to confirm a diagnosis rapidly, affordably, and accurately.
Access options
Buy single article
Instant access to the full article PDF.
US$ 39.95
Tax calculation will be finalised during checkout.
Subscribe to journal
Immediate online access to all issues from 2019. Subscription will auto renew annually.
US$ 79
Tax calculation will be finalised during checkout.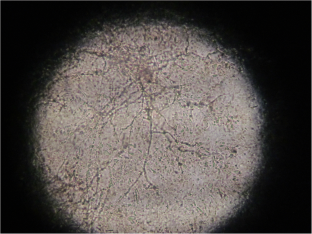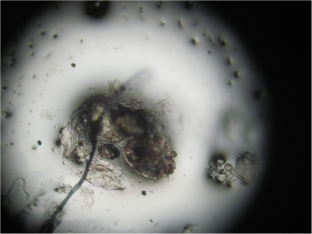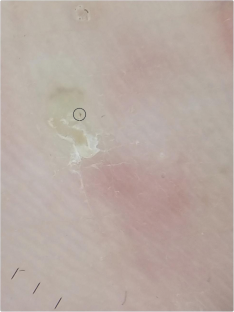 References
Papers of particular interest, published recently, have been highlighted as: • Of importance •• Of major importance
1.

Wanat KA, Dominguez AR, Carter Z, Legua P, Bustamante B, Micheletti RG. Bedside diagnostics in dermatology: Viral, bacterial, and fungal infections. J Am Acad Dermatol. 2017;77(2):197–218. https://doi.org/10.1016/j.jaad.2016.06.034.

2.

Guzman AK, Kaffenberger BH. Office-based dermatologic diagnostic procedure utilization in the United States Medicare population from 2000-2016. Int J Dermatol. 2019;58(11):1317–22. https://doi.org/10.1111/ijd.14448.

3.

Kurade SM, Amladi SA, Miskeen AK. Skin scraping and a potassium hydroxide mount. Indian J Dermatol Venereol Leprol. 2006;72(3):238–41. https://doi.org/10.4103/0378-6323.25794.

4.

Kelly BP. Superficial fungal infections. Pediatr Rev. 2012;33(4):e22–37. https://doi.org/10.1542/pir.33-4-e22.

5.

Siderits R, Dikon A, Ouattara O, Godyn JJ. Preparation and use of a scabies skin scraping kit. Adv Skin Wound Care. 2006;19(1):22–5.

6.

Leung AK, Lam JM, Leong KF, Hon KL. Tinea corporis: an updated review. Drugs Context. 2020;9:1–12. https://doi.org/10.7573/dic.2020-5-6.

7.

Roberts GD, Yu PKW, Washington JA II. Direct microscopic examination of specimens. In: Laboratory Procedures in Clinical Microbiology. New York, NY: Springer US; 1981. p. 69–89. https://doi.org/10.1007/978-1-4684-0118-9_2.

8.

Burke WA. A simple stain for rapid office diagnosis of fungus infections of the skin. Arch Dermatol. 1984;120(11):1519–20. https://doi.org/10.1001/archderm.1984.01650470125029.

9.

• Micheletti RG, Dominguez AR, Wanat KA. Bedside diagnostics in dermatology: parasitic and noninfectious diseases. J Am Acad Dermatol. 2017;77(2):221–30. https://doi.org/10.1016/j.jaad.2016.06.035This review article discusses various bedside techniques including scrapings, skin snips, microscopy, Tzanck smears, swabs, and PCR.

10.

Ruocco E, Baroni A, Donnarumma G, Ruocco V. Diagnostic procedures in dermatology. Clin Dermatol. 2011;29(5):548–56. https://doi.org/10.1016/j.clindermatol.2010.09.023.

11.

Feuilhade de Chauvin M. New diagnostic techniques. J Eur Acad Dermatol Venereol. 2005;19(Suppl 1(s1)):20–4. https://doi.org/10.1111/j.1468-3083.2005.01287.x.

12.

Delasco Dermatologic Lab & Supply, Inc. Material safety data sheet: chlorazol fungal stain 2021 http://www.delasco.com/pcat/pdf/chlorazo.pdf. Published December 2010. Accessed May 10, 2021.

13.

• Marks JG, Miller JJ. Lookingbill and marks' principles of dermatology. Philadelphia, PA: Elsevier - Health Sciences Division 2019. This dermatology textbook explores numerous facets of the field and provides practical advice on gathering scrapings, performing a Tzanck smear, and swabbing.

14.

Sunderkötter C, Feldmeier H, Fölster-Holst R, Geisel B, Klinke-Rehbein S, Nast A, et al. S1 guidelines on the diagnosis and treatment of scabies - short version. J Dtsch Dermatol Ges. 2016 Nov;14(11):1155–67. https://doi.org/10.1111/ddg.13130.

15.

Cohen PR. Classic and non-classic (surrepticius) scabies: Diagnostic and treatment considerations. Cureus. 2020;12(3):e7419.

16.

Nicolaidis G, Rosen T, Scabies, Connor DH, Chandler FW, Schartz DA, Manz HJ, Lack EE Pathology of infectious diseases. Stamford, CT: Appleton & Lange 1997

17.

Cheng TA, Mzahim B, Koenig KL, Alsugair A, Al-Wabel A, Almutairi BS, et al. Scabies: Application of the novel identify-isolate-inform tool for detection and management. West J Emerg Med. 2020;21(2):191–8.

18.

• Raghukumar S, Ravikumar BC. Potassium hydroxide mount with cellophane adhesive tape: a method for direct diagnosis of dermatophyte skin infections. Clin Exp Dermatol. 2018;43(8):895–8. https://doi.org/10.1111/ced.13573This split body study showed that the cellophane tape method is superior to a KOH prep in detecting cutaneous fungal infections.

19.

CDC-Centers for Disease Control, Prevention. CDC - Onchocerciasis - resources for health professionals. 2010 [cited 2021 Jun 23]; Available from: https://www.cdc.gov/parasites/onchocerciasis/health_professionals/index.html

20.

Wolff K, Johnson RC, Saavedra A, Roh EK. Fitzpatrick's color atlas and synopsis of clinical dermatology, eighth edition. 8th ed. McGraw-Hill Education/Medical 2017 How to Use this Book.

21.

Ovrén E, Berglund L, Nordlind K, Rollman O. Dermatophytosis: fluorostaining enhances speed and sensitivity in direct microscopy of skin, nail and hair specimens from dermatology outpatients. Mycoses. 2016;59(7):436–41. https://doi.org/10.1111/myc.12491.

22.

Campos-do-Carmo G, Ramos-e-Silva M. Dermoscopy: basic concepts. Int J Dermatol. 2008;47(7):712–9. https://doi.org/10.1111/j.1365-4632.2008.03556.x.

23.

Kittler H, Pehamberger H, Wolff K, Binder M. Diagnostic accuracy of dermoscopy. Lancet Oncol. 2002;3(3):159–65. https://doi.org/10.1016/s1470-2045(02)00679-4.

24.

Menzies SW. Evidence-based dermoscopy. Dermatol Clin. 2013;31(4):521–4, vii. https://doi.org/10.1016/j.det.2013.06.002.

25.

Olszewska M, Rudnicka L, Rakowska A, Kowalska-Oledzka E, Slowinska M. Trichoscopy. Arch Dermatol. 2008;144(8):1007. https://doi.org/10.1001/archderm.144.8.1007.

26.

Miteva M, Tosti A. Hair and scalp dermatoscopy. J Am Acad Dermatol. 2012;67(5):1040–8. https://doi.org/10.1016/j.jaad.2012.02.013.

27.

Rudnicka L, Rakowska A, Olszewska M. Trichoscopy: how it may help the clinician. Dermatol Clin. 2013;31(1):29–41. https://doi.org/10.1016/j.det.2012.08.011.

28.

Alessandrini A, Starace M, Bruni F, Piraccini BM. Bubble hair and the usefulness of trichoscopy. Dermatol Pract Concept. 2020;10(4):e2020081. https://doi.org/10.5826/dpc.1004a81.

29.

Widaty S, Pusponegoro EH, Rahmayunita G, Astriningrum R, Akhmad AM, Oktarina C, et al. Applicability of trichoscopy in scalp seborrheic dermatitis. Int J Trichology. 2019;11(2):43–8. https://doi.org/10.4103/ijt.ijt_86_18.

30.

Fox G. Diagnosis of scabies by dermoscopy. BMJ Case Rep. 2009:bcr0620080279. https://doi.org/10.1136/bcr.06.2008.0279.

31.

Li F-Z, Chen S. Diagnostic accuracy of dermoscopy for scabies. Korean J Parasitol. 2020;58(6):669–74. https://doi.org/10.3347/kjp.2020.58.6.669.

32.

• Yamamoto T, Aoyama Y. Detection of multinucleated giant cells in differentiated keratinocytes with herpes simplex virus and varicella zoster virus infections by modified Tzanck smear method. J Dermatol. 2021;48(1):21–7. https://doi.org/10.1111/1346-8138.15619This experimental study suggests a new method of increasing the sensitivity of discovering multinucleated giant cells in suspected herpetic lesions.

33.

Panwar H, Joshi D, Goel G, Asati D, Majumdar K, Kapoor N. Diagnostic utility and pitfalls of Tzanck smear cytology in diagnosis of various cutaneous lesions. J Cytol. 2017;34(4):179–82. https://doi.org/10.4103/JOC.JOC_88_16.

34.

• Wantavornprasert K, Chottawornsak N, Hurst CP, Asawanonda P, Hansasuta P, Rerknimitr P. A quicker tzanck smear with methylene blue stain for diagnosis of Herpesvirus skin infections: a comparative study of giemsa stain. Jpn J Infect Dis. 2019;72(6):432–4. https://doi.org/10.7883/yoken.JJID.2019.236This cross sectional analytical study showed that methylene blue stain can make Tzanck smears quicker than the traditional Giemsa stain.

35.

Silverberg NB. Pediatric molluscum: an update. Cutis. 2019;104(5):301–305;E1;E2.

36.

•• Noyan MA, Durdu M, Eskiocak AH. TzanckNet: a convolutional neural network to identify cells in the cytology of erosive-vesiculobullous diseases. Sci Rep. 2020;10(1):18314. https://doi.org/10.1038/s41598-020-75546-zThis blinded experimental study showed that TzanckNet, a deep learning model, is capable of accurately analyzing hundreds of slides per minutes, which would greatly aid dermatologists and patients.

37.

Al Aboud DM, Gossman W. Woods light. In: StatPearls. Treasure Island (FL): StatPearls Publishing; 2021.

38.

Rojas Mora E, Freites Martínez A, Hernández-Núñez A, Borbujo MJ. Trichomycosis axillaris: clinical, wood lamp, and dermoscopic diagnostic images. Actas Dermosifiliogr. 2017;108(3):264–5.

39.

Mojeski JA, Almashali M, Jowdy P, Fitzgerald ME, Brady KL, Zeitouni NC, et al. Ultraviolet imaging in dermatology. Photodiagn Photodyn Ther. 2020;30(101743):101743. https://doi.org/10.1016/j.pdpdt.2020.101743.

40.

Peña-Romero AG, García-Romero MT. Diagnosis and management of linear scleroderma in children. Curr Opin Pediatr. 2019;31(4):482–90. https://doi.org/10.1097/MOP.0000000000000785.

41.

Kromann AB, Ousager LB, Ali IKM, Aydemir N, Bygum A. Pigmentary mosaicism: a review of original literature and recommendations for future handling. Orphanet J Rare Dis. 2018;13(1):39. https://doi.org/10.1186/s13023-018-0778-6.

42.

Sato T, Asahina Y, Toshima S, Yaguchi T, Yamazaki K. Usefulness of Wood's lamp for the diagnosis and treatment follow-up of onychomycosis. Med Mycol J. 2020;61(2):17–21. https://doi.org/10.3314/mmj.20-00004.

43.

Blaizot R, Simon S, Ginouves M, Prévot G, Blanchet D, Ravel C, et al. Validation of swab sampling and SYBR green-based real-time PCR for the diagnosis of cutaneous leishmaniasis in French Guiana. J Clin Microbiol. 2021;59(2) http://jcm.asm.org/lookup/pmidlookup?view=longkpmid=33148706.

44.

Ogai K, Nagase S, Mukai K, Iuchi T, Mori Y, Matsue M, et al. A comparison of techniques for collecting skin microbiome samples: swabbing versus tape-stripping. Front Microbiol. 2018;9:2362. https://doi.org/10.3389/fmicb.2018.02362.

45.

Boom R, Sol CJ, Salimans MM, Jansen CL, Wertheim-van Dillen PM, van der Noordaa J. Rapid and simple method for purification of nucleic acids. J Clin Microbiol. 1990;28(3):495–503.

46.

Jeddi F, Piarroux R, Mary C. Application of the NucliSENS easyMAG system for nucleic acid extraction: optimization of DNA extraction for molecular diagnosis of parasitic and fungal diseases. Parasite. 2013;20:52.

47.

CDC's Division of Parasitic Diseases and Malaria. Practical Guide for Specimen Collection and Reference Diagnosis of Leishmaniasis. Available from: https://www.cdc.gov/parasites/leishmaniasis/resources/pdf/cdc_-diagnosis_guide_leishmaniasis_2015.pdf.

48.

Tajima M, Sugita T, Nishikawa A, Tsuboi R. Molecular analysis of Malassezia microflora in seborrheic dermatitis patients: comparison with other diseases and healthy subjects. J Invest Dermatol. 2008;128(2):345–51. https://doi.org/10.1038/sj.jid.5701017.

49.

Gupta N. DNA extraction and polymerase chain reaction. J Cytol. 2019;36(2):116–7. https://doi.org/10.4103/JOC.JOC_110_18.

50.

Goltz RW. Polymerase chain reaction in dermatology. West J Med. 1994;160(4):362.

51.

Lo AC, Feldman SR. Polymerase chain reaction: Basic concepts and clinical applications in dermatology. J Am Acad Dermatol. 1994;30(2):250–60. https://doi.org/10.1016/s0190-9622(94)70025-7.

52.

Schremser V, Antoniewicz L, Tschachler E, Geusau A. Polymerase chain reaction for the diagnosis of herpesvirus infections in dermatology: analysis of clinical data: Analysis of clinical data. Wien Klin Wochenschr. 2020;132(1–2):35–41. https://doi.org/10.1007/s00508-019-01585-w.

53.

Swick BL. Polymerase chain reaction-based molecular diagnosis of cutaneous infections in dermatopathology. Semin Cutan Med Surg. 2012;31(4):241–6. https://doi.org/10.1016/j.sder.2012.06.009.

54.

Sullivan M, Sams R II, Jamieson B, Holt J. Clinical inquiries. What is the best test to detect herpes in skin lesions? J Fam Pract. 2006;55(4):346–8.

55.

Moreira OC, Yadon ZE, Cupolillo E. The applicability of real-time PCR in the diagnostic of cutaneous leishmaniasis and parasite quantification for clinical management: current status and perspectives. Acta Trop. 2018;184:29–37. https://doi.org/10.1016/j.actatropica.2017.09.020.

56.

Paulino LC, Tseng C-H, Strober BE, Blaser MJ. Molecular analysis of fungal microbiota in samples from healthy human skin and psoriatic lesions. J Clin Microbiol. 2006;44(8):2933–41. https://doi.org/10.1128/JCM.00785-06.

57.

Mimori T, Matsumoto T, Calvopiña MH, Gomez EA, Saya H, Katakura K, et al. Usefulness of sampling with cotton swab for PCR-diagnosis of cutaneous leishmaniasis in the New World. Acta Trop. 2002;81(3):197–202. https://doi.org/10.1016/s0001-706x(01)00215-7.

58.

Delaunay P, Hérissé AL, Hasseine L, Chiaverini C, Tran A, Mary C, et al. Scabies polymerase chain reaction with standardized dry swab sampling: an easy tool for cluster diagnosis of human scabies. Br J Dermatol. 2020;182(1):197–201. https://doi.org/10.1111/bjd.18017.

59.

Gustafson E, Bakotic W, Bennett L, Page L, McCarthy L. DNA-based detection for onychomycosis correlates better to histopathology than does fungal culture. Dermatol Online J. 2019;25(7) https://escholarship.org/uc/item/5bc2z46g.

60.

Uppal SK, Beer J, Hadeler E, Gitlow H, Nouri K. The clinical utility of teledermoscopy in the era of telemedicine. Dermatol Ther. 2021:e14766. https://doi.org/10.1111/dth.14766.
Ethics declarations
Conflict of Interest
None declared.
Human and Animal Rights and Informed Consent
This article does not contain any studies with human or animal subjects performed by any of the authors.
Additional information
IRB Statement
This study was deemed exempt by the Institutional Review Board at the Ohio State University.
Publisher's Note
Springer Nature remains neutral with regard to jurisdictional claims in published maps and institutional affiliations.
This article is part of the Topical Collection on Hospital-based Dermatology
About this article
Cite this article
Goldenberg, M., Liao, YT., Libson, K. et al. Bedside Diagnostic Techniques in Dermatology. Curr Derm Rep (2021). https://doi.org/10.1007/s13671-021-00336-3
Keywords
Bedside diagnostics

Dermatology

Scrapings

Tzanck smear

Dermoscopy

Microscopy