Abstract
Purpose of Review
This review aims to provide an updated clinical framework for how to approach the patient with a purpuric eruption. The approach outlined within is focused on the identification of the primary cutaneous morphology from which one can then generate a focused differential diagnosis and initiate an appropriate workup.
Recent Findings
The primary morphologies of purpura include petechiae, macular purpura, palpable purpura, and retiform purpura. Each of these morphologies is associated with a specific underlying pathophysiology. Identifying the morphology and pathophysiology that is present is especially important in purpuric eruptions as they may be associated with underlying systemic illness such as malignancy, infection, vasculitis, or autoimmune disease.
Summary
The approach to purpura starts with identifying the suspected primary cutaneous morphology. This allows the clinician to generate a hypothesis regarding the pathophysiology causing a patient's eruption. Based on the pathophysiology that is suspected, a differential diagnosis can be generated and an appropriate workup can be initiated. This is especially important in purpuric eruptions as they can be a manifestation of many types of internal diseases.
Access options
Buy single article
Instant access to the full article PDF.
US$ 39.95
Tax calculation will be finalised during checkout.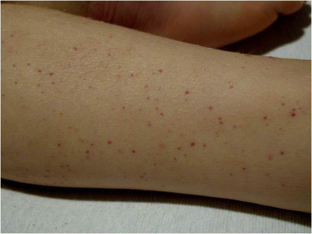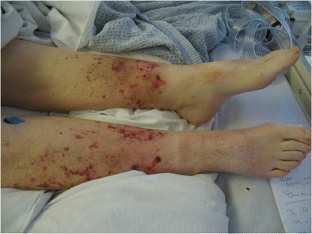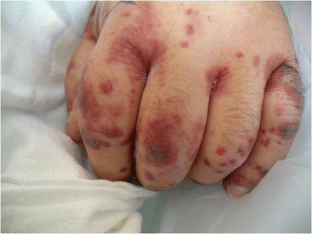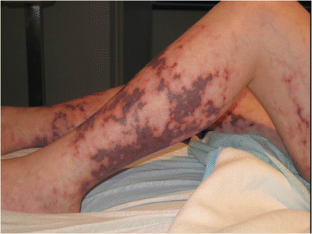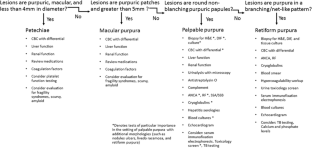 References
Papers of particular interest, recently published, have been highlighted as: • Of importance
1.

Piette WW. The differential diagnosis of purpura from a morphologic perspective. Adv Dermatol. 1993;9:3–23.

2.

Bolognia JL, Jorizzo JL, Schaffer JV. Dermatology. 3rd ed. St Louis, MO: Elsevier; 2012.

3.

Dubois A, Thellier S, Wierzbicka-Hainaut E, Pierre F, Anyfantakis V, Guillet G. Two cases of baboon-like exanthema in primary parvovirus B19 infection. Annales de dermatologie et de venereologie. 2010;137(11):709–12.

4.

Del Pozo MD, Almagro MD, García-Silva MD, Martínez MD, Fonseca MD. Flexural purpura and Epstein–Barr virus infection. Int J Dermatol. 1998;37(2):130–2.

5.

Posan E, McBane RD, Grill DE, Motsko CL, Nichols WL. Comparison of PFA-100 testing and bleeding time for detecting platelet hypofunction and von Willebrand disease in clinical practice. Thromb Haemost. 2003;90(3):483–90.

6.

Yamada Y, Iwasa A, Kuroki M, Yoshida M, Itoh M. Human parvovirus B19 infection showing follicular purpuric papules with a baboon syndrome-like distribution. Br J Dermatol. 2004;150(4):788–9.

7.

Fiorentino DF. Cutaneous vasculitis. J Am Acad Dermatol. 2003;48(3):311–40.

8.

• Graf J, Lynch K, Yeh CL, Tarter L, Richman N, Nguyen T, Kral A, Dominy S, Imboden J. Purpura, cutaneous necrosis, and antineutrophil cytoplasmic antibodies associated with levamisole adulterated cocaine. Arthritis & Rheumatism. 2011;63(12):3998–4001. This study noted the presence of antineutrophil cytoplasmic antibodies in patients with purpuric eruptions who have used levamisole-adultered cocaine.

9.

Jones D, Dorfman DM, Barnhill RL, Granter SR. Leukemic vasculitis: a feature of leukemia cutis in some patients. Am J Clin Pathol. 1997;107(6):637–42.

10.

Malone JC, Slone SP, Wills-Frank LA, Fearneyhough PK, Lear SC, Goldsmith LJ, Hood AF, Callen JP. Vascular inflammation (vasculitis) in Sweet syndrome: a clinicopathologic study of 28 biopsy specimens from 21 patients. Arch Dermatol. 2002;138(3):345–9.

11.

Carlson JA, Ng BT, Chen KR. Cutaneous vasculitis update: diagnostic criteria, classification, epidemiology, etiology, pathogenesis, evaluation and prognosis. Am J Dermatopathol. 2005 Dec 1;27(6):504–28.

12.

Trejo O, Ramos-Casals MA, Garcia-Carrasco MA, Yague J, Jimenez S, De La Red GL, Cervera R, Font J, Ingelmo M. Cryoglobulinemia: study of etiologic factors and clinical and immunologic features in 443 patients from a single center. Medicine. 2001;80(4):252–62.

13.

Takatu CM, Heringer AP, Aoki V, Valente NY, de Faria Sanchez PC, de Carvalho JF, Criado PR. Clinicopathologic correlation of 282 leukocytoclastic vasculitis cases in a tertiary hospital: a focus on direct immunofluorescence findings at the blood vessel wall. Immunol Res. 2016;16:1–7.

14.

Alalwani M, Billings SD, Gota CE. Clinical significance of immunoglobulin deposition in leukocytoclastic vasculitis: a 5-year retrospective study of 88 patients at Cleveland clinic. Am J Dermatopathol. 2014;36(9):723–9.

15.

Sais G, Vidaller A, Jucgla A, Servitje O, Condom E, Peyri J. Prognostic factors in leukocytoclastic vasculitis: a clinicopathologic study of 160 patients. Arch Dermatol. 1998;134(3):309–15.

16.

• Linskey KR, Kroshinsky D, Mihm MC, Hoang MP. Immunoglobulin-A-associated small-vessel vasculitis: a 10-year experience at the Massachusetts General Hospital. J Am Acad Dermatol. 2012;66(5):813–22. This study published data showing that DIF can be negative in immunoglobulin-A-associated small-vessel vasculitis.

17.

Zurada JM, Ward KM, Grossman ME. Henoch-Schönlein purpura associated with malignancy in adults. J Am Acad Dermatol. 2006;55(5):S65–70.

18.

Uppal SS, Hussain MA, Al-Raqum HA, Nampoory MR, Al-Saeid K, Al-Assousi A, Abraham M, Malaviya AN. Henoch-Schonlein's purpura in adults versus children/adolescents: a comparative study. Clin Exp Rheumatol. 2006;24(2):S26.

19.

Wysong A, Venkatesan P. An approach to the patient with retiform purpura. Dermatol Ther. 2011;24(2):151–72.

20.

Kasinath BS, Corwin HL, Bidani AK, Korbet SM, Schwartz MM, Lewis EJ. Eosinophilia in the diagnosis of atheroembolic renal disease. Am J Nephrol. 1987;7(3):173–7.

21.

Parikh SK, Lieberman A, Colbert DA, Silvers DN, Grossman ME. The identification of methicillin-resistant Staphylococcus aureus in Osler's nodes and Janeway lesions of acute bacterial endocarditis. J Am Acad Dermatol. 1996;35(5):767–8.

22.

Vinson RP, Chung A, Elston DM, Keller RA. Septic microemboli in a Janeway lesion of bacterial endocarditis. J Am Acad Dermatol. 1996;35(6):984–5.

23.

Gunson TH, Oliver GF. Osler's nodes and Janeway lesions. Australas J Dermatol. 2007;48(4):251–5.
Ethics declarations
Conflict of Interest
The authors declare that they have no conflict of interest.
Human and Animal Rights and Informed Consent
This article does not contain any studies with human or animal subjects performed by any of the authors.
Additional information
This article is part of the Topical Collection on Hospital-based Dermatology
About this article
Cite this article
Arakaki, R., Fox, L. Updates in the Approach to the Patient with Purpura. Curr Derm Rep 6, 55–62 (2017). https://doi.org/10.1007/s13671-017-0184-7
Keywords
Purpura

Cutaneous morphology

Clinical approach

Workup

Vasculitis

Vasculopathy