Abstract
Ablative cosmetic procedures are almost inevitably followed by an acute healing phase resulting in discomfort, erythema, edema, and crusting. Since patients are constantly asking for no downtime procedures, a considerable challenge to health care providers has resulted. Recently, photobiomodulation (PBM) with light-emitting diodes has attracted attention in wound healing management via its anti-inflammatory effects and increase in skin collagen production. PBM has been shown to promote wound healing processes both in vitro and in vivo at the epidermal and dermal levels in the skin. The combined favorable anti-inflammatory and collagen metabolism effects enhance collagenesis and elastinogenesis. A growing body of clinical evidence is showing that PBM, using 600–1000 nm light wavelengths, as soon as possible post-procedure and thereafter, successfully accelerates the acute healing phase via faster wound healing so as to reduce patient downtime. This article reviews that evidence and shows that PBM applied pre- and post-ablative fractional resurfacing treatment minimizes postoperative downtime enhancing patient satisfaction. It will hopefully become part of our rapidly expanding treatment armamentarium in order to ultimately improve patient care.
This is a preview of subscription content, log in to check access.
Access options
Buy single article
Instant access to the full article PDF.
US$ 39.95
Price includes VAT for USA
Subscribe to journal
Immediate online access to all issues from 2019. Subscription will auto renew annually.
US$ 99
This is the net price. Taxes to be calculated in checkout.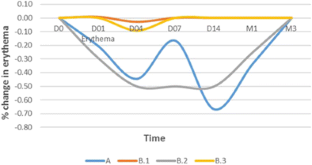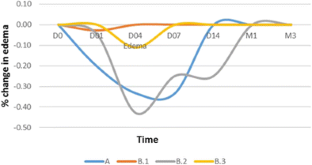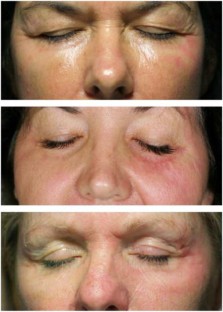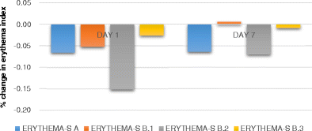 References
Papers of particular interest, published recently, have been highlighted as: • Of importance •• Of major importance
1.

Branham GH, Thomas JR. Rejuvenation of the skin surface: chemical peel and dermabrasion. Facial Plast Surg. 1996;12(2):125–33.

2.

Nanni CA, Alster TS. Complications of carbon dioxide laser resurfacing. An evaluation of 500 patients. Dermatol Surg. 1998;24(3):315–20.

3.

Ortiz AE, Goldman MP, Fitzpatrick RE. Ablative CO2 lasers for skin tightening: traditional versus fractional. Dermatol Surg. 2014;40 Suppl 12:S147–51.

4.

Barolet D. Light-emitting diodes (LEDs) in dermatology. Semin Cutan Med Surg. 2008;27(4):227–38.

5.

Calderhead RG et al. Adjunctive 830 nm light-emitting diode therapy can improve the results following aesthetic procedures. Laser Ther. 2015;24(4):277–89.

6.

Barolet D et al. Regulation of skin collagen metabolism in vitro using a pulsed 660 nm LED light source: clinical correlation with a single-blinded study. J Invest Dermatol. 2009;129(12):2751–9.

7.

Barolet D et al. Importance of pulsing illumination parameters in low-level-light therapy. J Biomed Opt. 2010;15(4):048005.

8.

Shoshani D et al. The modified Fitzpatrick Wrinkle Scale: a clinical validated measurement tool for nasolabial wrinkle severity assessment. Dermatol Surg. 2008;34 Suppl 1:S85–91. discussion S91.

9.

Avci P et al. Low-level laser (light) therapy (LLLT) in skin: stimulating, healing, restoring. Semin Cutan Med Surg. 2013;32(1):41–52.

10.

Khoury JG, Goldman MP. Use of light-emitting diode photomodulation to reduce erythema and discomfort after intense pulsed light treatment of photodamage. J Cosmet Dermatol. 2008;7(1):30–4.

11.

Alster TS, Wanitphakdeedecha R. Improvement of postfractional laser erythema with light-emitting diode photomodulation. Dermatol Surg. 2009;35(5):813–5.

12.

Oh IY et al. Efficacy of light-emitting diode photomodulation in reducing erythema after fractional carbon dioxide laser resurfacing: a pilot study. Dermatol Surg. 2013;39(8):1171–6.

13.

Gupta A, Dai T, Hamblin MR. Effect of red and near-infrared wavelengths on low-level laser (light) therapy-induced healing of partial-thickness dermal abrasion in mice. Lasers Med Sci. 2014;29(1):257–65.

14.••

Kuffler Damien PD. Photobiomodulation in promoting wound healing: a review. Regen Med. 2016;11(1):107–22. Excellent review article pertaining to current photobiomodulation principles and applications.

15.

Bay C., D.T.-P., P.A.P. Anne-Cathrine Vissing, and M.H. Boncheol Leo Goo, Light-Emitting Diode (LED) therapy for post-treatment erythema after Ablative Fractional Laser-Assisted Photodynamic Therapy (AFXL-PDT): a randomized controlled trial. Lasers Surg Med. 2016;48(Suppl 27):43

16.

Barolet D, Boucher A. LED photoprevention: reduced MED response following multiple LED exposures. Lasers Surg Med. 2008;40(2):106–12.

17.

Barolet D, Christiaens F, Hamblin MR. Infrared and skin: friend or foe. J Photochem Photobiol B. 2016;155:78–85.

18.•

Agrawal T et al. Pre-conditioning with low-level laser (light) therapy: light before the storm. Dose Response. 2014;12(4):619–49. Very good review article on the new prophylactic use of photobiomodulation.

19.

Huang YY et al. Biphasic dose response in low level light therapy—an update. Dose Response. 2011;9(4):602–18.
Acknowledgments
I am grateful to Greg Cormack for the careful proofreading and editing of the manuscript.
Ethics declarations
Conflict of Interest
Dr. Daniel Barolet delares patented technology related to photobiomodulation using sequential pulsing modes.
Human and Animal Rights and Informed Consent
This article does not contain any studies with human or animal subjects performed by any of the authors.
Additional information
This article is part of the Topical Collection on Laser Therapy
About this article
Cite this article
Barolet, D. Accelerating Ablative Fractional Resurfacing Wound Healing Recovery by Photobiomodulation. Curr Derm Rep 5, 232–238 (2016). https://doi.org/10.1007/s13671-016-0151-8
Keywords
LED

Light-emitting diodes

Photobiomodulation

Low level light therapy

LLLT

Ablative fractional resurfacing

Erbium: YAG laser

Photoprevention

Complimentary treatment

Wound healing

Wound recovery

Rejuvenation

Rhytids

Wrinkles

Erythema

Edema