Abstract
Purpose of Review
This review documents the most promising domains of mobile health (mHealth) use in cardiovascular disease, current barriers to mHealth adoption in older adults, and future directions of mHealth utilization that may increase engagement in this population.
Recent Findings
Mobile health technologies are being rapidly adopted as smartphones and wearable biometric devices enable increasingly sophisticated health monitoring. Cardiovascular disease management is particularly conducive to mobile health utilization, as many mobile platforms currently support software capable of sophisticated cardiovascular data collection. While cardiovascular disease most commonly affects older adults, these individuals also have the greatest barriers to mHealth adoption, limiting the potential for current technologies to achieve benefit.
Summary
Recent studies investigating mHealth interventions for older adults with cardiovascular disease have yielded mixed results. More work is needed to create engaging mHealth platforms that provide the necessary level of support to create sustained behavioral change. Addressing specific motivational, physical, and cognitive barriers to mHealth adoption among older adults may increase utilization of future interventions.
Access options
Buy single article
Instant access to the full article PDF.
US$ 39.95
Tax calculation will be finalised during checkout.
Subscribe to journal
Immediate online access to all issues from 2019. Subscription will auto renew annually.
US$ 79
Tax calculation will be finalised during checkout.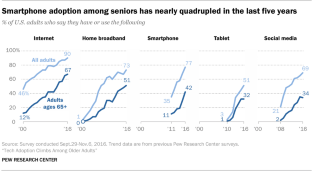 References
Papers of particular interest, published recently, have been highlighted as: •• Of major importance
1.

GSMA. The mobile economy. 2018. https://www.gsma.com/mobileeconomy/. Accessed 28 Aug 2018.

2.

Kay M, Santos J, Takane M. mHealth: new horizons for health through mobile technologies. World Health Organ. 2011;64:66–71.

3.

Lind L, Karlsson D. Digital pen-based telemonitoring of elderly heart failure patients. Stud Health Technol Inform. 2013;192:1062.

4.

Matthew-Maich N, Harris L, Ploeg J, Markle-Reid M, Valaitis R, Ibrahim S, Gafni A, Isaacs S. Designing, implementing, and evaluating mobile health technologies for managing chronic conditions in older adults: a scoping review. JMIR Mhealth Uhealth. 2016;4:e29.

5.

Gilbert BJ, Goodman E, Chadda A, Hatfield D, Forman DE, Panch T. The role of mobile health in elderly populations. Curr Geriatr Rep. 2015;4:347–52.

6.

Kim BYB, Lee J. Smart devices for older adults managing chronic disease: a scoping review. JMIR Mhealth Uhealth. 5:e69.

7.

Seto E, Leonard KJ, Cafazzo JA, Barnsley J, Masino C, Ross HJ. Mobile phone-based telemonitoring for heart failure management: a randomized controlled trial. J Med Internet Res. 2012;14:e31.

8.

Augustyniak P. Wearable wireless heart rate monitor for continuous long-term variability studies. J Electrocardiol. 2011;44:195–200.

9.

Haynes S, Kim KK. A mobile care coordination system for the management of complex chronic disease. Stud Health Technol Inform. 2016;225:505–9.

10.

Jung H, Lee JE. The impact of community-based eHealth self-management intervention among elderly living alone with hypertension. J Telemed Telecare. 2017;23:167–73.

11.

Marvel F, Martin S, Lee M. No title. In: Corrie. 2018. https://corriehealth.com/. Accessed 6 Jul 2018.

12.

Shalan A, Abdulrahman A, Habli I, Tew G, Thompson A. YORwalK: designing a smartphone exercise application for people with intermittent claudication. Stud Health Technol Inform. 2018;247:311–5.

13.

Macinnes M, Martin N, Fulton H, McLeod KA. Comparison of a smartphone-based ECG recording system with a standard cardiac event monitor in the investigation of palpitations in children. Arch Dis Child. 2018;104:43–47.

14.

Yazdanyar A, Newman AB. The burden of cardiovascular disease in the elderly: morbidity, mortality, and costs. Clin Geriatr Med. 2009;25:563–vii.

15.

Wildenbos GA, Peute L, Jaspers M. Aging barriers influencing mobile health usability for older adults: a literature based framework (MOLD-US). Int J Med Inform. 2018;114:66–75.

16.

Foster MV, Sethares KA. Facilitators and barriers to the adoption of telehealth in older adults: an integrative review. CIN Comput. Informatics, Nurs. 2014;32:523–533.

17.

Baig MM, GholamHosseini H, Moqeem AA, Mirza F, Linden M. A systematic review of wearable patient monitoring systems - current challenges and opportunities for clinical adoption. J Med Syst. 2017;41:115.

18.

Cajita MI, Hodgson NA, Lam KW, Yoo S, Han H-R. Facilitators of and barriers to mHealth adoption in older adults with heart failure. CIN Comput. Informatics, Nurs. 36:376–382.

19.

Iriondo J, Jordan J. Older people projected to outnumber children for first time in U.S. history. In: 2017 Natl. Popul. Proj. 2018. https://www.census.gov/newsroom/press-releases/2018/cb18-41-population-projections.html. Accessed 7 Jan 2018.

20.

Anderson M, Perrin A. Tech adoption climbs among older adults. Pew Res Cent Internet & Tech.; 2017

21.

•• Lee C, Coughlin JF. Perspective: older adults' adoption of technology: an integrated approach to identifying determinants and barriers. J Prod Innov Manag. 2014;32:747–59 This study provides a thorough summary of motivational barriers to older adult adoption of mHealth technologies.

22.

Hoque R, Sorwar G. Understanding factors influencing the adoption of mHealth by the elderly: an extension of the UTAUT model. Int J Med Inform. 2017;101:75–84.

23.

Chen K, Chan AHS. Gerontechnology acceptance by elderly Hong Kong Chinese: a senior technology acceptance model (STAM). Ergonomics. 2014;57:635–52.

24.

Parker SJ, Jessel S, Richardson JE, Reid MC. Older adults are mobile too! Identifying the barriers and facilitators to older adults' use of mHealth for pain management. BMC Geriatr. 2013;13:43.

25.

Rodríguez MD, Gonzalez VM, Favela J, Santana PC. Home-based communication system for older adults and their remote family. Comput Human Behav. 2009;25:609–18.

26.

Eisma R, Dickinson A, Goodman J, Syme A, Tiwari L, Newell AF. Early user involvement in the development of information technology-related products for older people. Univ Access Inf Soc. 2004;3:131–40.

27.

Ancker JS, Witteman HO, Hafeez B, Provencher T, Van de Graaf M, Wei E. "You get reminded you're a sick person": personal data tracking and patients with multiple chronic conditions. J Med Internet Res. 2015;17:e202.

28.

Fletcher J, Jensen R. Mobile health: barriers to mobile phone use in the aging population. Online J Nurs Inform. 2015;19.

29.

Wang A, Redington L, Steinmetz V, Lindeman D. The ADOPT model: accelerating diffusion of proven technologies for older adults. Ageing Int. 2011;36:29–45.

30.

Walsh K, Callan A. Perceptions, preferences, and acceptance of information and communication technologies in older-adult community care settings in Ireland: a case-study and ranked-care program analysis. Ageing Int. 2011;36:102–22.

31.

Winberg C, Kylberg M, Pettersson C, Harnett T, Hedvall PO, Mattsson T, et al. The use of apps for health in persons with multiple sclerosis, Parkinson's disease and stroke - barriers and facilitators. Stud Health Technol Inform. 2017;242:638–41.

32.

Steele R, Lo A, Secombe C, Wong YK. Elderly persons' perception and acceptance of using wireless sensor networks to assist healthcare. Int J Med Inform. 2009;78:788–801.

33.

Kaufman DR, Patel VL, Hilliman C, Morin PC, Pevzner J, Weinstock RS, et al. Usability in the real world: assessing medical information technologies in patients' homes. J Biomed Inform. 2003;36:45–60.

34.

Czaja SJ, Charness N, Fisk AD, Hertzog C, Nair SN, Rogers WA, et al. Factors predicting the use of technology: findings from the Center for Research and Education on Aging and Technology Enhancement (CREATE). Psychol Aging. 2006;21:333–52.

35.

Fanning J, Brooks AK, Ip E, Nicklas BJ, Rejeski WJ. A mobile health intervention to reduce pain and improve health (MORPH) in older adults with obesity: protocol for the MORPH trial. JMIR Res Protoc. 2018;7:e128.

36.

Aula A. User study on older adults' use of the Web and search engines. Univ Access Inf Soc. 2005;4:67–81.

37.

Kang HG, Mahoney DF, Hoenig H, Hirth VA, Bonato P, Hajjar I, et al. In situ monitoring of health in older adults: technologies and issues. J Am Geriatr Soc. 2010;58:1579–86.

38.

Taylor R, Bower A, Girosi F, Bigelow J, Fonkych K, Hillestad R. Promoting health information technology: is there a case for more-aggressive government action? Health Aff. 2005;24:1234–45.

39.

Wallace S, Graham C, Saraceno A. Older adults' use of technology. Perspect Gerontol. 2013. https://doi.org/10.1044/gero18.2.50.

40.

Bujnowska-Fedak MM, Pirogowicz I. Support for e-health services among elderly primary care patients. Telemed J E Health. 2014;20:696–704.

41.

•• Farage MA, Miller KW, Ajayi F, Hutchins D. Design principles to accommodate older adults. Glob J Health Sci. 2012;4:2–25 This paper reviews the numerous barriers (physical and cognitive) faced by older adults in their adoption of mHealth technologies.

42.

Gassmann O, Reepmeyer G. Universal design – innovations for all ages BT - the silver market phenomenon: business opportunities in an era of demographic change. In: Kohlbacher F, Herstatt C, editors. Berlin, Heidelberg: Springer Berlin Heidelberg; 2008. p. 125–140.

43.

Davis AC, Ostri B, Parving A. Longitudinal study of hearing. Acta Otolaryngol Suppl. 1990;476:12–22.

44.

Pedersen KE, Rosenhall U, Moller MB. Changes in pure-tone thresholds in individuals aged 70-81: results from a longitudinal study. Audiology. 1989;28:194–204.

45.

Gitlow L. Technology use by older adults and barriers to using technology. Phys Occup Ther Geriatr. 2014;32:271–80.

46.

Arning K, Ziefle M. Effects of age, cognitive, and personal factors on PDA menu navigation performance. Behav Inform Technol. 2009;28:251–68.

47.

Harte PR, Glynn GL, Broderick JB, Rodriguez-Molinero A, Baker MP, McGuiness B, et al. Human centred design considerations for connected health devices for the older adult. J Pers Med. 2014;4:245–81. https://doi.org/10.3390/jpm4020245.

48.

Karhula T, Vuorinen AL, Raapysjarvi K, et al. Telemonitoring and mobile phone-based health coaching among Finnish diabetic and heart disease patients: randomized controlled trial. J Med Internet Res. 2015;17:e153.

49.

Anglada-Martinez H, Rovira-Illamola M, Martin-Conde M, Sotoca-Momblona JM, Codina-Jane C. mHealth intervention to improve medication management in chronically ill patients: analysis of the recruitment process. Postgr Med. 2016;128:427–31.

50.

Scherr D, Kastner P, Kollmann A, Hallas A, Auer J, Krappinger H, et al. Effect of home-based telemonitoring using mobile phone technology on the outcome of heart failure patients after an episode of acute decompensation: randomized controlled trial. J Med Internet Res. 2009;11:e34.

51.

Buck H, Pinter A, Poole E, Boehmer J, Foy A, Black S, et al. Evaluating the older adult experience of a web-based, tablet-delivered heart failure self-care program using gerontechnology principles. Geriatr Nurs (Minneap). 2017;38:537–41.

52.

Pew Research Center. No title. In: Demogr. Mob. Device Ownersh. Adopt. United States. 2017. http://www.pewinternet.org/fact-sheet/mobile/. Accessed 7 Nov 2018.

53.

Wijsman WL, Richard E, Cachucho R, de Craen JMA, Jongstra S, Mooijaart PS Evaluation of the use of home blood pressure measurement using mobile phone-assisted technology: the iVitality proof-of-principle study. JMIR Mhealth Uhealth. 4:e67.

54.

Morawski K, Ghazinouri R, Krumme A, et al. Association of a smartphone application with medication adherence and blood pressure control: the mediSAFE-BP randomized clinical trial. JAMA Intern Med. 2018;178:802–9.

55.

Kim JY, Wineinger NE, Steinhubl SR. The influence of wireless self-monitoring program on the relationship between patient activation and health behaviors, medication adherence, and blood pressure levels in hypertensive patients: a substudy of a randomized controlled trial. J Med Internet Res. 2016;18:e116.

56.

Kario K, Tomitani N, Kanegae H, Ishii H, Uchiyama K, Yamagiwa K, et al. Comparative effects of an angiotensin II receptor blocker (ARB)/diuretic vs. ARB/calcium-channel blocker combination on uncontrolled nocturnal hypertension evaluated by information and communication technology-based nocturnal home blood pressure monitoring. Circ J. 2017;81:948–57.

57.

MM MD, Spring B, Berger JS, et al. Effect of a home-based exercise intervention of wearable technology and telephone coaching on walking performance in peripheral artery disease: the honor randomized clinical trial. JAMA. 2018;319:1665–76.

58.

McGillion M, Yost J, Turner A, Bender D, Scott T, Carroll S, et al. Technology-enabled remote monitoring and self-management - vision for patient empowerment following cardiac and vascular surgery: user testing and randomized controlled trial protocol. JMIR Res Protoc. 2016;5:e149.

59.

Prescott E, Meindersma EP, van der Velde AE, Gonzalez-Juanatey JR, Iliou MC, Ardissino D, et al. A EUropean study on effectiveness and sustainability of current Cardiac Rehabilitation programmes in the Elderly: design of the EU-CaRE randomised controlled trial. Eur J Prev Cardiol. 2016;23:27–40.

60.

Comin-Colet J, Enjuanes C, Verdu-Rotellar JM, Linas A, Ruiz-Rodriguez P, Gonzalez-Robledo G, et al. Impact on clinical events and healthcare costs of adding telemedicine to multidisciplinary disease management programmes for heart failure: results of a randomized controlled trial. J Telemed Telecare. 2016;22:282–95.

61.

Guo Y, Chen Y, Lane DA, Liu L, Wang Y, Lip GYH. Mobile health technology for atrial fibrillation management integrating decision support, education, and patient involvement: mAF app trial. Am J Med. 2017;130:1388–1396.e6.

62.

Steinhubl SR, Waalen J, Edwards AM, Ariniello LM, Mehta RR, Ebner GS, et al. Effect of a home-based wearable continuous ECG monitoring patch on detection of undiagnosed atrial fibrillation: the mSToPS randomized clinical trial. JAMA. 2018;320:146–55.

63.

University of Oxford (2018) Can screening for atrial fibrillation prevent stroke? In: Nuff. Dep. Prim. Care Heal. Sci. https://www.phc.ox.ac.uk/news/new-research-to-investigate-whether-screening-can-prevent-one-in-ten-strokes. Accessed 10 Jul 2018.

64.

Brath H, Morak J, Kastenbauer T, Modre-Osprian R, Strohner-Kastenbauer H, Schwarz M, Kort W, Schreier G, et al. Mobile health (mHealth) based medication adherence measurement - a pilot trial using electronic blisters in diabetes patients. Br J Clin Pharmacol. 2013;76(Suppl 1):47–55.

65.

Harte R, Hall T, Glynn L, Rodríguez-Molinero A, Scharf T, Quinlan LR, et al. Enhancing home health mobile phone app usability through general smartphone training: usability and learnability case study. JMIR Hum Factors. 2018;5:e18.

66.

Piette JD, Striplin D, Marinec N, Chen J, Trivedi RB, Aron DC, et al. A mobile health intervention supporting heart failure patients and their informal caregivers: a randomized comparative effectiveness trial. J Med Internet Res. 2015;17:e142.

67.

Lopez AD, Mathers CD, Ezzati M, Jamison DT, Murray CJL. Global and regional burden of disease and risk factors, 2001: systematic analysis of population health data. Lancet. 2006;367:1747–57.

68.

Wolf-Maier K, Cooper RS, Banegas JR, et al. Hypertension prevalence and blood pressure levels in 6 European countries, Canada, and the United States. JAMA. 2003;289:2363–9.

69.

Gutiérrez-Misis A, Sánchez-Santos MT, Banegas JR, Zunzunegui MV, Castell MV, Otero A. Prevalence and incidence of hypertension in a population cohort of people aged 65 years or older in Spain. J Hypertens. 2011;29:1863–70.

70.

Lloyd-Jones DM, Evans JC, Levy D. Hypertension in adults across the age spectrum: current outcomes and control in the community. JAMA. 2005;294:466–72.

71.

Moon JY, Park KJ, Hwangbo Y, Lee MR, Yoo BI, Won JH, et al. A trend analysis of the prevalence, awareness, treatment, and control of hypertension by age group. J Prev Med Public Health. 2013;46:353–9.

72.

Egan BM, Li J, Shatat IF, Fuller JM, Sinopoli A. Closing the gap in hypertension control between younger and older adults: NHANES 1988 to 2010. Circulation. 2014;129:2052–61.

73.

Smith SC, Benjamin EJ, Bonow RO, et al. AHA/ACCF secondary prevention and risk reduction therapy for patients with coronary and other atherosclerotic vascular disease: 2011 update: a guideline from the American Heart Association and American College of Cardiology Foundation endorsed by the World. J Am Coll Cardiol. 2011;58:2432–46.

74.

Thomas RJ, Balady G, Banka G, Beckie TM, Chiu J, Gokak S, et al. 2018 ACC/AHA clinical performance and quality measures for cardiac rehabilitation: a report of the American College of Cardiology/American Heart Association Task Force on performance measures. J Am Coll Cardiol. 2018;71:1814–37.

75.

Gravely-Witte S, Leung YW, Nariani R, Tamim H, Oh P, Chan VM, et al. Effects of cardiac rehabilitation referral strategies on referral and enrollment rates. Nat Rev Cardiol. 2010;7:87–96.

76.

January CT, Wann LS, Alpert JS, Calkins H, Cigarroa JE, Cleveland JC Jr, et al. 2014 AHA/ACC/HRS guideline for the management of patients with atrial fibrillation: a report of the American College of Cardiology/American Heart Association Task Force on Practice Guidelines and the Heart Rhythm Society. J Am Coll Cardiol. 2014;64:e1–e76.

77.

Wodchis WP, Bhatia RS, Leblanc K, Meshkat N, Morra D. A review of the cost of atrial fibrillation. Value Health. 2012;15:240–8.

78.

Becker C. Cost-of-illness studies of atrial fibrillation: methodological considerations. Expert Rev Pharmacoecon Outcomes Res. 2014;14:661–84.

79.

Bumgarner JM, Lambert CT, Hussein AA, Cantillon DJ, Baranowski B, Wolski K, et al. Smartwatch algorithm for automated detection of atrial fibrillation. J Am Coll Cardiol. 2018;71:2381–8.

80.

Koshy AN, Sajeev JK, Nerlekar N, Brown AJ, Rajakariar K, Zureik M, et al. Smart watches for heart rate assessment in atrial arrhythmias. Int J Cardiol. 2018;266:124–7.

81.

Dalen JE, Alpert JS. Silent atrial fibrillation and cryptogenic strokes. Am J Med. 2017;130:264–7.

82.

Dilaveris PE, Kennedy HL. Silent atrial fibrillation: epidemiology, diagnosis, and clinical impact. Clin Cardiol. 2017;40:413–8.

83.

Steinhubl SR, Mehta RR, Ebner GS, Ballesteros MM, Waalen J, Steinberg G, et al. Rationale and design of a home-based trial using wearable sensors to detect asymptomatic atrial fibrillation in a targeted population: the mHealth Screening To Prevent Strokes (mSToPS) trial. Am Heart J. 2016;175:77–85.

84.

Mairesse GH, Moran P, Van Gelder IC, et al. Screening for atrial fibrillation: a European Heart Rhythm Association (EHRA) consensus document endorsed by the Heart Rhythm Society (HRS), Asia Pacific Heart Rhythm Society (APHRS), and Sociedad Latinoamericana de Estimulación Cardíaca y Electrofisiologi. Europace. 2017;19:1589–623.

85.

Jamerson BD, Fillenbaum GG, Sloane R, Morey MC. A new method for identifying characteristics of needing help to take medications in an older representative community-resident population: the Duke medication assist scale. J Am Geriatr Soc. 2016;64:1195–202.

86.

Osterberg L, Blaschke T. Adherence to medication. N Engl J Med. 2005;353:487–97.

87.

Shah NB, Der E, Ruggerio C, Heidenreich PA, Massie BM. Prevention of hospitalizations for heart failure with an interactive home monitoring program. Am Heart J. 1998;135:373–8.

88.

Mertens A, Brandl C, Miron-Shatz T, Schlick C, Neumann T, Kribben A, et al. A mobile application improves therapy-adherence rates in elderly patients undergoing rehabilitation: a crossover design study comparing documentation via iPad with paper-based control. Medicine. 2016;95:e4446.

89.

Escourrou E, Herault M, Gdoura S, Stillmunkés A, Oustric S, Chicoulaa B (2018) Becoming frail: a major turning point in patients' life course. Fam Pract cmy043-cmy043.

90.

Villalva CM, Alvarez-Muiño XLL, Mondelo TG, Fachado AA, Fernández JC. Adherence to treatment in hypertension BT - hypertension: from basic research to clinical practice. In: Islam MS, editors. Cham: Springer International Publishing; 2017. p. 129–147.

91.

Arranz L, Gimenez-Llort L, De Castro NM, Baeza I, De la Fuente M. Social isolation during old age worsens cognitive, behavioral and immune impairment. Rev Esp Geriatr Gerontol. 2009;44:137–42.

92.

Li CL, Tung HJ, Yeh MC. Combined effect of eating alone and a poor nutritional status on cognitive decline among older adults in Taiwan. Asia Pac J Clin Nutr. 2018;27:686–94.

93.

Dromey C, Boyce K, Channell R. Effects of age and syntactic complexity on speech motor performance. J Speech Lang Hear Res. 2014;57:2142–51.

94.

Palumbo F, Ullberg J, Štimec A, Furfari F, Karlsson L, Coradeschi S. Sensor network infrastructure for a home care monitoring system. Sensors (Basel). 2014;14:3833–60.

95.

Melillo P, Orrico A, Scala P, Crispino F, Pecchia L. Cloud-based smart health monitoring system for automatic cardiovascular and fall risk assessment in hypertensive patients. J Med Syst. 2015;39:109.
Ethics declarations
Conflict of Interest
Ryan Searcy, Jenny Summapund, Deborah Estrin, John Pollak, Antoinette Schoenthaler, and John Dodson declare no conflict of interest.
Disclosures
Dr. Andrea Troxel is a member of the Scientific Advisory Board for VAL Health, a behavioral economics consulting firm.
Human and Animal Rights and Informed Consent
This article does not contain any studies with human or animal subjects performed by any of the authors.
Additional information
Publisher's Note
Springer Nature remains neutral with regard to jurisdictional claims in published maps and institutional affiliations.
This article is part of the Topical Collection on Cardiovascular Disease in the Elderly
About this article
Cite this article
Searcy, R.P., Summapund, J., Estrin, D. et al. Mobile Health Technologies for Older Adults with Cardiovascular Disease: Current Evidence and Future Directions. Curr Geri Rep 8, 31–42 (2019). https://doi.org/10.1007/s13670-019-0270-8
Keywords
mHealth

eHealth

Geriatrics

Older adults

Cardiovascular disease

Mobile technology