Abstract
The deleterious effects of diabetes on the lower extremity are numerous, costly, and complicated to treat. Many patients who develop a diabetes-related ulceration will eventually require lower extremity amputation, an outcome with well-described morbidity and mortal complications. Foremost in the many deteriorating effects of aging on lower extremity health are the development of peripheral neuropathies, development of peripheral arterial disease, loss of proprioceptive feedback, and loss of adequate function leading to increased falls. Current healthcare practice guidelines substantially improve the long-term care of older adults; however, they are often limited to semi-regular screenings and patient-reported symptoms. Future implementation of wearable, constant-monitoring technology has the potential to revolutionize healthcare by early detection and "pre-habilitative" therapy before the patient even needs to visit the clinic. This article addresses the current and future trends of lower extremity risk prevention with an emphasis on the implications of wearable, transdermal, and implantable constant-monitoring devices and powered exoskeletons.
Access options
Buy single article
Instant access to the full article PDF.
USD 39.95
Price excludes VAT (USA)
Tax calculation will be finalised during checkout.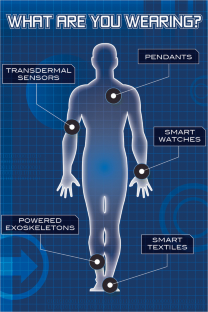 References
Papers of particular interest, published recently, have been highlighted as: • Of importance •• Of major importance
Federation ID. IDF diabetes atlas. International Diabetes Federation. 2011

Sinclair A, Morley JE, Rodriguez-Mañas L, Paolisso G, Bayer T, et al. Diabetes mellitus in older people: position statement on behalf of the International Association of Gerontology and Geriatrics (IAGG), the European Diabetes Working Party for Older People (EDWPOP), and the International Task Force of Experts in Diabetes. J Am Med Dir Assoc. 2012;13:497–502. An excellent review of modern treatment concerns and standards for the care of elderly patients in the developed nation using a Delphi process and evidence-based approach to diagnosis and therapy. A set of 'consensus' statements are included to guide the foundation for future policy and clinical behavior for future health professionals caring for the elderly.

Prompers L, Huijberts M, Schaper N, Apelqvist J, Bakker K, et al. Resource utilisation and costs associated with the treatment of diabetic foot ulcers. Prospective data from the Eurodiale Study. Diabetologia. 2008;51:1826–34.

Tesfaye S, Boulton AJM, Dyck PJ, Freeman R, Horowitz M, et al. Diabetic neuropathies: update on definitions, diagnostic criteria, estimation of severity, and treatments. Diabetes Care. 2010;33:2285–93.

Boulton AJM, Vinik AI, Arezzo JC, Bril V, Feldman EL, et al. Diabetic neuropathies: a statement by the American Diabetes Association. Diabetes Care. 2005;28:956–62.

Lavery LA, Peters EJG, Williams JR, Murdoch DP, Hudson A, et al. Reevaluating the way we classify the diabetic foot restructuring the diabetic foot risk classification system of the International Working Group on the diabetic foot. Diabetes Care. 2008;31:154–6.

Lavery LA, Armstrong DG, Wunderlich RP, Tredwell J, Boulton AJM. Diabetic foot syndrome: evaluating the prevalence and incidence of foot pathology in Mexican Americans and non-Hispanic whites from a diabetes disease management cohort. Diabetes Care. 2003;26:1435–8.

The Diabetic Foot IWG on et al. Epidemiology of diabetic foot infections in a population-based cohort. Int Consens Diab Foot. 2003;5:22–4.

Lavery L, Peters EJ, Armstrong D. What are the most important interventions in preventing diabetic foot ulcers? Int Wound J. In Press; 2008.

Armstrong DG, Harkless LB. Outcomes of preventative care in a diabetic foot specialty clinic. J Foot Ankle Surg. 1998;37:460–6.

Reiber GE, Lemaster JW. Epidemiology and economic impact of foot ulcers and amputations in people. Levin O'Neal's Diab Foot CD-ROM. 2007;13:3.

Vileikyte L. Diabetic foot ulcers: a quality of life issue. Diabetes Metab Res Rev. 2001;17:246–9.

Ribu L, Hanestad BR, Moum T, Birkeland K, Rustoen T. A comparison of the health-related quality of life in patients with diabetic foot ulcers, with a diabetes group and a nondiabetes group from the general population. Qual Life Res. 2007;16:179–89.

Boulton AJM, Kirsner RS, Vileikyte L. Clinical practice. Neuropathic diabetic foot ulcers. N Engl J Med. 2004;351:48–55.

Siitonen OI, Niskanen LK, Laakso M, Siitonen JT, Pyörälä K. Lower-extremity amputations in diabetic and nondiabetic patients. A population-based study in eastern Finland. Diabetes Care. 1993;16:16–20.

Trautner C, Haastert B, Giani G, Berger M. Incidence of lower limb amputations and diabetes. Diabetes Care. 1996;19:1006–9.

Armstrong DG, Lavery LA, Quebedeaux TL, Walker SC. Surgical morbidity and the risk of amputation due to infected puncture wounds in diabetic versus nondiabetic adults. J Am Podiatr Med Assoc. 1997;87:321–6.

Bakker K, Riley PH. The year of the diabetic foot. Diab Voice. 2005;50:11–4.

Apelqvist J, Bakker K, Van Houtum WH, Schaper NC. International Working Group on the Diabetic Foot (IWGDF) Editorial Board. Practical guidelines on the management and prevention of the diabetic foot: based upon the International Consensus on the Diabetic Foot (2007) prepared by the International Working Group on the Diabetic Foot. Diabetes Metab Res Rev. 2008;24:S181–7.

Jude E, et al. Assessment of the diabetic foot. Chronic wound care: chapter 58. Krasner, DL et al. A Clinical Sourcebook for Healthcare Professionals. 3 edition, HMP Communications Inc. 2001;589–597.

Stockl K, Vanderplas A, Tafesse E, Chang E. Costs of lower-extremity ulcers among patients with diabetes. Diabetes Care. 2004;27:2129–34.

Ragnarson Tennvall G, Apelqvist J. Health-economic consequences of diabetic foot lesions. Clin Infect Dis. 2004;39 Suppl 2:S132–9.

Wrobel JS, Najafi B. Diabetic foot biomechanics and gait dysfunction. J Diabet Sci Technol. 2010;4:833–45.

Grewal GS, Schwenk M, Lee-Eng J, Parvaneh S, Bharara M, et al. Sensor-based interactive balance training with visual joint movement feedback for improving postural stability in diabetics with peripheral neuropathy: a randomized controlled trial. Gerontology. 2015. Available: http://www.karger.com/Article/Abstract/371846

Najafi B, Bharara M, Talal TK, Armstrong DG. Advances in balance assessment and balance training for diabetes. Diabet Manag. 2012;2:293–308. Review article providing a comprehensive outlook on the current and emerging technologies for addressing balance instability in patients of advanced age or with diabetes.

Cavanagh PR, Derr JA, Ulbrecht JS, Maser RE, Orchard TJ. Problems with gait and posture in neuropathic patients with insulin-dependent diabetes mellitus. Diabet Med. 1992;9:469–74.

Bongaerts BWC, Rathmann W, Heier M, Kowall B, Herder C, et al. Older subjects with diabetes and prediabetes are frequently unaware of having distal sensorimotor polyneuropathy: the KORA F4 study. Diabetes Care. 2013;36:1141–6. Foundational study demonstrating a high prevalence of patient unawareness to clinical neuropathy among prediabetic and diabetic patients, despite the latter group receiving regular diabetes and foot care.

Kelly C, Fleischer A, Yalla S, Grewal GS, Albright R, et al. Fear of falling is prevalent in older adults with diabetes mellitus but is unrelated to level of neuropathy. J Am Podiatr Med Assoc. 2013;103:480–8.

Mold JW, Vesely SK, Keyl BA, Schenk JB, Roberts M. The prevalence, predictors, and consequences of peripheral sensory neuropathy in older patients. J Am Board Fam Pract. 2004;17:309–18.

Singh N, Armstrong DG, Lipsky BA. Preventing foot ulcers in patients with diabetes. JAMA. 2005;293:217–28.

Arad Y, Fonseca V, Peters A, Vinik A. Beyond the monofilament for the insensate diabetic foot: a systematic review of randomized trials to prevent the occurrence of plantar foot ulcers in patients with diabetes. Diabetes Care. 2011;34:1041–6.

Dros J, Wewerinke A, Bindels PJ, van Weert HC. Accuracy of monofilament testing to diagnose peripheral neuropathy: a systematic review. Ann Fam Med. 2009;7:555–8.

Feng Y, Schlösser FJ, Sumpio BE. The Semmes Weinstein monofilament examination as a screening tool for diabetic peripheral neuropathy. J Vasc Surg. 2009;50:675–82. 682.e1.

Feng Y, Schlosser FJ, Sumpio BE. The Semmes Weinstein monofilament examination is a significant predictor of the risk of foot ulceration and amputation in patients with diabetes mellitus. J Vasc Surg. 2011;53:220–5.

Armstrong DG, Holtz-Neiderer K, Wendel C, Mohler MJ, Kimbriel HR, et al. Skin temperature monitoring reduces the risk for diabetic foot ulceration in high-risk patients. Am J Med. 2007;120:1042–6.

Lavery LA, Higgins KR, Lanctot DR, Constantinides GP, Zamorano RG, et al. Preventing diabetic foot ulcer recurrence in high-risk patients: use of temperature monitoring as a self-assessment tool. Diabetes Care. 2007;30:14–20.

Lavery LA, Higgins KR, Lanctot DR, Constantinides GP, Zamorano RG, et al. Home monitoring of foot skin temperatures to prevent ulceration. Diabetes Care. 2004;27:2642–7.

Sibbald RG, Mufti A, Armstrong DG. Infrared skin thermometry: an underutilized cost-effective tool for routine wound care practice and patient high-risk diabetic foot self-monitoring. Adv Skin Wound Care. 2015;28:37–44. quiz 45–6.

Armstrong DG, Lavery LA. Monitoring healing of acute Charcot's arthropathy with infrared dermal thermometry. J Rehabil Res Dev. 1997;34:317–21.

Armstrong DG, Lavery LA, Liswood PJ, Todd WF, Tredwell JA. Infrared dermal thermometry for the high-risk diabetic foot. Phys Ther. 1997;77:169–75. discussion 176–7.

Najafi B, Wrobel JS, Grewal G, Menzies RA, Talal TK, et al. Plantar temperature response to walking in diabetes with and without acute Charcot: the charcot activity response test. J Aging Res. 2012;2012:140968.

Armstrong DG, Todd WF, Lavery LA, Harkless LB, Bushman TR. The natural history of acute Charcot's arthropathy in a diabetic foot specialty clinic. J Am Podiatr Med Assoc. 1997;87:272–8.

Wrobel JS, Ammanath P, Le T, Luring C, Wensman J, et al. A novel shear reduction insole effect on the thermal response to walking stress, balance, and gait. J Diabet Sci Technol. 2014;8:1151–6.

Grewal G, Sayeed R, Yeschek S, Menzies RA, Talal TK, et al. Virtualizing the assessment: a novel pragmatic paradigm to evaluate lower extremity joint perception in diabetes. Gerontology. 2012;58:463–71.

Allet L, Armand S, de Bie RA, Pataky Z, Aminian K, et al. Gait alterations of diabetic patients while walking on different surfaces. Gait Posture. 2009;29:488–93.

Liu M-W, Hsu W-C, Lu T-W, Chen H-L, Liu H-C. Patients with type II diabetes mellitus display reduced toe-obstacle clearance with altered gait patterns during obstacle-crossing. Gait Posture. 2010;31:93–9.

Kirkman MS, Briscoe VJ, Clark N, Florez H, Haas LB, et al. Diabetes in older adults. Diabetes Care. 2012;35:2650–64. Comprehensive review regarding the epidemiology, pathogenesis, preventative strategies and current and future treatment guidelines for elderly patients with diabetes mellitus.

American Diabetes Association. Standards of medical care in diabetes—2013. Diabetes Care. 2013;36:S11–66. Strong review of the current suggested treatment standards in medical management of diabetes.

Lee SJ, Eng C. Goals of glycemic control in frail older patients with diabetes. JAMA. 2011;305:1350–1.

Abbatecola AM, Paolisso G, Sinclair AJ. Treating diabetes mellitus in older and oldest old patients. Curr Pharm Des. 2015. Available: http://www.ncbi.nlm.nih.gov/pubmed/25633119.

Garg S, Zisser H, Schwartz S, Bailey T, Kaplan R, et al. Improvement in glycemic excursions with a transcutaneous, real-time continuous glucose sensor a randomized controlled trial. Diabetes Care. 2006;29:44–50.

Rodbard D, Bailey T, Jovanovic L, Zisser H, Kaplan R, et al. Improved quality of glycemic control and reduced glycemic variability with use of continuous glucose monitoring. Diabetes Technol Ther. 2009;11:717–23.

McShane MJ. Microcapsules as "smart tattoo" glucose sensors: engineering systems with enzymes and glucose-binding sensing elements. Glucose sensing. Topics in Fluorescence Spectroscopy. Springer US. 2006;131–163

Cash KJ, Clark HA. Nanosensors and nanomaterials for monitoring glucose in diabetes. Trends Mol Med. 2010;16:584–93.

Badugu R, Lakowicz JR, Geddes CD. A glucose-sensing contact lens: from bench top to patient. Curr Opin Biotechnol. 2005;16:100–7.

O'Meara S, Cullum N, Majid M, Sheldon T. Systematic reviews of wound care management: (3) antimicrobial agents for chronic wounds; (4) diabetic foot ulceration. Health Technol Assess. 2000;4:1–237.

Boulton AJM. Why bother educating the multi-disciplinary team and the patient—the example of prevention of lower extremity amputation in diabetes. Patient Educ Couns. 1995;26:183–8.

McMurray SD, Johnson G, Davis S, McDougall K. Diabetes education and care management significantly improve patient outcomes in the dialysis unit. Am J Kidney Dis. 2002;40:566–75.

McCabe CJ, Stevenson RC, Dolan AM. Evaluation of a diabetic foot screening and protection programme. Diabet Med. 1998;15:80–4.

Ellis SE, Speroff T, Dittus RS, Brown A, Pichert JW, et al. Diabetes patient education: a meta-analysis and meta-regression. Patient Educ Couns. 2004;52:97–105.

Deakin TA, Cade JE, Williams R, Greenwood DC. Structured patient education: the Diabetes X-PERT Programme makes a difference. Diabet Med. 2006;23:944–54.

Dorresteijn JAN, Kriegsman DMW, Assendelft WJJ, Valk GD. Patient education for preventing diabetic foot ulceration. Cochrane Database Syst Rev. 2014;12:CD001488.

Dorresteijn JAN, Valk GD. Patient education for preventing diabetic foot ulceration. Diabetes Metab Res Rev. 2012;28 Suppl 1:101–6.

Armstrong DG, Mills JL. Toward a change in syntax in diabetic foot care: prevention equals remission. J Am Podiatr Med Assoc. 2013;103:161–2. Seminal article reframing the concept of diabetes ulceration in both patient and provider education.

Morbach S, Furchert H, Groblinghoff U, Hoffmeier H, Kersten K, et al. Long-term prognosis of diabetic foot patients and their limbs: amputation and death over the course of a decade. Diabetes Care. 2012;35:2021–7.

Uccioli L. The role of footwear in the prevention of diabetic foot problems. The diabetic foot. Contemporary Diabetes. Humana Press. 2006;523–41.

Paton J, Bruce G, Jones R, Stenhouse E. Effectiveness of insoles used for the prevention of ulceration in the neuropathic diabetic foot: a systematic review. J Diabet Compl. 2011;25:52–62.

Bus SA, Ulbrecht JS, Cavanagh PR. Pressure relief and load redistribution by custom-made insoles in diabetic patients with neuropathy and foot deformity. Clin Biomech. 2004;19:629–38.

Bus SA, Valk GD, Van Deursen RW, Armstrong DG, Caravaggi C, et al. The effectiveness of footwear and offloading interventions to prevent and heal foot ulcers and reduce plantar pressure in diabetes: a systematic review. Diabetes Metab Res Rev. 2008;24:S162–80.

Striesow F. Special manufactured shoes for prevention of recurrent ulcer in diabetic foot syndrome. Med Klin. 1998;93:695–700.

Ulbrecht JS, Hurley T, Mauger DT, Cavanagh PR. Prevention of recurrent foot ulcers with plantar pressure-based in-shoe orthoses: The CareFUL prevention multicenter randomized controlled trial. Diabetes Care. 2014. doi:10.2337/dc13-2956. Randomized-controlled study regarding the use of custom, shape-based orthoses in the reduction of submetatarsal pressures and plantar ulcers.

Litzelman DK, Marriott DJ, Vinicor F. The role of footwear in the prevention of foot lesions in patients with NIDDM. Conventional wisdom or evidence-based practice? Diabetes Care. 1997;20:156–62.

Dargis V, Pantelejeva O, Jonushaite A, Vileikyte L, Boulton AJ. Benefits of a multidisciplinary approach in the management of recurrent diabetic foot ulceration in Lithuania: a prospective study. Diabetes Care. 1999;22:1428–31.

Telfer S, Pallari J, Munguia J, Dalgarno K, McGeough M, et al. Embracing additive manufacture: implications for foot and ankle orthosis design. BMC Musculoskelet Disord. 2012;13:84. Review of the construction, mechanics, and novel application of 3D scanned and printed custom prosthetics and orthoses.

Cook D, Gervasi V, Rizza R, Kamara S, Liu X. Additive fabrication of custom pedorthoses for clubfoot correction. Rapid Prototyp J. 2010;16:189–93.

Dombroski CE, Balsdon MER, Froats A. A low cost 3D scanning and printing tool for clinical use in the casting and manufacture of custom foot Orthoses. Proceedings of the 5th International Conference on 3D Body Scanning Technologies, Lugano, Switzerland, 21-22 October 2014. Ascona, Switzerland: Hometrica Consulting - Dr. Nicola D'Apuzzo. 2014;192–195.

Armstrong DG, Lavery LA, Kimbriel HR, Nixon BP, Boulton AJM. Activity patterns of patients with diabetic foot ulceration: patients with active ulceration may not adhere to a standard pressure off-loading regimen. Diabetes Care. 2003;26:2595–7.

Knowles EA, Boulton AJ. Do people with diabetes wear their prescribed footwear? Diabet Med. 1996;13:1064–8.

Helton KL, Ratner BD, Wisniewski NA. Biomechanics of the sensor-tissue interface-effects of motion, pressure, and design on sensor performance and foreign body response-part II: examples and application. J Diabet Sci Technol. 2011;5:647–56.

Fernando M, Crowther R, Lazzarini P, Sangla K, Cunningham M, et al. Biomechanical characteristics of peripheral diabetic neuropathy: a systematic review and meta-analysis of findings from the gait cycle, muscle activity and dynamic barefoot plantar pressure. Clin Biomech. 2013;28:831–45. Strong systematic review of the literature regarding the effects of diabetic peripheral neuropathy on balance, plantar pressures, and gait kinematics.

Mueller MJ, Minor SD, Sahrmann SA, Schaaf JA, Strube MJ. Differences in the gait characteristics of patients with diabetes and peripheral neuropathy compared with age-matched controls. Phys Ther. 1994;74:299–308. discussion 309–13.

DeMott TK, Richardson JK, Thies SB, Ashton-Miller JA. Falls and gait characteristics among older persons with peripheral neuropathy. Am J Phys Med Rehabil. 2007;86:125–32.

Allet L, Kim H, Ashton-Miller J, De Mott T, Richardson JK. Step length after discrete perturbation predicts accidental falls and fall-related injury in elderly people with a range of peripheral neuropathy. J Diabet Compl. 2014;28:79–84.

Najafi B, Horn D, Marclay S, Crews RT, Wu S, et al. Assessing postural control and postural control strategy in diabetes patients using innovative and wearable technology. J Diabet Sci Technol. 2010;4:780–91.

Schwenk M, Grewal GS, Honarvar B, Schwenk S, Mohler J, et al. Interactive balance training integrating sensor-based visual feedback of movement performance: a pilot study in older adults. J Neuroeng Rehabil. 2014;11:164.

Grewal GS, Sayeed R, Schwenk M, Bharara M, Menzies R, et al. Balance rehabilitation: promoting the role of virtual reality in patients with diabetic peripheral neuropathy. J Am Podiatr Med Assoc. 2013;103:498–507.

Cadore EL, Rodríguez-Mañas L, Sinclair A, Izquierdo M. Effects of different exercise interventions on risk of falls, gait ability, and balance in physically frail older adults: a systematic review. Rejuvenation Res. 2013;16:105–14. Excellent review regarding the effectiveness of exercise in the reduction of falls and altered gait mechanics in the elderly and physically frail.

Richardson JK, Sandman D, Vela S. A focused exercise regimen improves clinical measures of balance in patients with peripheral neuropathy. Arch Phys Med Rehabil. 2001;82:205–9.

Kruse RL, Lemaster JW, Madsen RW. Fall and balance outcomes after an intervention to promote leg strength, balance, and walking in people with diabetic peripheral neuropathy: "feet first" randomized controlled trial. Phys Ther. 2010;90:1568–79.

Morrison S, Colberg SR, Mariano M, Parson HK, Vinik AI. Balance training reduces falls risk in older individuals with type 2 diabetes. Diabetes Care. 2010;33:748–50.

Dollar A, Herr H. Lower extremity exoskeletons and active orthoses: challenges and state-of-the-art. Robot IEEE Trans. 2008;24:144–58.

Herr HM, Weber JA, Au SK, Deffenbaugh BW, Magnusson LH, et al. Powered ankle-foot prothesis. US Pat Off Gaz. 2013.

Mooney LM, Rouse EJ, Herr HM. Autonomous exoskeleton reduces metabolic cost of human walking during load carriage. J Neuroeng Rehabil. 2014;11:80. First look at the effects of powered exoskeleton systems and the reduction in metabolic costs in humans.

Patel S, Park H, Bonato P, Chan L. A review of wearable sensors and systems with application in rehabilitation. J NeuroEng Rehab. 2012. Available: http://www.biomedcentral.com/content/pdf/1743-0003-9-21.pdf.

Baig MM, GholamHosseini H, Connolly MJ, Kashfi G. Real-time vital signs monitoring and interpretation system for early detection of multiple physical signs in older adults. Biomedical and Health Informatics (BHI), 2014 IEEE-EMBS International Conference on. ieeexplore.ieee.org. 2014;355–358.

Chan M, Estève D, Fourniols J-Y, Escriba C, Campo E. Smart wearable systems: current status and future challenges. Artif Intell Med. 2012;56:137–56. Strong review of the current trends and hurdles of 'Smart' wearable technologies and their possible implications in the future of constant-monitoring based healthcare.
Compliance with Ethics Guidelines
Conflict of Interest
John D. Miller, Bijan Najafi, and David G. Armstrong declare that they have no conflict of interest.
Human and Animal Rights and Informed Consent
This article does not contain any studies with human or animal subjects performed by any of the authors.
Additional information
This article is part of the Topical Collection on Dermatology and Wound Care
About this article
Cite this article
Miller, J.D., Najafi, B. & Armstrong, D.G. Current Standards and Advances in Diabetic Ulcer Prevention and Elderly Fall Prevention Using Wearable Technology. Curr Geri Rep 4, 249–256 (2015). https://doi.org/10.1007/s13670-015-0136-7
Published:

Issue Date:

DOI: https://doi.org/10.1007/s13670-015-0136-7
Keywords