Abstract
Purpose of Review
Pneumoconiosis due to silicosis is still present due to modern industries such stone carving, garment industry, and road construction. We aim to discuss how to accurately diagnose silicosis, appropriately risk stratify patients with silicosis, and discuss potential new pharmacotherapies that may be of potential use in the future.
Recent Findings
Acute silicosis, chronic silicosis, and accelerated silicosis are 3 distinct clinical categories. Acute silicosis is the least common form and occurs with high exposures of silica dust in a short time frame. Patients with prolonged exposures at low concentrations have the highest risk of developing chronic silicosis. Chronic silicosis is the classic presentation of silicosis with a slow onset of symptoms. Accelerated silicosis has an earlier onset than chronic silicosis and presents within 5 to 10 years of exposure. Chronic silicosis and accelerated silicosis can lead to progressive massive fibrosis, which is silica nodules merging together with associated fibrosis. Based on cumulative dose, patients with silica exposure had an independent increased risk of developing lung cancer, with an additional cumulative risk among smokers. Lung transplant should be considered in patients with silicosis who develop severe lung disease. There is no current role for any pharmacological agents in silicosis; however, there is ongoing research to identify possible pharmacological agents.
Summary
The diagnosis of silicosis is made based on occupational history, appropriate radiographic findings, and exclusion of other potential etiologies. Prevention of silica dust exposure remains crucial to reduce damage to the lungs.
Access options
Buy single article
Instant access to the full article PDF.
US$ 39.95
Tax calculation will be finalised during checkout.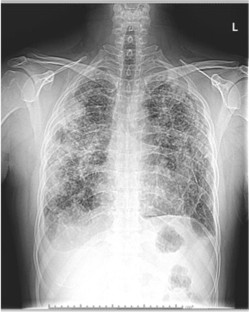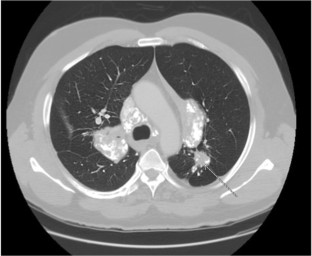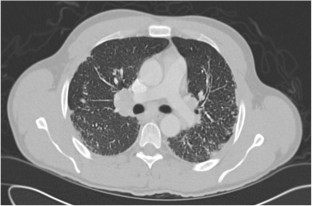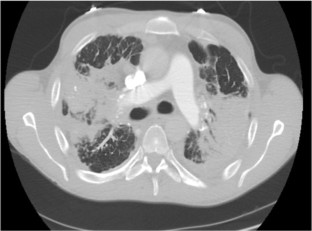 References
Papers of particular interest, published recently, have been highlighted as: •• Of major importance
1.

Barnes H, Goh NSL, Leong TL, Hoy R. Silica-associated lung disease: an old-world exposure in modern industries. Respirology. 2019;24(12):1165–75.

2.••

Leung CC, Yu IT, Chen W. Silicosis. Lancet. 2012;379(9830):2008–18.

3.

Merget R, Bauer T, Kupper HU, et al. Health hazards due to the inhalation of amorphous silica. Arch Toxicol. 2002;75(11-12):625–34.

4.

McLaughlin JK, Chow WH, Levy LS. Amorphous silica: a review of health effects from inhalation exposure with particular reference to cancer. J Toxicol Environ Health. 1997;50(6):553–66.

5.

Adverse effects of crystalline silica exposure. American Thoracic Society Committee of the Scientific Assembly on Environmental and Occupational Health. Am J Respir Crit Care Med. 1997;155(2):761–8.

6.

Castranova V, Vallyathan V. Silicosis and coal workers' pneumoconiosis. Environ Health Perspect. 2000;108(Suppl 4):675–84.

7.

Ozkan M, Ayan A, Arik D, Balkan A, Onguru O, Gumus S. FDG PET findings in a case with acute pulmonary silicosis. Ann Nucl Med. 2009;23(10):883–6.

8.

Nakladalova M, Stepanek L, Kolek V, Zurkova M, Tichy T. A case of accelerated silicosis. Occup Med (Lond). 2018;68(7):482–4.

9.

Barber CM, Fishwick D, Carder M, van Tongeren M. Epidemiology of silicosis: reports from the SWORD scheme in the UK from 1996 to 2017. Occup Environ Med. 2019;76(1):17–21.

10.

Kreiss K, Zhen B. Risk of silicosis in a Colorado mining community. Am J Ind Med. 1996;30(5):529–39.

11.

Thomas CR, Kelley TR. A brief review of silicosis in the United States. Environ Health Insights. 2010;4:21–6.

12.

Centers for Disease, C. and Prevention, Silicosis mortality, prevention, and control--United States. MMWR. Morb Mortal Wkly Rep, 2005. 1968-2002;54(16):401–5.

13.

Deslauriers JR, Redlich CA. Silica exposure, silicosis, and the new occupational safety and health administration silica standard. What pulmonologists need to know. Ann Am Thorac Soc. 2018;15(12):1391–2.

14.••

Krefft S, Wolff J, Rose C. Silicosis: an update and guide for clinicians. Clin Chest Med. 2020;41(4):709–22.

15.

Hoy RF, Chambers DC. Silica-related diseases in the modern world. Allergy. 2020;75(11):2805–17.

16.

Pascual Del Pobil YFMA, Sevila RG, Rodenas MDMG, Medel EB, Reos EF, Carbonell JG. Silicosis: a former occupational disease with new occupational exposure scenarios. Rev Clin Esp. 2019;219(1):26–9.

17.

Barber CM, Fishwick D, Seed MJ, Carder M, van Tongeren M. Artificial stone-associated silicosis in the UK. Occup Environ Med. 2018;75(7):541.

18.

Akgun M, Ergan B. Silicosis in Turkey: is it an endless nightmare or is there still hope? Turk Thorac J. 2018;19(2):89–93.

19.

Jindal SK. Silicosis in India: past and present. Curr Opin Pulm Med. 2013;19(2):163–8.

20.

Souza TP, Watte G, Gusso AM, Souza R, Moreira JDS, Knorst MM. Silicosis prevalence and risk factors in semi-precious stone mining in Brazil. Am J Ind Med. 2017;60(6):529–36.

21.

Rimal B, Greenberg AK, Rom WN. Basic pathogenetic mechanisms in silicosis: current understanding. Curr Opin Pulm Med. 2005;11(2):169–73.

22.

Dostert C, Petrilli V, Van Bruggen R, Steele C, Mossman BT, Tschopp J. Innate immune activation through Nalp3 inflammasome sensing of asbestos and silica. Science. 2008;320(5876):674–7.

23.

Thakur SA, Beamer CA, Migliaccio CT, Holian A. Critical role of MARCO in crystalline silica-induced pulmonary inflammation. Toxicol Sci. 2009;108(2):462–71.

24.

Vacek PM, Glenn RE, Rando RJ, Parker JE, Kanne JP, Henry DA, et al. Exposureresponse relationships for silicosis and its progression in industrial sand workers. Scand J Work Environ Health. 2019;45(3):280–8.

25.••

Mossman BT, Churg A. Mechanisms in the pathogenesis of asbestosis and silicosis. Am J Respir Crit Care Med. 1998;157(5 Pt 1):1666–80.

26.••

Chong S, Lee KS, Chung MJ, Han J, Kwon OJ, Kim TS. Pneumoconiosis: comparison of imaging and pathologic findings. Radiographics. 2006;26(1):59–77.

27.

Steenland K, Ward E. Silica: a lung carcinogen. CA Cancer J Clin. 2014;64(1):63–9.

28.

Salih M, Aljarod T, Ayan M, Jeffrey M, Shah BH. Pulmonary silicosis presents with pleural effusion. Case Rep Med. 2015;2015:543070.

29.

Ng TP, Chan SL. Lung function in relation to silicosis and silica exposure in granite workers. Eur Respir J. 1992;5(8):986–91.

30.

Moreira VB, Ferreira AS, Soares PJ, Gabetto JM, Rodrigues CC. The role of bronchoalveolar lavage in quantifying inhaled particles in silicosis. Rev Port Pneumol. 2005;11(5):457–75.

31.

Hnizdo E, Murray J. Risk of pulmonary tuberculosis relative to silicosis and exposure to silica dust in South African gold miners. Occup Environ Med. 1998;55(7):496–502.

32.••

Cowie RL. The epidemiology of tuberculosis in gold miners with silicosis. Am J Respir Crit Care Med. 1994;150(5 Pt 1):1460–2.

33.

Mielke S, Taeger D, Weitmann K, Bruning T, Hoffmann W. Influence of quartz exposure on lung cancer types in cases of lymph node-only silicosis and lung silicosis in German uranium miners. Arch Environ Occup Health. 2018;73(3):140–53.

34.

Liu Y, Steenland K, Rong Y, Hnizdo E, Huang X, Zhang H, et al. Exposure-response analysis and risk assessment for lung cancer in relationship to silica exposure: a 44-year cohort study of 34,018 workers. Am J Epidemiol. 2013;178(9):1424–33.

35.

Shtraichman O, Blanc PD, Ollech JE, Fridel L, Fuks L, Fireman E, et al. Outbreak of autoimmune disease in silicosis linked to artificial stone. Occup Med (Lond). 2015;65(6):444–50.

36.

Vihlborg P, Bryngelsson IL, Andersson L, Graff P. Risk of sarcoidosis and seropositive rheumatoid arthritis from occupational silica exposure in Swedish iron foundries: a retrospective cohort study. BMJ Open. 2017;7(7):e016839.

37.

Beijer E, Meek B, Kromhout H, van Es HW, Seldenrijk K, Drent M, et al. Sarcoidosis in a patient clinically diagnosed with silicosis; is silica associated sarcoidosis a new phenotype? Respir Med Case Rep. 2019;28:100906.

38.

Rosenman KD, Moore-Fuller M, Reilly MJ. Kidney disease and silicosis. Nephron. 2000;85(1):14–9.

39.

Millerick-May ML, Schrauben S, Reilly MJ, Rosenman KD. Silicosis and chronic renal disease. Am J Ind Med. 2015;58(7):730–6.

40.

Goodman GB, Kaplan PD, Stachura I, Castranova V, Pailes WH, Lapp NL. Acute silicosis responding to corticosteroid therapy. Chest. 1992;101(2):366–70.

41.

Sidney-Filho, L.A., G. Watte, P.A.R. Dos Santos, et al., What is expected in lung function after lung transplantation due to end-stage pulmonary silicosis? Clin Transplant, 2017. 31(11).

42.••

Hayes D Jr, Hayes KT, Hayes HC, Tobias JD. Long-Term survival after lung transplantation in patients with silicosis and other occupational lung disease. Lung. 2015;193(6):927–31.

43.

Sun J, Song P, Wang Y, Chen Y. Clinical efficacy of acetylcysteine combined with tetrandrine tablets in the treatment of silicosis and the effect on serum IL-6 and TNF-alpha. Exp Ther Med. 2019;18(5):3383–8.

44.

Miao RM, Sun XF, Zhang YY, Wu W, Fang ZH, Zhao R, et al. Clinical efficacy of tetrandrine combined with acetylcysteine effervescent tablets in treatment of silicosis. Zhonghua Lao Dong Wei Sheng Zhi Ye Bing Za Zhi. 2013;31(11):857–8.

45.

Burmeister R, Rhoderick JF, Holian A. Prevention of crystalline silica-induced inflammation by the anti-malarial hydroxychloroquine. Inhal Toxicol. 2019;31(7):274–84.

46.

Guo J, Yang Z, Jia Q, Bo C, Shao H, Zhang Z. Pirfenidone inhibits epithelial-mesenchymal transition and pulmonary fibrosis in the rat silicosis model. Toxicol Lett. 2019;300:59–66.

47.

Cruz FF, Horta LF, Maia Lde A, et al. Dasatinib reduces lung inflammation and fibrosis in acute experimental silicosis. PLoS One. 2016;11(1):e0147005.

48.

Carneiro PJ, Clevelario AL, Padilha GA, et al. Bosutinib therapy ameliorates lung inflammation and fibrosis in experimental silicosis. Front Physiol. 2017;8:159.

49.

Biswas R, Trout KL, Jessop F, Harkema JR, Holian A. Imipramine blocks acute silicosis in a mouse model. Part Fibre Toxicol. 2017;14(1):36.

50.

Wierenga KA, Wee J, Gilley KN, Rajasinghe LD, Bates MA, Gavrilin MA, et al. Docosahexaenoic acid suppresses silica-induced inflammasome activation and IL-1 cytokine release by interfering with priming signal. Front Immunol. 2019;10:2130.

51.

Bandeira E, Oliveira H, Silva JD, Menna-Barreto RFS, Takyia CM, Suk JS, et al. Therapeutic effects of adipose-tissue-derived mesenchymal stromal cells and their extracellular vesicles in experimental silicosis. Respir Res. 2018;19(1):104.
Ethics declarations
Ethics Approval
Not applicable as no patient subjects
Human and Animal Rights and Informed Consent
This article does not contain any studies with human or animal subjects performed by any of the authors
Consent to Participate
Not applicable
Consent for Publication
Not applicable
Conflict of Interest/Competing Interests
The authors declare no competing interests.
Additional information
Publisher's Note
Springer Nature remains neutral with regard to jurisdictional claims in published maps and institutional affiliations.
This article is part of the Topical Collection on Occupational and Environmental diseases
About this article
Cite this article
Salahuddin, M., Cawasji, Z., Kaur, S. et al. Current Concepts in Pathogenesis, Diagnosis, and Management of Silicosis and Its Subtypes. Curr Pulmonol Rep 10, 135–142 (2021). https://doi.org/10.1007/s13665-021-00279-x
Accepted:

Published:

Issue Date:
Keywords
Silicosis

Industry

Occupational exposure

Progressive massive fibrosis

N-acetylcysteine