Abstract
Malignant pleural mesothelioma (MPM) is an aggressive malignancy arising from the pleura and caused predominantly by inhaled asbestos fibers. Prognosis is poor and treatment options are with a palliative intent. Patients with MPM have a high symptom burden; therefore, the relief or control of these symptoms is paramount to improving quality of life (QoL). Malnutrition is also a common concern in this group and may have prognostic significance. Alternative approaches such as nutritional intervention, physical activity, and complementary medicine may have further benefits as adjuncts to current best supportive care for patients with MPM. The body of research into these therapies in cancer and other chronic health conditions continues to grow. However, their roles in MPM await exploration.
Access options
Buy single article
Instant access to the full article PDF.
USD 39.95
Price excludes VAT (USA)
Tax calculation will be finalised during checkout.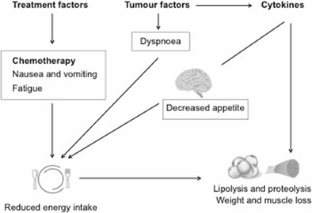 References
Papers of particular interest, published recently, have been highlighted as: • Of importance
Robinson BWS, Musk AW, Lake RA. Malignant mesothelioma. Lancet. 2005;366:397–408.

Hodgson JT, McElvenny DM, Darnton AL, Price MJ, Peto J. The expected burden of mesothelioma mortality in Great Britain from 2002 to 2050. Br J Cancer. 2005;92:587.

Park EK, Takahashi K, Hoshuyama T, Cheng TJ, Delgermaa V, Le GV, et al. Global magnitude of reported and unreported mesothelioma. Environ Health Perspect. 2011;119:514.

Vogelzang NJ, Rusthoven JJ, Symanowski J, Denham C, Kaukel E, Ruffie P, et al. Phase III study of pemetrexed in combination with cisplatin versus cisplatin alone in patients with malignant pleural mesothelioma. J Clin Oncol. 2003;21(14):2636–44. doi:10.1200/jco.2003.11.136.

Lee YCG. Surgical resection of mesothelioma: an evidence-free practice. Lancet. 2014;384(9948):1080–1. doi:10.1016/s0140-6736(14)60795-9.

Treasure T, Lang-Lazdunski L, Waller D, Bliss JM, Tan C, Entwisle J, et al. Extra-pleural pneumonectomy versus no extra-pleural pneumonectomy for patients with malignant pleural mesothelioma: clinical outcomes of the Mesothelioma and Radical Surgery (MARS) randomised feasibility study. Lancet Oncol. 2011;12(8):763–72. doi:10.1016/s1470-2045(11)70149-8.

Rintoul RC, Ritchie AJ, Edwards JG, Waller DA, Coonar AS, Bennett M, et al. Efficacy and cost of video-assisted thoracoscopic partial pleurectomy versus talc pleurodesis in patients with malignant pleural mesothelioma (MesoVATS): an open-label, randomised, controlled trial. Lancet. 2014;384(9948):1118–27. doi:10.1016/s0140-6736(14)60418-9.

Azzopardi M, Lee YCG. Pleural effusion management in malignant pleural mesothelioma. Sharjah, UAE: Betham; 2016.

Brims FJH, Davies HE, Lee YCG. Respiratory chest pain: diagnosis and treatment. Med Clin N Am. 2010;94(2):217–32. doi:10.1016/j.mcna.2010.01.003.

Davies RJO, Lee YCG. Oxford textbook of medicine, 5th ed. Pleural tumours. Oxford: Oxford University Press; 2010.

Nowak AK. Assessing quality of life during chemotherapy for pleural mesothelioma: feasibility, validity, and results of using the European Organization for Research and Treatment of Cancer Core Quality of Life Questionnaire and Lung Cancer Module. J Clin Oncol. 2004;22(15):3172–80. doi:10.1200/jco.2004.09.147.

Finn RS, Brims FJ, Gandhi A, Olsen N, Musk AW, Maskell NA, et al. Postmortem findings of malignant pleural mesothelioma: a two-center study of 318 patients. Chest. 2012;142(5):1267–73. doi:10.1378/chest.11-3204. Largest post-mortem study in MPM. Significant findings on the nutritional status of patients.

Borasio P, Berruti A, Bille A, Lausi P, Levra MG, Giardino R, et al. Malignant pleural mesothelioma: clinicopathologic and survival characteristics in a consecutive series of 394 patients. Eur J Cardiothorac Surg. 2008;33(2):307–13. doi:10.1016/j.ejcts.2007.09.044.

Tanrikulu AC, Abakay A, Kaplan MA, Kucukoner M, Palanci Y, Evliyaoglu O, et al. A clinical, radiographic and laboratory evaluation of prognostic factors in 363 patients with malignant pleural mesothelioma. Respiration. 2010;80(6):480–7. doi:10.1159/000321370.

Edwards JG, Abrams KR, Leverment JN, Spyt TJ, Waller DA, O'Byrne KJ. Prognostic factors for malignant mesothelioma in 142 patients: validation of CALGB and EORTC prognostic scoring systems. Thorax. 2000;55(9):731–5.

Dogan M, Utkan G, Hocazade C, Uncu D, Toptas S, Ozdemir N, et al. The clinicopathological characteristics with long-term outcomes in malignant mesothelioma. Med Oncol. 2014;31(10):232. doi:10.1007/s12032-014-0232-0.

Gonlugur U, Gonlugur TE. Prognostic factors for 100 patients with malignant pleural mesothelioma. Arch Environ Occup Health. 2010;65(2):65–9. doi:10.1080/19338240903390271.

Meniawy TM, Creaney J, Lake RA, Nowak AK. Existing models, but not neutrophil-to-lymphocyte ratio, are prognostic in malignant mesothelioma. Brit J Cancer. 2013;109:1813–20. doi:10.1038/bjc.2013.504.

Nowak AK, Francis RJ, Phillips MJ, Millward MJ, van der Schaaf AA, Boucek J, et al. A novel prognostic model for malignant mesothelioma incorporating quantitative FDG-PET imaging with clinical parameters. Clin Cancer Res. 2010;16(8):2409–17. doi:10.1158/1078-0432.ccr-09-2313.

Herndon JE, Green MR, Chahinian AP, Corson JM, Suzuki Y, Vogelzang NJ. Factors predictive of survival among 337 patients with mesothelioma treated between 1984 and 1994 by the Cancer and Leukemia Group B. Chest. 1998;113(3):723–31.

Yao ZH, Tian GY, Wan YY, Kang YM, Guo HS, Liu QH, et al. Prognostic nutritional index predicts outcomes of malignant pleural mesothelioma. J Cancer Res Clin Oncol. 2013;139(12):2117–23. doi:10.1007/s00432-013-1523-0.

Hoit JD, Lansing RW, Dean K, Yarkosky M, Lederle A. Nature and evaluation of dyspnea in speaking and swallowing. Semin Speech Lang. 2011;32(1):5–20. doi:10.1055/s-0031-1271971.

Gould DW, Lahart I, Carmichael AR, Koutedakis Y, Metsios G. Cancer cachexia prevention via physical exercise: molecular mechanisms. J Cachexia Sarcopenia Muscle. 2013;4:111–24. doi:10.1007/s13539-012-0096-0.

Suzuki H, Asakawa A, Amitani H, Nakamura N, Inui A. Cancer cachexia—pathophysiology and management. J Gastroenterol. 2013;48(5):574–94. doi:10.1007/s00535-013-0787-0.

Isenring EA, Bauer JD, Capra S. Nutrition support using the American Dietetic Association medical nutrition therapy protocol for radiation oncology patients improves dietary intake compared with standard practice. J Am Diet Assoc. 2007;107(3):404–12. doi:10.1016/j.jada.2006.12.007.

Kiss NK, Krishnasamy M, Isenring EA. The effect of nutrition intervention in lung cancer patients undergoing chemotherapy and/or radiotherapy: a systematic review. Nutr Cancer. 2014;66(1):47–56. doi:10.1080/01635581.2014.847966.

Isenring EA, Capra S, Bauer JD. Nutrition intervention is beneficial in oncology outpatients receiving radiotherapy to the gastrointestinal or head and neck area. Br J Cancer. 2004;91(3):447–52.

Bauer J, Ash S, Davidson W, Hill J, Brown B, Isenring E, et al. Evidence based practice guidelines for the nutritional management of cancer cachexia. Nutr Diet. 2006;63:S5–S32. doi:10.1111/j.1747-0080.2006.00099.x.

Elliott LG, Molseed LL, Davis McCallum P. The clinical guide to oncology nutrition. 2nd ed. The American Dietetic Association; 2006.

Finocchiaro C, Segre O, Fadda M, Monge T, Scigliano M, Schena M, et al. Effect of n-3 fatty acids on patients with advanced lung cancer: a double-blind, placebo-controlled study. Br J Nutr. 2012;108(2):327–33. doi:10.1017/s0007114511005551.

Murphy RA, Mourtzakis M, Chu QS, Baracos VE, Reiman T, Mazurak VC. Nutritional intervention with fish oil provides a benefit over standard of care for weight and skeletal muscle mass in patients with nonsmall cell lung cancer receiving chemotherapy. Cancer. 2011;117(8):1775–82. doi:10.1002/cncr.25709.

Sanchez-Lara K, Turcott JG, Juarez-Hernandez E, Nunez-Valencia C, Villanueva G, Guevara P, et al. Effects of an oral nutritional supplement containing eicosapentaenoic acid on nutritional and clinical outcomes in patients with advanced non-small cell lung cancer: randomised trial. Clin Nutr. 2014;33(6):1017–23. doi:10.1016/j.clnu.2014.03.006.

van der Meij BS, Langius JA, Smit EF, Spreeuwenberg MD, von Blomberg BM, Heijboer AC, et al. Oral nutritional supplements containing (n-3) polyunsaturated fatty acids affect the nutritional status of patients with stage III non-small cell lung cancer during multimodality treatment. J Nutr. 2010;140(10):1774–80. doi:10.3945/jn.110.121202.

Bade BC, Thomas DD, Scott JB, Silvestri GA. Increasing physical activity and exercise in lung cancer: reviewing safety, benefits, and application. J Thorac Oncol. 2015. doi:10.1097/jto.0000000000000536.

Dale MT, McKeough ZJ, Munoz PA, Corte P, Bye PT, Alison JA. Functional exercise capacity and health-related quality of life in people with asbestos related pleural disease: an observational study. BMC Pulm Med. 2013;13:1. doi:10.1186/1471-2466-13-1.

Shih JF, Wilson JS, Broderick A, Watt JL, Galvin JR, Merchant JA, et al. Asbestos-induced pleural fibrosis and impaired exercise physiology. Chest. 1994;105(5):1370–6.

Lowe SS, Watanabe SM, Baracos VE, Courneya KS. Associations between physical activity and quality of life in cancer patients receiving palliative care: a pilot survey. J Pain Symptom Manag. 2009;38(5):785–96. doi:10.1016/j.jpainsymman.2009.03.006.

Miller A, Bhuptani A, Sloane MF, Brown LK, Teirstein AS. Cardiorespiratory responses to incremental exercise in patients with asbestos-related pleural thickening and normal or slightly abnormal lung function. Chest. 1993;103(4):1045–50.

Picado C, Laporta D, Grassino A, Cosio M, Thibodeau M, Becklake MR. Mechanisms affecting exercise performance in subjects with asbestos-related pleural fibrosis. Lung. 1987;165(1):45–57.

Gosselink R, Troosters T, Decramer M. Peripheral muscle weakness contributes to exercise limitation in COPD. Am J Respir Crit Care Med. 1996;153(3):976–80. doi:10.1164/ajrccm.153.3.8630582.

Yilmaz E, Ozalevli S, Ersoz H, Yegin A, Onen A, Akkoclu A. Comparison of health-related quality of life and exercise capacity according to stages in patients with non-small cell lung cancer. Tuberkuloz Toraks. 2013;61(2):131–9.

Marulli G, Rea F, Nicotra S, Favaretto AG, Perissinotto E, Chizzolini M, et al. Effect of induction chemotherapy on lung function and exercise capacity in patients affected by malignant pleural mesothelioma. Eur J Cardiothorac Surg. 2010;37(6):1464–9. doi:10.1016/j.ejcts.2010.01.008. The only exercise related study specific to MPM.

Dale MT, McKeough ZJ, Munoz PA, Corte P, Bye PT, Alison JA. Exercise training for asbestos-related and other dust-related respiratory diseases: a randomised controlled trial. BMC Pulm Med. 2014;14:180. doi:10.1186/1471-2466-14-180.

Cheville AL, Kollasch J, Vandenberg J, Shen T, Grothey A, Gamble G, et al. A home-based exercise program to improve function, fatigue, and sleep quality in patients with Stage IV lung and colorectal cancer: a randomized controlled trial. J Pain Symptom Manag. 2013;45(5):811–21. doi:10.1016/j.jpainsymman.2012.05.006.

Henke CC, Cabri J, Fricke L, Pankow W, Kandilakis G, Feyer PC, et al. Strength and endurance training in the treatment of lung cancer patients in stages IIIA/IIIB/IV. Support Care Cancer. 2014;22(1):95–101. doi:10.1007/s00520-013-1925-1.

Quist M, Adamsen L, Rorth M, Laursen JH, Christensen KB, Langer SW. The impact of a multidimensional exercise intervention on physical and functional capacity, anxiety, and depression in patients with advanced-stage lung cancer undergoing chemotherapy. Integr Cancer Ther. 2015. doi:10.1177/1534735415572887.

Kuehr L, Wiskemann J, Abel U, Ulrich CM, Hummler S, Thomas M. Exercise in patients with non-small cell lung cancer. Med Sci Sports Exerc. 2014;46(4):656–63. doi:10.1249/mss.0000000000000158.

Quist M, Rorth M, Langer S, Jones LW, Laursen JH, Pappot H, et al. Safety and feasibility of a combined exercise intervention for inoperable lung cancer patients undergoing chemotherapy: a pilot study. Lung Cancer. 2012;75(2):203–8. doi:10.1016/j.lungcan.2011.07.006.

Temel JS, Greer JA, Goldberg S, Vogel PD, Sullivan M, Pirl WF, et al. A structured exercise program for patients with advanced non-small cell lung cancer. J Thorac Oncol. 2009;4(5):595–601.

Peddle-McIntyre CJ, Bell G, Fenton D, McCargar L, Courneya KS. Changes in motivational outcomes after a supervised resistance exercise training intervention in lung cancer survivors. Cancer Nurs. 2013;36(1):E27–35. doi:10.1097/NCC.0b013e31824a78e4.

Peddle-McIntyre CJ, Bell G, Fenton D, McCargar L, Courneya KS. Feasibility and preliminary efficacy of progressive resistance exercise training in lung cancer survivors. Lung Cancer. 2012;75(1):126–32. doi:10.1016/j.lungcan.2011.05.026.

Jensen W, Bialy L, Ketels G, Baumann FT, Bokemeyer C, Oechsle K. Physical exercise and therapy in terminally ill cancer patients: a retrospective feasibility analysis. Support Care Cancer. 2014;22(5):1261–8. doi:10.1007/s00520-013-2080-4.

Cheville AL, Dose AM, Basford JR, Rhudy LM. Insights into the reluctance of patients with late-stage cancer to adopt exercise as a means to reduce their symptoms and improve their function. J Pain Symptom Manag. 2012;44(1):84–94. doi:10.1016/j.jpainsymman.2011.08.009.

Deng GE, Rausch SM, Jones LW, Gulati A, Kumar NB, Greenlee H, et al. Complementary therapies and integrative medicine in lung cancer: diagnosis and management of lung cancer, 3rd ed: American College of Chest Physicians evidence-based clinical practice guidelines. Chest. 2013;143(5 Suppl):e420S–36S. doi:10.1378/chest.12-2364. Summary of evidence on complementary therapies based on a systematic literature review.

Ni H, Simile C, Hardy AM. Utilization of complementary and alternative medicine by United States adults: results from the 1999 national health interview survey. Med Care. 2002;40(4):353–8.

Wong RH, Lee TW, Sihoe AD, Wan IY, Ng CS, Chan SK, et al. Analgesic effect of electroacupuncture in postthoracotomy pain: a prospective randomized trial. Ann Thorac Surg. 2006;81(6):2031–6. doi:10.1016/j.athoracsur.2005.12.064.

Vickers AJ, Rusch VW, Malhotra VT, Downey RJ, Cassileth BR. Acupuncture is a feasible treatment for post-thoracotomy pain: results of a prospective pilot trial. BMC Anesthesiol. 2006;6:5. doi:10.1186/1471-2253-6-5.

Banasik J, Williams H, Haberman M, Blank SE, Bendel R. Effect of Iyengar yoga practice on fatigue and diurnal salivary cortisol concentration in breast cancer survivors. J Am Acad Nurse Pract. 2011;23(3):135–42. doi:10.1111/j.1745-7599.2010.00573.x.

Littman A, Bertram L, Ceballos R, Ulrich C, Ramaprasad J, McGregor B. Randomized controlled pilot trial of yoga in overweight and obese breast cancer survivors: effects on quality of life and anthropometric measures. Support Care Cancer. 2012;20:267–77.

Buffart L, van Uffelen J, Riphagen I, Brug J, van Mechelen W, Brown W, et al. Physical and psychosocial benefits of yoga in cancer patients and survivors, a systematic review and meta-analysis of randomized controlled trials. BMC Cancer. 2012;12(1):559.

Ernst E. A systematic review of systematic reviews of homeopathy. Br J Clin Pharmacol. 2002;54(6):577–82. doi:10.1046/j.1365-2125.2002.01699.x.

Cucherat M, Haugh MC, Gooch M, Boissel JP. Evidence of clinical efficacy of homeopathy. Eur J Clin Pharmacol. 2000;56(1):27–33. doi:10.1007/s002280050716.

Linde K, Clausius N, Ramirez G, Melchart D, Eitel F, Hedges LV, et al. Are the clinical effects of homoeopathy placebo effects? A meta-analysis of placebo-controlled trials. Lancet. 1997;350(9081):834–43. doi:10.1016/S0140-6736(97)02293-9.

Ernst E. Massage therapy for cancer palliation and supportive care: a systematic review of randomised clinical trials. Support Care Cancer. 2009;17(4):333–7. doi:10.1007/s00520-008-0569-z.

Wilkinson S, Barnes K, Storey L. Massage for symptom relief in patients with cancer: systematic review. J Adv Nurs. 2008;63(5):430–9. doi:10.1111/j.1365-2648.2008.04712.x.

Cherkin DC, Sherman KJ, Deyo RA, Shekelle PG. A review of the evidence for the effectiveness, safety, and cost of acupuncture, massage therapy, and spinal manipulation for back pain. Ann Intern Med. 2003;138(11):898–906. doi:10.7326/0003-4819-138-11-200306030-00011.

Horne-Thompson A, Grocke D. The effect of music therapy on anxiety in patients who are terminally Ill. J Palliat Med. 2008;11(4):582–90. doi:10.1089/jpm.2007.0193.

Wagner JC, Sleggs CA, Marchand P. Diffuse pleural mesothelioma and asbestos exposure in the North Western Cape Province. Br J Ind Med. 1960;17:266–71.
Ethics declarations
Conflict of interest
Y. C. Gary Lee is a National Health & Medical Research Council (NHMRC) Career Development Fellow and receives research project grant funding from the NHMRC, New South Wales Dust Disease Board, Sir Charles Gairdner Research Advisory Committee, Westcare and the Cancer Council of Western Australia. Dr. Lee is a section editor for Current Pulmonology Reports.
Sanjeevan Muruganandan is a Western Australia Cancer & Palliative Care Network clinical research fellow.
Carolyn McIntyre is a Cancer Council Western Australia Postdoctoral Research fellow and receives research funding support from Edith Cowan University and Movember Global Action Plan.
Emily Jeffery receives an Australian Lung Foundation and Edith Cowan University scholarship.
Human and animal rights and informed consent
This article does not contain any studies with human or animal subjects performed by any of the authors.
Additional information
This article is part of the Topical Collection on Pleural Diseases and Mesothelioma
About this article
Cite this article
Muruganandan, S., Jeffery, E., McIntyre, C. et al. Nutrition, exercise, and complementary medicine: potential role in mesothelioma?. Curr Pulmonol Rep 5, 20–27 (2016). https://doi.org/10.1007/s13665-016-0133-0
Published:

Issue Date:

DOI: https://doi.org/10.1007/s13665-016-0133-0
Keywords
Mesothelioma

Complementary medicine

Nutrition

Exercise

Diet

Palliative care