Abstract
Religious nonaffiliates who have high certainty in the existence of God or a higher power (theistic nones) have grown rapidly in size in the U.S. in the last 30 years, and are now the fourth largest American religious or secular category. This subgroup has been overlooked in prior research on religion, secularism, and health. We build on recent work on religion and health by distinguishing between atheists, agnostics, and nonaffliliated theists when examining the link between religious or secular identification and self-rated health. Specifically, we advance research on the heterogeneity of secular individuals and health by splitting nonaffiliated theists into two subgroups: those who report certainty in their beliefs about God or some higher power (i.e., theistic nones), and those who are less certain about their beliefs in God (i.e., doubting nones). We analyze 13 waves (1988–2018) of pooled data (N = 15,349) from the General Social Survey (GSS), a large, recurring, and nationally-representative sample of U.S. adults conducted on a periodic basis. Using the GSS, we assessed self-rated health across religious and secular categories in a well-controlled model. When compared with conservative Protestants, theistic nones and atheists had significantly higher levels of self-rated health, whereas agnostics and low-certainty nonaffiliated theists (doubting nones) did not report significantly higher levels of self-rated health. This study adds to previous research by differentiating between theistic and doubting nones among nonaffiliated theists in relation to overall health differences. The results suggest that the level of certainty in beliefs about God or a higher power are an important factor among religious nones for predicting health outcomes. These findings highlight the necessity of analyzing heterogenous subgroups within secular populations in studies of health and well-being.
Access options
Buy single article
Instant access to the full article PDF.
USD 39.95
Price excludes VAT (USA)
Tax calculation will be finalised during checkout.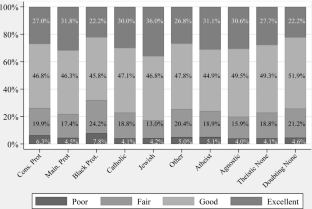 Notes
The GSS was administered on a yearly basis (with the exception of 1979, 1981, and 1992) until 1994. Between 1994 and 2018 it was conducted every other year. Since the "belief in God" question was not included in the 1989, 1990, 1996, 2002, and 2004 GSS questionnaires, these waves of data are not included in our analytical sample. The GSS is not without its weaknesses, and the current study's findings should be replicated using more targeted samples of underrepresented groups in the U.S., as well as samples from other countries.

Although self-rated health clearly involves some level of subjectivity, research suggests that it is an important health outcome because it is indicative of an individual's global sense of physical well-being. Self-rated health has been shown to be predictive of mortality (Mossey and Shapiro 1982; Kaplan and Camacho 1983; see DeSalvo et al. 2006; Benyamini and Idler 1999 for reviews), because it serves as an indicator of other health problems as well as having an independent effect on mortality (Fried et al. 1998; Jylhä et al. 2006).

Income was missing on 9.90% of all responses. Additionally, occupational prestige had 4.83% missing data and religious affiliation was missing 4.83%. All other variables had less than one percent missing data. Additional analyses using multiple imputation (not shown) revealed the same substantive findings.

A multilevel model allowing for random intercepts by year yielded substantively identical results. For ease of interpretation, we present the single-level ordered logistic regression. Additional analyses including religious affiliation by survey year interaction terms were not significant, suggesting that the relationship between religious/secular identification and self-rated health has not changed significantly over the time period covered in this study.

The difference between theistic nones and doubting nones in self-rated health is not statistically significant (p = .14). Although we cannot definitively say that nonaffiliated theists differ in self-rated health depending on level of certainty, the difference between conservative Protestants and theistic nones would not be revealed had nonaffiliated theists been used as an undifferentiated category.
References
Abu-Raiya, Hisham, Kenneth I. Pargament, Krause Neal, and Gail Ironson. 2015. Robust links between religious/spiritual struggles, psychological distress, and well-being in a national sample of American adults. American Journal of Orthopsychiatry 85 (6): 565–575.

Baker, Joseph O., and Buster G. Smith. 2009. None too simple: Examining issues of religious nonbelief and nonbelonging in the United States. Journal for the Scientific Study of Religion 48 (4): 719–733.

Baker, Joseph O., and Buster G. Smith. 2015. American secularism: Cultural contours of nonreligious belief systems. New York: New York University Press.

Baker, Joseph O., Samuel Stroope, and Mark H. Walker. 2018. Secularity, religiosity, and health: Physical and mental health differences between atheists, agnostics, and nonaffiliated theists comparted to religiously affiliated individuals. Social Science Research 75: 44–57.

Benyamini, Yael, and Ellen L. Idler. 1999. Community studies reporting association between self-rated health and mortality: Additional studies, 1995 to 1998. Research on Aging 21: 392–401.

Boardman, Jason D. 2004. Health pessimism among black and white adults: The role of interpersonal and institutional maltreatment. Social Science and Medicine 59 (12): 2523–2533.

Burke, Peter J., and Michael M. Harrod. 2005. Too much of a good thing? Social Psychology Quarterly 68 (4): 359–374.

Brondolo, Elizabeth, Linda C. Gallo, and Hector F. Myers. 2009. Race, racism and health: Disparities, mechanisms, and interventions. Journal of Behavioral Medicine 32 (1): 1–8.

Cline, Krista M.C., and Kenneth F. Ferraro. 2006. Does religion increase the prevalence and incidence of obesity in adulthood? Journal for the Scientific Study of Religion 45 (2): 269–281.

Chen, Ying, and Tyler J. VanderWeele. 2018. Associations of religious upbringing with subsequent health and well-being from adolescence to young adulthood: An outcome-wide analysis. American Journal of Epidemiology 187 (11): 2355–2364.

Childs, Ellen. 2010. Religious attendance and happiness: Examining gaps in the current literature—A research note. Journal for the Scientific Study of Religion 49 (3): 550–560.

Croezen, Simone, Mauricio Avendano, Alex Burdorf, and Frank J. van Lenthe. 2015. Social participation and depression in old age: A fixed-effects analysis in 10 European countries. American Journal of Epidemiology 182 (2): 168–176.

Davidson, James D. 2008. Religious stratification: Its origins, persistence, and consequences. Sociology of Religion 69 (4): 371–395.

DeSalvo, Karen B., Nicole Bloser, Kristi Reynolds, Jiang He, and Paul Muntner. 2006. Mortality prediction with a single general self-rated health question. Journal of General Internal Medicine 21 (3): 267–275.

Dougherty, Kevin D., Byron R. Johnson, and Edward C. Polson. 2007. Recovering the lost: Remeasuring U.S. religious affiliation. Journal for the Scientific Study of Religion 46 (4): 483–499.

Ellison, Christopher G., and Jinwoo Lee. 2010. Spiritual struggles and psychological distress: Is there a dark side of religion? Social Indicators Research 98 (3): 501–517.

Ellison, Christopher G., and Jeffrey S. Levin. 1998. The religion-health connection: Evidence, theory, and future directions. Health Education & Behavior 25 (6): 700–720.

Ellison, Christopher G., and Linda K. George. 1994. Religious involvement, social ties, and social support in a southeastern community. Journal for the scientific study of religion 33 (1): 46–61.

Ellison, Christopher G., Matt Bradshaw, Jennifer Storch, Jack P. Marcum, and Terrence D. Hill. 2011. Religious doubts and sleep quality: Findings from a nationwide study of Presbyterians. Review of Religious Research 53 (2): 119–136.

Ellison, Christopher G., Amy M. Burdette, and Terrence D. Hill. 2009. Blessed assurance: Religion, anxiety, and tranquility among US adults. Social Science Research 38 (3): 656–667.

Evans, Gary W., and Elyse Kantrowitz. 2002. Socioeconomic status and health: The potential role of environmental risk exposure. Annual Review of Public Health 23: 303–332.

Ferraro, Kenneth F., and Seoyoun Kim. 2014. Health benefits of religion among Black and White older adults? Race, religiosity, and C-reactive protein. Social Science and Medicine 120: 92–99.

Fletcher, Jason, and Sanjeev Kumar. 2014. Religion and risky health behaviors among U.S. adolescents and adults. Journal of Economic Behavior & Organization 104: 123–140.

Fried, Linda P., Richard A. Kronmal, Anne B. Newman, Diane E. Bild, Maurice B. Mittelmark, Joseph F. Polak, John A. Robbins, and Julius M. Gardin. 1998. Risk factors for 5-year mortality in older adults: The cardiovascular health study. JAMA: the Journal of the American Medical Association 279 (8): 585–592.

Frost, Jacqui, and Penny Edgell. 2018. Rescuing nones from the reference category: Civic engagement among the nonreligious in America. Nonprofit and Voluntary Sector Quarterly 47 (2): 417–438.

Galek, Kathleen, Neal Krause, Christopher G. Ellison, Taryn Kudler, and Kevin J. Flannelly. 2007. Religious doubt and mental health across the lifespan. Journal of Adult Development 14 (1–2): 16–25.

Hill, Terrence D., Amy M. Burdette, Christopher G. Ellison, and Marc A. Musick. 2006a. Religious attendance and the health behaviors of Texas adults. Preventive Medicine 42 (4): 309–312.

Hill, Terrence D., Amy M. Burdette, Jacqueline L. Angel, and Ronald J. Angel. 2006b. Religious attendance and cognitive functioning among older Mexican Americans. The Journals of Gerontology Series B: Psychological Sciences and Social Sciences 61 (1): P3–P9.

Hill, Terrence D., and Andrew H. Mannheimer. 2014. Mental health and religion. Pp. 1522–1525 in The Wiley Blackwell encyclopedia of health, illness, behavior, and society, edited by W. C. Cockerham, R. Dingwall, and S. Quah.

Hill, Terrence D., and Ryon J. Cobb. 2011. Religious involvement and religious struggles. In Toward a sociological theory of religion and health, ed. Anthony Blasi, 239–260. Brill: Leiden.

Hoffmann, Rasmus, Hannes Kröger, and Siegfried Geyer. 2018. Social causation versus health selection in the life course: Does their relative importance differ by dimension of SES? Social Indicators Research 141: 1341–1367.

House, James S., Ronald C. Kessler, A. Regula Herzog, Richard P. Mero, Ann M. Kinney, and Martha J. Breslow. 2013. Social stratification, age, and health. In Aging, health behaviors, and health outcomes, ed. K. Warner Schaie, Dan Blazer, and James S. House, 13–44. New York: Psychology Press.

Johansson, E., P. Böckerman, and A. Lundqvist. 2020. Self-reported health versus biomarkers: Does unemployment lead to worse health? Public Health 179: 127–134.

Jylhä, Marja. 2009. What is self-rated health and why does it predict mortality? Towards a unified conceptual model. Social Science and Medicine 69 (3): 307–316.

Jylhä, Marja, Stefano Volpato, and Jack M. Guralnik. 2006. Self-rated health showed a graded association with frequently used biomarkers in a large population sample. Journal of Clinical Epidemiology 59 (5): 465–471.

Idler, Ellen, John Blevins, Mimi Kiser, and Carol Hogue. 2017. Religion, a social determinant of mortality? A 10-year follow-up of the Health and Retirement Study. PLoS ONE 12 (12): e0189134.

Kaplan, George A., and T. Camacho. 1983. Perceived health and mortality: A nine-year follow-up of the human Population Laboratory Cohort. American Journal of Epidemiology 117 (3): 292–304.

Koenig, Harold G., Dana E. King, and Verna B. Carson. 2012. Handbook of religion and health. New York: Oxford University Press.

Krause, Neal, and Christopher G. Ellison. 2009. The doubting process: A longitudinal study of the precipitants and consequences of religious doubt in older adults. Journal for the Scientific Study of Religion 48 (2): 293–312.

Krause, Neal. 2002. Church-based social support and health in old age: Exploring variations by race. The Journals of Gerontology Series B: Psychological Sciences and Social Sciences 57 (6): S332–S347.

Li, Shanshan, J. Meir, David Stamfer, R. Williams, and Tyler J. VanderWeele. 2016. Association of religious service attendance with mortality among women. JAMA internal medicine 176 (6): 777–785.

Lim, Chaeyoon, Carol A. MacGregor, and Robert D. Putnam. 2010. Secular and liminal: Discovering heterogeneity among religious nones. Journal for the Scientific Study of Religion 49 (4): 596–618.

Maselko, Joanna, and Laura D. Kubzansky. 2006. Gender differences in religious practices, spiritual experiences and health: Results from the US General Social Survey. Social Science and Medicine 62 (11): 2848–2860.

May, Matthew. 2018. Should I stay or should I go? Religious (dis)affiliation and depressive symptomatology. Society and Mental Health 8 (3): 214–230.

Mirowsky, John, and Catherine E. Ross. 2003. Education, social status, and health. New York: Aldine Transaction.

Mossey, Jana M., and Evelyn Shapiro. 1982. Self-rated health: A predictor of mortality among the elderly. American Journal of Public Health 72 (8): 800–808.

Pöhls, Katharina, Thomas Schlösser, and Detlef Fetchenhauer. 2019. Non-religious identities and life satisfaction: Questioning the universality of a linear link between religiosity and well-being. Journal of Happiness Studies. https://doi.org/10.1007/s10902-019-00175-x.

Pyle, Ralph E. 2006. Trends in religious stratification: Have religious group socioeconomic distinctions declined in recent decades? Sociology of Religion 67 (1): 61–79.

Read, Jen'nan Ghazal and Bridget K. Gorman. 2010. Gender and health inequality. Annual Review of Sociology 36: 371–386.

Schwadel, Philip. 2011. Age, period, and cohort effects on religious activities and beliefs. Social Science Research 40 (1): 181–192.

Steensland, B., J.Z. Park, L.D. Robinson, W.B. Wilcox, and R.D. Woodberry. 2000. The measure of American Religion: Toward improving the state of the art. Social Forces 79 (1): 291–318.

Stetzer, Ed, and Ryan P. Burge. 2016. Reltrad coding problems and a new repository. Politics and Religion 9 (1): 187–190.

Strawbridge, William J., Sarah J. Shema, Richard D. Cohen, and George A. Kaplan. 2001. Religious attendance increases survival by improving and maintaining good health behaviors, mental health, and social relationships. Annals of Behavioral Medicine 23 (1): 68–74.

Stroope, Samuel, and Joseph O. Baker. 2018. Whose moral community? Religiosity, secularity, and self-rated health across communal religious contexts. Journal of Health and Social Behavior 59 (2): 185–199.

Stroope, Samuel, Heather M. Rackin, Jessica L. Stroope, and Jeremy E. Uecker. 2018. Breastfeeding and the role of maternal religion: Results from a national prospective cohort study. Annals of Behavioral Medicine 52 (4): 319–330.

Stroope, Samuel, Scott Draper, and Andrew L. Whitehead. 2013. Images of a loving God and sense of meaning in life. Social Indicators Research 111 (1): 25–44.

Swann Jr., William B., Peter J. Rentfrow, and Jennifer S. Guinn. 2003. Self-verification: The search for coherence. In Handbook of self and identity, ed. Mark R. Leary and June P. Tangney, 367–383. New York: Guilford.

Upenieks, Laura, Markus H. Schafer, and Andreea Mogosanu. 2019. Does childhood religiosity delay death? Journal of Religion and Health. https://doi.org/10.1007/s10943-019-00936-1.

VanderWeele, Tyler J. 2017. On the promotion of human flourishing. Proceedings of the National Academy of Sciences 114 (31): 8148–8156.

Weber, Samuel R., Kenneth I. Pargament, Mark E. Kunik, James W. Lomax II, and Melinda A. Stanley. 2012. Psychological distress among religious nonbelievers: A systematic review. Journal of Religion and Health 51 (1): 72–86.
Additional information
Publisher's Note
Springer Nature remains neutral with regard to jurisdictional claims in published maps and institutional affiliations.
About this article
Cite this article
Walker, M.H., Drakeford, L., Stroope, S. et al. Health Differences Between Religious and Secular Subgroups in the United States: Evidence from the General Social Survey. Rev Relig Res 63, 67–81 (2021). https://doi.org/10.1007/s13644-020-00430-1
Received:

Accepted:

Published:

Issue Date:

DOI: https://doi.org/10.1007/s13644-020-00430-1