Abstract
The process of becoming a born-again Christian is one that has intrigued social scientists for decades but has never been studied in a large-scale way, using panel data. While sociologists have tried to conceptualize and operationalize how one converts to a new religious experience, many political scientists have used "having a born-again experience" as a way to classify evangelical Protestants. While there is a great deal of scholarship devoted to understanding how born-again Christians navigate the social and political world, the direct impact of adopting a born-again status has eluded scholars. Using panel surveys from three different polling organizations, this work analyzes how those who convert and de-convert to born-again Christianity change their political and religious behaviors in after the switch. Analysis indicates that conversion and deconversion is not uncommon among the population, occurring in approximately 1 in 10 survey respondents. Results indicate that women, younger Americans, and those with less educations are more likely to change their conversion status. Of those who do make a switch, few significantly change their partisanship, while shifts in church attendance are more common and this is confirmed through statistical modeling. These findings fill a gap in scholars' previous understanding of the changes in behavior and political orientation following a shift in born-again status—something that was only studied at the aggregate level in prior work. This research offers an additional angle for scholars who are seeking to understand the caused by religious switching in the United States.
Access options
Buy single article
Instant access to the full article PDF.
US$ 39.95
Tax calculation will be finalised during checkout.
Subscribe to journal
Immediate online access to all issues from 2019. Subscription will auto renew annually.
US$ 79
Tax calculation will be finalised during checkout.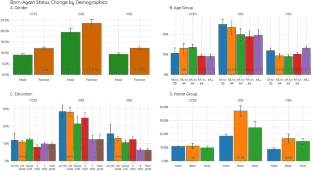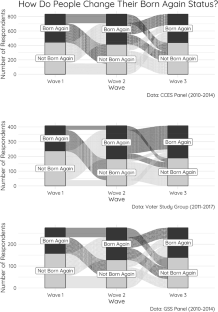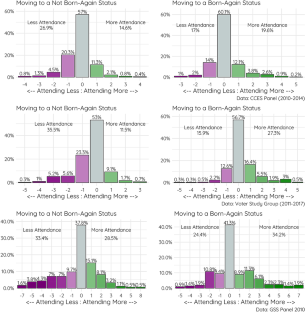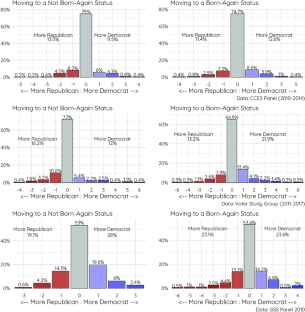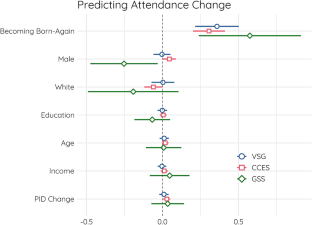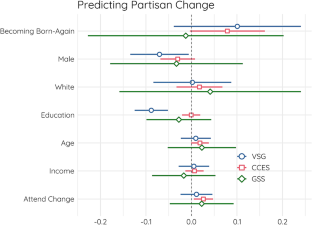 Notes
1.

84% confidence intervals are the equivalent of a 95% single t-test.

See: Goldstein H., and Healy M.J.R. (1995), The graphical presentation of a collection of means. Journal of the Royal Statistical Society A, 158: 175–177.

MacGregor-Fors, I., and Payton, M.E. (2013), Contrasting Diversity Values: Statistical Inferences Based on Overlapping Confidence Intervals. PLOS-One, 8(2): e56794.

Payton, M.E., Greenstone, M.H., and Schenker, N. (2003), Overlapping confidence intervals or standard error intervals: What do they mean in terms of statistical significance? Journal of Insect Science, 3:34–39.

2.

A table of these results is available in the "Appendix".

3.

In addition to this analysis, the scale was collapsed to three-point partisan identification (Democrat, Independent, Republican) and the shifts were tracked among those took on a born-again identity in each of three surveys. Shifts in partisanship among Democrats was infrequent (occurring 11–27% of the time), but was even rarer among Republicans (ranging from 22.4% of the time to just 5.6% of the CCES sample. The full analysis is available in the "Appendix".

4.

The tabular results of all these models are included in the "Appendix".

5.

In a model where the comparison group was shifted to those who no longer claimed a born-again status, the increase in church attendance was 9–10% in the VSG and CCES data, but the coefficient for the GSS was statistically insignificant.

6.

When the comparison group was shifted to those who no longer claimed a born-again status, the coefficient for becoming born-again did not predict a partisan change in a statistically significant way, either.

7.

Visualizations of the distribution in partisanship and church attendance in the VSG can be found in the "Appendix".
References
Bailey, Sarah Pulliam. 2019. Is David Brooks a Christian or a Jew? His Latest Book Traces His Faith—And His Second Marriage. Washington Post.https://www.washingtonpost.com/religion/2019/04/29/is-david-brooks-christian-or-jew-his-latest-book-traces-his-faith-his-second-marriage/?noredirect=on&utm_term=.1b356fe33120. Accessed 12 Mar 2019.

Bartkowski, John P. 2001. Remaking the Godly Marriage: Gender Negotiation in Evangelical Families. New Brunswick, NJ: Rutgers University Press.

Benson, Peter L., and Dorothy Lowe Williams. 1982. Religion on Capitol Hill: Myths and Realities. San Francisco, CA: Harper & Row.

Bielo, James S. 2012. Belief, Deconversion, and Authenticity Among U.S. Emerging Evangelicals. Ethos 40(3): 258–276.

Burge, Ryan P. 2018. Do You Have to Be Protestant to Be Born-Again?—Religion in Public. Religion in Public. https://religioninpublic.blog/2018/05/07/do-you-have-to-protestant-to-be-born-again/. Accessed 17 Mar 2019.

Burge, Ryan P., and Paul A. Djupe. 2014. Truly Inclusive or Uniformly Liberal? An Analysis of the Politics of the Emerging Church. Journal for the Scientific Study of Religion 53(3): 636–651.

Cooperman, Alan, Gregory Smith, and Katherine Ritchey. 2015. America's Changing Religious Landscape. Pew Research Center. https://www.pewforum.org/wp-content/uploads/sites/7/2015/05/RLS-08–26-full-report.pdf.

Dixon, Richard D., Diane E. Levy, and Roger C. Lowery. 1988. Asking the" Born-Again" Question. Review of Religious Research 30(1): 33–39.

Dixon, Richard D., Roger C. Lowery, and Lloyd P. Jones. 1992. The Fact and Form of Born-Again Religious Conversions and Sociopolitical Conservatism. Review of Religious Research 34(2): 117–131.

Djupe, Paul, and Brian Calfano. 2013. God Talk: Experimenting with the Religious Causes of Public Opinion. Philadelphia: Temple University Press.

Djupe, Paul, and Ryan Claassen. 2018. The Evangelical Crackup?: The Future of the Evangelical-Republican Coalition. Philadelphia: Temple University Press.

Djupe, Paul A., Jacob Neiheisel, and Anand Sokhey. 2018. Reconsidering the Role of Politics in Leaving Religion: The Importance of Affiliation. American Journal of Political Science 62(1): 161–175.

Ellison, Christopher G., and Darren Sherkat. 1993. Conservative Protestantism and Support for Corporal Punishment. American Sociological Review 58(1): 131–144.

Evangelism Is Most Effective Among Kids. 2004. Barna Group. https://www.barna.com/research/evangelism-is-most-effective-among-kids/. Accessed 22 Mar 2019.

Finke, Roger, Christopher D. Bader, and Edward C. Polson. 2010. Faithful Measures: Developing Improved Measures of Religion. State College, PA: Association of Religion Data Archives.

Firebaugh, Glenn, and Brian Harley. 1991. Trends in US Church Attendance: Secularization and Revival, or Merely Lifecycle Effects? Journal for the Scientific Study of Religion 30(4): 487–500.

Greil, Arthur L., and David R. Rudy. 1983. Conversion to the World View of Alcoholics Anonymous: A Refinement of Conversion Theory. Qualitative Sociology 6(1): 5–28.

Hout, Michael, and Claude Fischer. 2002. Why More Americans Have No Religious Preference: Politics and Generations. American Sociological Review 67(2): 165–190.

Jelen, Ted G. 1993. The Political Consequences of Religious Group Attitudes. The Journal of Politics 55(1): 178–190.

Jelen, Ted G., Corwin E. Smidt, and Clyde Wilcox. 1993. The Political Effects of the Born-Again Phenomenon. In Rediscovering the Religious Factor in American Politics, ed. D.C. Leege and L.A. Kellstedt, 199–215. Armonk, NY: M.E Sharpe.

Layman, Geoffrey. 2001. The Great Divide: Religious and Cultural Conflict in American Party Politics. New York: Columbia University Press.

Lewis, Andrew R. 2017. The Rights Turn in Conservative Christian Politics: How Abortion Transformed the Culture Wars. New York: Cambridge University Press.

Lewis, Andrew R., and Dana De Bernardo. 2010. Belonging Without Belonging: Utilizing Evangelical Self-identification to Analyze Political Attitudes and Preferences. Journal for the Scientific Study of Religion. 49(1): 112–126.

Lister, David. 2017. How Bob Dylan Embraced Jesus in a Born-Again Period Lasting 3 Years. The Independent. https://www.independent.co.uk/arts-entertainment/music/features/bob-dylan-jesus-trouble-no-more-bootleg-series-volume-13-slow-train-coming-u2-a8031031.html.

Lofland, John, and Norman Skonovd. 1981. Conversion Motifs. Journal for the Scientific Study of Religion 20(4): 373–385.

Lofland, John, and Rodney Stark. 1965. Becoming a World-Saver: A Theory of Conversion to a Deviant Perspective. American Sociological Review 30(6): 862–875.

Long, Theodore E., and Jeffrey K. Hadden. 1983. Religious Conversion and the Concept of Socialization: Integrating the Brainwashing and Drift Models. Journal for the Scientific Study of Religion 22(1): 1–14.

Margolis, Michele F. 2018. From Politics to the Pews: How Partisanship and the Political Environment Shape Religious Identity. Chicago: University of Chicago Press.

Narea, Nicole. 2019. One Surprisingly Simple Reason Evangelicals Love Trump. Vox. https://www.vox.com/policy-and-politics/2019/12/27/21038031/white-evangelicals-trump-immigration-election-2020. Accessed 15 Mar 2019.

Niemi, Richard G., and Barbara I. Sobieszek. 1977. Political Socialization. Annual Review of Sociology 3(1): 209–233.

Olson, Laura R., and Adam L. Warber. 2008. Belonging, Behaving, and Believing: Assessing the Role of Religion on Presidential Approval. Political Research Quarterly 61(2): 192–204.

Patrikios, Stratos. 2013. Self-stereotyping as 'Evangelical Republican': An Empirical Test. Politics and Religion 6(4): 800–822.

Perry, Samuel L. 2017. Growing God's Family: The Global Orphan Care Movement and the Limits of Evangelical Activism. New York: NYU Press.

Perry, Samuel L., and Cyrus Schleifer. 2018. Understanding the Rise of Born-Again Catholics in the United States: The Role of Educational Attainment. Review of Religious Research 60(4): 555–574. https://doi.org/10.1007/s13644-018-0351-8.

Putnam, Robert D., and David E. Campbell. 2012. American Grace: How Religion Divides and Unites Us. New York: Simon & Schuster.

Richardson, James T. 1985. The Active vs. Passive Convert: Paradigm Conflict in Conversion/Recruitment Research. Journal for the Scientific Study of Religion 24(2): 163–179.

Schumm, Walter R., and Benjamin Silliman. 1990. A Research Note and Commentary on Dixon, Levy, & Lowery's" Asking the'Born-Again'Question". Review of Religious Research 31(4): 413–415.

Tajfel, Henri. 1979. Individuals and Groups in Social Psychology. British Journal of Social and Clinical Psychology 18(2): 183–190.

Webb, Stephen H. 2006. Dylan Redeemed: From Highway 61 to Saved. New York: Bloomsbury Academic.

Webber, Jeremy. 2017. Evangelical vs. Born Again: A Survey of What Americans Say and Believe. https://www.christianitytoday.com/news/2017/december/you-must-be-born-again-evangelical-beliefs-politics-survey.html.

When Americans Become Christians. 2015. National Association of Evangelicals. https://www.nae.net/when-americans-become-christians/. Accessed 21 Mar 2019.

Wuthnow, Robert. 2015. Inventing American Religion: Polls, Surveys, and the Tenuous Quest for a Nation's Faith. New York: Oxford University Press.
Additional information
Publisher's Note
Springer Nature remains neutral with regard to jurisdictional claims in published maps and institutional affiliations.
All data used in this analysis is freely available on the Cooperative Congressional Election Study website (https://cces.gov.harvard.edu/) from the Democracy Fund's Voter Study Group (https://www.voterstudygroup.org/) or the National Opinion Research Council (https://gss.norc.org/get-the-data/stata). The full coding syntax will be made available on GitHub after publication.
About this article
Cite this article
Burge, R.P. Is Becoming Born-Again a Transformative Experience? Results from Three Sets of Panel Data. Rev Relig Res 63, 83–105 (2021). https://doi.org/10.1007/s13644-020-00428-9
Received:

Accepted:

Published:

Issue Date:
Keywords
Evangelical

Born-again

Conversion

Partisanship

Church attendance