Abstract
Research on the link between religion and pornography suggests that more frequent pornography viewing can lead to declines in individuals' religious commitment, likely stemming from the guilt, shame, and dissonance adherents experience for violating sacralized moral values. No research, however, has considered the implications of this phenomenon for religious organizations. The current study addresses this gap by examining how pornography use contributes to potential congregational problems by discouraging individuals from participating in lay leadership. Multivariate analyses of panel data from the 2006–2012 Portraits of American Life Study reveal that the more frequently respondents viewed pornography at wave 1 the less likely they were to hold a leadership position or serve on a committee in their congregation within the following 6 years. This effect was robust to controls for religious commitment, tradition, and other correlates of lay leadership participation. Interactions with religious tradition and gender suggest that participation in leadership is more negatively tied to porn use for conservative Protestants and Catholics compared to mainline Protestants and women compared to men. Findings ultimately suggest that increasingly pervasive pornography consumption among adherents could portend a potential dearth of volunteer leadership for congregations.
This is a preview of subscription content, log in to check access.
Access options
Buy single article
Instant access to the full article PDF.
US$ 39.95
Price includes VAT for USA
Subscribe to journal
Immediate online access to all issues from 2019. Subscription will auto renew annually.
US$ 99
This is the net price. Taxes to be calculated in checkout.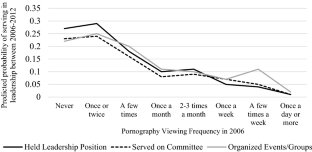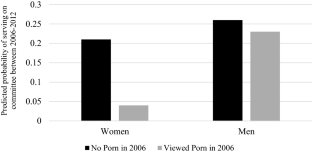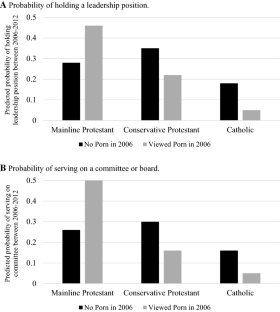 Notes
1.

Because "pornography" is both difficult to define and often freighted with moral connotations, some studies opt to use other terminology like "sexually explicit media." Here I have retained the term "pornography" because it is used in the data for analysis. For the purposes of this study, "pornography" or "porn" refers to sexually explicit media (Internet videos, movies, magazines) that is made and consumed with the intent of arousing the viewer.

2.

The majority of missing cases came from the household income measure. Models were tested with various imputation techniques to replace missing values, as well as without the income measure, and none changed the key findings substantively or in terms of statistical significance (results available upon request). Ultimately, the decision was made to use listwise deletion in order to make replication as straightforward as possible.

3.

Because of the possibility that pornography use at wave 1 also influenced serving in congregational leadership at wave 1, thus causing pornography's effect on later service in leadership to operate through their earlier service, I estimated models with and without controls for earlier service at wave 1. While the variance explained was tremendously reduced in each model, since earlier service in leadership is such a strong predictor of later service, the association between earlier pornography use and later service in religious leadership was substantively identical with or without that control.

4.

PALS includes an "Other Protestant" category that includes other sectarian Protestants besides those originally found in Steensland et al. (2000). I made an additional modification by combining evangelical Protestants and black Protestants into the Conservative Protestant category so as to avoid collinearity problems with the race variable. Also Jewish respondents were combined with the "other religion" category because of smaller numbers. None of these modifications substantively affect the focal outcomes.

5.

While religious service attendance and prayer frequency are correlated, their Cronbach's alpha indicated low reliability (α = .62), and thus, they were included in models separately rather than as an index.
References
Assad, Audrey. 2016. Q&A with Audrey Assad. In The porn phenomenon: The impact of pornography in a digital age, ed. Barna Group, 58–59. Ventura: Barna.

Baltazar, Alina, Herbert W. Helm Jr., Duane McBride, Gary Hopkins, and John V. Stevens Jr. 2010. Internet pornography use in the context of external and internal religiosity. Journal of Psychology and Theology 38: 32–40.

Burke, Kelsy. 2016. Christians under covers: Evangelicals and sexual pleasure on the internet. Berkeley: University of California Press.

Carroll, Jason S., Laura M. Padilla-Walker, Larry J. Nelson, Chad D. Olson, Carolyn McNamara Barry, and Stephanie D. Madsen. 2008. Generation XXX: Pornography acceptance and use among emerging adults. Journal of Adolescent Research 23: 6–30.

Christerson, Brad, and Michael O. Emerson. 2003. The cost of diversity in religious organizations: An in-depth case study. Sociology of Religion 64: 163–181.

Doring, Nicola M. 2009. The internet's impact on sexuality: A critical review of 15 years of research. Computers in Human Behavior 25: 1089–1101.

Dougherty, Kevin D., and Andrew L. Whitehead. 2011. A place to belong: Small group involvement in religious congregations. Sociology of Religion 72 (1): 91–111.

Ferguson, Todd W. 2018. Organizational resources and the gender gap in congregational lay leadership. Unpublished manuscript.

Ferguson, Todd W. 2018b. Female leadership and role congruity within the clergy: Communal leaders experience no gender differences yet agentic women continue to suffer backlash. Sex Roles 78 (5–6): 409–422.

Grubbs, Joshua B., Julie J. Exline, Kenneth I. Pargament, Fred Volk, and Matthew J. Lindberg. 2015. Internet pornography use, perceived addiction, and religious/spiritual struggles. Archives of Sexual Behavior 46 (6): 1733–1745.

Grubbs, Joshua B., and Samuel L. Perry. 2018. Moral incongruence and pornography use: A critical review and integration. Journal of Sex Research. https://doi.org/10.1080/00224499.2018.1427204.

Grubbs, Joshua B., Samuel L. Perry, Joshua A. Wilt, and Rory C. Reid. 2018. Pornography problems due to moral incongruence: An integrative model with a systematic review and meta-analysis. Archives of Sexual Behavior. https://doi.org/10.1007/s10508-018-1248-x.

Hardy, Sam A., Michael A. Steelman, Sarah M. Coyne, and Robert D. Ridge. 2013. Adolescent religious as a protective factor against pornography use. Journal of Applied Developmental Psychology 34 (3): 131–139.

Martinez, Brandon C., and Kevin D. Dougherty. 2013. Race, belonging, and participation in religious congregations. Journal for the Scientific Study of Religion 52 (4): 713–732.

Nelson, Larry J., Laura M. Padilla-Walker, and Jason S. Carroll. 2010. I believe it is wrong but i still do it": A comparison of religious young men who do versus do not use pornography. Psychology of Religion and Spirituality 2: 136–147.

Ogas, Ogi, and Sai Gaddam. 2011. A billion wicked thoughts: What the world's largest experiment reveals about human desire. New York: Dutton.

Perry, Samuel L. 2017. Does viewing pornography diminish religiosity over time? Evidence from two-wave panel data. Journal of Sex Research 54 (2): 214–226.

Perry, Samuel L. 2018. Not practicing what you preach: religion and incongruence between pornography beliefs and usage. Journal of Sex Research 55 (3): 369–380.

Perry, Samuel L. 2019. Addicted to lust: Pornography in the lives of conservative protestants. New York: Oxford University Press.

Perry, Samuel L., and George M. Hayward. 2017. Seeing is (Not) believing: How viewing pornography shapes the religious lives of young Americans. Social Forces 95 (4): 1757–1788.

Perry, Samuel L., and Cyrus Schleifer. 2018a. Are the sanctified becoming the pornified? Religious conservatism, commitment, and pornography use, 1984–2016. Social Science Quarterly. https://doi.org/10.1111/ssqu.12524.

Perry, Samuel L., and Cyrus Schleifer. 2018b. Till porn do us part? A longitudinal examination of pornography use and divorce. Journal of Sex Research 55 (3): 284–296.

Price, Joseph, Rich Patterson, Mark Regnerus, and Jacob Walley. 2016. How much more XXX is generation X consuming? Evidence of changing attitudes and behaviors related to pornography since 1973. Journal of Sex Research 53 (1): 12–20.

Rasmussen, Kyler, and Alex Bierman. 2017. Religious and community hurdles to pornography consumption: A national study of emerging adults. Emerging Adulthood 5: 431–442.

Regnerus, Mark D., and Jeremy Uecker. 2006. Finding faith, losing faith: The prevalence and context of religious transformations during adolescence. Review of Religious Research 47 (3): 217–237.

Short, Mary B., Thomas E. Kasper, and Chad T. Wetterneck. 2015. The relationship between religiosity and internet pornography use. Journal of Religion and Health 54: 571–583.

Steensland, Brian, Jerry Z. Park, Mark Regnerus, W. Lynn Robinson, Bradford Wilcox, and Robert Woodberry. 2000. The measure of American religion: Toward improving the state of the art. Social Forces 79: 291–318.

Stroope, Samuel. 2012. Social networks and religion: The role of congregational social embeddedness in religious belief and practice. Sociology of Religion 73 (3): 273–298.

Thomas, Jeremy N. 2013. Outsourcing moral authority: The internal secularization of evangelicals' anti-pornography narratives. Journal for the Scientific Study of Religion 52 (3): 457–475.

Thornton, Arland, and Donald Camburn. 1989. Religious participation and adolescent sexual behavior and attitudes. Journal of Marriage and Family 51 (3): 641–653.

Uecker, Jeremy E., Mark D. Regnerus, and Margaret L. Vaaler. 2007. Losing my religion: The social sources of religious decline in early adulthood. Social Forces 85: 1667–1692.
Additional information
The author is a current member of the Religious Research Association.
Data for this study are freely available for download from The ARDA. Coding specifications are available from the author upon request.
About this article
Cite this article
Perry, S.L. How Pornography Use Reduces Participation in Congregational Leadership: A Research Note. Rev Relig Res 61, 57–74 (2019). https://doi.org/10.1007/s13644-018-0355-4
Received:

Accepted:

Published:

Issue Date:
Keywords
Pornography

Church

Congregations

Leadership

Gender