Abstract
In this study we examine how the process of relocation affects the mental health of United Methodist clergy and the extent to which relocation is associated with changes in clergy perception of the workplace environment and feelings of self-efficacy. We analyzed data from a longitudinal survey of 1375 clergy, one quarter of whom experienced a move between the baseline survey in 2008 and the follow-up survey 2 years later. Contrary to expectations, we find that mental distress decreased for those who recently moved compared to those who had moved 2 years prior. We also find strong evidence of a "honeymoon effect." Recently relocated clergy report higher levels of self-efficacy and higher workplace morale compared to those who do not relocate. This study underscores the importance of examining the short and longer-term impact of moving on mental distress and presses scholars to consider the ways in which, under certain circumstances, relocation may improve mental health.
Access options
Buy single article
Instant access to the full article PDF.
USD 39.95
Price excludes VAT (USA)
Tax calculation will be finalised during checkout.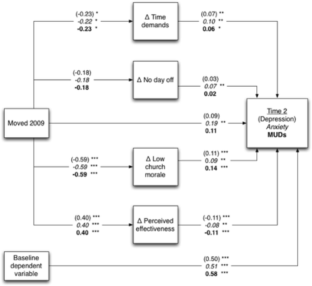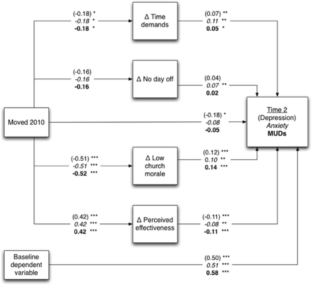 References
Bandura, Albert, Concetta Pastorelli, Claudio Barbaranelli, and Gian Vittorio Caprara. 1999. Self-efficacy pathways to childhood depression. Journal of Personality and Social Psychology 76(2): 258–269.

Berkes, Fikret, and Iain J. Davidson-Hunt. 2007. Communities and social enterprises in the age of globalization. Journal of Enterprising Communities: People and Places in the Global Economy 1(3): 209–221.

Brett, Jeanne M. 1982. Job transfer and well-being. Journal of Applied Psychology 67(4): 450–463.

Centers for Disease Control and Prevention (CDC). 2002. Measuring healthy days monograph. Atlanta, GA: CDC.

Centers for Disease Control and Prevention (CDC). 2010. Current depression among adults—United States, 2006 and 2008. MMWR. Morbidity and Mortality Weekly Report 59(38): 1229–1235.

Challiol, Helene, and Karim Mignonac. 2005. Relocation decision-making and couple relationships: A quantitative and qualitative study of dual-earner couples. Journal of Organizational Behavior 26(3): 247–274.

Enders, Craig, and Deborah Bandalos. 2001. The relative performance of full information maximum likelihood estimation for missing data in structural equation models. Structural Equation Modeling: A Multidisciplinary Journal 8(3): 430–457.

Forster, Nick S. 1990. Employee Job mobility and relocation. Personnel Review 19(6): 18–24.

Gallagher, Matthew W., Alexander M. Schoemann, and Sarah D. Pressman. 2011. Mastery beliefs and intraindividual variability of anxiety. Cognitive Therapy and Research 35(3): 227–231.

Goehl, Leslie, Edward Nunes, Frederic Quitkin, and Irma Hilton. 1993. Social networks and methadone treatment outcome: The costs and benefits of social ties. The American Journal of Drug and Alcohol Abuse 19(3): 251–262.

Hutchings, Kate, and Sri Wahyuni Ratnasari. 2006. Cross-cultural non-work transition stresses: Domestic transferees in Indonesia. Cross Cultural Management: An International Journal 13(2): 114–131.

Ihnke, David. 2014. Reason for Moving: 2012 to 2013. United States Census Bureau 15.

Kay, William R. 2000. Role conflict and british pentecostal ministers. Journal of Psychology and Theology 28(2): 119–124.

Kessler, Ronald C., Wai Tat Chiu, Olga Demler, Kathleen R. Merikangas, and Ellen E. Walters. 2005. Prevalence, severity, and comorbidity of 12-month DSM-IV disorders in the national comorbidity survey replication. Archives of General Psychiatry 62(6): 617–627.

Von Kirchenheim, Clement, and Warnie Richardson. 2005. Teachers and their international relocation: The effect of self-efficacy and flexibility on adjustment and outcome variables. International Education Journal 6(3): 407–416.

Kroenke, K., R.L. Spitzer, and J.B.W. Williams. 2001. The PHQ-9: Validity of a brief depression severity measure. Journal of General Internal Medicine 16(9): 606–613.

Kuhne, Gary William, and Joe Donaldson. 1995. Balancing ministry and management: An exploratory study of pastoral work activities. Review of Religious Research 37(2): 147–163.

Lawson, Marian B., and Harold L. Angle. 1994. When organizational relocation means family relocation: An emerging issue for strategic human resource management. Human Resource Management 33(1): 33–54.

Lê, Jane K., Patrick A. Tissington, and Pawan S. Budhwar. 2010. To move or not to move: A question of family?The. International Journal of Human Resource Management 21(1): 17–45.

Marshall, Judi, and Cary L. Cooper. 1979. Executives under pressure: A psychological study. London: Macmillan.

Martin, Robin. 1995. The effects of prior moves on job relocation stress. Journal of Occupational and Organizational Psychology 68(1): 49–56.

Martin, Robin. 1996. A longitudinal study examining the psychological reactions of job relocation. Journal of Applied Social Psychology 26(3): 265–282.

Moyle, Penny, and Katharine Parkes. 1999. The effects of transition stress: A relocation study. Journal of Organizational Behavior 20(5): 625–646.

Munton, Anthony G. 1990. Job relocation, stress and the family. Journal of Organizational Behavior 11(5): 401–406.

Munton, Anthony G., and Shirley Reynolds. 1995. Family functioning and coping with change: A longitudinal test of the circumplex model. Human Relations 48(9): 1055–1072.

National Center for Health Statistics. 2016. Health Indicators by State. Retrieved June 16, 2016. http://www.healthindicators.gov/Indicators/Mentally-unhealthy-days-adults-per-person_9/Profile/ClassicData.

Olssøn, Ingrid, Arnstein Mykletun, and Alv A. Dahl. 2005. The hospital anxiety and depression rating scale: A cross-sectional study of psychometrics and case finding abilities in general practice. BMC Psychiatry 5(1): 46.

Pearlin, Leonard I. 1989. The sociological study of stress. Journal of Health and Social Behavior 30(3): 241.

Pearlin, Leonard I., Elizabeth G. Menaghan, Morton A. Lieberman, and Joseph T. Mullan. 1981. The stress process. Journal of Health and Social Behavior 22(4): 337.

Pickard, Joseph G., and Baorong Guo. 2008. Clergy as mental health service providers to older adults. Aging and Mental Health 12(5): 615–624.

Pinder, Craig C. 1989. The dark side of executive relocation. Organizational Dynamics 17(4): 48–58.

Riley, Dave, and John Eckenrode. 1986. Social ties: Subgroup differences in costs and benefits. Journal of Personality and Social Psychology 51(4): 770–778.

Smider, Nancy A., Marilyn J. Essex, and Carol D. Ryff. 1996. Adaptation to community relocation: The interactive influence of psychological resources and contextual factors. Psychology and Aging 11(2): 362–372.

Smith, Kirsten P., and Nicholas A. Christakis. 2008. Social networks and health. Annual Review of Sociology 34(1): 405–429.

Tang, Catherine S.K. 2009. The influence of family-work role experience and mastery on psychological health of Chinese employed mothers. Journal of Health Psychology 14(8): 1207–1217.

Zigmond, A.S., and R.P. Snaith. 1983. The hospital anxiety and depression scale. Acta Psychiatrica Scandinavica 67(6): 361–370.

Zulkosky, Kristen. 2009. Self-efficacy: A concept analysis. Nursing Forum 44(2): 93–102.
About this article
Cite this article
Eagle, D.E., Miles, A.A. & Proeschold-Bell, R.J. The Honeymoon is Over: Occupational Relocation and Changes in Mental Health Among United Methodist Clergy. Rev Relig Res 59, 31–45 (2017). https://doi.org/10.1007/s13644-016-0263-4
Received:

Accepted:

Published:

Issue Date:

DOI: https://doi.org/10.1007/s13644-016-0263-4
Keywords