Abstract
The timing of individuals' family formation is important for a number of socioeconomic and health outcomes. We examine the influence of religious schools and home schools on the timing of first marriage and first birth using data from the Cardus Education Study Graduate Survey (N = 1,496). Our results from life tables and event-history regression models show that, on average, graduates of evangelical Protestant schools—but not Catholic school or homeschool graduates—have earlier marriages and births than public school graduates. Catholic school students have later first births on average than public school graduates. Models interacting schooling type with age and age-squared suggest that evangelical schoolers' higher odds of marriage stem from higher odds of marrying at ages 21–30, and their higher odds of first birth stem from higher odds of births from ages 25–34. Catholic school and nonreligious private school students also have higher odds of marrying in the mid-20s and early-30s than do public school students. Evangelical, non-religious private, and Catholic school students all have lower odds of teenage births than public school students but higher odds of birth later in the life course. Homeschoolers do not differ on either outcome at any age. Our findings suggest that schools socialize their students with distinctive attitudes toward family formation that influence their behavior even many years after graduation, though these schools do not appear to be particularly harmful to life chances in terms of fostering marriage or childbearing at very young ages.
Access options
Buy single article
Instant access to the full article PDF.
US$ 39.95
Tax calculation will be finalised during checkout.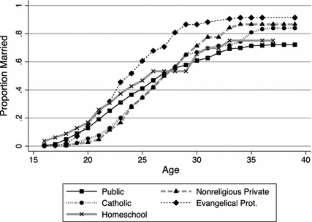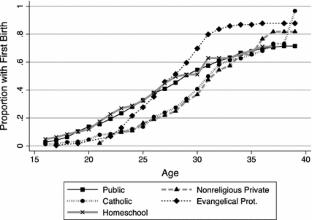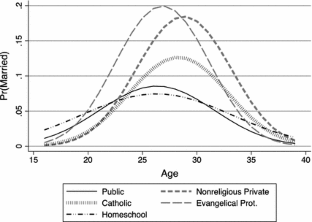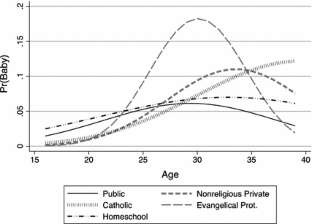 Notes
1.

The National Center for Education Statistics estimates that 10 percent of students were enrolled in private schools in 2009–10, and 88 percent of these private school students were enrolled in religious private schools.

2.

As an example of pronatalism, the Catechism of the Catholic Church (2373) states, "Sacred Scripture and the Church's traditional practice see in large families a sign of God's blessing and the parents' generosity."

3.

For an examination of the state of Catholic schools in the United States, see (MacGregor 2012).

4.

We refer to respondents throughout this article as "graduates" and "students" from various types of secondary schools even though the survey technically asks respondents what type of secondary school they "primarily attended." These terms, although not precise, are less cumbersome than the alternatives.

5.

6.

Unfortunately, the survey does not allow us to differentiate among biological, adopted, and step-children.

7.

Those marrying or having a child prior to age 16 are considered to have married or had a child at age 16 (N = 4 for marriage and N = 13 for having a child). Additionally, a small number of cases had implausible values and were deleted from our analyses (N = 8 for having a child and N = 2 for marrying).

8.

Four of the seven "other" cases were moved to the "evangelical Protestant" category based on the denomination specified. The remaining three were left in the "other religious" category.

9.

For the few cases that reported having no primary mother figure, only the primary father's attendance was used. For those cases that reported having no primary father, only the primary mother's attendance was used.

10.

If the respondent did not have a primary mother figure, we used the religious tradition of the primary father figure (29 cases).

11.

The majority of those raised with evangelical Protestant backgrounds had mothers who were Baptist or Pentecostal, while the majority of those we coded as coming from mainline Protestant backgrounds had mothers who were Episcopalian/Anglican, Disciplines of Christ, Lutheran, Methodist, Presbyterian, or Reformed.

12.

We do not include "other religious" in these figures because there are too few cases (N = 23) and because the category itself does not represent a distinctive schooling type.

13.

The sudden increase between age 38 and 39 in cumulative proportion with first birth for Catholic school graduates is almost certainly a statistical anomaly because there are so few cases by this age.

14.

Including both age and age squared as control variables allows us to specify the additional influence of high school type beyond the general curvilinear pattern of first marriage associated with age for the entire high school graduate population.

15.

16.

Some of this might be attributable to a heightened proclivity of evangelical school graduates to "legitimize" births through marriage, but previous research has not found a link between religious conservatism and "shotgun" marriages (Manning 1993), so we suspect this is not the primary mechanisms at work here.
References
Association of Christian Schools International. 2013. http://www.acsi.org/about-acsi/vision-and-mission. Accessed 31 May 2013.

Adamczyk, Amy. 2009. Understanding the effects of personal and school religiosity on the decision to abort a premarital pregnancy. Journal of Health and Social Behavior 50: 180–195.

Altonji, Joseph G., Todd E. Elder, and Christopher R. Taber. 2005. Selection on observed and unobserved variables: Assessing the effectiveness of Catholic schools. Journal of Political Economy 113: 151–184.

Arroyo, Julia, Krista K. Payne, and Wendy D. Manning. 2012. Crossover in median age at first marriage and first birth: Thirty years of change (FP-12-03). National Center for Family & Marriage Research. Retrieved from http://ncfmr.bgsu.edu/pdf/family_profiles/file107893.pdf.

Aud, Susan, Sidney Wilkinson-Flicker, Paul Kristapovich, Amy Rathbun Xiaolei Wang, and Jijun Zhang. 2013. The condition of education 2013 (NCES2013-037). U.S. Department of Education, National Center for Education Statistics. Washington, DC. http://nces.ed.gov/pubsearch. Accessed 31 May 2013.

Baker, David, Mei Han, and Stephen P. Broughman. 1996. How different, how similar? Comparing key organizational qualities of American public and private secondary schools. NCES 96–322. Washington, D.C.: U.S. Department of Education.

Baker, David P., and Cornelius Riordan. 1998. The 'eliting' of the common American Catholic school and the national education crisis. Phi Delta Kappan (September): 16–23.

Bandura, Albert. 1977. Social learning theory. Englewood Cliffs: Prentice-Hall.

Barrett, Jennifer B., Jennifer Pearson, Chandra Muller, and Kenneth A. Frank. 2007. Adolescent religiosity and school contexts. Social Science Quarterly 88: 1024–1037.

Berger, Peter L. 1967. The sacred canopy: Elements of a sociological theory of religion. Garden City: Doubleday.

Brown, B.Bradford. 1990. Peer groups and peer culture. In At the threshold: The developing adolescent, ed. S.S. Feldman, and G.R. Elliott, 171–206. Cambridge: Harvard University Press.

Carlson, Daniel L. 2011. Explaining the curvilinear relationship between age at first birth and depression among women. Social Science & Medicine 72: 494–503.

Catechism of the Catholic Church. 2011. http://www.usccb.org/beliefs-and-teachings/what-we-believe/catechism/catechism-of-the-catholic-church/epub/index.cfm#. Accessed 31 May 2013.

Coleman, James S. 1961. The adolescent society. New York: Free Press.

Coleman, James S. 1988. Social capital in the creation of human capital. The American Journal of Sociology 94: S95–S120.

Cornwall, Marie. 1988. The influence of three agents of religious socialization: Family, church, and peers." In The religion and family connection: Social science perspectives, ed Darwin L. Thomas, 207–231. Religious Studies Center, Brigham Young University.

Darnell, Alfred, and Darren E. Sherkat. 1997. The impact of Protestant fundamentalism on educational attainment. American Sociological Review 62: 306–315.

Dupre, Matthew E., and Sarah O. Meadows. 2007. Disaggregating the effects of marital trajectories on health. Journal of Family Issues 28: 623–652.

Eggebeen, David, and Jeffrey Dew. 2009. The role of religion in adolescence for family formation in young adulthood. Journal of Marriage and Family 71: 108–121.

Elder Jr, Glen H. 1985. Life course dynamics: Trajectories and transitions 1968–1980. New York: Cornell University Press.

Erickson, Joseph A. 1992. Adolescent religious development and commitment: A structural equation model of the role of family, peer group, and educational influences. Journal for the Scientific Study of Religion 31: 131–152.

Evans, William N., and Robert M. Schwab. 1995. Finishing high school and starting college: Do Catholic schools make a difference? The Quarterly Journal of Economics 110: 941–974.

Evenson, Ranae J., and Robin W. Simon. 2005. Clarifying the relationship between parenthood and depression. Journal of Health and Social Behavior 46: 341–358.

Frejka, Tomas, and F. Westoff Charles. 2008. Religion, religiousness and fertility in the US and in Europe. European Journal of Population 24: 5–31.

Glass, Jennifer, and Jerry Jacobs. 2005. Childhood religious conservatism and adult attainment among black and white women. Social Forces 94: 555–579.

Glenn, Norval D., Jeremy E.Uecker, and W.B. Love Robert Jr. 2010. Later first marriage and marital success. Social Science Research 39: 787–800.

Goldscheider, Calvin. 1971. Population, modernization, and social structure. Boston: Little, Brown.

Goldstein, Joshua R., and Catherine T. Kenney. 2001. Marriage delayed or marriage forgone? New cohort forecasts of first marriage for U.S. women. American Sociological Review 66: 506–519.

Hackett, Conrad P. 2008. Religion and fertility in the United States: The influence of affiliation, region, and congregation. Ph.D. dissertation, Princeton University.

Hayford, Sarah R., and S.Philip Morgan. 2008. Religiosity and fertility in the United States: The role of fertility intentions. Social Forces 86: 1163–1188.

Heaton, Tim B. 2002. Factors contributing to increasing marital stability in the United States. Journal of Family Issues 23: 392–409.

Henretta, John C. 2007. Early childbearing, marital status, and women's health and mortality after age 50. Journal of Health and Social Behavior 48: 254–266.

Hill, Jonathan P., and Kevin R. den Dulk. 2013. Religion, volunteering, and educational setting: The effect of youth schooling type on civic engagement. Journal for the Scientific Study of Religion 52: 179–197.

Hofferth, Sandra L., Lori Reid, and Frank L. Mott. 2001. The effects of early childbearing on schooling over time. Family Planning Perspectives 33: 259–267.

Kelman, Herbert C. 2006. Interests, relationships, identities: Three central issues for individuals and groups in negotiating their social environment. Annual Review of Psychology 57: 1–26.

Kennedy, Sheela, and Larry Bumpass. 2008. Cohabitation and children's living arrangements: New estimates from the United States. Demographic Research 19: 1663–1692.

Keister, Lisa A. 2011. Faith and money: How religion contributes to wealth and poverty. New York: Cambridge University Press.

Keyser, Ariela, and Barry A. Kosmin. 1995. The impact of religious identification on differences in educational attainment among American women in 1990. The Journal of Psychology and Christianity 12: 312–328.

King, Pamela Ebstyne, and Ross A. Mueller. 2004. Parental influence on adolescent religiousness: Exploring the roles of spiritual modeling and spiritual capital. Marriage and Family: A Christian Journal 6: 413–425.

King, Pamela Ebstyne, James L. Furrow, and Natalie Roth. 2002. The influence of families and peers on adolescent religiousness. Journal of Psychology and Christianity 21: 109–120.

Lehrer, Evelyn L. 2000. Religion as a determinant of entry into cohabitation and marriage. In The ties that bind: Perspectives on marriage and cohabitation, ed. Linda J.Waite, Christine Bachrach, Michelle Hindin, Elizabeth Thomson, and Arland Thornton, 227–252. New York: Aldine de Gruyter.

Lehrer, Evelyn L. 2004. The role of religion in union formation: An economic perspective. Population Research and Policy Review 23: 161–185.

Longest, Kyle C., and Christian Smith. 2011. Conflicting or compatible: beliefs about religion and science among emerging adults in the United States. Sociological Forum 26: 846–869.

Loughran, David S., and Julie Zissimopoulos. 2009. Why wait? The effect of marriage and childbearing on the wages of men and women. Journal of Human Resources 44: 326–349.

Loury, Linda D. 2004. Does church attendance really increase schooling? Journal for the Scientific Study of Religion 43: 119–127.

MacGregor, Carol Ann. 2012. School's out forever: The decline of Catholic education in the United States. Ph.D. dissertation, Department of Sociology, Princeton University, Princeton, NJ.

Manning, Wendy. 1993. Marriage and cohabitation following premarital conception. Journal of Marriage and the Family 55: 839–850.

Martin, Steven P. 2004. Delayed marriage and childbearing: implications and measurement of diverging trends in family timing. In Social inequality, ed. Neckerman Kathryn, 79–119. New York: Russell Sage.

Martinez, Gladys, Casey E. Copen, and Joyce C. Abma. 2011. Teenagers in the United States: Sexual activity, contraceptive use, and childbearing, 2006–2010 National Survey of Family Growth. Vital Health Statistics: National Center for Health Statistics. 23.

McCarthy, James, and Jane Menken. 1979. Marriage, remarriage, marital disruption and age at first birth. Family Planning Perspectives 11: 21–30.

McQuillan, Kevin. 2004. When does religion influence fertility? Population and Development Review 30: 25–56.

Miller, Brent C., and Greer Litton Fox. 1987. Theories of adolescent heterosexual behavior. Journal of Adolescent Research 2: 269–282.

Moore, Kristen A., and Linda J. Waite. 1981. Marital dissolution, early motherhood, and early marriage. Social Forces 60: 20–40.

Mosher, William D., Linda B. Williams, and David P. Johnson. 1992. Religion and fertility in the United States: New patterns. Demography 29: 199–214.

Muller, Chandra, and Christopher G. Ellison. 2001. Religious involvement, social capital, and adolescents' academic progress: Evidence from the National Education Longitudinal Study of 1988. Sociological Focus 34: 155–183.

Nomaguchi, Kei M., and Melissa A. Milkie. 2003. Costs and rewards of children: The effects of becoming a parent on adults' lives. Journal of Marriage and Family 65: 356–374.

Oppenheimer, Valerie Kincade. 1988. A theory of marriage timing. American Journal of Sociology 94: 563–591.

Pearce, Lisa D. 2010. Religion and the timing of first births in the United States. In Religion, families, and health: Population-based research in the United States, ed. Christopher G.Ellison, and Robert A. Hummer, 19–39. New Brunswick: Rutgers University Press.

Pearce, Lisa D., and Arland Thornton. 2007. Religious identity and family ideologies in the transition to adulthood. Journal of Marriage and Family 69: 1227–1243.

Planty, Michael, William Hussar, Thomas Snyder, Grace Kena, Angelina KewalRamani, Jana Kemp, Kevin Bianco, and Rachel Dinkes. 2009. The Condition of Education 2009 (NCES 2009-081). Washington, DC: National Center for Education Statistics, Institute of Education Sciences, U.S. Department of Education.

Pudrovska, Tetyana, and Deborah Carr. 2009. Age at first birth and fathers' subsequent health: Evidence from sibling and twin models. American Journal of Men's Health 3: 104–115.

Regnerus, Mark D. 2000. Shaping schooling success: Religious socialization and educational outcomes in metropolitan public schools. Journal for the Scientific Study of Religion 39: 363–370.

Regnerus, Mark D. 2007. Forbidden fruit: Sex and religion in the lives of American teenagers. New York: Oxford.

Regnerus, Mark D., Christian Smith, and Brad Smith. 2004. Social context in the development of adolescent religiosity. Applied Developmental Science 8: 27–38.

Rindfuss, Ronald R., and Craig St. John. 1983. Social determinants of age at first birth. Journal of Marriage and the Family 45: 553–565.

Rose, Susan D. 1988. Keeping them out of the hands of Satan: Evangelical schooling in America. New York: Routledge.

Sherkat, Darren E., and Alfred Darnell. 1999. The effect of parents' fundamentalism on children's educational attainment: Examining differences by gender and children's fundamentalism. Journal for the Scientific Study of Religion 38: 23–25.

Sikkink, David. 1999. The social sources of alienation from public schools. Social Forces 78: 51–86.

Smith, Christian. 2000. Christian America? What evangelicals really want. Berkeley: University of California Press.

Smith, Christian. 2003. Theorizing religious effects among American adolescents. Journal for the Scientific Study of Religion 42: 17–30.

Smith, Christian, and Melinda Lundquist Denton. 2005. Soul searching: The religious and spiritual lives of American teenagers. New York: Oxford University Press.

Steensland, Brian, Jerry Z. Park, Mark D. Regnerus, Lynn D. Robinson, W. Bradford Wilcox, and Robert D. Woodberry. 2000. The measure of American religion: Toward improving the state of the art. Social Forces 79: 291–318.

Teachman, Jay D., Karen A. Polonko, and John Scanzoni. 1986. Family demography: Recent trends and developments in the field. In Handbook of marriage and the family, ed. Marvine D. Sussman, and Suzanne K. Steinmetz, 3–36. New York: Plenum Press.

Thornton, Arland, William G. Axinn, and Yu Xie. 2007. Marriage and cohabitation. Chicago: University of Chicago.

Uecker, Jeremy E. 2008. Alternative schooling strategies and the religious lives of American adolescents. Journal for the Scientific Study of Religion 47: 563–584.

Uecker, Jeremy E. 2009. Catholic schooling, Protestant schooling, and religious commitment in young adulthood. Journal for the Scientific Study of Religion 48: 353–367.

Uecker, Jeremy E., and Charles E. Stokes. 2008. Early marriage in the United States. Journal of Marriage and Family 70: 835–846.

United States Census Bureau. 2011. Estimated median age at first marriage, by sex: 1890 to the present. http://www.census.gov/population/socdemo/hh-fam/ms2.xls. Accessed online 2 Jan 2013.

United States Conference of Catholic Bishops. 2005. Renewing our commitment to Catholic elementary and secondary schools in the third millennium. http://old.usccb.org/bishops/schools.pdf. Accessed online 15 Nov 2013.

Vaidyanathan, Brandon. 2011. Religious resources or differential returns? Early religious socialization and declining attendance in emerging adulthood. Journal for the Scientific Study of Religion 50: 366–387.

Waldfogel, Jane, Terry-Ann Craigie, and Jeanne Brooks-Gunn. 2010. Fragile families and child wellbeing. The Future of Children 20: 87–112.

Wellman, James K., and Matthew Keyes. 2007. Portable politics and durable religion: The moral worldview of American evangelical missionaries. Sociology of Religion 68: 383–406.

Wildeman, Christopher, and Christine Percheski. 2009. Associations of childhood religious attendance, family structure, and nonmarital fertility across cohorts. Journal of Marriage and Family 71: 1294–1308.

Xu, Xiaohe, Clark D. Hudspeth, and John P. Bartkowski. 2005. The timing of first marriage: Are there religious variations? Journal of Family Issues 26: 584–618.

Zhang, Li. 2008. Religious affiliation, religiosity, and male and female fertility. Demographic Research 18: 233–261.
Acknowledgments
The authors would like to thank David Sikkink and Cardus for data access. An earlier version of this paper was presented at the 2012 meeting of the Society for the Scientific Study of Religion.
About this article
Cite this article
Uecker, J.E., Hill, J.P. Religious Schools, Home Schools, and the Timing of First Marriage and First Birth. Rev Relig Res 56, 189–218 (2014). https://doi.org/10.1007/s13644-014-0150-9
Received:

Accepted:

Published:

Issue Date:
Keywords
Religious schools

Home schools

Family formation

Marriage timing

Fertility timing

Religious socialization