Samenvatting
De rol van chirurgie bij de behandeling van patiënten met lymfogeen- gemetastaseerd prostaatcarcinoom is controversieel. Chirurgie zal bij deze patiënten waarschijnlijk geen genezing brengen. Ook met een uitgebreide lymfeklierdissectie is de kans op biochemische progressie zeer groot. Een belangrijke vraag is of het ziektebeloop wordt beïnvloed door resectie van de prostaat, ook als deze resectie niet curatief is. Uit de beschikbare literatuur kan worden afgeleid dat deze invloed er waarschijnlijk wél is, ondanks dat prostaatresectie niet gerandomiseerd is onderzocht. In dit artikel wordt de literatuur over de effecten van radicale prostatectomie bij lymfeklier-gemetastaseerd prostaatcarcinoom op een rij gezet.
Het onderzoek is uitgevoerd als systematische review met studies naar de rol van radicale prostatectomie bij lymfogeen- gemetastaseerd prostaatcarcinoom; daarnaast zijn de studies beoordeeld die sinds 1973 zijn verschenen naar de
Er zijn geen gerandomiseerde studies gevonden die de rol van radicale chirurgie bij het lymfogeen-gemetastaseerd prostaatcarcinoom onderbouwen. De literatuur laat zien dat (1) patiënten met < 2 lymfekliermetastasen een langdurige overleving hebben, (2) patiënten met lymfekliermetastasen na radicale prostatectomie een langere levensverwachting hebben dan patiënten die geen lokale behandeling hebben ondergaan en dat (3) een tijdig ingestelde hormonale behandeling een significante levensverlenging bewerkstelligt, mits de primaire tumor is bestraald of operatief is verwijderd.
Van een radicale prostatectomie kan geen genezing worden verwacht in geval van lymfekliermetastasen. De literatuur suggereert wel een aanzienlijke overlevingswinst, die met name ook wordt behaald door vroegtijdige hormonale therapie aan te bieden na lokale behandeling. Niet alleen na radicale prostatectomie, maar ook na lokale radiotherapie wordt gezien dat langdurige hormonale therapie tot een betere overleving leidt. Tegenover de overlevingswinst die van deze intensieve behandeling mag worden verwacht, staan de bijwerkingen van de ingreep en hormonale therapie. Een keuze voor een bepaalde behandelvorm blijft moeilijk en kan alleen worden bepaald in overleg met een goed geïnformeerde patiënt.
Summary
Management of lymph node metastatic prostate cancer: role for surgery?
The role of surgery in lymph node metastastic prostate cancer is controversial. In the N+ patient surgery cannot be expected to bring a cure. Also following an extended lymph node dissection, biochemical progression will occur in almost all patients. An important question is whether the course of the disease will be influenced by surgical resection of the prostate. There are no randomized studies that have addressed this issue. However, literature suggests this is probably the case. In this article the literature regarding the effects of surgery in lymph node metastatic prostate cancer will be reviewed.
This study includes a systematic review describing studies on the role of radical prostatectomy in lymph node metastatic disease. In addition, review of randomized studies addressing the role of hormonal therapy (castration or LHRH analogs) in various stages of prostate cancer.
There are no randomized studies addressing the effects of radical surgery in lymph node metastatic disease. Literature suggests the following: 1) patients with < 2 positive lymph nodes have a long survival; 2) patients with lymph node metastases who underwent a radical prostatectomy show a longer survival than those in whom no prostatectomy was performed and 3) immediate hormonal therapy impacts on survival provided the primary tumour has been irradiated or surgically removed.
A radical prostatectomy will not lead to cure in the N+ patient. Literature suggests an important survival benefit, which is achieved when a local therapy is combined with immediate hormonal therapy. Both radical prostatectomy and local irradiation are associated with improved survival following immediate hormonal therapy. This intensive treatment has important side-effects, therefore a decision on the type of treatment can only be reached in discussion with an informed patient.
This is a preview of subscription content,
to check access.
Access this article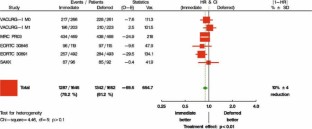 Literatuur
Eiber M, Beer AJ, Holzapfel K, et al. Preliminary results for characterization of pelvic lymph nodes in patients with prostate cancer by diffusion-weighted MR-imaging. Invest Radiol. 2010;45:15–23.

Steuber T, Schlomm T, Heinzer H, et al. F(18)-fluoroethylcholine combined in-line PET-CT scan for detection of lymph-node metastasis in high risk prostate cancer patients prior to radical prostatectomy: Preliminary results from a prospective histologybased study. Eur J Cancer. 2010;46:449–55.

Schumacher MC, Burkhard FC, Thalmann GN, et al. Good outcome for patients with few lymph node metastases after radical retropubic prostatectomy. Eur Urol. 2008;54:344–52.

Weckermann D, Dorn R, Trefz M, et al. Sentinel lymph node dissection for prostate cancer: experience with more than 1,000 patients. J Urol. 2007;177:916–20.

Weckermann D, Dorn R, Holl G, et al. Limitations of radioguided surgery in high-risk prostate cancer. Eur Urol. 2007;51:1549–56; discussion 1556–8.

van der Poel HG, Buckle T, Brouwer OR, et al. Intraoperative laparoscopic fluorescence guidance to the sentinel lymph node in prostate cancer patients: Clinical proof of concept of an integrated functional imaging approach using a multimodal tracer. Eur Urol. 2011.

Palapattu GS, Allaf ME, Trock BJ, et al. Prostate specific antigen progression in men with lymph node metastases following radical prostatectomy: results of long-term followup. J Urol. 2004;172:1860–4.

Daneshmand S, Quek ML, Stein JP, et al. Prognosis of patients with lymph node positive prostate cancer following radical prostatectomy: long-term results. J Urol. 2004;172:2252–5.

Briganti A, Karnes JR, Da Pozzo LF, et al. Two positive nodes represent a significant cut-off value for cancer specific survival in patients with node positive prostate cancer. A new proposal based on a two-institution experience on 703 consecutive N+ patients treated with radical prostatectomy, extended pelvic lymph node dissection and adjuvant therapy. Eur Urol. 2009;55:261–70.

Boormans JL, Wildhagen MF, Bangma CH, et al. Histopathological characteristics of lymph node metastases predict cancer-specific survival in node-positive prostate cancer. BJU Int. 2008.

Fleischmann A, Schobinger S, Schumacher M, et al. Survival in surgically treated, nodal positive prostate cancer patients is predicted by histopathological characteristics of the primary tumor and its lymph node metastases. Prostate. 2009;69:352–62.

Burkhard FC, Schumacher MC, Studer UE. An extended pelvic lymph-node dissection should be performed in most patients if radical prostatectomy is truly indicated. Nat Clin Pract Urol. 2006;3:454–5.

Joslyn SA, Konety BR. Impact of extent of lymphadenectomy on survival after radical prostatectomy for prostate cancer. Urology. 2006;68:121–5.

Lawton CA, Winter K, Grignon D et al. Androgen suppression plus radiation versus radiation alone for patients with stage D1/pathologic node-positive adenocarcinoma of the prostate: updated results based on national prospective randomized trial Radiation Therapy Oncology Group 85-31. J Clin Oncol. 2005;23:800–7.

Messing EM, Manola J, Yao J, et al. Immediate versus deferred androgen deprivation treatment in patients with nodepositive prostate cancer after radical prostatectomy and pelvic lymphadenectomy. Lancet Oncol. 2006;7:472–9.

Schroder FH, Kurth KH, Fossa SD, et al. Early versus delayed endocrine treatment of T2-T3 pN1-3 M0 prostate cancer without local treatment of the primary tumour: final results of European Organisation for the Research and Treatment of Cancer protocol 30846 after 13 years of follow-up (a randomised controlled trial). Eur Urol. 2009;55:14–22.

Verhagen PC, Schroder FH, Collette L, et al. Does local treatment of the prostate in advanced and/or lymph node metastatic disease improve efficacy of androgen-deprivation therapy? A systematic review. Eur Urol. 2010;58:261–9.

Jordan WP Jr, Blackard CE, Byar DP. Reconsideration of orchiectomy in the treatment of advanced prostatic carcinoma. South Med J. 1977;70:1411–3.

Kirk D. Timing and choice of androgen ablation. Prostate Cancer Prostatic Dis. 2004;7:217–22.

Studer UE, Hauri D, Hanselmann S, et al. Immediate versus deferred hormonal treatment for patients with prostate cancer who are not suitable for curative local treatment: results of the randomized trial SAKK 08/88. J Clin Oncol. 2004;22:4109–18.

Studer UE, Whelan P, Albrecht W, et al. Immediate or deferred androgen deprivation for patients with prostate cancer not suitable for local treatment with curative intent: European Organisation for Research and Treatment of Cancer (EORTC) Trial 30891. J Clin Oncol. 2006;24:1868–76.

Bolla M, Collette L, Blank L, et al. Long-term results with immediate androgen suppression and external irradiation in patients with locally advanced prostate cancer (an EORTC study): a phase III randomised trial. Lancet. 2002;360:103–6.

Pilepich MV, Winter K, Lawton CA, et al. Androgen suppression adjuvant to definitive radiotherapy in prostate carcinoma - longterm results of phase III RTOG 85-31. Int J Radiat Oncol Biol Phys. 2005;61:1285–90.

Granfors T, Modig H, Damber JE, et al. Long-term followup of a randomized study of locally advanced prostate cancer treated with combined orchiectomy and external radiotherapy versus radiotherapy alone. J Urol. 2006;176:544–7.

D'Amico AV, Chen MH, Renshaw AA,et al. Androgen suppression and radiation vs radiation alone for prostate cancer: a randomized trial. JAMA. 2008;299:289–95.

Jones CU, Hunt D, McGowan DG, et al. Radiotherapy and shortterm androgen deprivation for localized prostate cancer. N Engl J Med. 2011;365:107–18.

Horwitz EM, Bae K, Hanks GE, et al. Ten-year follow-up of radiation therapy oncology group protocol 92-02: a phase III trial of the duration of elective androgen deprivation in locally advanced prostate cancer. J Clin Oncol. 2008;26:2497–504.

Bolla M, Reijke TM de, Tienhoven G van, et al. Duration of androgen suppression in the treatment of prostate cancer. N Engl J Med. 2009;360:2516–27.

Denham JW, Steigler A, Lamb DS, et al. Short-term androgen deprivation and radiotherapy for locally advanced prostate cancer: results from the Trans-Tasman Radiation Oncology Group 96.01 randomised controlled trial. Lancet Oncol. 2005;6:841–50.

Roach M, 3rd, Bae K, Speight J, et al. Short-term neoadjuvant androgen deprivation therapy and external-beam radiotherapy for locally advanced prostate cancer: long-term results of RTOG 8610. J Clin Oncol. 2008;26:585–91.

Widmark A, Klepp O, Solberg A, et al. Endocrine treatment, with or without radiotherapy, in locally advanced prostate cancer (SPCG-7/SFUO-3): an open randomised phase III trial. Lancet. 2009;373:301–8.

Warde P, Mason M, Ding K, et al. Combined androgen deprivation therapy and radiation therapy for locally advanced prostate cancer: a randomised, phase 3 trial. Lancet. 2011;378:2104–11.

Studer UE, Collette L, Whelan P, et al. Using PSA to guide timing of androgen deprivation in patients with T0-4 N0-2 M0 prostate cancer not suitable for local curative treatment (EORTC 30891). Eur Urol. 2008;53:941–9.

Engel J, Bastian PJ, Baur H, et al. Survival benefit of radical prostatectomy in lymph node-positive patients with prostate cancer. Eur Urol. 2010;57:754–61.
About this article
Cite this article
Verhagen, P.C.M.S., Collette, L. & Bangma, C.H. Management van lymfekliergemetastaseerd prostaatcarcinoom: rol voor chirurgie?. Tijdschrift voor Urologie 2, 29–37 (2012). https://doi.org/10.1007/s13629-012-0008-2
Published:

Issue Date:

DOI: https://doi.org/10.1007/s13629-012-0008-2
Trefwoorden
Keywords