Abstract
The conventional source of medicinal plants is an important way for daily curative uses in rural area throughout Bangladesh. Folk medicinal specialists or Kavirajes, assume an indispensable part in a medicinal services arrangement of both provincial and urban populace of the nation. It is vital to conduct broad meetings of individual Kavirajes of an area to get the overall status of medicinal plants. A survey was accomplished in the rustic territory of Atibazaar, Keraniganj Upazila, Dhaka, Bangladesh. This investigation has uncovered a sum of 38 plants out of which 25 plants were identified, which belongs to 21 families. Whole plants and/or plant parts, like leaves, stems, barks, roots, flowers, fruits, seeds and wood were usually used by Kavirajes for the treatment of different illnesses. Leaves (84%) were the most oftentimes used plant parts, trailed by roots (52%), fruits (16%) stems and barks (16%), entire plants (12%), seeds (12%), blossoms (8%) and wood (4%). Add up to 30 diverse individual illnesses professed to be restored by plant parts including respiratory tract disorders (asthma, cough, whooping cough, bronchitis), fever, gastrointestinal disorders (constipation, diarrhea, abdominal pain, blood dysentery, flatulence), arthritis, pain, headache, irregular menstruation, piles, tooth infections, whitening teeth, diabetes, skin diseases, acne, insect, animals and reptiles bites, urinary tract disorders, inflammation and nervousness. Several uses of the plants could be validated by available literature review. It is expected that other plants used for treatment of various diseases by the Kavirajes can be subjected for further bio-activity and phytochemical studies, which prompts disclosure of new medications.
Access options
Buy single article
Instant access to the full article PDF.
US$ 39.95
Tax calculation will be finalised during checkout.
Subscribe to journal
Immediate online access to all issues from 2019. Subscription will auto renew annually.
US$ 79
Tax calculation will be finalised during checkout.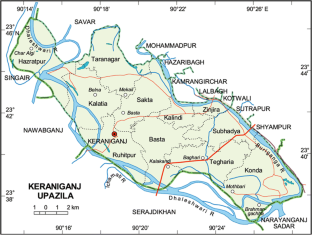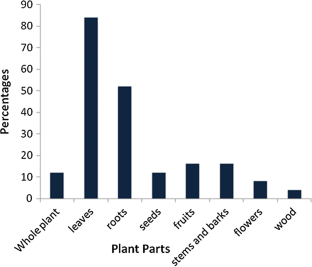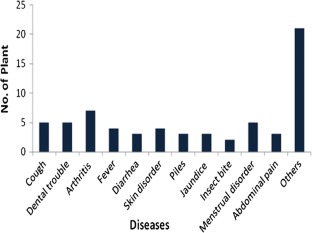 References
Keraniganj Upazila Banglapedia http://en.banglapedia.org/index.php?title=Keraniganj_Upazila. Accessed 28 Aug 2018

Adelaja AA, Ayoola MD, Otulana JO, Akinola OB, Olayiwola A, Ejiwunmi AB (2008) Evaluation of the histo-gastroprotective and antimicrobial activities of Heliotropium indicum Linn (Boraginaceae). Malays J Med Sci 15(3):22–30

Ahmad H, Sehgal S, Mishra A, Gupta R (2012) Mimosa pudica L. (Laajvanti): an overview. Pharmacogn Rev 6(12):115–124. https://doi.org/10.4103/0973-7847.99945

Akter R, Mahabub-Uz-Zaman M, Rahman MS, Khatun MA, Abdullah AM, Ahmed NU, Islam F (2013) Comparative studies on antidiabetic effect with phytochemical screening of Azadirachta indicia and Andrographis paniculata. IOSR J Pharm Biol Sci 5(2):122–128

Alemu MA, Mekonnen HG, Annisa ME (2015) Phytochemical analysis and antibacterial activity on seed and pod extracts of Crotalaria incana. J Pharm Pharmacogn Res 3(4):100–108

Al-Saily HM, Al-Hady FN, Al-Halbosiy MM (2018) The anti-fertility and cytotoxicity effects of cyproterone acetate and phenolic extract of Hibiscusrosa Sinensis linn flowers in male albino rats. Indian J Public Health Res Dev 9(7):177–181. https://doi.org/10.5958/0976-5506.2018.00635.6

Amoo SO, Finnie JF, Van Staden J (2009) In vitro pharmacological evaluation of three Barleria species. J Ethnopharmacol 121(2):274–277. https://doi.org/10.1016/j.jep.2008.10.035

Andallu B, Suryakantham V, Srikanthi BL, Reddy GK (2001) Effect of mulberry (Morus indica L.) therapy on plasma and erythrocyte membrane lipids in patients with type 2 diabetes. Clin Chim Acta 314(1):47–53. https://doi.org/10.1016/S0009-8981(01)00632-5

Arthan D, Svasti J, Kittakoop P, Pittayakhachonwut D, Tanticharoen M, Thebtaranonth Y (2002) Antiviral isoflavonoid sulfate and steroidal glycosides from the fruits of Solanum torvum. Phytochemistry 59(4):459–463. https://doi.org/10.1016/S0031-9422(01)00417-4

Balakrishnan N, Suresh D, Pandian GS, Edwin E, Sheeja E (2006) Antidiarrhoeal potential of Mimosa pudica root extracts. Indian J Nat Prod 22(2):21–23

Biswas A, Haq WM, Akber M, Ferdausi D, Seraj S, Jahan FI, Chowdhury AR, Rahmatullah M (2011) A survey of medicinal plants used by folk medicinal practitioners of Paschim Shawra and Palordi villages of Gaurnadi Upazila in Barisal District, Bangladesh. Am-Eurasian J Sustain Agric 5(1):15–22

Bum EN, Dawack DL, Schmutz M, Rakotonirina A, Rakotonirina SV, Portet C, Jeker A, Olpe HR, Herrling P (2004) Anticonvulsant activity of Mimosa pudica decoction. Fitoterapia 75(3–4):309–314

Chah KF, Muko KN, Oboegbulem SI (2000) Antimicrobial activity of methanolic extract of Solanum torvum fruit. Fitoterapia 71(2):187–189. https://doi.org/10.1016/S0367-326X(99)00139-2

Chanda S, Sarethy IP, De B, Singh K (2013) Paederia foetida—a promising ethno-medicinal tribal plant of northeastern India. J For Res 24(4):801–808. https://doi.org/10.1007/s11676-013-0369-2

Chanda S, Deb L, Tiwari RK, Singh K, Ahmad S (2015) Gastroprotective mechanism of Paederia foetida. Linn (Rubiaceae)–a popular edible plant used by the tribal community of North–East India. BMC Complement Alternat Med 15(1):304. https://doi.org/10.1186/s12906-015-0831-0

Chew AL, Jessica JJ, Sasidharan S (2012) Antioxidant and antibacterial activity of different parts of Leucas aspera. Asian Pac J Trop Biomed 2(3):176–180. https://doi.org/10.1016/S2221-1691(12)60037-9

Cotton CM, Wilkie P (1996) Ethnobotany: principles and applications. Wiley, New York

Dahanukar SA, Kulkarni RA, Rege NN (2000) Pharmacology of medicinal plants and natural products. Indian J Pharmacol 32(4):S81–S118

Dash GK, Murthy PN (2011) Studies on wound healing activity of Heliotropium indicum Linn. leaves on rats. ISRN Pharmacol 2011:1–8. https://doi.org/10.5402/2011/847980

Dey A, De JN (2011) Ethnobotanical aspects of Rauvolfia serpentina (L). Benth. ex Kurz. in India, Nepal and Bangladesh. J Med Plant Res 5(2):144–150

Dulla O, Jahan FI (2017) Ethnopharmacological survey on traditional medicinal plants at Kalaroa Upazila, Satkhira District, Khulna Division, Bangladesh. J Intercult Ethnopharmacol 6(3):316–325. https://doi.org/10.5455/jice.20170719010256

Elumalai K, Velmurugan S (2015) Green synthesis, characterization and antimicrobial activities of zinc oxide nanoparticles from the leaf extract of Azadirachta indica (L.). Appl Surf Sci 345:329–336. https://doi.org/10.1016/j.apsusc.2015.03.176

Haque MA, Bari L, Hasan MM, Sultana MM, Reza SA (2014) A survey on medicinal plants used by the folk medicinal practitioners in Tangail Sadar Upazila, Tangail, Bangladesh. J Environ Sci Nat Resour 7(1):35–39. https://doi.org/10.3329/jesnr.v7i1.22141

Ikawati Z, Wahyuono S, Maeyama K (2001) Screening of several Indonesian medicinal plants for their inhibitory effect on histamine release from RBL-2H3 cells. J Ethnopharmacol 75(2):249–256. https://doi.org/10.1016/S0378-8741(01)00201-X

Ikram M, Khattak SG, Gilani SN (1987) Antipyretic studies on some indigenous Pakistani medicinal plants: II. J Ethnopharmacol 19(2):185–192. https://doi.org/10.1016/0378-8741(87)90040-7

Islam MT, Rahman AM (2018) Folk medicinal plants used by the Santal tribal practitioners against diarrhea and dysentery in Tanore Upazila of Rajshahi District, Bangladesh. Indian J Pharmacol 5(6):360–363

Kashiwada Y, Aoshima A, Ikeshiro Y, Chen YP, Furukawa H, Itoigawa M, Fujioka T, Mihashi K, Cosentino LM, Morris-Natschke SL, Lee KH (2005) Anti-HIV benzylisoquinoline alkaloids and flavonoids from the leaves of Nelumbo nucifera, and structure—activity correlations with related alkaloids. Bioorg Med Chem 13(2):443–448. https://doi.org/10.1016/j.bmc.2004.10.020

Khan ZA, Naqvi SA, Mukhtar A, Hussain Z, Shahzad SA, Mansha A, Ahmad M, Zahoor AF, Bukhari IH, Janjua MR, Mahmood N (2014) Antioxidant and antibacterial activities of Hibiscus Rosasinensis Linn flower extracts. Pak J Pharm Sci 27(3):469–474

Kumar V, Al-Abbasi FA, Ahmed D, Verma A, Mujeeb M, Anwar F (2015) Paederia foetida Linn inhibits adjuvant induced arthritis by suppression of PGE 2 and COX-2 expression via nuclear factor-κB. Food Funct 6(5):1652–1666

Liu Z, Wu HL, Li Y, Gu HW, Yin XL, Xie LX, Yu RQ (2016) Rapid and simultaneous determination of five vinca alkaloids in Catharanthus roseus and human serum using trilinear component modeling of liquid chromatography–diode array detection dataJ. Chromatogr B Analyt Technol Biomed Life Sci 1026:114–123. https://doi.org/10.1016/j.jchromb.2015.08.008

Modak M, Dixit P, Londhe J, Ghaskadbi S, Devasagayam TPA (2007) Indian herbs and herbal drugs used for the treatment of diabetes. J Clin Biochem Nutr 40(3):163–173. https://doi.org/10.3164/jcbn.40.163

Moniruzzaman M, Rahman A, Ferdous A (2015) Evaluation of sedative and hypnotic activity of ethanolic extract of Scoparia dulcis Linn. Evid Based Complement Alternat Med. https://doi.org/10.1155/2015/873954

Mukherjee PK, Verpoorte R (2003) GMP for botanicals: regulatory and quality issues on phytomedicines. Business Horizons, New Delhi, pp 99–112

Naik AD, Juvekar AR (2003) Effects of alkaloidal extract of Phyllanthus niruri on HIV replication. Indian J Med Sci 57(9):387–393

Nammi S, Boini MK, Lodagala SD, Behara RB (2003) The juice of fresh leaves of Catharanthus roseus Linn. reduces blood glucose in normal and alloxan diabetic rabbits. BMC Complement Altern Med 3(1):1–4. https://doi.org/10.1186/1472-6882-3-4

Natarajan V, Venugopal PV, Menon T (2003) Effect of Azadirachta indica (neem) on the growth pattern of dermatophytes. Indian J Med Microbiol 21:98–101

Ohkoshi E, Miyazaki H, Shindo K, Watanabe H, Yoshida A, Yajima H (2007) Constituents from the leaves of Nelumbo nucifera stimulate lipolysis in the white adipose tissue of mice. Planta Med 73(12):1255–1259. https://doi.org/10.1055/s-2007-990223

Pandey G, Gupta SS, Bhatia A, Sidhu OP, Rawat AKS, Rao CV (2017) Grilling enhances antidiarrheal activity of Terminalia bellerica Roxb. fruits. J Ethnopharmacol 202:63–66. https://doi.org/10.1016/j.jep.2016.12.003

Parinitha M, Harish GU, Vivek NC, Mahesh T, Shivanna MB (2004) Ethno-botanical wealth of Bhadra wild life sanctuary in Karnataka. Indian J Tradit Know 3(1):37–50

Phani Kumar K, Annapurna A, Ramya G, Sheba D (2014) Gastroprotective effect of flower extracts of Hibiscus rosa sinensis against acute gastric lesion models in rodents. J Pharmacogn Phytochem 3(3):137–145

Keraniganj upazila. Planning and implementation: cabinet division. http://keraniganj.dhaka.gov.bd/site/page/249deab5-2013-11e7-8f57-286ed488c766/এক%20নজরে%20কেরাণীগঞ্জ%20উপজেলা. Accessed 27 Aug 2018

Rahmatullah M, Azam MN, Rahman MM, Seraj S, Mahal MJ, Mou SM, Nasrin D, Khatun Z, Islam F, Chowdhury MH (2011) A survey of medicinal plants used by Garo and non-Garo traditional medicinal practitioners in two villages of Tangail district, Bangladesh. Am-Eurasian J Sustain Agric 5:350–357

Rahmatullah M, Azam NK, Khatun Z, Seraj S, Islam F, Rahman A, Jahan S, Aziz S (2012) Medicinal plants used for treatment of diabetes by the Marakh sect of the Garo tribe living in Mymensingh district, Bangladesh. Afr J Tradit Complement Altern Med 9(3):380–385

Rai MK, Varma A, Pandey AK (2004) Antifungal potential of Spilanthes calva after inoculation of Piriformospora indica. Mycoses 47(11–12):479–481. https://doi.org/10.1111/j.1439-0507.2004.01045.x

Rogo K (2004) Traditional medicine and sustainable development. In: Proceedings of the workshop on traditional medicine and sustainable development, Nairobi, Kenya

Roy A (2015) Pharmacological activities of Indian Heliotrope (Heliotropium indicum L.): a review. J Pharmacogn Phytochem 4(3):101–104

Saeheng S, Wongnawa M, Purintavaragul C (2012) Chemical constituents and antioxidant activity of Borussus flabellifer, Elaeis guineensis, Mimosa diplotricha and Mimosa pigra. Med Chem Drug Discov 3(1):52–57

Salvamani S, Gunasekaran B, Shukor MY, Shaharuddin NA, Sabullah MK, Ahmad SA (2016) Anti-HMG-CoA reductase, antioxidant, and anti-inflammatory activities of Amaranthus viridis leaf extract as a potential treatment for hypercholesterolemia. Evid Based Complement Altern Med 2016:10. https://doi.org/10.1155/2016/8090841

Saneja A, Kaushik P, Kaushik D, Kumar S, Kumar D (2009) Antioxidant, analgesic and anti-inflammatory activities of Santalum album Linn. Planta Med 75(04):102. https://doi.org/10.1055/s-2009-1216540

Sangameswaran B, Jayakar B (2008) Anti-diabetic, anti-hyperlipidemic and spermatogenic effects of Amaranthus spinosus. Linn on streptozotocin-induced diabetic rats. J Nat Med 62(1):79–82. https://doi.org/10.1007/s11418-007-0189-9

Subapriya R, Nagini S (2005) Medicinal properties of neem leaves: a review. Curr Med Chem Anticancer Agents 5(2):149–156. https://doi.org/10.2174/1568011053174828

Venkateswaran PS, Millman I, Blumberg BS (1987) Effects of an extract from Phyllanthus niruri on hepatitis B and woodchuck hepatitis viruses: in vitro and in vivo studies. Proc Natl Acad Sci 84(1):274–278. https://doi.org/10.1073/pnas.84.1.274
Acknowledgments
The authors acknowledge the involvement of all the traditional medicine practitioners and indigenous people for providing related data about medicinal plants and their practices. The authors also express appreciation to all the government and non-government authorities for their help and the administrative facilities during the survey.
Ethics declarations
Conflict of interest
The authors declare that there is no conflict of interests regarding the publication of this paper.
Additional information
Publisher's Note
Springer Nature remains neutral with regard to jurisdictional claims in published maps and institutional affiliations.
Electronic supplementary material
Below is the link to the electronic supplementary material.
About this article
Cite this article
Jahan, F.I., Sultana, S., Brishti, S.A. et al. Ethnopharmacological survey on traditional medicinal plants at Keraniganj, Dhaka, Bangladesh. Orient Pharm Exp Med 19, 331–339 (2019). https://doi.org/10.1007/s13596-019-00362-4
Received:

Accepted:

Published:

Issue Date:
Keywords
Ethno-medicinal study

Kavirajes

Medicinal plants

Ailments

Atibazaar