Abstract
Elevated level of uric acid in the blood is recognized to increase the risk of developing cardiovascular diseases and other metabolic disorder including kidney stone. This research was aimed to investigate whether supplementation of parsley can attenuate the increases in serum uric acid, the decreases in total antioxidant status, and the structures damages of liver and kidney in oxonate-induced hyperuricemic rats. Basically, 36 male rats were randomly divided into six groups. The rats were injected with potassium oxonate intraperitoneally at day 1, 3 and 7 to induce hyperuricemic in rats. The treatment with three dosages of parsley (3.5 g/kg/day, 7.0 g/kg/day and 10.5 g/kg/day) was started at day 8 until day 14. The results showed that there was significant reduction of serum uric acid level in all hyperuricemic groups after the treatment. The highest reduction was seen at dose of 7.0 g/kg/day parsley, followed by 3.5 g/kg/day parsley and 10.5 g/kg/day parsley, respectively. There was no significant difference in total antioxidant status in all the treatment and control groups. Liver lesion scores were reduced in rats fed with the three dosages of parsley while kidney lesion was reduced only in rats fed with 7.0 g/kg/day parsley. In conclusion, the present study demonstrates the potential of parsley in reducing the elevated level of uric acid as well as improving renal and hepatic damages caused by hyperuricemia.
This is a preview of subscription content, log in to check access.
Access options
Buy single article
Instant access to the full article PDF.
US$ 39.95
Price includes VAT for USA
Subscribe to journal
Immediate online access to all issues from 2019. Subscription will auto renew annually.
US$ 99
This is the net price. Taxes to be calculated in checkout.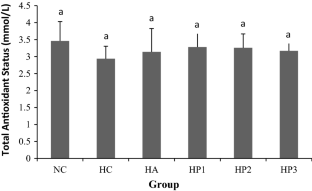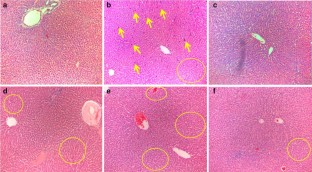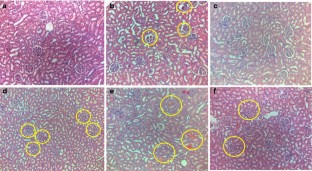 References
Abeles AM (2015) Hyperuricemia, gout, and cardiovascular disease: an update. Curr Rheumatol Rep 17(3):1–5

Afzali A, Weiss NS, Boyko EJ, Ioannou GN (2010) Association between serum uric acid level and chronic liver disease in the United States. Hepatology 52(2):578–589

Batool S, Ahmed I, Sarwar M (2012) Relationship of uric acid with superoxide dismutase (SOD) in induced hyperuricemic rat model. Pharmacol Pharm 3(4):404–408

Batts KP, Ludwig J (1995) Chronic hepatitis. An update on terminology and reporting. Am J Surg Pathol 19(12):1409–1417

Bhagwat S, Haytowitz DB, Holden JM (2013) USDA database for the flavonoid content of selected foods release 3. US Deparment of Agriculture, ARS. https://www.ars.usda.gov/northeast-area/beltsville-md-bhnrc/beltsville-human-nutrition-research-center/nutrient-data-laboratory/docs/usda-database-for-the-flavonoid-content-of-selected-foods-release-31-december-2013/. Accessed 5 Oct 2017

Billiet L, Doaty S, Katz JD, Velasquez MT (2014) Review of hyperuricemia as new marker for metabolic syndrome. ISRN Rheumatol 2014:1–7

Bolkent S, Yanardag R, Ozsoy-Sacan O, Karabulut-Bulan O (2004) Effects of parsley (Petroselinum crispum) on the liver of diabetic rats: a morphological and biochemical study. Phytother Res 18(12):996–999

Choi HK (2010) A prescription for lifestyle change in patients with hyperuricemia and gout. Curr Opin Rheumatol 22(2):165–172

Choi HK, Atkinson K, Karlson EW, Willett W, Curhan G (2004) Alcohol intake and risk of incident gout in men: a prospective study. Lancet 363(9417):1277–1281

Choi HK, Atkinson K, Karlson EW, Curhan G (2005) Obesity, weight change, hypertension, diuretic use, and risk of gout in men: the health professionals follow-up study. Arch Intern Med 165(7):742–748

Corry DB, Eslami P, Yamamoto K, Nyby MD, Makino H, Tuck ML (2008) Uric acid stimulates vascular smooth muscle cell proliferation and oxidative stress via the vascular renin–angiotensin system. J Hypertens 26(2):269–275

Derbre F, Ferrando B, Gomez-Cabrera MC, Sanchis-Gomar F, Martinez-Bello VE, Olaso-Gonzalez G, Viña J (2012) Inhibition of xanthine oxidase by allopurinol prevents skeletal muscle atrophy: role of p38 MAPKinase and E3 ubiquitin ligases. PLoS ONE 7(10):e46668

Ding XQ, Pan Y, Wang X, Ma YX, Kong LD (2013) Wuling San ameliorates urate under-excretion and renal dysfunction in hyperuricemic mice. Chin J Nat Med 11(3):214–221

El-Rahman HS, Abd-Elhak NA (2015) Xanthine oxidase inhibitory activity and antigout of celery leek parsley and molokhia. Adv Biochem 3:40–50

Farquharson CA, Butler R, Hill A, Belch JJ, Struthers AD (2002) Allopurinol improves endothelial dysfunction in chronic heart failure. Circulation 106(2):221–226

Farzaei MH, Abbasabadi Z, Ardekani MRS, Rahimi R, Farzaei F (2013) Parsley: a review of ethnopharmacology, phytochemistry and biological activities. J Tradit Chin Med 33(6):815–826

Feig DI, Mazzali M, Kang DH, Nakagawa T, Price K, Kannelis J, Johnson RJ (2006) Serum uric acid: a risk factor and a target for treatment? J Am Soc Nephrol 17(4):S69–S73

Goicoechea M, de Vinuesa SG, Verdalles U, Ruiz-Caro C, Ampuero J, Rincón V, Arroyo D, Luño J (2010) Effect of allopurinol in chronic kidney disease progression and cardiovascular risk. Clin J Am Soc Nephrol 5(8):1388–1393

Haidari F, Rashidi MR, Keshavarz SA, Mahboob SA, Eshraghian MR, Shahi MM (2008) Effects of onion on serum uric acid levels and hepatic xanthine dehydrogenase/xanthine oxidase activities in hyperuricemic rats. Pak J Biol Sci 11(14):1779

Haidari F, Keshavarz A, Rashidi R, Shahi M (2009) Orange juice and hesperetin supplementation to hyperuricemic rats alter oxidative stress markers and xanthine oxidoreductase activity. J Clin Biochem Nutr 45(3):285–291

Haidari F, Keshavarz SA, Shahi MM, Mahboob S-A, Rashidi M-R (2011) Effects of Parsley (Petroselinum crispum) and its flavonol constituents, kaempferol and quercetin, on serum uric acid levels, biomarkers of oxidative stress and liver xanthine oxidoreductase aactivity in oxonate-induced hyperuricemic rats. Iran J Pharm Res 10(4):811

Hempel J, Pforte H, Raab B, Engst W, Böhm H, Jacobasch G (1999) Flavonols and flavones of parsley cell suspension culture change the antioxidative capacity of plasma in rats. Nahrung-Food 43(3):201–204

Hertog MGL, Hollman PCH, Katan MB (1992) Content of potentially anticarcinogenic flavonoids of 28 vegetables and 9 fruits commonly consumed in the Netherlands. J Agric Food Chem 40:2379–2383

Huang J, Wang S, Zhu M, Chen J, Zhu X (2011) Effects of genistein, apigenin, quercetin, rutin and astilbin on serum uric acid levels and xanthine oxidase activities in normal and hyperuricemic mice. Food Chem Toxicol 49(9):1943–1947

Jacob RA, Spinozzi GM, Simon VA, Kelley DS, Prior RL, Hess-Pierce B, Kader AA (2003) Consumption of cherries lowers plasma urate in healthy women. J Nutr 133(6):1826–1829

Jassim AM (2013) Protective effect of Petroselinum crispum (parsley) extract on histopathological changes in liver, kidney and pancreas induced by sodium valproate-in male rats. Kufa J Vet Med Sci 4(1):20–27

Kreydiyyeh SI, Usta J (2002) Diuretic effect and mechanism of action of parsley. J Ethnopharmacol 79(3):353–357

Kutzing MK, Firestein BL (2008) Altered uric acid levels and disease states. J Pharmacol Exp Ther 324(1):1–7

Lee YW, Lee MS (2006) Synergistic protective effect of ischemic preconditioning and allopurinol on ischemia/reperfusion injury in rat liver. Biochem Biophys Res Commun 349:1087–1093

Lin CM, Chen CS, Chen CT, Liang YC, Lin JK (2002) Molecular modeling of flavonoids that inhibits xanthine oxidase. Biochem Biophys Res Commun 294(1):167–172

Mafuvadze B, Benakanakere I, Pérez FRL, Besch-Williford C, Ellersieck MR, Hyder SM (2011) Apigenin prevents development of medroxyprogesterone acetate-accelerated 7, 12-dimethylbenz (a) anthracene-induced mammary tumors in Sprague-Dawley rats. Cancer Prev Res 4(8):1316–1324

Mahmoud ON, Al-Qahiz NM, Ismail MS (2013) Different doses of Arabic coffee improve serum lipid profile, uric acid and liver enzymes of experimental rats. Food Public Health 3(4):228–233

Marín I, Sayas-Barberá E, Viuda-Martos M, Navarro C, Sendra E (2016) Chemical composition, antioxidant and antimicrobial activity of essential oils from organic fennel, parsley, and lavender from Spain. Foods 5(1):18

Mazzali M, Hughes J, Kim Y-GJ, Jefferson A, Kang D-H, Gordon KL, Lan HY, Kivlighn S, Johnson RJ (2001) Elevated uric acid increases blood pressure in the rat by a novel crystal-independent mechanism. Hypertension 38(5):1101–1106

Mo S-F, Zhou F, Lu Y-Z, Hu Q-H, Zhang D-M, Kong L-D (2007) Hypouricemic action of selected flavonoids in mice: structure-activity relationships. Bio Pharm Bull 30(8):1551–1556

Nagao A, Seki M, Kobayashi H (1999) Inhibition of xanthine oxidase by flavonoids. Biosci Biotechnol Biochem 63(10):1787–1790

Nakagawa T, Mazzali M, Kang DH, Sanchez-Lozada LG, Herrera-Acosta J, Johnson RJ (2005) Uric acid—a uremic toxin? Blood Purif 24(1):67–70

Peglow S, Toledo AH, Anaya-Prado R, Lopez-Neblina F, Toledo-Pereyra LH (2011) Allopurinol and xanthine oxidase inhibition in liver ischemia reperfusion. J Hepato Biliary Pancreat Sci 18(2):137–146

Petta S, Camma C, Cabibi D, Di Marco V, Craxi A (2011) Hyperuricemia is associated with histological liver damage in patients with non-alcoholic fatty liver disease. Aliment Pharmacol Ther 34(7):757–766

Rashwan NM (2012) Biological study on the effect of arginine and parsley on renal toxicity in rats. World J Med Sci 7(4):264–269

Rees F, Hui M, Doherty M (2014) Optimizing current treatment of gout. Nat Rev Rheumatol 10(5):271–283

Sakhaee K, Maalouf NM, Sinnott B (2012) Kidney stones 2012: pathogenesis, diagnosis, and management. J Clin Endocrinol Metab 97(6):1847–1860

Salem CB, Slim R, Fathallah N, Hmouda H (2016) Drug-induced hyperuricaemia and gout. Rheumatology 293:679–688

Sarvaiya VN, Sadariya KA, Pancha PG, Thaker AM, Patel AC, Prajapati AS (2015) Evaluation of antigout activity of Phyllanthus emblica fruit extracts on potassium oxonate-induced gout rat model. Vet World 8(10):1230

Sautin YY, Johnson RJ (2008) Uric acid: the oxidant-antioxidant paradox. Nucleosides Nucleotides Nucleic Acids 27(6–7):608–619

Sharma GN, Gupta G, Sharma P (2018) A comprehensive review of free radicals, antioxidants, and their relationship with human ailments. Crit Rev Eukar Gene 28(2):139–154

Shi YC, Lin KS, Jhai YF, Lee BH, Han Y, Cui Z, Wu SC et al (2016) Miracle fruit (Synsepalum dulcificum) exhibits as a novel anti-hyperuricaemia agent. Molecules 21(2):140

So A, Thorens B (2010) Uric acid transport and disease. J Clin Invest 120(6):1791–1799

Spahr L, Bresson-Hadni SP, Amann IK, Golaz OJ, Frossard L, Hadengue A (2007) Allopurinol, oxidative stress and intestinal permeability in patients with cirrhosis: an open-label pilot study. Liver Int 27(1):54–60

Stevens A, Lowe JS, Young B, Wheater PR (2002) Wheater's basic histopathology: a colour atlas and text. Churchill Livingstone Elsevier, London

Willgoss DA, Zhang B, Gobé GC, Endre ZH (2003) Repetitive brief ischemia: intermittent reperfusion during ischemia ameliorates the extent of injury in the perfused kidney. Ren Fail 25(3):379–395

Wong PY, Kitts DD (2006) Studies on the dual antioxidant and antibacterial properties of parsley (Petroselinum crispum) and cilantro (Coriandrum sativum) extracts. Food Chem 97(3):505–515

Yiying K, Yongfang L, Husai M, Wangyu L, Ruilian L, Zhancui D (2016) Uric acid lowering effect of Tibetan Medicine RuPeng15 powder in animal models of hyperuricemia. J Tradit Chin Med 36(2):205–210

Zhu JX, Wang LD, Kong C, Zhang X (2004) Effects of Biota orientalis extract and its flavonoid constituents, quercetin and rutin on serum uric acid levels in oxonate-induced mice and xanthine dehydrogenase and xanthine oxidase activities in mouse liver. J Ethnopharmacol 93(1):133–140

Zhu Y, Pandya BJ, Choi HK (2011) Prevalence of gout and hyperuricemia in the US general population: the National Health and Nutrition Examination Survey 2007–2008. Arthritis Rheum 63(10):3136–3314
Acknowledgements
The authors thanks to Universiti Putra Malaysia for providing grants and facilities to conduct the research.
Ethics declarations
Ethical statement
All experimental protocols were approved by the Institutional Animal Care and Use Committee (IACUC), Universiti Putra Malaysia, Selangor, Malaysia. The IRB number is FPSK/FYP/2013/R068.
Conflict of interest
This manuscript described has not been published before; not under consideration for publication anywhere else; and has been approved by all co-authors.
About this article
Cite this article
Rahmat, A., Ahmad, N.S.S. & Ramli, N.S. Parsley (Petroselinum crispum) supplementation attenuates serum uric acid level and improves liver and kidney structures in oxonate-induced hyperuricemic rats. Orient Pharm Exp Med 19, 393–401 (2019). https://doi.org/10.1007/s13596-018-0353-7
Received:

Accepted:

Published:

Issue Date:
Keywords
Antioxidant

Uric acid

Liver

Kidney

Hyperuricemic rats