Abstract
Pomegranate (Punica granatum Linn), has been widely used in India's ancient Ayurveda system of traditional medicine which is commonly portrayed as a constituent in remedies. The present study was aimed to investigate the anticancer activity of the aqueous extract of P. granatum fruits (PGET) against ehrlich-ascites-carcinoma (EAC)-bearing Swiss albino mice. The PGET were administered to EAC bearing mice at the doses of 100, 200 and 400 mg/kg body weight (BW) intraperitonially for 14 successive days and 24 h of last dose and 18 h of fasting, the mice were sacrificed and the anticancer effect of PGET was appraised by evaluating tumor volume, viable, nonviable tumor cell count, tumor weight, hematological, biochemical parameters and histopathological changes of EAC mice. PGET showed momentous decrease in tumor volume, viable cell count, tumor weight and elevated the life span of EAC bearing mice. Hematological profile such as RBC, hemoglobin and lymphocyte count reverted to normal level in PGET treated mice. The extract at 400 mg/kg BW showed a noteworthy reduction in the level of lipid peroxidation and considerably increased the levels of antioxidant enzymes in the liver and observed significant restoration of histopathological changes in experimental animals. Hence, the current study revealed that the PGET was efficient in inhibiting the tumor growth in ascitic models and that is comparable to 5-Fluorouracil. The anticancer properties of P. granatum could be due to the presence of the various phytoconstituents in it.
Access options
Buy single article
Instant access to the full article PDF.
USD 39.95
Price excludes VAT (USA)
Tax calculation will be finalised during checkout.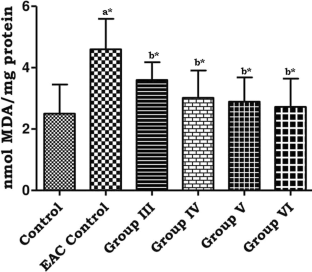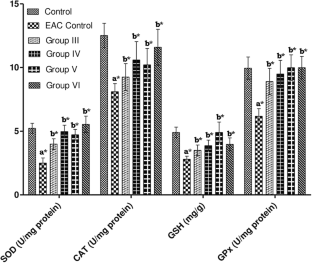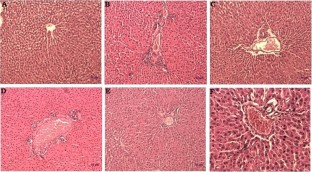 References
Aebi H (1984) Catalase in vitro. Methods Enzymol 105:121–126

Aviram M, Rosenblat M, Gaitini D, Nitecki S, Hoffman A, Dornfeld L (2004) Pomegranate juice consumption for 3 years by patients with carotid artery stenosis reduces common carotid intima-media thickness, blood pressure and LDL oxidation. Clin Nutr 23:423–433

Aziz MH, Kumae R, Ahmad N (2003) Cancer chemoprevention by resveratrol: in vitro and in vivo studies and the underlying mechanisms (review). Int J Oncol 23:17–28

Badr OT, Edress MM, Abdallah AM (2011) Anti tumour effect of egyptian propolis on ehrlich ascites carcinoma. Vet Ital 47:341–350

Beutler E, Kelly BM (1963) The effect of sodium nitrate on RBC glutathione. Experientia 19:96–97

Braga LC, Shupp JW, Cummings C, Jett M, Takahashi JA, Carmo LS (2005) Pomegranate extract inhibits Staphylococcus aureus growth and subsequent enterotoxin production. J Ethnopharmacol 96:335–339

Brahmanaidu P, Uddandrao VVS, Pothani S, Naik RR, Begum MS, Saravanan G et al (2016) Effects of S-allylcysteine on biomarkers of polyol pathway in experimental type II diabetes in rats. Can J Diab 40:442–448

Brahmanaidu P, Uddandrao VVS, Sasikumar V, Naik RR, Saravanan G et al (2017) Reversal of endothelial dysfunction in aorta of streptozotocinnicotinamide-induced type-2 diabetic rats by S-Allylcysteine. Mol Cell Biochem 432:25–32

Casado A, Torre R, Lopez-Fernandez M, Carrascosa D, Casado M, Ramirez M (1995) Superoxide dismutase and catalase blood levels in patients with malignant diseases. Cancer Lett 93:187–192

Ewis SA, Abdel-Rahman MS (1995) Effect of metformin on glutathione and magnesium in normal and streptozotocin-induced diabetic rats. J Appl Toxicol 15:387–390

Ferguson PJ, Kurowska E, Freeman DJ, Chambers AF, Koropatnick DJ (2004) A flavonoid fraction from cranberry extract inhibits proliferation of human tumor cell lines. J Nutr 134:1529–1535

Fraga CG, Leibouitz BE, Toppel AL (1988) Lipid peroxidation measured as TBARS in tissue slices: characterization and comparison with homogenates and microsomes. Free Radic Biol Med 4:155–161

Gupta M, Mazumder UK, Kumar RS, Sivakumar T, Vamsi MLM (2004) Antitumor activity and ntioxidant status of Caesalpinia bonducella against Ehrlich ascites carcinoma in Swiss albino mice. J Pharmacol Sci 94:177–184

Haldar PK, Kar B, Bala A, Bhattacharya S, Mazumder UK (2010) Antitumor activity of Sansevieria roxburghiana rhizome against Ehrlich ascites carcinoma in mice. Pharm Biol 48:1337–1343

Hogland HC (1982) Hematological complications of cancer chemotherapy. Semin Oncol 9:95–102

Jahan S, Chaudhary R, Goya PK (2009) Anticancer activity of an indian medicinal plant, alstonia scholaris, on skin carcinogenesis in mice. Integr Cancer Ther 8:273–279

Kakkar B, Das P, Viswanathan N (1984) Amodified spectrophotometric assay of SOD. Indian J Biochem Biophys 21:130–132

Man S, Gao W, Zhang Y, Huang L, Liu C (2010) Chemical study and medical applications of saponins as anticancer agents. Fitoterapia 81:703–714

Maseki M, Nishiagaki I, Hagishara M, Tamoda Y, Yagi K (1981) Lipid peroxidation levels and lipid content of serum lipoprotein fractions of pregnant subjects with or without pre-eclampsia. Clin Chim Acta 41:424–426

Motaa AA, Shaker S (2011) Anticancer and antioxidant activities of standardized whole fruit, pulp, and peel extracts of egyptian pomegranate. Open Conf Proc J 2:41–45

Mukherjee AK, Basu S, Sarkar N, Ghosh AC (2001) Advances in cancer therapy with plant based natural products. Curr Med Chem 8:1467–1486

Nair V, Dai Z, Maruf Khan P, Ciolino H (2011) Pomegranate extract induces cell cycle arrest and alters cellular phenotype of human pancreatic cancer cells. Anticancer Res 31:2699–2704

Neilson F, Mikkelson BB, Nielsen JB, Andersen HR, Grandjean P (1997) Plasma malondialdehyde as biomarker for oxidative stress, reference interval and effects of life-style factors. Clin Chem 47:1209–1214

Paglia D, Valentine W (1967) Studies on the quantitative and qualitative characterization of erythrocyte glutathione peroxidase. J Lab Clin Med 70:158–169

Pahl H, Baeuerle P (1994) Oxygen and the control of gene expression. Bio-Essays 16:497–502

Pal S, Ray MR, Maity P (1993) Tumor inhibition and hematopoietic stimulation in mice by a synthetic copper-ATP complex. Anticancer Drugs 4:505–510

Parmar HS, Kar A (2008) Medicinal values of fruit peels from Citrus sinensis, Punica granatum and Musa paradisiaca with respect to alterations in tissue lipid peroxidation and serum concentration of glucose, insulin and thyroid hormones. J Med Food 11:376–381

Rajeshwar Y, Gupta M, Mazumder UK (2005) Antitumor activity and in vivo antioxidant status of Mucuna pruriens (Fabaceae) seeds against Ehrlich ascites carcinoma in Swiss albino mice. Iranian J Pharmaco Ther 4:46–53

Ruby AJ, Kuttan G, Babu KD, Rajasekharan KN, Kuttan R (1995) Antitumor and antioxidant activity of natural curcuminoids. Cancer Lett 94:783–789

Segura JA, Barbero LG, Marquez J (2000) Ehrlich ascites tumor unbalances splenic cell population and reduces responsiveness of T cells to Staphylococcus aureus enterotoxin B stimulation. Immunol Lett 74:111–115

Sharma R, Singhal S, Srivastava S, Bajpai K, Frankel E, Awasthi S (1993) Glutathione and glutathione linked enzymes in human small lung cancer cell lines. Cancer Lett 75:111–119

Shimizu M, Azuma C, Taniguchi T, Murayama T (2004) Expression of cytosolic phospholipase A2a in murine C12 cells, a variant of L929 cells, induces arachidonic acid release in response to phorbol myristate acetate and Ca2++ ionophores, but not to tumor necrosis factor-a. J Pharmacol Sci 96:324–332

Uddandrao VVS, Brahmanaidu P, Meriga B, Saravanan G (2016) The potential role of S-allylcysteine as antioxidant against various disorders in animal models. Oxid Antioxid Med Sci 5:79–86

Uddandrao VVS, Brahmanaidu P, Saravanan G (2017) Therapeutical perspectives of S-allylcysteine: effect on diabetes and other disorders in animal models. Cardiovasc Hematol Agents Med Chem 15:71–77

Uddandrao VVS, Brahmanaidu P, Nivedha PR, Vadivukkarasi S, Saravanan G (2018a) Beneficial role of some natural products to attenuate the diabetic cardiomyopathy through Nrf2 pathway in cell culture and animal models. Cardiovasc Toxicol 18:199–205

Uddandrao VVS, Brahmanaidu P, Ravindarnaik R, Suresh P, Vadivukkarasi S, Saravanan S (2018b) Restorative potentiality of S-allylcysteine against diabetic nephropathy through attenuation of oxidative stress and inflammation in streptozotocin-nicotinamide induced diabetic rats. Eur J Nutr 1:1–2. https://doi.org/10.1007/s00394-018-1795-x

Yellin S, Davidson B, Pinto J, Sacks P, Qiao C, Schantz S (1994) Relationship of glutathione and glutathione-S-transferase to cisplatin sensitivity in human head and neck squamous carcinoma cell lines. Cancer Lett 85:223–232
Acknowledgement
The authors thank Muthyammal College of Arts and Science, Tamilnadu, India for providing facilities to do animal studies and also express heartfelt thanks to the management of K. S. Rangasamy College of Arts and Science, Tiruchengode, Tamilnadu for their support and encouragement.
Ethics declarations
Ethical statement
The animal experiments were conducted according to the guidelines of Committee for the Purpose of Control and Supervision of Experiments on Animals (CPCSEA), Government of India. The protocol of this study was approved by the institutional ethical committee of Muthyammal College of Arts and Science, Rasipuram, Tamilnadu, India (Approval No: 1416/P0/a/11/CPCSEA).
Conflict of interest
This manuscript described has not been published before; not under consideration for publication anywhere else; and has been approved by all co-authors.
About this article
Cite this article
Uddandrao, V.V.S., Parim, B., Nivedha, P.R. et al. Anticancer activity of pomegranate extract: effect on hematological and antioxidant profile against ehrlich-ascites-carcinoma in Swiss albino mice. Orient Pharm Exp Med 19, 243–250 (2019). https://doi.org/10.1007/s13596-018-0348-4
Received:

Accepted:

Published:

Issue Date:

DOI: https://doi.org/10.1007/s13596-018-0348-4
Keywords