Abstract
Squill (Drimia maritima L.) as well- known medicinal plants from ancient times has been used for treatment of different ailments. This review article evaluated a comprehensive investigation on squill in modern medicine and its relation to traditional believes. The information were extracted from accessible resources (PubMed, Wiley, Springer, and Google) and Persian and English traditional books. Squill was traditionally used as good remedy for cough, asthma, indigestion, alopecia, pain and lice. Modern clinical studies confirmed the traditional believes on squill in treatment of nonalcoholic fatty liver, asthma, head lice, alopecia and inflammatory pains. Also, the antioxidant, anti-parasite, anti-cancer and insecticidal effects of squill have been confirmed in experimental studies. The results of investigations exhibited that squill had good potency in management of respiratory and gastrointestinal diseases, therefore, it can be more considerate in clinical future.
Access options
Buy single article
Instant access to the full article PDF.
USD 39.95
Price includes VAT (USA)
Tax calculation will be finalised during checkout.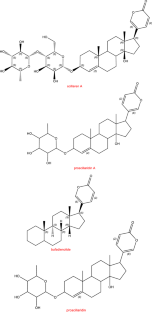 References
Abdolhosseini S, Mokaberinejad R, Alian Nezhadi V, Bozorgi M, Nazem E (2017) Evaluation of treatment with squill vinegar in 10 patients with head pediculosis. Asian J Clin Case Rep Tradit Altern Med 1:57–64. https://doi.org/10.22040/ajcrtam.2017.24888

Al-Haruwi M-O-E, Abu, Mansur, Ali., (1992) Al-Abnieh An Haghyagh al-Dawiya. Tehran Publication and Printing Institute

AliAbdi F (2012) Comparision the efficacy of squill lotion 2% and clobetasol propionate (0.05%) in treatment of alopecia areata. Ahvaz Jundishapur University of Medical Sciences

Avicenna (2008) The canon. Translated by Sharafkandi A. Soroush Press Tehran

Babaeian M et al (2015) Herbal remedies for functional dyspepsia and traditional Iranian medicine perspective. Iran Red Crescent Med J 17:e20741. https://doi.org/10.5812/ircmj.20741

Bayazıt V, Konar V (2010) Analgesic effects of scilliroside, proscillaridin-a and taxifolin from squill bulb (Urginea maritima) on pains. Digest J Nanomater Biostruct 5:465–467

Bozorgi M, Amin G, Kasebzade S, Shekarchi M (2016) Development and validation of a HPLC-UV method for determination of Proscillaridin A in Drimia maritima. Res J Pharmacogn 3:1–7

Bozorgi M, Amin G, Shekarchi M, Rahimi R (2017) Traditional medical uses of Drimia species in terms of phytochemistry, pharmacology and toxicology. J Tradit Chin Med 37:124–139. https://doi.org/10.1016/S0254-6272(17)30036-5

Edwards SE, Rocha IdC, Williamson EM, Heinrich M (eds) (2015) Squill. In: Phytopharmacy. Wiley, pp 366–367. https://doi.org/10.1002/9781118543436.ch104

El-Seedi HR, Burman R, Mansour A, Turki Z, Boulos L, Gullbo J, Goransson U (2013) The traditional medical uses and cytotoxic activities of sixty-one Egyptian plants: discovery of an active cardiac glycoside from Urginea maritima. J Ethnopharmacol 145:746–757. https://doi.org/10.1016/j.jep.2012.12.007

Fennell C et al (2004) Assessing African medicinal plants for efficacy and safety: pharmacological screening and toxicology. J Ethnopharmacol 94:205–217

Fürst R, Zündorf I, Dingermann T (2017) New knowledge about old drugs: the anti-inflammatory properties of cardiac glycosides. Planta Med 83:977–984

Greeff K, Schadewaldt H (1981) Introduction and remarks on the history of cardiac glycosides. In: Cardiac glycosides. Springer, pp 1–12

Hadarbegi F (2015) Effect of extract of squill extract on nonalcoholic fatty liver. Islamic Azad University

Hassid E, Applebaum SW, Birk Y (1976) Azetidine-2-carboxylic acid: a naturally occurring inhibitor of Spodoptera littoralis (boisd.) (Lepidoptera: Noctuidae). Phytoparasitica 4:173. https://doi.org/10.1007/BF02981084

Ibn Sina H (2004) Ghanoon Soroush. Tehran, Iran

Jorjani SE (2013) Zakhire Kharazmshahi. Tehran University of Medical Sciences, Tehran

Khare CP (2007) Indian medicinal plants. Springer, Berlin

Mammadov R, Makasçı-Afacan A, Uysal-Demir D, Görk Ç (2010) Determination of antioxidant activities of different Urginea maritima (L.) Baker plant extracts. Iran J Chem Chem Eng 29:47–53

Mozaffarian V (2013) A dictionary of Iranian plant names. Moaser, Tehran

Nejatbakhsh F, Karegar-Borzi H, Amin G, Eslaminejad A, Hosseini M, Bozorgi M, Gharabaghi MA (2017) Squill Oxymel, a traditional formulation from Drimia Maritima (L.) Stearn, as an add-on treatment in patients with moderate to severe persistent asthma: a pilot, triple-blind, randomized clinical trial. J Ethnopharmacol 196:186–192. https://doi.org/10.1016/j.jep.2016.12.032

Pohl T, Koorbanally C, Crouch NR, Mulholland DA (2001) Bufadienolides from Drimia robusta and Urginea altissima (Hyacinthaceae). Phytochemistry 58:557–561

Radomski JL, Woodard G (1946) A survey of the present status of red squill as a rodenticide*†. J Am Pharm Assoc (Sci ed) 35:289–295. https://doi.org/10.1002/jps.3030351002

Sanyal D, Mukherjee P, Raychaudhuri M, Ghosh S, Mukherjee S, Chowdhury S (2015) Profile of liver enzymes in non-alcoholic fatty liver disease in patients with impaired glucose tolerance and newly detected untreated type 2 diabetes Indian Journal of. Endocrinol Metab 19:597–601. https://doi.org/10.4103/2230-8210.163172

Sathiyamoorthy P, Lugasi-Evgi H, Schlesinger P, Kedar I, Gopas J, Pollack Y, Golan-Goldhirsh A (1999) Screening for cytotoxic and antimalarial activities in desert plants of the negev and bedouin market plant products. Pharm Biol 37:188–195. https://doi.org/10.1076/phbi.37.3.188.6298

Stoll A, Suter E, Kreis W, Bussemaker B, Hofmann A (1933) Die herzaktiven substanzen der meerzwiebel. Scillaren a Helv Chim Acta 16:703–733

Tobyn G, Denham A, Whitelegg M (2010) The western herbal tradition: 2000 years of medicinal plant knowledge. Singing Dragon, Churchill Livingstone. https://doi.org/10.1016/B978-0-443-10344-5.00020-3

Tuncok Y, Kozan O, Cavdar C, Guven H, Fowler J (1995) Urginea maritima (squill) toxicity Journal of toxicology. Clin Toxicol 33:83–86

Viegi L, Pieroni A, Guarrera PM, Vangelisti R (2003) A review of plants used in folk veterinary medicine in Italy as basis for a databank. J Ethnopharmacol 89:221–244

Williamson EM, Driver S, Baxter K (2009) Stockley's herbal medicines interactions. Pharmaceutical Press, London

Zakaria Razi M (2005) Al-Hawi. The Academy of Medical Sciences of the Islamic Republic of Iran
Acknowledgements
This paper is the outcomes of an in-house non-supported study.
Ethics declarations
Ethical statement
N/A.
Conflict of interest
This manuscript described has not been published before; not under consideration for publication anywhere else; and has been approved by all co-authors.
About this article
Cite this article
Mahboubi, M., Mohammad Taghizadeh Kashani, L. & Mahboubi, M. Squill (Drimia maritima L.) and its novel biological activity. Orient Pharm Exp Med 19, 227–234 (2019). https://doi.org/10.1007/s13596-018-0341-y
Received:

Accepted:

Published:

Issue Date:
Keywords
Squill

Drimia maritima

Oxymel

Expectorant

Cough

Asthma

Indigestion