Abstract
Present investigation was aimed to evaluate the traditional use of edible part of soft shoots of Trichosanthes dioica Roxb. (Cucurbitaceae) as an antidiabetic in mice model. In addition, antioxidant activity and chemical profiling of this plant part were also performed to support its observed activity. The extract was subjected to oral glucose tolerance test in normal and alloxan induced diabetic mice to explore its antihyperglycemic activity. Antioxidant capacity was analyzed by a number of in vitro assays. Quantification of bioactive polyphenols was done by HPLC. Liquid Chromatography coupled with Mass Spectrometry (LCMS) was used to identify chemical constituents present in the extract. Total polyphenol and flavonoids content were found in significant quantity. In DPPH radical scavenging assay the IC50 value of the extract was found to be 148.62 µg/mL. Reducing power of the extract was comparable with that of butylatedhydroxytoluene (BHT). HPLC analysis indicated that quercetin, rutin, p-coumaric acid and kaempferol were the major bioactive polyphenols present in the extract. Further chemical profiling using LCMS analysis was identified a total of nine compounds with different chemical classes. In OGTT, extract (400 mg/kg BW) showed a 31.13% decrease (p < 0.05) in blood glucose levels at 30 min compared to the normal control. In alloxan induced diabetic mice the extract at the doses of 200 mg and 400 mg/kg, showed significant decrease (p < 0.05) of blood glucose level compared to diabetic control. The extract showed oral glucose tolerance potential and antioxidant capacity which might be due to the presence of different compounds such as quercetin, rutin, kaempferol, oleanolic acid, β-sitosterol. The results support the scientific basis of it ethnobotanical uses in traditional medicinal practices of Bangladesh.
This is a preview of subscription content, log in to check access.
Access options
Buy single article
Instant access to the full article PDF.
US$ 39.95
Price includes VAT for USA
Subscribe to journal
Immediate online access to all issues from 2019. Subscription will auto renew annually.
US$ 99
This is the net price. Taxes to be calculated in checkout.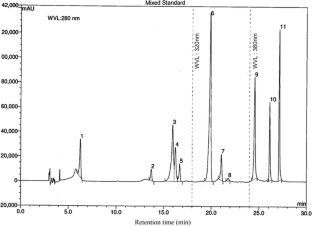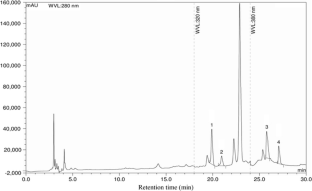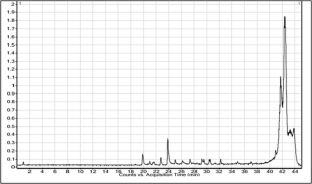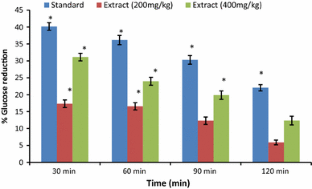 References
Abdulwali A, Jamaludin M, Khalijah A, Jamil AS, Aditya A (2014) Evaluation of antidiabetic and antioxidant properties of Brucea javanica seed. Sci World J 1:786130. https://doi.org/10.1155/2014/786130

Ahmad NK, Rahmat AK, Mushtaq A, Nadia M (2015) Role of antioxidant in oxidative stress and diabetes mellitus. J Pharmacogn Phytochem 3(6):217–220

Akihisa T, Ghosh P, Thakur S, Rosentein F, Matsumoto T (1986) Sterol compositions of seeds and mature plants of family cucurbitaceae. J Am Oil Chem Soc 63(5):653–658. https://doi.org/10.1007/BF02638231

Anisuzzman M, Nazmul MHZ, Sharmin SK, Asaduzzman M, Golam MH (2016) Antioxidant, antibacterial potential and HPLC analysis of Dioscorea alata bulb. Indones J Pharm 27(1):9–14

Asmat U, Abad K, Ismail K (2016) Diabetes mellitus and oxidative stress—a concise review. Saudi Pharm J 24:547–553. https://doi.org/10.1016/j.jsps.2015.03.013

Azad AK, Jalil A, Roy DN, Ahmeda N, Nesa Jeb-Un, Moniruzzaman M, Lasker S, Irfan-Ur-Rahaman Akter S (2015) Antidiabetic and free radical scavenging activities of methanolic extract of Citrullus lanatus (fruit Rind). Eur J Pharm Med Res 2(4):405–410

Bajaj S, Khan A (2012) Antioxidants and diabetes. Indian J Endocrinol Metab 16:267–271

Bhattacharya S, Haldar PK (2012) Protective role of the triterpenoid-enriched extract of Trichosanthes dioica root against experimentally induced pain and inflammation in rodents. Nat Prod Res 26(24):2348–2352. https://doi.org/10.1080/14786419.2012.656111

Castellano JM, Guinda A, Delgado T, Rada M, Cayuela JA (2013) Biochemical basis of the antidiabetic activity of oleanolic acid and related pentacyclic triterpenes. Diabetes 62(6):1791–1799. https://doi.org/10.2337/db12-1215

Castellano JM, Guinda A, Macías L, Santos-Lozano JM, Lapetra J, Rada M (2016) Free radical scavenging and α-glucosidase inhibition, two potential mechanisms involved in the anti-diabetic activity of oleanolic acid. Grasas Aceites 67(3):e142. https://doi.org/10.3989/gya.1237153

Cocker HAB, Adesegun SA, Sofidiya MO (2008) Phytochemical screening of bioactive agents in medicinal plants. In: Odugbemi T (ed) A text book of medicinal plants from Nigeria. University of Lagos Press, Akoka, p 209

Cristina C, Olivia DR, Socaciu C (2012) Plants and natural compounds with antidiabetic action. Not Bot Horti Agrobo 40(1):314–325. https://doi.org/10.15835/nbha4017205

Dawei G, Qingwang L, Ying L, Zhihua L, Yusheng F, Zhiwei L, Hongwei Z, Jian L, Zengsheng H (2009) Antidiabetic and antioxidant effects of oleanolic acid from Ligustrum lucidum Ait in alloxan-induced diabetic rats. Phytother Res 23:1257–1262. https://doi.org/10.1002/ptr.2603

Dhiman K, Gupta A, Sharma DK, Gill NS (2012) A review on the medicinally important plants of the family cucurbitaceae. Asian J Clin Nutr. 4:16–26. https://doi.org/10.3923/ajcn.2012.16.26

Doss A (2009) Preliminary phytochemical screening of some Indian medicinal plants. Anc Sci Life. 29(2):12–16

Dubey VK, Patil CR, Kamble SM, Tidke PS, Patil KR, Maniya PJ, Jadhav RB, Patil SP (2013) Oleanolic acid prevents progression of streptozotocin induced diabetic nephropathy and protects renal microstructures in Sprague Dawley rats. J Pharmacol Pharmacother. 4:47–52. https://doi.org/10.4103/0976-500X.107678

Fang Y-Z, Yang S, Wu G (2002) Free radicals, antioxidants, and nutrition. Nutrition 18(10):872–879

Ghani A (2005) Practical phytochemistry, 2nd edn. Parash Publishers, Dhaka, pp 8–20

Giacco F, Brownlee M (2010) Oxidative stress and diabetic complications. Circ Res 107(9):1058–1070. https://doi.org/10.1161/CIRCRESAHA.110.223545

Giri S, Lokesh CR, Sahu S, Gupta N (2014) Luffa echinata: healer plant or potential killer? J Postgrad Med 60:72–74. https://doi.org/10.4103/0022-3859.128819

Halilu ME, Abubakar A, Garba MK, Isah AA (2012) Antimicrobial and preliminary phytochemical studies of methanol extract of root bark of Crossopteryx febrifuga (Rubiaceae). J Appl Pharm Sci 2(12):66–70. https://doi.org/10.7324/JAPS.2012.21212

Halliwell B (1996) Antioxidants in human health and disease. Annu Rev Nutr 16(1):33–50. https://doi.org/10.1146/annurev.nu.16.070196.000341

Hamdulay N, Attaurrahaman Z, Shende V, Lawar M (2012) Evaluaiton of gastric antiulcer activity of Trichosanthes dioica Roxb. leaves. Int J Pharm Sci Res 3(11):4332–4337. https://doi.org/10.13040/IJPSR.0975-8232.3(11).4332-37

Hussain AI, Rathore HA, Sattar MZA, Chatha SAS, Sarker SD, Gilani AH (2014) Citrullus colocynthis (L.) Schrad (bitter apple fruit): a review of its phytochemistry, pharmacology, traditional uses and nutritional potential. J Ethnopharmacol 155(1):54–66. https://doi.org/10.1016/j.jep.2014.06.011

Imperato F (1980) Five plants of the family Cucurbitaceae with flavonoid patterns of pollens different from those of corresponding stigmas. Experientia 36(10):1136–1137. https://doi.org/10.1007/BF01976084

Imtiaz M, Nazmul MHZ, Nripendra NB, Bishwajit B (2017) Bioactivities of Bruguiera gymnorrhiza and profiling of its bioactive polyphenols by HPLC-DAD. Clin Phytosci 3:11. https://doi.org/10.1186/s40816-017-0048-5

Kavitha R, Premalakshmi V (2012) Studies on the synergetic effect of Trichosanthes dioica and Clitoria ternatea leaf extract on the streptozotocin-induced diabetic rats. Int J Res Pharm Biomed Sci 3(3):1056–1064

Li X, Wang X, Chen D, Shuzu C (2011) Antioxidant activity and mechanism of protocatechuic acid in vitro. Funct Foods Heal Dis 7:232–244

McCune LM, Johns T (2002) Antioxidant activity in medicinal plants associated with the symptoms of diabetes mellitus used by the indigenous peoples of the North American boreal forest. J Ethnopharmacol 82(2–3):197–205

Melguizo-Melguizo D, Diaz-de-Cerio E, Quirantes-Piné R, Švarc-Gajić J, Segura-Carretero A (2014) The potential of Artemisia vulgaris leaves as a source of antioxidant phenolic compounds. J Funct Foods 10:192–200. https://doi.org/10.1016/j.jff.2014.05.019

Mondal A, Singha T, Maity TK, Pal D (2013) Evaluation of antitumor and antioxidant activity of Melothria heterophylla (Lour.) Cogn. Indian J Pharm Sci 75(5):515–522

Monic S, Yerram RB, Jagadeesh B (2012) Phytochemical screening and in vitro antioxidant activity of aqueous and hydroalcoholic extract of Bacopa monnieri Linn. Int J Pharm Sci Res 3(9):3418–3424. https://doi.org/10.13040/IJPSR.0975-8232.3(9).3418-24

Monika M, Nomita G, Palak P, Varsha M, Manisha K (2014) Phytochemical evaluation and pharmacological activity of Syzygium aromaticum: a comprehensive review. Int J Pharm Pharm Sci 6(8):67–72

Nighat S, Athar A (2008) Oleanolic acid and related derivatives as medicinally important compounds. J Enzyme Inhib Med Chem 23(6):739–756. https://doi.org/10.1080/14756360701633187

Nishikawa T, Araki E (2013) Mechanism-based antioxidant therapies promise to prevent diabetic complications. J Diabetes Invest 4(2):105–107. https://doi.org/10.1111/jdi.12041

Olajuyigbe OO, Afolayan AJ (2011) Phenolic content and antioxidant property of the bark extracts of Ziziphus mucronata Willd. subsp. mucronata Willd. BMC Complement Altern Med 11(1):1–8. https://doi.org/10.1186/1472-6882-11-130

Pandey KB, Rizvi SI (2009) Plant polyphenols as dietary antioxidants in human health and disease. Oxid Med Cell Long. 2(5):270–278. https://doi.org/10.4161/oxim.2.5.9498

Prashant KR, Surekha S, Shikha M, Nilesh KR, Rai AK, Geeta W (2010) Therapeutic phytoelemental profile of Trichosanthes dioica. Adv Mater Lett 1(3):210–216. https://doi.org/10.5185/amlett.2010.7142

Salma AS, Siraj MA, Hossain A, Mia MS, Afrin S, Rahman MM (2016) Investigation of the key pharmacological activities of Ficu sracemosa and analysis of Its major bioactive polyphenols by HPLC-DAD. Evid Based Complementary Altern Med. https://doi.org/10.1155/2016/3874516

Sarunya C, Phanichphant S (2006) Method development and determination of phenolic compounds in Broccoli Seeds Samples. Chiang Mai J Sci 33(1):103–107

Saxena VK, Dave RK (1995) A new steroidal saponin from Trichosanthes dioica (Roxb.). Asian J Chem 7(3):490–494

Sharmila BG, Kumar G, Rajasekara PM (2007) Cholesterol-Lowering Activity of the aqueous fruit extract of Trichosanthes dioica Roxb (L.) in normal and streptozotocin diabetic rats. J Clin Diag Res 6:561–569

Shweta SS, Priyanka KT, Ganesh GT, Khadabadi SS (2013) Ancient and recent medicinal uses of cucurbitaceae family. Int J Therap Appl 9:11–19

Soodabeh S, Azadeh M, Ahmad RG, Mohammad A (2014) The story of beta-sitosterol—a review. Eur J Med Plants 4(5):590–609

Soumyanath A (2005) Traditional medicines for modern times: antidiabetic plants. CRC Press, Boca Raton, p 43

Sunil K, Vipin K, Prakash O, Mohammed A (2013) Enzymes inhibition and antidiabetic effect of isolated constituents from Callistemon lanceoalatus. J Nat Prod 3(4):252–259. https://doi.org/10.2174/221031550304140328112456

Yessoufou A, Gbenou J, Grissa O et al (2013) Anti-hyperglycemic effects of three medicinal plants in diabetic pregnancy: modulation of T cell proliferation. BMC Complement Altern Med 13:77. https://doi.org/10.1186/1472-6882-13-77

Yusoff NA, Ahmad M, Hind B, Widyawati T, Yam MF, Mahmud R, Razak KNA, Asmawi MZ (2015) Aqueous extract of Nypa fruticans Wurmb. Vinegar alleviates postprandial hyperglycemia in normoglycemic rats. Nutrients 7:7012–7026. https://doi.org/10.3390/nu7085320

Zilani MNH, Amirul MI, Sharmin SK, Jamil AS, Mustafizur MR, Golam MH (2016) Analgesic and antioxidant activities of Colocasia fallax. Orient Pharm Exp Med 16:131–137. https://doi.org/10.1007/s13596-016-0222-1

Zilani MNH, Tamanna S, Asabur SMR, Anisuzzman M, Amirul MI, Jamil AS, Golam MH (2017) Chemical composition and pharmacological activities of Pisum sativum. BMC Complement Altern Med 17:171. https://doi.org/10.1186/s12906-017-1699-y
Acknowledgements
The authors are grateful to Phytochemistry and Pharmacology Research Laboratory, Pharmacy Discipline, Life Science School, Khulna University, Khulna-9208, Bangladesh for providing proper working facilities. Funding portion is not applicable.
Ethics declarations
Ethical Statement
All procedures performed in studies involving animals were in accordance with the ethical standards of the institution or practice at which the studies were conducted.
Conflict of interest
The authors declare that there is no conflict of interest.
About this article
Cite this article
Zilani, M.N.H., Uddin, S.J., Hossain, H. et al. Chemical characterization and bioactivity of Trichosanthes dioica edible shoot extract. Orient Pharm Exp Med 18, 167–175 (2018). https://doi.org/10.1007/s13596-018-0310-5
Received:

Accepted:

Published:

Issue Date:
Keywords
Trichosanthes dioica

HPLC

LCMS

Antihyperglycemic activity

Antioxidant activity