Abstract
In traditional medicine leaf and root of Ceriscoides turgida (Roxb.) are commonly used to treat indigestion in child, leucorrhoea, dog bite, snake bite, scorpion string, epilepsy, stomachache and a number of ailments. The present study was carried out to investigate antioxidant, analgesic, antibacterial and cytotoxic activities of methanol extract of leaves and roots of C. turgida. Total flavonoids content was spectrophotometrically determined using aluminum chloride colorimetric assay while total phenolic and tannin content by Folin Chiocalteu's reagent. Antioxidant activity was determined by DPPH free radical scavenging and reducing power assay. Analgesic activity was assessed by acetic acid induced writhing method. Antibacterial activity was evaluated by disc diffusion assay while brine shrimp lethality bioassay was carried out to verify the cytotoxic potential. Root extract contains greater amount of total phenolic (79.99 mg GAE/g dry extract) and flavonids content (35.27 mg QE/g dry extract) in comparison to leaf extract (30.75 mg GAE/g and 25.93 mg QE/g dry extract respectively). Root extracts showed DPPH scavenging (157.45 μg/mL) that was comparable to standard ascorbic acid (14.15 μg/mL). Reducing power of root extract was prominent than leaf extract in comparison to ascorbic acid. Both extract showed significant (P < 0.01) analgesic activity. In disc diffusion assay leaf extract showed greater antibacterial activity than root extract. Furthermore, extracts showed moderate cytotoxic effect. The present study demonstrates that methanol extract of C. turgida leaf and root has significant antioxidant and analgesic effect. The extracts also showed moderate antibacterial and cytotoxic activities.
Access options
Buy single article
Instant access to the full article PDF.
US$ 39.95
Tax calculation will be finalised during checkout.
Subscribe to journal
Immediate online access to all issues from 2019. Subscription will auto renew annually.
US$ 79
Tax calculation will be finalised during checkout.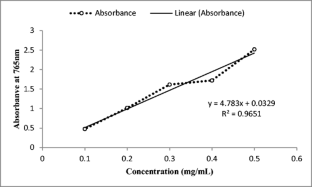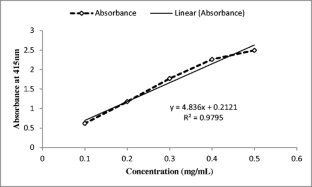 References
Anisuzzman M, Nazmul MHZ, Sharmin SK, Asaduzzman M, Golam MH (2016) Antioxidant, antibacterial potential and HPLC analysis of Dioscorea alata bulb. Indian J Pharm 27(1):9–14

Barriada-Bernal LG, Almaraz-Abarca N, Delgado-Alvarado EA, Gallardo-Velázquez T, Ávila-Reyes JA, Torrres-Morán MI, González-Elizondo MS, Herrera-Arrieta Y (2014) Flavonoid composition and antioxidant capacity of the edible flowers of Agave durangensis (Agavaceae). CyTA J Food 12:105–114. https://doi.org/10.1080/19476337.2013.801037

Dixit A, Singh H, Sharma RA, Sharma A (2015) Estimation of antioxidant and antibacterial activity of crude extracts of Thevetia peruviana (pers.) K. Schum. Int J Pharm Pharm Sci 7:55–59

Dobre I, Dâdei G, Patrascu L, Elisei AM, Segal R (2010) The antioxidant activity of selected Romanian honeys. AUDJG. Food Technol 34:67–73

Firoj A, Prabir KD, Amirul MI, Khondakar MR, Mustafizur MR, Selim MST (2003) Antibacterial activity of Cordyline terminalis. Kunth leaves. J Med Sci 3(5–6):418–422. https://doi.org/10.3923/jms.2003.418.422.

Ghani A (2005) Practical phytochemistry. Parash Publishers, Dhaka, pp 8–20

Imtiaz M, Zilani MNH, Biswas NN, Bokshi B (2017) Bioactivities of Bruguiera Gymnorrhiza and profiling of its bioactive polyphenols by HPLC-DAD. Clinical Phytoscience 3:11. https://doi.org/10.1186/s40816-017-0048-5

Israt JB, Abu HMZ, Kaiser H, Hajera K, Yesmin B (2011) Comparative study of in vitro antioxidant, antibacterial and cytotoxic activity of two Bangladeshi medicinal plants- Luffa cylindrica L. and Luffa acutangula. Pharmacognosy Journal 3(23):59–66. https://doi.org/10.5530/pj.2011.23.9

Kouloura E, Genta-Jouve G, Pergola C, Krauth V, Litaudon M, Benaki D, Wertz O, Michel S, Mikros E, Skaltsounis L, Halabalaki M (2014) Dereplication and metabolomics strategies for the discovery of bioactive natural products: the Acronychia example. Planta Med 80:SL3. https://doi.org/10.1055/s-0034-1394491

Lin Y, Shi R, Wang X (2008) Shen HM (2008) Luteolin, a flavonoid with potential for cancer prevention and therapy. Curr Cancer Drug Targets 8:634–646

Lopez-Lazaro M (2009) Distribution and biological activities of the flavonoid luteolin. Mini Rev Med Chem 9(1):31–59

Lyon GD, Heilbronn J, Forrest RS, Johnston DJ (1992) The biochemical basis of resistance of potato to soft rot bacteria. Neth J Plant Pathol 98(2):127–133. https://doi.org/10.1007/BF01974479

Meyer BN, Ferrigni NR, Putnum JE, Jacobson LB, Nicholos DE, McLaugline JL (1982) Brine shrimp: a convenient general bioassay for active plant constituents. Planta Med 45:31–34. https://doi.org/10.1055/s-2007-971236

Mishra N, Pareek A (2015) Floristic diversity of angiosperms with special reference to their medicinal properties from Kota district of Rajasthan, India. India Int J of Adv Res 3(12):994–1007

Moshi MJ, Mbwambo ZH (2005) Some pharmacological properties of extracts of Terminalia sericea roots. J Ethnopharmacol 97(1):43–47. https://doi.org/10.1016/j.jep.2004.09.056

Papadoupoulo C, Soulti K, Roussis IG (2005) Potential antimicrobial activity of red and white wine phenolic extracts against strains of Staphyloccocus aureus, Escherichia coli and Candida albicans. Food Technol Biotechnol 43(1):41–46

Saleem M, Nazir M, Shaiq A, Hussain H, Lee YS, Riaz N, Jabbar A (2009) Antimicrobial natural products: an update on future antibiotic drug candidates. Nat Prod Rep 27(2):238–254. https://doi.org/10.1039/b916096e.

Salma AS, Siraj MA, Hossain A, Mia MS, Afrin S, Rahman MM (2016) Investigation of the key pharmacological activities of Ficu sracemosa and analysis of its major bioactive polyphenols by HPLC-DAD. Evid Based Complement Alternat Med. https://doi.org/10.1155/2016/3874516

Silva O, Duarte A, Cabrita J, Pimentel M, Diniz A (1996) Antimicrobial activity of Guinea-Bissau traditional remedies. J Ethnopharmacol 50(1):55–59. https://doi.org/10.1016/0378-8741(95)01323-7

Soumyajit B, Rupa S, Sanjay B, Asis M (2017) Inventorization of some ayurvedic plants and their ethnomedicinal use in kakrajhore forest area of West Bengal. J Ethnopharmacol. https://doi.org/10.1016/j.jep.2016.08.014

Umamaheswari M, Chatterjee TK (2008) In vitro antioxidant activities of the fractions of Coccinia grandis L. leaf extract. Afr J Tradit Complement Altern Med 5(1):61–73

Zhang LL, Lin YM (2008) Tannins from Canarium Album with potent antioxidant activity. J Zhejiang Univ Sci B 9(5):407–415. https://doi.org/10.1631/jzus.B0820002

Zhang Q, Cui H (2005) Simultaneous determination of quercetin, kaempferol, and isorhamnetin in phytopharmaceuticals of Hippophae rhamnoides L. by high-performance liquid chromatography with chemiluminescence detection. J Sep Sci 28(11):1171–1178. https://doi.org/10.1002/jssc.200500055

Zilani MNH, Amirul MI, Sharmin SK, Jamil AS, Mustafizur MR, Golam MH (2016) Analgesic and antioxidant activities of Colocasia fallax. Orient Pharm Exp Med 16:131–137. https://doi.org/10.1007/s13596-016-0222-1.

Zilani MNH, Sultana T, Rahman SMA, Anisuzzman M, Islam MA, Shilpi JA, Hossain MG (2017) Chemical composition and pharmacological activities of Pisum sativum. BMC Complement Altern Med 17:171. https://doi.org/10.1186/s12906-017-1699-y.
Acknowledgements
The authors are grateful to the Department of Pharmacy, Bangladesh University, Dhaka, Bangladesh for providing test microorganisms.
Ethics declarations
Ethical Statement
Our study was approved by a research Ethics Committee for Animal House of Department of Pharmacy, Faculty of Science, Engineering and Technology, Bangladesh University, Dhaka-1207, Bangladesh. Two members ethics committee consists of Dr. Md. Anwer Hossain, Associate Professor and chairman of the committee, A K Azad, Assistant Professor; Department of Pharmacy, Faculty of Science, Engineering and Technology, Bangladesh University, Dhaka-1207, Bangladesh.
Conflict of Interest
The authors declare that they have no conflict of interest.
About this article
Cite this article
Zilani, M.N.H., Sultana, N.A., Bakshi, M.K. et al. Bioactivities of leaf and root extract of Ceriscoids turgida (Roxb.). Orient Pharm Exp Med 18, 159–165 (2018). https://doi.org/10.1007/s13596-018-0298-x
Received:

Accepted:

Published:

Issue Date:
Keywords
Total phenolic content

Analgesic activity

Antibacterial activity

Cytotoxic activity

Ceriscoides turgida