Abstract
Herbomineral formulations have been accepted world-wide due to its significant therapeutic outcomes. The study aimed to evaluate the immunomodulatory potential of novel herbomineral formulation (TEBEH) on Sprague Dawley rats using cyclophosphamide-induced immunosuppression. Major immune related parameters were monitored such haemagglutination assay, delayed type hypersensitivity reaction, cellular immune response (CD4+ and CD8+), IgG and IgM, hematological analysis, antioxidant profile, and estimation of major lipid biomarkers. The study results suggest herbomineral formulation significantly (p ≤ 0.05) improved the concentration of primary and secondary titre by 41.18 and 68%. However, the rat paw edema at 24 h showed increased edema by 77.78% (p ≤ 0.01). Herbomineral formulation exhibited increase in the CD4+ and CD8+ counts in animals by 28.03 and 60.70%, respectively. In addition, the concentrations of IgM and IgG were improved by 14.29 and 8.26% respectively. Besides, other supportive parameter such as hematology and antioxidant profile was significantly (p ≤ 0.001) improved, while free radical, lipid peroxidation was decreased. Moreover, the major lipid biomarkers were improved such as decreased triglycerides, LDL and VLDL by 15.88, 3.65, and 16.01%, respectively. Overall, the promising results of this study indicated that the herbomineral formulation, TEBEH can be employed to improve the cellular and humoral immunity along with improved hematological, antioxidant, and lipid profile.
Graphical abstract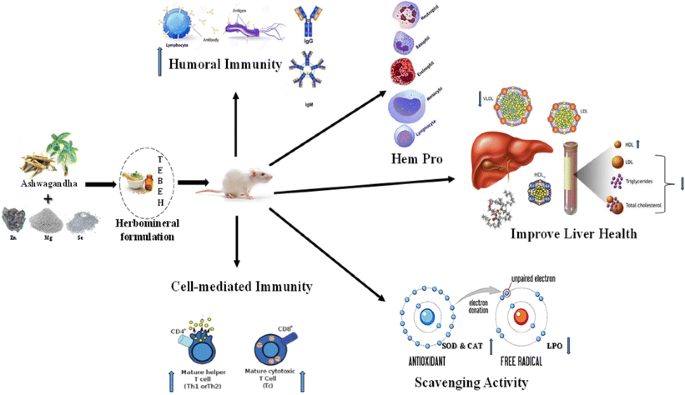 Access options
Buy single article
Instant access to the full article PDF.
US$ 39.95
Tax calculation will be finalised during checkout.
Subscribe to journal
Immediate online access to all issues from 2019. Subscription will auto renew annually.
US$ 79
Tax calculation will be finalised during checkout.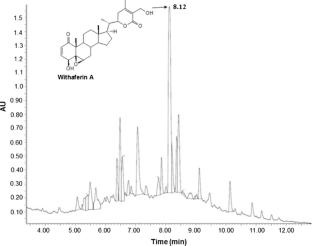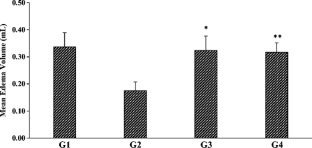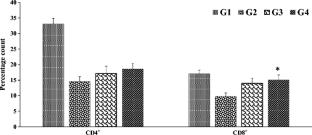 References
Andallu B, Radhika B (2000) Hypoglycemic, diuretic and hypocholesterolemic effect of winter cherry (Withania somnifera, Dunal) root. Indian J Exp Biol 38:607–609

Bunglavan SJ, Garg AK, Dass RS, Shrivastava S (2014) Effect of supplementation of different levels of selenium as nanoparticles/sodium selenite on blood biochemical profile and humoral immunity in male wistar rats. Vet World 7:1075–1081

Chatterjee S, Srivastava S, Khalid A, Singh N, Sangwan RS, Sidhu OP, Roy R, Khetrapal CL, Tuli R (2010) Comprehensive metabolic fingerprinting of Withania somnifera leaf and root extracts. Phytochemistry 71:1085–1094

Chen LX, He H, Qiu F (2011) Natural withanolides: an overview. Nat Prod Rep 28:705–740

Conforti F, Sosa S, Marrelli M, Menichini F, Statti GA, Uzunov D, Tubarob A, Menichinia F (2009) The protective ability of Mediterranean dietary plants against the oxidative damage: The role of radical oxygen species in inflammation and the polyphenol, flavonoid and sterol contents. Food Chem 112:587–594

Cooper EL (2004) Complementary and alternative medicine when rigorous can be science. Evid. Based Complement. Alternat Med 1:1–4

Cunha AR, Umbelino B, Correia ML, Neves MF (2012) Magnesium and Vascular Changes in Hypertension. Int J Hypertens 2012:754250

Dale MM, Forman JC (1989) Textbook of immunopharmacology, 2nd edn. Blackwell and Scientific Publication, Oxford

Dar NJ, Hamid A, Ahmad M (2015) Pharmacologic overview of Withania somnifera, the Indian ginseng. Cell Mol Life Sci 72:4445–4460

Devasagayam TPA, Tarachand U (1987) Decreased lipid peroxidation in the rat kidney during gestation. Biochem Biophys Res Commun 145:134–138

Dhawan BN, Srimal RC (1980) India: United Nations Industrial Development Organization and International Center for Science and High Technology; Acute toxicity and gross effects. In: Laboratory Manual for Pharmacological Evaluation of Natural Products; pp. 17–20

Feldman BF, Zinkl JG, Jain VC (2000) Laboratory techniques for avian hematology in Schalm's Veterinary Hematology, 5th edn. Lippincott Williams & Wilkins, Toronto

Fox C, Ramsoomair D, Carter C (2001) Magnesium: its proven and potential clinical significance. South Med J 94:1195–1201

Girdhari L, Rana A (2007) Withania somnifera (Ashwagandha): A review. Pharmacog Rev 1:129–136

Guan D, Zhang Z, Yang Y, Xing G, Zhang JL (2011) Immunomodulatory activity of polysaccharides from roots of Actinidia kolomicta on macrophages. Int J Biol 3:3–10

Gunasekara P, Hettiarachchi M, Liyanage C, Lekamwasam S (2011) Effects of zinc and multimineral vitamin supplementation on glycemic and lipid control in adult diabetes. Diabetes Metab Syndr Obes Target Ther 4:53–60

Karp SM, Koch TR (2006) Oxidative stress and antioxidants in inflammatory bowel disease. Dis Mon 52:199–207

Khan B, Ahmad SF, Bani S, Kaul A, Suri KA, Satti NK, Athar M, Qazi GN (2006) Augmentation and proliferation of T lymphocytes and Th-1 cytokines by Withania somnifera in stressed mice. Int Immunopharmacol 6:1394–1403

Kuby J (1994) Immunology, W.H. Freeman, (2ndedn), New York, NY, USA

Kumar A, Kulkarni SK (2006) Effect of BR-16A (Mentat), a polyherbal formulation on drug-induced catalepsy in mice. Indian J Exp Biol 44:45–48

Kumar G, Srivastava A, Sharma SK, Rao TD, Gupta YK (2015) Efficacy & safety evaluation of Ayurvedic treatment (Ashwagandha powder & Sidh Makardhwaj) in rheumatoid arthritis patients: a pilot prospective study. Indian J Med Res 141:100–106

Ladics GS (2007) Primary immune response to sheep red blood cells (SRBC) as the conventional T-cell dependent antibody response (TDAR) test. J Immunotoxicol 4:149–152

Lukác N, Massányi P (2007) Effects of trace elements on the immune system. Epidemiol Mikrobiol Imunol 56:3–9

Malik F, Singh J, Khajuria A, Suri KA, Satti NK, Singh S, Kaul MK, Kumar A, Bhatia A, Qazi GN (2007) A standardized root extract of Withania somnifera and its major constituent withanolide-A elicit humoral and cell-mediated immune responses by up regulation of Th1-dominant polarization in BALB/c mice. Life Sci 80:1525–1538

Marklund S, Marklund G (1974) Involvement of superoxide anion radical in the autooxidation of pyrogallol and a convenient assay for superoxide dismutase. Eur J Biochem 47:469–474

Miceli MC, Parnes JR (1991) The roles of CD4 and CD8 in T cell activation. Semin Immunol 3:133–141

Mikolai J, Erlandsen A, Murison A, Brown KA, Gregory WL, Raman-Caplan P, Zwickey HL (2008) In vivo effects of ashwagandha (Withania somnifera) extract on the activation of lymphocytes. J Altern Complement Med 15:423–430

Mishra RK, Trivedi R, Pandya MA (2010) A clinical study of Ashwagandha ghrita and Ashwagandha granules for its Brumhana and Balya effect. Ayu 3:355–360

Muthamizhe Selvan K, Prakash YG, Gopal V (2013) Standardization of traditional medicine - Need and Urgency. Inter J Phytotherapy 3:5–10

Nagalakshmi D, Sridhar K, Parashuramulu S (2015) Replacement of inorganic zinc with lower levels of organic zinc (zinc nicotinate) on performance, hematological and serum biochemical constituents, antioxidants status and immune responses in rats. Vet World 8:1156–1162

Naik SR, Gavankar C, Thakare VN (2015) Immunomodulatory activity of Withina somnifera and Curcuma longa in animal models: Modulation of cytokines functioning. Pharmacologia 6:168–177

Nelson DA, Mildenhall P (1967) Studies on cytophilic antibodies. The production by mice of macrophage cytophilic antibodies to sheep erythrocytes: Relationship to the production of other antibodies and development of delayed type hypersensitivity. Aust J Exp Bio Med Sci 45:113–120

Panda AK, Rout R (2006) Zinc in Ayurvedic herbo-mineral products. Nat Prod Radiance 5:284–288

Payahoo L, Ostadrahimi A, Mobasseri M, Bishak YK, Farrin N, Jafarabadi MA, Mahluji S (2013) Effects of zinc supplementation on the anthropometric measurements, lipid profiles and fasting blood glucose in the healthy obese adults. Adv Pharm Bull 3:161–165

Qayyum R, Kurbanova N, Zia R, Adomaityte J (2014) Serum selenium levels are associated with blood platelet count in US Adults. Meeting: SHM Annual Meeting

Seely D, Singh R (2006) Adaptogenic potential of a polyherbal natural health product: report on a longitudinal clinical trial. Evid Based Complement Alternat Med 4:375–380

Shah J, Goyal R (2011) Investigation of neuropsychopharmacological effects of a polyherbal formulation on the learning and memory process in rats. J Young Pharm 3:119–124

Shenoy S, Chaskar U, Sandhu JS, Paadhi MM (2012) Effects of eight-week supplementation of Ashwagandha on cardiorespiratory endurance in elite Indian cyclists. J Ayurveda Integr Med 3:209–214

Shinde UA, Phadke AS, Nair AM, Mungantiwar AA, Dikshit VS, Saraf MM (1999) Preliminary studies on the immunomodulatory activity of Cedrus deodara wood oil. Fitoterapia 79:333–339

Sinha AK (1972) Colorimetric assay of catalase. Anal Biochem 47:389–394

Trivedi MK, Panda P, Sethi KK, Jana S (2016) Metabolite profiling of Withania somnifera roots hydroalcoholic extract using LC-MS, GC-MS and NMR spectroscopy. Chem Biodivers. doi:10.1002/cbdv.201600280

Verpoorte R, van der Heijden R, Ten Hoopen HJG, Memelink J (1999) Metabolic engineering of plant secondary metabolite pathways for the production of new chemicals. Biotechnol Lett 21:67–479

WHO (1993) Research Guideline for Evaluating the Safety and Efficacy of Herbal Medicines. World Health Organization, Manila, p 2

Wijenayake A, Pitawala A, Bandara R, Abayasekara C (2014) The role of herbometallic preparations in traditional medicine–A review on mica drug processing and pharmaceutical applications. J Ethnopharmacol 155:1001–1010

Ziauddin M, Phansalkar N, Patki P, Diwanay S, Patwardhan B (1996) Studies on the immunomodulatory effects of ashwagandha. J Ethnopharmacol 50:69–76
Acknowledgements
The authors extend their sincere thanks and grateful to Dabur Research Foundation, Ghaziabad, India for providing the facilities and support that enabled the successful completion of the work. Authors gratefully acknowledged to GVK Biosciences Pvt. Ltd., Hyderabad, India for their support in chemical characterization of ashwagandha root extract.
Ethics declarations
Ethical Statement
All the animals used in this experiment were approved by Animal Ethics Committee approved protocol (IAEC/36/394) and the husbandry conditions maintained as per CPCSEA recommendations.
Conflicts of Interest
The authors declared no conflicts of interest in this work.
About this article
Cite this article
Trivedi, M.K., Gangwar, M., Mondal, S.C. et al. Immunomodulatory properties and biomarkers characterization of novel Withania somnifera based formulation supplemented with minerals in Sprague Dawley rats. Orient Pharm Exp Med 17, 59–69 (2017). https://doi.org/10.1007/s13596-016-0255-5
Received:

Accepted:

Published:

Issue Date:
Keywords
Immunopotentiation

Herbomineral product

Cellular and humoral immunity

Hematological parameters

Lipid profile

Antioxidant profile