Abstract
Annona muricata Linn. also called "Soursop" or "Sharp Sharp" is traditionally used in treatment of cancer. There are many claims that Annona muricata L. can kill cancer cells, since its leaves, seeds and fruits contain active compound called annonaceous acetogenins. This research was aimed to evaluate the antiproliferative and chemopreventive effect of Annona muricata L. leaf extract against Ehrlich ascites carcinoma and benzo[a]pyrene induced lung carcinoma. In Ehrlich ascites carcinoma model, the tumor bearing mice treated with methanol extract of Annona muricata leaves 200 mg/kg and 400 mg/kg once daily orally started 24 h after inoculation significantly reduced the viable cell count. The dose level of 400 mg/kg showed a significant increase in non-viable count with a significant decrease in body weight of animals compared to EAC control animals. The haematological parameters were reverted to more or less normal levels in animals treated with extract 400 mg/kg. In benzo[a]pyrene induced lung cancer model, treatment with extract started 1 week before benzo[a]pyrene induction and continued once daily for 16 weeks, effectively suppressed lung cancer. There was a significant increase in weight gain during experimental period with a significant decrease in relative lung weight and serum cancer marker - carcinoembryonic antigen at the end of experimental period. Gross morphology of lung also appeared near normal to lung of normal animals. Moreover, with reference to lipid peroxidation and antioxidant system, Annona muricata leaf extract decreased the extent of lipid peroxidation with concomitant increase in activities of superoxide dismutase, catalase and reduced glutathione compared to lung cancer bearing untreated animals. It was observed that extract 400 mg/kg showed a significant protection against benzo[a]pyrene induced carcinogenesis. Histological examination of lung tissue too correlated with morphological and biochemical observations. Our data suggest that, the potential anti-proliferative and chemopreventive action of Annona muricata leaves might be due to cytotoxic mechanism against cancer cells in the pathway of apoptosis and inhibition of cell cycle. Furthermore, our in-vitro investigation on extract showed a potent free radical scavenging activity. An additional antioxidant property of Annona muricata leaves might be responsible for chemoprevention by stabilizing all the components of antioxidant defense which were disturbed during benzo[a]pyrene induced oxidative damage.
This is a preview of subscription content, log in to check access.
Access options
Buy single article
Instant access to the full article PDF.
US$ 39.95
Price includes VAT for USA
Subscribe to journal
Immediate online access to all issues from 2019. Subscription will auto renew annually.
US$ 99
This is the net price. Taxes to be calculated in checkout.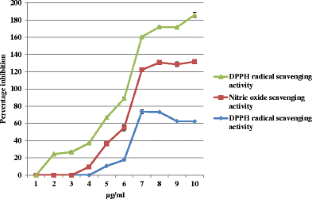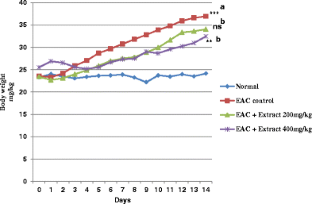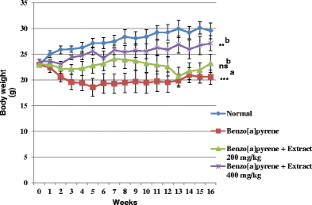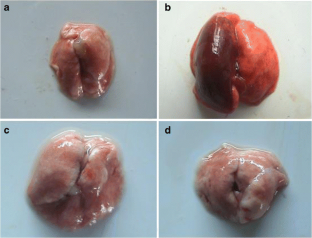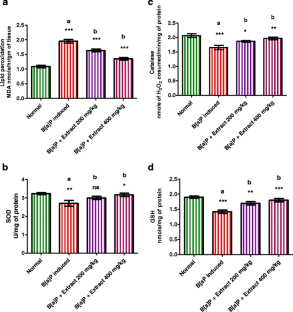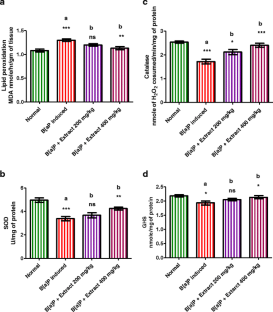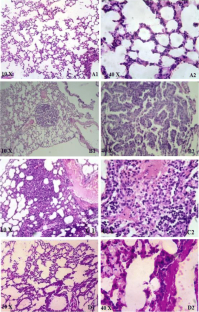 References
Antoun MD, Gerena L, Milhus WK (1993) Screening of the flora of Puerto rico for potential antimalarial bioactives. Int J Pharmacogn 31:255–258

Arkcoll D (1990) New crops from Brazil. In: Janick J, Simon JE (eds) Advances in new crops. Timber press, Portland, pp 367–371

Banerjee S, Das S (2004) Chemopreventive efficacy of black tea on benzo[a]pyrene induced lung carcinogenesis. Int J Cancer Prev 1:129–136

Baskar R, Rajeswari V, Kumar TS (2007) In-vitro antioxidant studies in leaves of Annona species. Indian J Exp Biol 45(5):480–485

Bebe FN, Panemangalore M (2003) Exposure to low doses of endosulfan and chlorpyrifos modifies endogenous antioxidants in tissues of rats. J Environ Sci Health B 38(3):349–363

Bhattracharya S, Chatterjee M (1998) Protective role of Trianthema portulacastrum against diethylnitrosamine- induced experimental hepatocarcinogenesis. Cancer Lett 129(1):7–13

Bishop JM (1991) Molecular themes in oncogenesis. Cell 64(2):235–248

Blois MS (1958) Antioxidant determinations by the use of a stable free radical. Nature 181:1199–1200

Chang C, Yang M, Wen H, Chen J (2002) Estimation of total flavonoids content in propolis by two complementary colorimetric methods. J Food Drug Anal 10(3):178–182

Chemoprevention working group (1999) Prevention of cancer in the next millennium: report of the chemoprevention working group to the American Association of Cancer Research. Cancer Res 59(19):4743–4758

Cragg GM, Newman DJ (2000) Antineoplastic agents from natural sources: achievements and future directions. Expert Opin Investig Drugs 9(12):2783–2797

Dargel R (1992) Lipid peroxidation - a common pathogenetic mechanism? Exp Toxicol Pathol 44(4):169–181

De Feo V (1992) Medicinal and magical plants in the Northern Peruvian Andes. Fitoterapia 63(5):417–440

De S. Luna J, De Carvalho JM, De Lima MR, Bieber LW, Bento Ede S, Franck X, Santana AE (2006) Acetogenins in Annona muricata L. (Annonaceae) leaves are potent molluscicides. Nat Prod Res 20(3):253–257

De Sousa OV, Vieira GD, de Jesus RG, de Pinho YCH, Alves SV (2010) Antinociceptive and anti-inflammatory activities of the ethanol extract of annona muricata L. Leaves in animal models. Int J Mol Sci 11(5):2067–2078

Duh PD, Yen GH (1997) Antioxidative activity of three herbal water extracts. Food Chem 60(40):639–645

Duvoix A, Blasius R, Delhalle S, Schnekenburger M, Morceau F, Henry E, Dicato M, Diederich M (2005) Chemopreventive and therapeutic effects of curcumin. Cancer Lett 223(2):181–190

Eggadi V, Gundamedi S, Sheshagiri SBB, Revoori SK, Jupally VR, Kulandaivelu U (2014) Evaluation of anticancer activity of Annona muricata in 1, 2-Dimethyl hydrazine induced colon cancer. World Appl Sci J 32(3):444–450

Eisenberg DM, Davis RB, Ettner SL, Appel S, Wilkey S, Van Rompay M, Kessler RC (1998) Trends in alternative medicine use in the United States, 1990–1997: results of a follow-up national survey. JAMA 280(18):1569–1575

Ellman GL (1959) Tissue sulfhydryl groups. Arch Biochem Biophys 82(1):70–77

Ezirim AU, OkochiVI JAB, Adebeshi OA, Ogunnowos OOB (2013) Induction of apoptosis in myelogenous leukemic K562 cells by ethanolic leaf extract of Annona muricata. Glob J Res Med Plants Indigen Med 2(3):142–151

Farombi EO, Olowg BI, Emerole GO (2000) Effect of three structurally related antimalarial drugs on liver microsomal components and lipid peroxidation in rats. Comp Biochem Physiol C Toxicol Pharmacol 126(3):217–224

Green LC, Wagner DA, Glogowski J, Skipper PL, Wishnok JS, Tannenbaum SR (1982) Analysis of nitrate, nitrite and (15 N) nitrate in biological fluids. Anal Biochem 126(1):131–138

Hamizah S, Roslida AH, Fezah O, Tan KL, Tor YS, Tan CI (2012) Chemopreventive potential of Annona muricata L. leaves on chemically-induced skin papillomagenesis in mice. Asian Pac J Cancer Prev 13(6):2533–2539

Hecht SS, Upadhyaya P, Wang M, Bliss RL, Mclntee EJ, Kenney PM (2002) Inhibition of lung tumorigenesis in A/J mice by N-acetyl-S-(N-2-phenethylthiocarbomyl)-L-cysteine and myo-inositol individually and in combination. Carcinogenesis 23(9):1455–1461

Heinrich M, Kuhnt M, Wright CW, Rimpler H, Phillipson JD, Schandelmaier A, Warhurst DC (1992) Parasitological and microbiological evaluation of mixed Indian medicinal plants (Mexico). J Ethnopharmacol 36:81–85

Hepsibha BT, Sathiya S, Babu CS, Premalakshmi V, Sekar T (2010) In vitro studies of antioxidant and free radical scavenging activities of Azima tetracantha Lam. leaf extract. Indian J Sci Technol 3:571–577

Jagadeeswaran R, Thirunavukkarasu C, Nalini R, Gunasekaran S, Sakthisekaran D (2000) In-vitro studies on the selective cytotoxic effect of crocetin and quercetin. Fitotherapia 71(4):395–399

Jahan MS, Vani G, Shyamaladevi CS (2011) Anti-carcinogenic effect of Solanum trilobatum in diethylnitrosamine induced and Phenobarbital promoted hepatocarcinogenesis in rats. Asian J Biochem 6(1):74–81

Joyce Nirmala M, Samundeeswari A, Deepa Sankar P (2011) Natural plant resources in anti-cancer therapy-A review. Res Plant Biol 1(3):1–14

Kakkar P, Das B, Viswanath PN (1984) A Modified spectrophotometer assay of superoxide dismutase (SOD). Indian J Biochem Biophys 21(2):130–132

Karmakar I, Dolai N, Saha P, Sarkar N, Bala A, Haldar PK (2011) Scavenging activity of Curcuma caesia rhizome against reactive oxygen and nitrogen species. Orient Pharm Exp Med 11(4):221–228

Kim J, Park EJ (2002) Cytotoxic anticancer candidates from natural resources. Curr Med Anticancer Agents 2(4):485–537

Kim HS, Kwack SL, Lee BM (2000a) Lipid peroxidation and antioxidant enzymes in the blood of rats treated with benzo[a]pyrene. Chem Biol Interact 127(2):139–150

Kim KS, Kwack SJ, Lee BM (2000b) Lipid peroxidation, antioxidant enzymes and benzo[a]pyrene-quinones in the blood of rats treated with benzo[a]pyrene. Chem Biol Interact 127(2):139–150

Kokate CK (1994) Practical Pharmacognosy. 4thed, Vallabah Prakashan, New Delhi, pp 107–111

Lans CA (2006) Ethnomedicines used in trinidad and tobago for urinary problems and diabetes mellitus. J Ethnobiol Ethnomedicine 2:45–55

Latha PG, Panikkar KK (1998) Cytotoxic and antitumor principles from Ixora coccinea flowers. Cancer Lett 130(1–2):197–202

Li S, Yan T, Yang JQ, Oberley TD, Oberley LW (2000) The role of cellular glutathione peroxidase redox regulation in the suppression of tumor cell growth by manganese superoxide dismutase. Cancer Res 60(14):3927–3939

Lopez-Lazaro M, Martin-Cordero C, Bermejo A, Cortes D, Ayuso MJ (2001) Cytotoxic compounds from Annonaceous species as DNA topoisomerase I poisons. Anticancer Res 21(5):3493–3497

Magesh V, Venugopal R, Bhavani KD, Sakthisekaran D (2007) Effect of crocetin on benzo[a]pyrene induced lung carcinogenesis in swiss albino mice. Int J Cancer Res 3(3):143–150

Minari JB, Okeke U (2014) Chemopreventive effect of Annona muricata on DMBA-induced cell proliferation in the breast tissues of female albino rats. Egypt J Med Hum Genet 15(4):327–334

Misas C, Hernández N, Abraham A (1979) Biological evaluation of cuban plants. IV. Rev Cubana Med Trop 31(1):29–35

Moghadamtousi SZ, Kadir HA, Paydar M, Rouhollahi E, Karimian H (2014) Annona muricata leaves induced apoptosis in A549 cells through mitochondrial-mediated pathway and involvement of NF-κB. BMC Complement Alternat Med 14:299

Murray RK, Granner DK, Mayes PA, Rodwell VW (2003) Harper's Illustrated Biochemistry, 26th edn. The McGraw-Hill Companies Inc, New York

Notani PN (2001) Global variation in cancer incidence and mortality. Curr Sci 81(5):465–474

Nwanjo HU, Oze GO (2007) Oxidative imbalance and non-enzymic antioxidant status in pulmonary tuberculosis infected. Pak J Nutr 6(6):590–592

OECD (2000) Guidance document on acute oral toxicity 425. Environmental health and safety monograph series on testing assessment No.24

Ohkawa H, Ohishi N, Yagi K (1979) Assay for lipid peroxides in animal tissues by thiobarbituric acid reaction. Anal Biochem 95(2):351–358

Osborn MR, Beland FA, Harvey RG, Brookes P (1976) The reaction of (±)-7α, 8β-dihydroxy-9β, 10β-epoxy-7,8,9,10-tetrahydrobenzo(a)pyrene with DNA. Int J Cancer 18(3):362–368

Owolabi MS, Ogundajo AL, Dosoky NS, Setzer WN (2013) The cytotoxic activity of Annona muricata leaf oil from Badagary, Nigeria. Am J Essent Oils Nat Prod 1(1):1–3

Paulinus ON, Kinsley A, Ikechi EG (2013) Protective effect of ethanolic leaf extract of Annona muricata Linn. on some early events in cycas induced colorectal carcinogenesis in rats. J Pharm Sci Innov 2(4):14–21

Polshettiwar SA, Ganjiwale RO, Wadher SJ, Yeole PG (2007) Spectrophotometric estimation of total tannins in some ayurvedic eye drops. Indian J Pharma Sci 69(4):574–576

Price VE, Greenfield RE (1950) Anemia in cancer. In: Greenstein JP, Haddow A (eds) Advances in cancer research, vol 5. Academic Press, New York, pp 199–200

Prieto P, Pineda M, Aguilar M (1999) Spectrophotometric quantitation of antioxidant capacity through the formation of a phosphomolybdenum complex: specific application to the determination of vitamin E. Anal Biochem 269(2):337–341

Rachmani EPN, Suhesti TS, Widiastuti R, Aditiyono (2012) Anticancer activity of leaf extract of Annona muricata against T47D cell line. Int J Appl Sci Technol 2(1):157–164

Ramakrishnan G, Augustine TA, Jagan S, Vinodhkumar R, Devaki T (2007) Effect of silymarin on N-nitrosodiethylamine induced hepatocarcinogenesis in rats. Exp Oncol 29(1):39–44

Rieser MJ, Fang XP, Rupprecht K, Hui YH, Smith DL, McLaughlin JL (1993) Bioactive single-ring acetogenins from seed extracts of Annona muricata. Planta Med 59(1):91–92

Rosenthaler K (1930) Chemical investigations of Plants. G Bell and sons, London.

Roslida AH, Tay CE, Zuraini A, Chan PF (2010) Anti-inflammatory and anti-nociceptive activities of the ethanolic extract of Annona muricata leaf. J Nat Remedies 10(2):97–104

Santos AFD, Sant'Ana AEG (2001) Molluscicidal properties of some species of Annona. Phytomedicine 8(2):115–120

Sharma P, Parmar J, Verma P, Sharma P, Goyal PK (2009) Anti-tumor activity of Phyllanthus niruri (a medicinal plant) on chemical-induced skin carcinogenesis in mice. Asian Pac J Cancer Prev 10(6):1089–1094

Siegers CP and Younes M (1981) Effect of bioflavonoids on lipid peroxidation induced by glutathione depletion. Proc Int Bioflavonoid Symposium, Munich, FRG, pp 409

Silalahi J (2006) Antioksidandalam diet dan karsinogenesis. Cermin Dunia Kedokteran 153:39–42

Singleton VL, Rossi JA (1965) Colorimetry of total phenolics with phosphomolybdic-phosphotungstic acid reagents. Am J Enol Vitic 16(3):144–158

Sinha AK (1972) Colorimetric assay of catalase. Anal Biochem 47(2):389–394

Slinkard K, Singleton VL (1977) Total phenol analysis: automation and comparison with manual methods. Am J Enol Vitic 28(1):49–55

Sood R (1987) Textbook of medical laboratory technology, 2nd edn. Jaypee Publishers, New Delhi, pp 200–208

Stefani ED, Boffetta P, Pellegrini HD, Mendilaharsu M, Carzoglio JC, Ronco A, Olivera L (1999) Dietary antioxidants and lung cancer risk: a case–control study in Uruguay. Nutr Cancer 34(1):100–110

Sundarrao K, Burrows I, Kuduk M (1993) Preliminary screening of anti-bacterial and anti-tumor activities of papuan new guinean active medicinal plants. Pharm Biol 31(1):3–6

Suyatmi, Suselo YH, Jusuf SA (2012) The selective cytotoxicity of ethanolic extract of Annona muricata leaf on HeLa Cervical cancer cells. International Conference: Research and Application on Traditional Complementary and Alternative Medicine in Health Care 24–27

Tanaka T, Kojima T, Kawamori T, Wang A, Suzui M, Okamoto K, Mori H (1993) Inhibition of 4-nitroquinoline-1-oxide- induced rat tongue carcinogenesis by the naturally occurring plant phenolics caffeic, ellagic, chlorogenic and ferulic acids. Carcinogenesis 14(7):1321–1325

Taylor L (2002) Technical data report for Graviola: Annona muricata. Herbal secrets of rain forest, secondth edn. Sage Press Inc, Austin, pp 1–6

Wu FE, Zeng L, Gu ZM, Zhao GX, Zhang Y, Schwedler JT, McLaughlin JL, Sastrodihardjo S (1995) New bioactive monotetrahydrofuran annonaceous acetogenins, annomuricin C and muricatocin C from the leaves of Annona muricata. J Nat Prod 58(6):909–915

Yuan SS, Chang HL, Chen HW, Yeh YT, Kao YH, Lin KH, Wu YC, Su JH (2003) Annonacin, a mono-tetrahydrofuranacetogenin, arrests cancer cells at the G1 phase and causes cytotoxicity in a bax- and caspase-3- related pathway. Life Sci 72(25):2853–2861

Yuan SS, Chang HL, Chen HW, Kuo FC, Liaw CC, Su JH, dan Wu YC (2006) Selective cytotoxicity of squamocin on T24 bladder cancer cells at the S PhaseVia a Bax-, Bad-, and caspase-3-related pathway. Life Sci 78(8):869–874

Zeng LU, Wu F-E, Oberlies NH, McLaughlin JL, Sastrodihadjo S (1996) Five new monotetrahydrofuran ring acetogenins from the leaves of Annona muricata. J Nat Prod 59(11):1035–1042
Acknowledgments
The authors are thankful to the management of JKK Nataraja College of Pharmacy, Komarapalayam, Tamil Nadu, INDIA for providing necessary facilities to carry out the research work.
Ethics declarations
Ethical Statement
Ethical clearance (for handling of animals and the procedures used in study) was obtained from the Institutional Animal Ethical Committee Proposal number- 02MP16JUN14 (887/ac/05/CPCSEA) before performing the study on animals.
Conflict of Interest
The authors declare that there are no conflicts of interest.
About this article
Cite this article
Rajesh, V., Baby Kala, M. Antiproliferative and Chemopreventive effect of Annona muricata Linn. on Ehrlich ascites carcinoma and Benzo[a]pyrene induced lung carcinoma. Orient Pharm Exp Med 15, 239–256 (2015). https://doi.org/10.1007/s13596-015-0199-1
Received:

Accepted:

Published:

Issue Date:
Keywords
Annona muricata L, leaves

Ehrlich ascites carcinoma

Benzo[a]pyrene induced lung cancer

Antioxidant activity