Abstract
Wedelia chinensis is a medicinal herb, traditionally used to treat variety of immunological disorders. The herb and its coumestans, wedelolactone (WL) and demethylwedelolactone (DWL) were demonstrated to possess several biological actions . This work was aimed to evaluate the in vitro immunomodulatory effect of DWL as well as the standardized Wedelia chinensis extract (WCE). In vitro immunomodulatory potential was evaluated by assessing the effects on Compound 48/80 (C 48/80)-induced de-granulation of mast cell and LPS-stimulated production of NO, pro-inflammatory cytokines and the expression of costimulatory molecules in macrophages. RP-HPLC analysis of WCE indicated the abundance of WL (1.96 ± 0.03 %, w/w) and DWL (0.61 ± 0.005 %, w/w). Results of the present investigation showed that WCE and DWL dose dependently inhibited the de-granulation of mast cells induced by C 48/80. Additionally, WCE and DWL were also inhibited the production of NO, pro-inflammatory cytokines such as TNF-α, IL-1β and IL-6 and the expression of costimulatory molecules such as CD40, CD80 and CD86 in LPS-stimulated macrophages. These findings suggest that WCE has modulatory effect on various immune-inflammatory mediators mainly due to the presence of WL along with the lesser amount of DWL. Therefore, this plant as well as its coumestans, WL and DWL can be exploited as alternative new therapeutics for various inflammatory diseases.
Access options
Buy single article
Instant access to the full article PDF.
USD 39.95
Price includes VAT (USA)
Tax calculation will be finalised during checkout.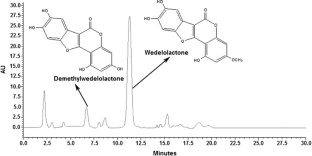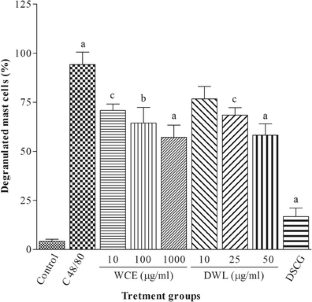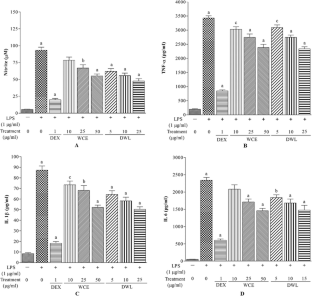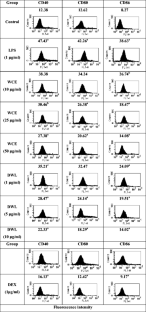 References
Amin K (2012) The role of mast cells in allergic inflammation. Respir Med 106:9–14

Azadmehr A, Sofiabadi M, Hajiaghaee R (2013) Analgesic effect and immunomodulation response on pro-inflammatory cytokines production by Scrophularia megalantha extract. Trop J Pharm Res 12:935–939

Bae DS, Kim YH, Pan CH, Nho CW, Samdan J, Yansan J, Lee JK (2012) Protopine reduces the inflammatory activity of lipopolysaccharide-stimulated murine macrophages. BMB Rep 45:108–113

Balaji G, Chalamaiah M, Hanumanna P, Vamsikrishna B, Jagadeesh Kumar D, Venubabu V (2014) Mast cell stabilizing and anti-anaphylactic activity of aqueous extract of green tea (Camellia sinensis). Int J Vet Sci Med 2:89–94

Chatzigeorgiou A, Lyberi M, Chatzilymperis G, Nezos A, Kamper E (2009) CD40/CD40L signalling and its implication in health and disease. Biofactors 35:474–483

Comalada M, Ballester I, Bailon E, Sierra S, Xaus J, Galvez J, de Medina FS, Zarzuelo A (2006) Inhibition of pro-inflammatory markers in primary bone marrow-derived mouse macrophages by naturally occurring flavonoids: analysis of the structure–activity relationship. Biochem Pharmacol 72:1010–1021

Dinarello CA (2000) Proinflammatory cytokines. Chest 118:503–508

Ghule BV, Yeole PG (2012) In vitro and in vivo immunomodulatory activities of iridoids fraction from Barleria prionitis Linn. J Ethnopharmacol 141:424–431

Kataria SK, Dalal S (2008) Enhanced production of wedelolactone and demethylwedelolactone in cultures of Eclipta alba. Plant Arch 8:675–678

Kim SH, Kwon TK, Shin TY (2008) Antiallergic effects of Vitis amurensis on mast cell-mediated allergy model. Exp Biol Med 233:192–199

Kohno K, Okamoto I, Sano O, Arai N, Iwaki K, Ikeda M, Kurimoto M (2004) Royal jelly inhibits the production of proinflammatory cytokines by activated macrophages. Biosci Biotechnol Biochem 68:138–145

Koul S, Pandurangan A, Khosa RL (2012) Wedelia chinenis (Asteraceae) - an overview. Asian Pac J Trop Biomed 2:S1169–S1175

Lee YJ, Lin WL, Chen NF, Chuang SK, Tseng TH (2012) Demethylwedelolactone derivatives inhibit invasive growth in vitro and lung metastasis of MDA-MB-231 breast cancer cells in nude mice. Eur J Med Chem 56:361–367

Maalouf SW, Talhouk RS, Schanbacher FL (2010) Inflammatory responses in epithelia: endotoxininduced IL-6 secretion and iNOS/NO production are differentially regulated in mouse mammary epithelial cells. J Inflamm 7:1–17

Maji AK, Bhadra S, Mahapatra S, Banerji P, Banerjee D (2011) Mast cell stabilization and membrane protection activity of Barleria prionitis L. Phcog J 3:67–71

Maji AK, Samanta SK, Mahapatra S, Banerji P, Banerjee D (2014) In-vivo immunomodulatory activity of standardized Stereospermum suaveolens (Roxb.) DC. root extract. Orient Pharm Exp Med 14:47–54

Maji AK, Mahapatra S, Banerji P, Banerjee D (2015) Effects of standardized Wrightia tinctoria and Stereospermum suaveolens extracts on various immuno-inflammatory parameters. J Herbs Spices Med Plants 21:75–85

Meena AK, Rao MM, Meena RP, Panda P, Renu R (2011) Pharmacological and phytochemical evidence for the plants of Wedelia genus: a review. Asian J Pharm Res 1:7–12

Miranda ES, Ramos JP, Orozco CF, Sanchez MAZ, Gutierrez SP (2013) Anti-inflammatory effects of Hyptisalbida chloroform extract on lipopolysaccharide-stimulated peritoneal macrophages. Pharmacology 2013:1–8

Moncada S (1999) Nitric oxide: discovery and impact on clinical medicine. J R Soc Med 92:164–169

Moon PD, Choi IY, Na HJ, Jeong HJ, Kim CH, Kim HR, Kim YK, Park SK, Hong SH, Kim HM (2004) Rubuscroceacanthus Leveille inhibits mast cell-mediated anaphylactic-like reaction and tumor necrosis factor-alpha secretion. Biol Pharm Bull 27:1359–1363

Mukherjee D, Biswas A, Bhadra S, Pichairajan V, Biswas T, Saha BP, Mukherjee PK (2010) Exploring the potential of Nelumbonucifera rhizome on membrane stabilization, mast cell protection, nitric oxide synthesis, and expression of costimulatory molecules. Immunopharmacol Immunotoxicol 32:466–472

O'Shea JJ, Ma A, Lipsky P (2002) Cytokines and autoimmunity. Nat Rev Immunol 2:37–45

Patwardhan B, Kalbag D, Patki PS, Nagsampagi BA (1990) Search of immunomodulatory agents: a review. Indian Drugs 28:56–63

Peranzoni E, Marigo I, Dolcetti L, Ugel S, Sonda N, Taschin E, Mantelli B, Bronte V, Zanovello P (2007) Role of arginine metabolism in immunity and immunopathology. Immunobiology 212:795–812

Rutkowski R, Moniuszko T, Stasiak-Barmuta A, Kosztyła-Hojna B, Alifier M, Rutkowski K, Tatarczuk-Krawiel A (2003) CD80 and CD86 expression on LPS-stimulated monocytes and the effect of CD80 and CD86 blockade on IL-4 and IFN-γ production in nonatopic bronchial asthma. Arch Immunol Ther Exp 51:421–428

Serhan CN, Chiang N, van Dyke TE (2008) Resolving inflammation: dual anti-inflammatory and proresolution lipid mediators. Nat Rev Immunol 8:349–361

Syed SD, Deepak M, Yogisha S, Chandrashekar AP, Muddarachappa KA, D'Souza P, Agarwal A, Venkataraman BV (2003) Trypsin inhibitory effect of wedelolactone and demethylwedelolactone. Phytother Res 17:420–421

Theoharides TC, Alysandratos KD, Angelidou A, Delivanis DA, Sismanopoulos N, Zhang B, Asadi S, Vasiadi M, Weng Z, Miniati A, Kalogeromitros D (2012) Mast cells and inflammation. Biochim Biophys Acta 1822:21–33

Tripathi S, Bruch D, Kittur DS (2008) Ginger extract inhibits LPS induced macrophage activation and function. BMC Complement Altern Med 8:1–7

Wagner H, Geyer B, Kiso Y, Hikino H, Rao GS (1986) Coumestans as the main active principles of the liver drugs Eclipta alba and Wedelia calendulacea. Planta Med 5:370–374

Wang Z, Jiang W, Zhang Z, Qian M, Du B (2012) Nitidine chloride inhibits LPS-induced inflammatory cytokines production via MAPK and NF-kappaB pathway in RAW 264.7 cells. J Ethnopharmacol 144:145–150

Xagorari A, Papapetropoulos A, Mauromatis A, Economou M, Fotsis T, Roussos C (2001) Luteolin inhibits an endotoxin stimulated phosphorylation cascade and proinflammatory cytokine production in macrophages. J Pharmacol ExpTher 296:181–187

Yang EJ, Yim EY, Song G, Kim GO, Hyun CG (2009) Inhibition of nitric oxide production in lipopolysaccharide-activated RAW 264.7 macrophages by Jeju plant extracts. Interdiscip Toxicol 2:245–249

Yuan F, Chen J, Sun P, Guan S, Xu J (2013) Wedelolactone inhibits LPS-induced pro-inflammation via NF-kappaB Pathway in RAW 264.7 cells. J Biomed Sci 20:1–11
Acknowledgments
The authors are thankful to Ulysses Research Foundation, Kolkata, West Bengal, India for their kind support and for supplying the required resources to carry out this research work. University Grand Commission (UGC), New Delhi, India is thankfully acknowledged for Special Assistance Programme (SAP) to Department of Botany and Forestry, Vidyasagar University, India.
Ethical approval
All procedures performed in studies involving animals were in accordance with the ethical standards of the institution or practice at which the studies were conducted (mentioned in materials and methods section).
Conflict of Interest
The authors declare that they have no conflict of interest.
About this article
Cite this article
Maji, A.K., Mahapatra, S., Banerji, P. et al. Immunomodulatory effect of Wedelia chinensis and demethylwedelolactone by interfering with various inflammatory mediators. Orient Pharm Exp Med 15, 23–31 (2015). https://doi.org/10.1007/s13596-014-0178-y
Received:

Accepted:

Published:

Issue Date:
Keywords
Wedelia chinensis

Demethylwedelolactone

Costimulatory molecules

Cytokines

Mast cells