Abstract
Hyperglycemia-mediated oxidative stress is an important causal factor for the development and progression of diabetic nephropathy. Hence, the present study was hypothesized to explore the renoprotective potential of oryzanol, a commercially-important antioxidant component isolated from crude rice bran oil, in diabetes-induced experimental nephropathy. Wistar rats were administered streptozotocin (45 mg/kg i.v., once) to induce experimental diabetes mellitus. Animals were then divided into the following groups; normal control rats, diabetic rats, diabetic rats administered with oryzanol (50 and 100 mg/kg) and diabetic rats administered with standard glibenclamide (10 mg/kg) orally. Following 8 weeks of streptozotocin injection and respective treatments, fasting blood glucose, biochemical markers of renal function and renal oxidative stress were evaluated in serum, urine and kidney tissue, together with histopathological assessment. The results revealed that treatment with oryzanol significantly improved the glycemic status and renal function in diabetic rats with respect to marked normalization on the levels of creatinine, uric acid, blood urea nitrogen, albumin, urinary albumin:creatinine ratio, kidney tissue enzyme, total protein, serum lipid profile and electrolyte concentrations in a dose-dependent manner. Further, oryzanol supplementation revealed a considerable dose-dependent improvement in superoxide dismutase and catalase activities and reduced glutathione levels, with a significant decline in the extent of lipid peroxidation in diabetic kidneys. Histopathological observations also evidenced regression in renal pathological alterations with oryzanol. Therefore, oryzanol confers marked protection against functional and morphologic injuries in the kidneys of diabetic rats by modulating renal alterations, improving serum lipid profile and attenuating the markers of oxidative and/or nitrosative stress in renal tissues.
Access options
Buy single article
Instant access to the full article PDF.
US$ 39.95
Tax calculation will be finalised during checkout.
Subscribe to journal
Immediate online access to all issues from 2019. Subscription will auto renew annually.
US$ 79
Tax calculation will be finalised during checkout.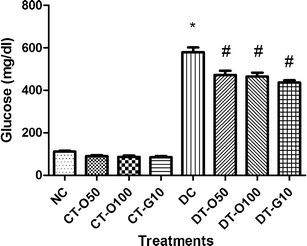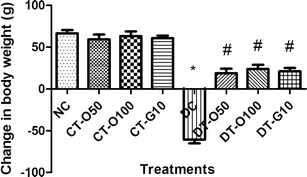 References
Aebi HE (1983) Catalase. In: Bergmeyer HU, Bergmeyer J, Grabl M (eds) Methods of enzymatic analysis. Verlag Chemie, New York, pp 273–286

Afshari AT, Shirpoor A, Farshid A, Saadatian R, Rasmi Y, Saboory E, Ilkhanizadeh B, Allameh A (2007) The effect of ginger on diabetic nephropathy, plasma antioxidant capacity and lipid peroxidation in rats. Food Chem 101:148–153

Almdal TP, Vilstrup H (1988a) Effect of streptozotocin induced diabetes and diet on nitrogen loss from organs and the capacity of urea synthesis in rats. Diabetologia 30:952–956

Almdal TP, Vilstrup H (1988b) Strick insulin treatment normalizes the organic nitrogen contents and the capacity of urea-N synthesis in experimental diabetes in rats. Diabetologia 31:114–118

Arora MK, Reddy K, Balakumar P (2010) The low dose combination of fenofibrate and rosiglitazone halts the progression of diabetes-induced experimental nephropathy. Eur J Pharmacol 636:137–144

Arreola-Mendoza L, Reyes JL, Melendez E, Martin D, Namorado MC, Sanchez E, Del Razo LM (2006) Alpha-tocopherol protects against the renal damage caused by potassium dichromate. Toxicology 218:237–246

Asayama K, Nakana T, Uchida N, Hayashibe H, Dobashi K, Nakazawa S (1994) Serum antioxidant status in streptozotocin-induced diabetic rat. Horm Metab Res 26:313–314

Bonnet F, Cooper ME (2000) Potential influence of lipids in diabetic nephropathy: insights from experimental data and clinical studies. Diabetes Metab 26:254–264

Budin SB, Othman F, Louis SR, Bakar MA, Das S, Mohamed J (2009) The effects of palm oil tocotrienol-rich fraction supplementation on biochemical parameters, oxidative stress and vascular walls of streptozotocin-induced diabetic rats. Clinics (Sao Paulo) 64:235–244

Cai Y, Chen J, Jiang J, Cao W, He L (2010) Zhen-wu-tang, a blended traditional Chinese herbal medicine, ameliorates proteinuria and renal damage of streptozotocin-induced diabetic nephropathy in rats. J Ethnopharmacol 131:88–94

Caspe S, Davidson P, Truhlar J (1949) Creatinine indices of diabetes subjects and effect of muscular degeneration. Am J Physiol 159:461–466

Chang CC, Chang CY, Wu YT, Huang JP, Yen TH, Hung LM (2011) Resveratrol retards progression of diabetic nephropathy through modulations of oxidative stress, proinflammatory cytokines, and AMP-activated protein kinase. J Biomed Sci 18:47

Chatterjea MN, Shinde R (2002) Text book of medicinal biochemistry. Jaypee Brothers Medical Publishers, New Delhi, p 317

Chiu J, Khan ZA, Farhangkhoee H, Chakrabarti S (2009) Curcumin prevents diabetes-associated abnormalities in the kidneys by inhibiting p300 and nuclear factor-kappaB. Nutrition 25:964–972

Dice JF, Walker CD, Byrne B, Cardiel A (1978) General characteristics of protein degradation in diabetes and starvation. Proc Natl Acad Sci USA 75:2093–2097

Drug Information Online (2012) Gamma Oryzanol. http://www.drugs.com/npp/gamma-oryzanol.html. Accessed on March 2012

Duvillard L, Florentin E, Lizard G, Petit JM, Galland F, Monier S, Gambert P, Verges B (2003) Cell surface expression of LDL receptor is decreased in type 2 diabetic patients and is normalized by insulin therapy. Diabetes Care 26:1540–1544

Fekete A, Rosta K, Wagner L, Prokai A, Degrell P, Ruzicska E, Vegh E, Toth M, Ronai K, Rusai K, Somogyi A, Tulassay T, Szabo AJ, Ver A (2008) Na+, K + −ATPase is modulated by angiotensin II in diabetic rat kidney – another reason for diabetic nephropathy? J Physiol 586:5337–5348

Fogh-Andersen N, McNair P, Mgller-Petersen J, Madsbad S (1982) Serum calcium fractions in diabetes mellitus. Clin Chem 28:2073–2076

Gao D, Li Q, Gao Z, Wang L (2012) Antidiabetic effects of Corni Fructus extract in streptozotocin-induced diabetic rats. Yonsei Med J 53:691–700

Genuth SM (1973) Plasma insulin and glucose profile in normal, obese and diabetic persons. Ann Intern Med 79:812–822

Ghatak SB, Panchal SJ (2010) Methodical characterization and quantitative estimation of crude Oryza sativa bran oil. Int J Chem Anal Sci 1:181–185

Ghatak SB, Panchal SJ (2011) Gamma-Oryzanol– a multi-purpose steryl ferulate. Curr Nutr Food Sci 7:10–20

Ghatak SB, Panchal SJ (2012a) Anti-hyperlipidemic activity of oryzanol, isolated from crude rice bran oil, on Triton WR-1339-induced acute hyperlipidemia in rats. Rev Bras Farmacogn 22:642–648

Ghatak SB, Panchal SJ (2012b) Investigation of the immunomodulatory potential of oryzanol isolated from crude rice bran oil in experimental animal models. Phytother Res 26:1701–1708

Ghatak SB, Panchal SJ (2012c) Anti-diabetic activity of oryzanol and its relationship with the anti-oxidant property. Int J Diabetes Dev Ctries 32:185–192

Griess P (1879) Bemerkungen zu der abhandlung der H.H. Weselsky und Benedikt "Ueber einige azoverbindungen". Chem Ber 12:426–428

Guthrie RA, Guthrie DW (2004) Pathophysiology of diabetes mellitus. Crit Care Nurs Q 27:113–125

Haidara MA, Mikhailidis DP, Rateb MA, Ahmed ZA, Yassin HZ, Ibrahim IM, Rashed LA (2009) Evaluation of the effect of oxidative stress and vitamin E supplementation on renal function in rats with streptozotocin-induced Type 1 diabetes. J Diabetes Complications 23:130–136

Hough S, Avioli AV (1984) Alterations of bone and mineral metabolism in diabetes. In: Nattrass M, Santiago JV (eds) Recent advances in diabetes. pp 223–229

Hovind P, Rossing P, Johnson RJ, Parving HH (2011) Serum uric acid as a new player in the development of diabetic nephropathy. J Ren Nutr 21:124–127

Hu QH, Wang C, Li JM, Zhang DM, Kong LD (2009) Allopurinol, rutin, and quercetin attenuate hyperuricemia and renal dysfunction in rats induced by fructose intake: renal organic ion transporter involvement. Am J Physiol Renal Physiol 297:F1080–F1091

Ishii N, Ogawa Z, Suzuki K, Numakami K, Saruta T, Itoh H (1996) Glucose loading induces DNA fragmentation in rat proximal tubular cells. Metabolism 45:1348–1353

Kaplan SA, Lippe BM, Brinkman CR, Davidson MB, Geffner ME (1982) Diabetes mellitus. Ann Intern Med 96:635–649

Kaushik P, Kaushik D, Yadav J, Pahwa P (2013) Protective effect of Alpinia galanga in STZ induced diabetic nephropathy. Pak J Biol Sci 16:804–811

Komers R, Allen TJ, Cooper ME (1994) Role of endothelium derived nitric oxide in the pathogenesis of the renal hemodynamic changes of experimental diabetes. Diabetes 43:1190–1197

Kosugi T, Nakayama T, Heinig M, Zhang L, Yuzawa Y, Sanchez-Lozada LG, Roncal C, Johnson RJ, Nakagawa T (2009) Effect of lowering uric acid on renal disease in the type 2 diabetic db/db mice. Am J Physiol Renal Physiol 297:F481–F488

Kuhad A, Chopra K (2008) Lycopene ameliorates thermal hyperalgesia and cold allodynia in STZ-induced diabetic rat. Indian J Exp Biol 46:108–111

Kuhad A, Chopra K (2009) Attenuation of diabetic nephropathy by tocotrienol: involvement of NFkB signaling pathway. Life Sci 84:296–301

Lee SH, Chun HK, Park HJ, Lee YS (2004) Supplementary effect of gamma-oryzanol on lipid metabolism in diabetic KK mice. Korean J Nutr 37:347–351

Lerma-Garcia MJ, Herrero-Martinez JM, Simo-Alfonso EF, Mendonca CRB, Ramis-Ramos G (2009) Composition, industrial processing and applications of rice bran γ-oryzanol. Food Chem 115:389–404

Lowry OH, Rosebrough NJ, Farr AL, Randall RJ (1951) Protein measurement with the folin phenol reagent. J Biol Chem 193:265–275

Luo JZ, Luo L (2009) Ginseng on hyperglycemia: effects and mechanisms. Evid Based Complement Alternat Med 6:423–427

Maack T, Johnson V, Kau ST, Figueiredo J, Sigulem D (1979) Renal filtration, transport, and metabolism of low-molecular-weight proteins: a review. Kidney Int 16:251–270

McBain AM, Brown IRF, Menzies DG, Campbell IW (1988) Effects of improved glycaemic control on calcium and magnesium homeostasis in type II diabetes. J Clin Pathol 41:933–935

Misra HP, Fridovich I (1972) The role of superoxide anion in the autoxidation of epinephrine and a simple assay for superoxide dismutase. J Biol Chem 247:3170–3179

Moron MJ, Diperre JW, Mannerv KB (1979) Levels of glutathione, Glutathione reductase and Glutathione-S-Transferase activities in rat lungs and liver. Biochem Biophys Acta 582:67–71

Nasri H, Baradaran HR (2008) Lipids in association with serum magnesium in diabetes mellitus patients. Bratisl Lek Listy 109:302–306

Nuyts GD, Yaqoob M, Nouwen EJ, Patric AW, McClelland P, Mac Farlane IA, Bell GM, Broe ME (1994) Human urinary intestinal alkaline phosphatase as an indicator of S3-segment-specific alterations in incipient diabetic nephropathy. Nephrol Dial Transplant 9:377–381

Oh YK, Joo KW, Lee JW, Jeon US, Lim CS, Han JS, Knepper MA, Na KY (2007) Altered renal sodium transporter expression in an animal model of type 2 diabetes mellitus. J Korean Med Sci 22:1034–1041

Ohara K, Uchida A, Nagasaka R, Ushio H, Ohshima T (2009) The effects of hydroxycinnamic acid derivatives on adiponectin secretion. Phytomedicine 16:130–137

Ohkawa H, Ohishi N, Yagi K (1979) Assay for lipid peroxides in animal tissues by thiobarbituric acid reaction. Anal Biochem 95:351–358

Ortiz A, Ziyadeh FN, Neilson EG (1997) Expression of apoptosis-regulatory genes in renal proximal tubular epithelial cells exposed to high ambient glucose and in diabetic kidneys. J Investig Med 45:50–56

Pacher P, Obrosova IG, Mabley JG, Szabó C (2005) Role of nitrosative stress and peroxynitrite in the pathogenesis of diabetic complications. Emerging new therapeutical strategies. Curr Med Chem 12:267–275

Palsamy P, Subramanian S (2011) Resveratrol protects diabetic kidney by attenuating hyperglycemia-mediated oxidative stress and renal inflammatory cytokines via Nrf2-Keap1 signaling. Biochim Biophys Acta 1812:719–731

Pawluczyk IZ, Harris KP (1997) Macrophages promote prosclerotic responses in cultured rat mesangial cells: a mechanism for the initiation of glomerulosclerosis. J Am Soc Nephrol 8:1525–1536

Pennel JP, Meinking TL (1982) Pattern of urinary proteins in experimental diabetes. Kidney Int 21:709–713

Prakasam A, Sethupathy S, Pugalendi KV (2004) Influence of Caseria esculenta root extraction on protein metabolism and marker enzymes in streptozotocin-induced diabetic rats. Pol J Pharmacol 56:587–593

Rajasekaran S, Ravi K, Sivagnanam K, Subramanian S (2006) Beneficial effects of aloe vera leaf gel extract on lipid profile status in rats with streptozotocin diabetes. Clin Exp Pharmacol Physiol 33:232–237

Reagan-Shaw S, Nihal M, Ahmad N (2007) Dose translation from animal to human studies revisited. FASEB J 22:659–661

Richter C (1987) Biophysical consequences of lipid peroxidation in membranes. Chem Phys Lipids 44:175–189

Ruzaidi A, Amin AG, Nawalyah M, Hamid HA, Faizul HA (2005) The effect of Malaysian cocoa extract on glucose levels and lipid profiles in diabetic rats. J Ethnopharmacol 98:55–60

Saenjum C, Chaiyasut C, Chansakaow S, Suttajit M, Sirithunyalug B (2012) Antioxidant and anti-inflammatory activities of gamma-oryzanol rich extracts from Thai purple rice bran. J Med Plant Res 6:1070–1077

Saito M, Kinoshita Y, Satoh I, Shinbori C, Kono T, Hanada T, Uemasu J, Suzuki H, Yamada M, Satoh K (2006) N-hexacosanol ameliorates streptozotocin-induced diabetic rat nephropathy. Eur J Pharmacol 544:132–137

Sefi M, Fetoui H, Soudani N, Chtourou Y, Makni M, Zeghal N (2012) Artemisia campestris leaf extract alleviates early diabetic nephropathy in rats by inhibiting protein oxidation and nitric oxide end products. Pathol Res Pract 208:157–162

Shahid SM, Mahboob T (2008) Electrolytes and Na(+)-K(+)-ATPase: potential risk factors for the development of diabetic nephropathy. Pak J Pharm Sci 21:172–179

Sharma A, Dabla S, Agrawal RP, Barjatya H, Kochar DK, Kothari RP (2007) Serum magnesium: an early predictor of course and complications of diabetes mellitus. J Indian Med Assoc 105:16–20

Siddiqui S, Rashid Khan M, Siddiqui WA (2010) Comparative hypoglycemic and nephroprotective effects of tocotrienol rich fraction (TRF) from palm oil and rice bran oil against hyperglycemia induced nephropathy in type 1 diabetic rats. Chem Biol Interact 188:651–658

SJöquist M, Huang W, Johansson B (1998) Effects of C-peptide on renal function at the early stage of experimental diabetes. Kidney Int 54:758–764

Son MJ, Rico CW, Nam SH, Kang MY (2011) Effect of oryzanol and ferulic acid on the glucose metabolism of mice fed with a high-fat diet. J Food Sci 76:H7–H10

Song M, Jeong G, Kwon K, Ka S, Jang H, Park J, Kim Y, Park B (2010) Sulfuretin protects against cytokine-induced β-cell damage and prevents streptozotocin-induced diabetes. Exp Mol Med 42:628–638

Srinivasan M, Sudheer AR, Menon VP (2007) Ferulic acid: therapeutic potential through its antioxidant property. J Clin Biochem Nutr 40:92–100

Stevens LA, Coresh J, Greene T, Andrew SL (2006) Assessing kidney function - measured and estimated glomerular filtration rate. N Engl J Med 354:2473–2483

Swanaton-Flat SK, Day C, Bailey CJ, Flatt PR (1990) Traditional plant treatment for diabetes; studies in normal and streptozotocin diabetic mice. Diabetologia 33:462–464

Tanwar RS, Sharma SB, Singh UR, Prabhu KM (2010) Attenuation of renal dysfunction by anti-hyperglycemic compound isolated from fruit pulp of Eugenia jambolana in streptozotocin-induced diabetic rats. Indian J Biochem Biophys 47:83–89

Tasaka Y (1999) Use of sulfonylurea (SU) in the treatment of diabetes mellitus. Nihon Rinsho 57:663–668

Trevisan R, Dodesini AR, Lepore G (2006) Lipids and renal disease. J Am Soc Nephrol 17:S145–S147

Vedel P, Obel J, Nielsen FS (1996) Glomerular hyperfiltration in microalbuminuric NIDDM patients. Diabetologia 39:1584–1589

Wang C, Pan Y, Zhang QY, Wang FM, Kong LD (2012) Quercetin and allopurinol ameliorate kidney injury in STZ-treated rats with regulation of renal NLRP3 inflammasome activation and lipid accumulation. PLoS One 7:e38285

Xu Z, Hua N, Godber JS (2001) Antioxidant activity of tocopherols, tocotrienols, and gamma-oryzanol components from rice bran against cholesterol oxidation accelerated by 2,2′-azobis(2-methylpropionamidine) dihydrochloride. J Agric Food Chem 49:2077–2081

Xue W, Lei J, Li X, Zhang R (2011) Trigonella foenum graecum seed extract protects kidney function and morphology in diabetic rats via its antioxidant activity. Nutr Res 31:555–562

Yamabe N, Yokozawa T, Oya T, Kim M (2006) Therapeutic potential of (−)-epigallocatechin 3-O-gallate on renal damage in diabetic nephropathy model rats. J Pharmacol Exp Ther 319:228–236

Yamamoto H, Uchigata Y, Okamoto H (1981) Streptozotocin and alloxan induced DNA strand breaks and poly (ADP-ribose) synthetase in pancreatic islets. Nature 294:284–286

Yousef WM, Omar AH, Ghanayem NM, Abd El-Wahed MM, Morsy MD (2005) Effect of some calcium channel blockers in experimentally induced diabetic nephropathy in rats. Int J Diabetes Metab 14:39–49

Zafar M, Naeem-Ul-Hassan Naqvi S, Ahmed M, Kaimkhani ZA (2009) Altered kidney morphology and enzymes in streptozotocin-induced diabetic rats. Int J Morphol 27:783–790

Zullaikah S, Melwita E, Ju YH (2009) Isolation of oryzanol from crude rice bran oil. Bioresour Technol 100:299–302
Acknowledgments
The authors wish to thank the Department of Science & Technology, New Delhi, India for providing financial assistance (INSPIRE Fellowship: JRF Professional) for carrying out this work.
About this article
Cite this article
Ghatak, S.B., Panchal, S.S. Renoprotective effects of oryzanol in an animal model of experimentally induced diabetic nephropathy. Orient Pharm Exp Med 14, 55–67 (2014). https://doi.org/10.1007/s13596-013-0119-1
Received:

Accepted:

Published:

Issue Date:
Keywords
Diabetic nephropathy

Hyperglycemia

Oxidative stress

Renal function

Oryzanol