Abstract
The increasing in drug/antibiotics resistance by microorganisms finds the search for the new drugs with better results. Coscinium fenestratum considered as a critically endangered medicinal plant belongs to the family Menispermaceae. It is commonly found in Western Ghats of India and Sri Lanka. It is one among the families having several medicinal values from root to fruit. In the traditional medicine system, the plant has been used for treating diabetes mellitus and commonly known to be active ingredients with diverse therapeutic purposes. The stem of the plant has anti-microbial, anti-diabetic, anti-inflammatory, anti-oxidants properties and used for curing diseases . The root of Coscinium fenestratum is considered to be a bitter tonic, used in dressing wounds, treating ulcers and used as stomachic and antiseptic. The extract of the stem is useful in snake-bites and the stem bark is useful in treating intermittent fevers. This plant is used in combination with other medicinal plants, in the traditional methods of treating herpes in coastal Karnataka, India.
This is a preview of subscription content, log in to check access.
Access options
Buy single article
Instant access to the full article PDF.
US$ 39.95
Price includes VAT for USA
Subscribe to journal
Immediate online access to all issues from 2019. Subscription will auto renew annually.
US$ 99
This is the net price. Taxes to be calculated in checkout.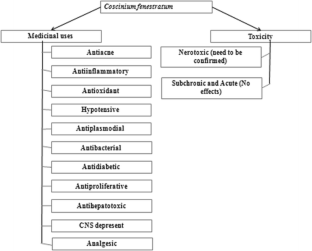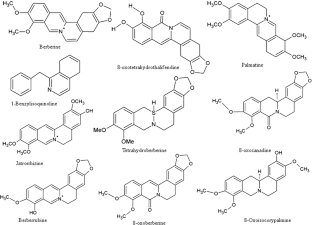 References
Ali SS, Kasoju N, Luthra A, Singh A, Sharanabasava H, Sahu A, Bora U (2008) Indian medicinal herbs as sources of antioxidants. Food Res Int 41:1–15

Al-Reza SA, Rahman A, Sattar MA, Rahman MO, Fida HM (2010) Essential oil composition and antioxidant activities of Curcuma aromatica Salisb. Food Chem Toxicol 48:1757–1760

Anitha S, Suresh GS, Ramaiah M, Vaidya VP (2011) Extraction, isolation and wound healing activity of flavonoid from Coscinium fenestratum. Res J Pharm Biol Chem Sci 2:1090–1095

Azadbakhta M, Safapour S, Ahmadi A, Ghasemi M, Shokrzadeh M (2010) Anti-diabetic effects of aqueous fruits extract of Diospyros lotus L. on streptozotocin-induced diabetic rats and the possible morphologic changes in the liver, kidney and heart. J Pharmacogn Phytother 2:010–016

Ball AR, Casadei G, Samosorn S, Bremner JB, Ausubel FM, Moy TI, Lewis K (2006) Conjugating berberine to a multidrug resistance pump inhibitor creates an effective antimicrobial. ACS Chem Biol 9:594–600

Bhagath K, Prashith kekuda TR, Raghavendra HL, Swarnalatha SP, Preethi HR, Surabhi KS (2010) In vitro antioxidant and antihelmintic activity of extracts of Jasminium arborescens Roxb. Int J Drug Dev Res 2:89–95

Bhandary MJ, Chandrashekar KR (2011) Herbal therapy for herpes in the ethano-medicine of Coastal Karnataka. Indian J Tradit Knowl 10:528–532

Birdsall TC, Kelly GS (1997) Berberine: therapeutic potential of an alkaloid found in several medicinal plants. Alt Med Rev 2:94–103

Cernakova M, Kostalova D (2002) Antimicrobial activity of berberine- a constituent of Mahonia aquifolium. Folia Microbiol 47:375–378

Chaudhary S (2010) Antiacne activity of some Indian herbal drugs. Int J Pharm Prof Res 1:78–80

Chitra K, Sujatha K, Polisetti H, Karri S, Reddy CU (2011) Standardization of Coscinium fenestratum with reference to berberine by high performance thin layer chromatography. Res J Pharm Biol Chem Sci 2:226–229

Choi B, Ahn I, Kim Y, Park J, Lee S, Hyun C, Do M (2006) Berberine reduces the expression of adipogenic enzymes and inflammatory molecules of 3T3-L1 adipocyte. Exp Mol Med 38:599–605

Costa A, Lage D, Moises TA (2010) Acne and diet: truth or myth? An Bras Dermatol 85:346–353

Cowan MM (1999) Plant products as antimicrobial agents. Clin Microbiol Rev 12:564–582

Deevanhxay P, Suzuki M, Maeshibu N, Li H, Tanaka K, Hirose S (2009) Simultaneous characterization of quaternary alkaloids, 8-oxoprotoberberine alk aloids, and a steroid compound in Coscinium fenestratum by liquid chromatography hybrid ion trap time-of-flight mass spectrometry. J Pharm Biomed Anal 50:413–425

Dorman HJD, Deans SG (2000) Antimicrobial agents from plants: antibacterial activity of plant volatile oils. J Appl Microbiol 88:308–316

Eldeen IMS, Seow EM, Abdullah, Sulaiman SF (2011) In vitro antibacterial, antioxidant, total phenolic contents and anti-HIV-1 reverse transcriptase activities of extracts of seven Phyllanthus sp. S Afr J Bot 75–79

Eswani N, Kudus KA, Nazre M, Noor AGA (2010) Medicinal plant diversity and vegetation analysis of logged over hill forest of tekai tembeling forest reserve, Jerantut, Pahang. J Agric Sci 2:189–210

Freile ML, Giannini F, Pucci G, Sturniolo A, Rodero L, Pucci O, Balzareti V, Enriz RD (2003) Antimicrobial activity of aqueous extracts and of berberine isolated from Berberis heterophylla. Fitoterapia 74:702–705

Harisaranraj RS, Babu S, Suresh K (2010) Antimicrobial properties of selected Indian medicinal plants against acne-inducing bacteria. Ethnobot Leafl 14:84–94

Isimi C, Obidike I, Aboh M, Emeje M (2011) Anti-plasmodial activity of the mixed stem bark extracts of Anogeissus leiocarpus and Prosopis africana and in vitro evaluation of its tablet dosage form. J Herbs Spices Med Plants 17:419–435

Jian-ling JIN, Guo-qiang HUA, Zhen MENG, Pei-ji GAO (2010) Antibacterial mechanisms of berberine and reasons for little resistance of bacteria. Chin Herb Med 3:27–35

Kamkaen N, Wilkinson JM, Cavanagh HMA (2006) Cytotoxic effect of four Thai edible plants on mammalian cell proliferation. Thail Pharm Health Sci J 3:189–195

Keawpradub N, Dej-adisai S, Yuenyongsawad S (2005) Antioxidant and cytotoxic activities of Thai medicinal plants named Khaminkhruea: Arcangelisia flava, Coscinium blumeanum and Fibraurea tinctoria. Songklanakarin. J Sci Technol 27:455–467

Kekuda PTR, Sudharshan SJ, Chinmaya A, Valleesha NC, Murthuza S, Achur RN (2009) Central nervous system (CNS) depressant and Analgesic activity of methanolic extracts of Nardostachys jatamansi DC. and Coscinium fenestratum Colebr. in experimental animal model. J Pharm Res 2:1716–1719

Khan T, Krupadanam D, Anwar SY (2008) The role of phytohormone on the production of berberine in the calli cultures of an endangered medicinal plant, turmeric (Coscinium fenestratum). African J Biotechnol 7:3244–3246

Koffi N, Noel ZG, Theodore ED (2009) Hypotensive effect of aqueous extract of Bambusa vulgaris sheets on the arterial pressure of rabbits. Am J Sci Res 2:60–72

Krishnaraju AV, Rao CBM, Sundararaju D, Sengupta K, Trimurtulu G (2009) Anti-inflammatory activity of Vitex leucoxylon L. bark extracts against Freund's complete adjuvant induced arthritis in Sprague Dawley rat. Am J Infect Dis 5: 68–73

Kumar GS, Jayaveera KN, Ashok Kumar CK, Sanjay UP, Vrushabendra Swamy BM, Kishore Kumar DV (2007) Antimicrobial effects of Indian medicinal plants against acne-inducing bacteria. Trop J Pharm Res 6:717–723

Kumar S, Kumar V, Prakash O (2011) Antidiabetic, hypolipidemic, and antioxidant activities of Callistemon lanceolatus leaves extract. J Herbs Spices Med Plants 17:144–153

Li B, Birdwell C, Whelan J (1994) Antithetic relationship of dietary arachidonic acid and eicosapentaenoic acid on eicosanoid production in vivo. J Lipid Res 35:1869–1877

Lin C, Kao S, Chen G, Chung J (2005) Berberine decreased N-acetylation of 2-aminofluorene through inhibition of N-acetyltransferase gene expression in human leukemia HL-60 cells. Anticancer Res 25:4149–4156

Mahata S, Bharti AC, Shukla S, Tyagi A, Husain SA, Das BC (2011) Berberine modulates AP-1 activity to suppress HPV transcription and downstream signaling to induce growth arrest and apoptosis in cervical cancer cells. Mol Cancer 1–14

Malhotra S, Taneja SC, Dhar KL (1989) Minor alkaloid from Coscinium fenestratum. Phytochemy 28:1998–1999

Maritim C, Sanders RA, Watkins JB (2003) Diabetes, oxidative stress, and antioxidants: a review. J Biochem Mol Toxicol 17:24–38

Mohan MC, Smitha PV (2011) Phytochemical composition and antimicrobial activity of three plant preparations used in folk medicine and their synergistic properties. J Herbs Spices Med Plants 17(4):339–350

Muralidhar A, Sudhakar Babu S, Ravi sankar T, Reddanna P, Reddy GV, Latha J (2010) Antiinflammatory activity of flavonoid fraction isolated from the stem bark of Butea monosperma (Lam): a mechanism based study. Int J Phytopharm 1:124–132

Nair GM, Narasimhan S, Shuburaj S, Abraham TK (2005) Antibacterial effects of Coscinium fenestratum. Fitoterapia 76:585–587

Narasimhan S, Nair GM (2004) Release of berberine and its crystallization in liquid medium of cell suspension cultures of Coscinium fenestratum (Gaertn.) Colebr. Curr Sci 86:1369–1371

Nazeema TH, Brindha V (2009) Antihepatotoxic and antioxidant defense potential of Mimosapudica. Int J Drug Discov 1:01–04

Neelesh M, Jain S, Malviya S (2010) Antidiabetic potential of medicinal plants. Acta Pol Pharm Drug Res 67:113–118

Nolan LL, Labbe RG (2005) Future of natural products from plants in the struggle with emerging diseases: case of food-borne pathogens and leishmaniasis. J Herbs Spices Med Plants 11:161–190

Okoli CO, Akah PA, Nwafor SV, Ihemelandu UU, Amadife C (2007) Anti-inflammatory activity of seed extracts of Aframomum melegueta. J Herbs Spices Med Plants 1:11–21

Oparaocha ET, Okorie C (2009) In vivo evaluation of anti-malarial activity of three medicinal plants used in South Eastern Nigeria. J Herbs Spices Med Plants 15(1):121–128

Parekh J, Chanda S (2007) Evaluation of antimicrobial activity of Terminalia chebula Retz. Fruit in different solvents. J Herbs Spices Med Plants 13:107–116

Pinho PMM, Pinto MMM, Kijjoa A, Pharadai K, Díaz JG, Herz W (1992) Protoberberine alkaloids from Coscinium fenestratum. Phytochem 31:1403–1407

Punitha ISR, Rajendran K, Shirwaikar A, Shirwaikar A (2005) Alcoholic stem extract of Coscinium fenestratum regulates carbohydrate metabolism and improves antioxidant status in streptozotocin-nicotinamide induced diabetic rats. Adv Access Public 2:375–381

Rojsanga P, Gritsanapan W, Suntornsuk L (2006) Determination of berberine content in the stem extracts of Coscinium fenestratum by TLC densitometry. Med Princ Pract 15:373–378

Ruan K, Cervantes V, So S (2009) Engineering of a novel hybrid enzyme: an anti-inflammatory drug target with triple catalytic activities directly converting arachidonic acid into the inflammatory prostaglandin E2 protein engineering. Des Sel 22:733–740

Salahdeen HM, Yemitan OK, Alada ARA (2004) Effect of aqueous leaf extract of Tridax procumbens on blood pressure and heart rate in rats. Afr J Biomed Res 7: 27–29

Samosorn S, Tanwirat B, Muhamad N, Casadei G, Tomkiewicz D, Lewis K, Suksamrarn A, Prammananan T, Gornall KC, Beck JL, Bremner JB (2009) Antibacterial activity of berberine-NorA pump inhibitor hybrids with a methylene ether linking group. Bioorg Med Chem 17:3866–3872

Saravanan R, Ramesh B, Pugalendi KV (2006) Effect of Piper betle on hepatotoxicity and antioxidant defense in ethanol-treated rats. J Herbs Spices Med Plants 12:61–72

Selvam ABD (2010) Is the term substitution relevant to pharmacognosy and/or vegetable crude drug industry? Pharmacogn Res 2:323–324

Severina II, Muntyan MS, Lewis K, Skulachev VP (2001) Transfer of cationic antibacterial agents berberine, palmatine, and benzalkonium through bimolecular planar phospholipid film and Staphylococcus aureus membrane. IUBMB Life 52:321–324

Shirwaikar A, Rajendran K, Punitha ISR (2005a) Antihyperglycaemic activity of the aqueous stem extract of Coscinium fenestratum in non-insulin dependent diabetic rats. Pharm Biol 43:707–712

Shirwaikar A, Rajendran K, Punitha ISR (2005b) Antidiabetic activity of alcoholic stem extract of Coscinium fenestratum in streptozotocin-nicotinamide induced type 2 diabetic rats. J Ethnopharmacol 97:369–374

Singh GB, Singh S, Bani S, Malhotra S (1990) Hypotensive action of a Coscinium fenestratum stem extract. J Ethnopharmacol 30:151–155

Singh MP, Bhaduaria RS, Sharma CS (2010) Neuromuscular blocking agents (NMBAs): an overview. J Chem Pharm Res 2:264–273

Siva R (2007) Status of natural dyes and dye-yielding plants in India. Curr Sci 92:916–925

Steriti R (2010) Berberine for diabetes mellitus type 2. Nat Med J 2:5–6

Stermitz FR, Lorenz P, Tawara JN, Zenewicz LN, Lewis K (2000) Synergy in a medicinal plant: antimicrobial action of berberine potentiated by 5-methoxyhydnocarpin, a multidrug pump inhibitor. Appl Biol Sci 97:1433–1437

Sudharshan SJ, Prashith TR, Sujatha ML (2010) Antiinflammatory activity of Curcuma aromatica Salisb and Coscinium fenestratum Colebr: a comparative study. J Pharm Res 3:24–25

Suseela V, Poornima K (2009) Free radical scavenging activity of tree turmeric (Coscinium fenestratum). Indian J Nutr Diet 46:199–203

Talib WH, Mahasneh AM (2010) Antiproliferative activity of plant extracts used against cancer in traditional medicine. Sci Pharm 78:33–45

Tomkiewicz D, Casadei G, Larkins-Ford J, Moy TI, Garner JA, Bremner JB, Ausubel FM, Lewis K, Kelso MJ (2010) Berberine-INF55 (5-nitro-2-phenylindole) hybrid antimicrobials: effects of varying the relative orientation of the berberine and INF55 components. Antimicrob Agents Chemother 54:3219–3224

Tran QL, Tezuka Y, Ueda J, Nguyen NT, Maruyama Y, Begum K, Kim H, Wataya Y, Tran QK, Kadota S (2003) In vitro antiplasmodial activity of antimalarial medicinal plants used in Vietnamese traditional medicine. J Ethnopharmacol 86:249–252

Tungpradit R, Sinchaikul S, Phutrakul S, Wongkham W, Chen S (2011) Antiproliferative activity of berberine from Coscinium fenestratum on NCI-H838 cell line. Chiang Mai J Sci 38:85–94

Tushar KV, George S, Ramashree AB, Balachandran I (2008) Coscinium fenestratum (Gaertn.) Colebr.- A review on this rare, critically endangered and highly-traded medicinal species. J Plant Sci 3:133–145

Ueda J, Tezuka Y, Banskota AH, Tran QL, Tran QK, Saiki I, Kadota S (2002) Antiproliferative activity of vietnamese medicinal plants. Biol Pharm Bull 25:753–760

Umamaheswari S, Prathiba D, Srikanth J, Reddy U (2009) Antioxidant potential of a polyherbal formulation (Diabet) on alloxan induced oxidative stress in rats. Drug Invent Today 1:46–49

Venukumar MR, Latha MS (2002) Antioxidant effect of Coscinium fenestratum in carbon tetrachloride treated rats. Indian J Physiol Pharmacol 46:223–228

Venukumar MR, Latha MS (2004) Effect of Coscinium fenestratum on hepatotoxicity in rats. Indian J Exp Biol 42:792–797

Vicente E, Charnaud S, Bongard E, Villar R, Burguete A, Solano B, Ancizu S, Perez-Silanes S, Aldana I, Vivas L, Monge A (2008) Synthesis and antiplasmodial activity of 3-Furyl and 3-Thienylquinoxaline-2-carbonitrile 1,4-Di-N-oxide Derivatives. Molecules 13:69–77

Wang X, Yao X, Zhu Z, Tang T, Dai K, Sadovskaya I, Flahaut S, Jabbouri S (2009) Effect of berberine on Staphylococcus epidermidis biofilm formation. Int J Antimicrob Agents 34:60–66

Wattanathorn J, Uabundit N, Itarat W, Mucimapura S, Laopatarakasem P, Sripanidkulchai B (2006) Neurotoxicity of Coscinium fenestratum stem, a medicinal plant used in traditional medicine. Food Chem Toxicol 44:1327–1333

Watthanachaiyingcharoen R, Komatsu K, Zhu S, Vajragupta O, Leelamanit W (2010) Authentication of Coscinium fenestratum among the other Menispermaceae plants prescribed in Thai folk medicines. Biol Pharm Bull 33:91–94

Wongbutdee J (2009) Physiological effects of berberine. Thail Pharm Health Sci J 4:78–83

Wongcome T, Panthong A, Jesadanont S, Kanjanapothi D, Taesotikul T, Lertprasertsuke N (2007) Hypotensive effect and toxicology of the extract from Coscinium fenestratum (Gaertn) Colebr. J Ethnopharmacol 111:468–475

Yibchok-anun S, Jittaprasatsin W, Somtir D, Bunlunara W, Adisakwattana S (2009) Insulin secreting and α-glucosidase inhibitory activity of Coscinium fenestratum and postprandial hyperglycemia in normal and diabetic rats. J Med Plants Res 3:646–651

Yin J, Gao Z, Liu D, Liu Z, Ye J (2008) Berberine improves glucose metabolism through induction of glycolysis. Am J Physiol Endocrinol Metab 294:E148–E156
About this article
Cite this article
Rai, R.V., Rajesh, P.S. & Kim, H. Medicinal use of Coscinium fenestratum (Gaertn.) Colebr.: an short review. Orient Pharm Exp Med 13, 1–9 (2013). https://doi.org/10.1007/s13596-012-0094-y
Received:

Accepted:

Published:

Issue Date:
Keywords
Coscinium fenestratum

Medicinal uses

Antidiabetic

Antimicrobial

Western Ghats