Abstract
In this study, aqueous extracts of peels of best known citrus fruits namely grapefruit (Citrus paradisi), lemon (C. limon), lime (C. aurantifolia) and orange (C. sinensis) were used. Depending on polyphenols content, the extracts were graded as orange > lemon > lime > grapefruit. Effects of the extracts on the release of histamine from rat peritoneal exudate cells (PECs) was measured to know anti-allergic activity. All extracts inhibited the release of histamine from rat PECs induced by the calcium ionophore A23187. Heating of the extracts at 100 °C for 10 min enhanced inhibition of histamine release. Effect of the oral administration of aqueous extract of grapefruit peel on the effusion of Chicago sky blue dye into the intraperitoneal cavity of mice was measured to know the anti-inflammatory activity. The extract potentially suppressed inflammation in the mice cavity as like indometacin, an anti-inflammatory drug. Therefore, the extracts of citrus peels are useful for developing anti-allergic and anti-inflammatory foods and supplements.
This is a preview of subscription content, log in to check access.
Access options
Buy single article
Instant access to the full article PDF.
US$ 39.95
Price includes VAT for USA
Subscribe to journal
Immediate online access to all issues from 2019. Subscription will auto renew annually.
US$ 99
This is the net price. Taxes to be calculated in checkout.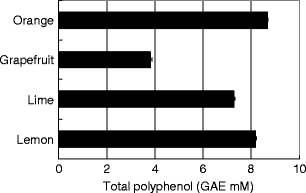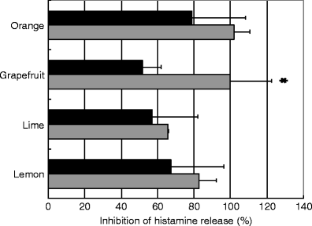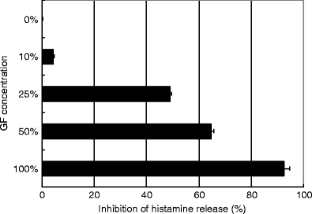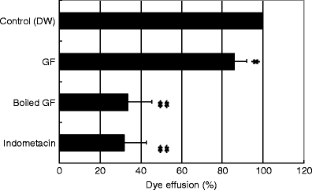 References
Ames BN (1983) Dietary carcinogens and anticarcinogens: oxygen radicals and degenerative diseases. Science 221:1256–1264

Ames BN, Shigenaga MK, Hagen TM (1993) Oxidants, antioxidants, and the degenerative diseases of aging. Proc Natl Acad Sci USA 90:7915–7922

Aoshima H, Ayabe S (2007) Prevention of the deterioration of polyphenol-rich beverages. Food Chem 100:350–355

Ayabe S, Aoshima H (2007) Aqueous extract of citrus peel reduces production of hydrogen peroxide in catechin-enriched green tea. Food Chem 104:1594–1598

Blackham A, Woods FA (1986) Immune complex mediated inflammation in the mouse peritoneal cavity. A method for investigating inhibitors of arachidonate metabolism. J Pharmacol Methods 15:77–85

Bocco A, Cuveilier ME, Richard H, Berset C (1998) Antioxidant activity and phenolic composition of citrus peel and seed extract. J Agric Food Chem 46:2123–2129

Corvazier E, Maclouf J (1985) Interference of some flavonoids and non-steroidal anti-inflammatory drugs with oxidative metabolism of arachidonic acid by human platelet and neutrophils. Biochim Biophys Acta 835:315–321

Di Matteo V, Esposito E (2003) Biochemical and therapeutic effects of antioxidants in the treatment of Alzheimer's disease, Parkinson's disease, and amyotrophic lateral sclerosis. Curr Drug Tar-CNS & Neurol Dis 2:95–107

Fujimura Y, Umeda D, Yano S, Maeda-Yamamoto M, Yamada K, Tachibana H (2007) The 67 kDa laminin receptor as a primary determinant of anti-allergic effects of O-methylated EGCG. Biochem Bioph Res Co 364:79–85

Fujimura Y, Umeda D, Yamada K, Tachibana H (2008) The impact of the 67 kDa laminin receptor on both cell-surface binding and anti-allergic action of tea catechins. Arch Biochem Biophys 476:133–138

Gorinstein S, Martin-Belloso O, Park YS, Haruenkit R, Lojek A, Ciz M, Capsi A, Libman I, Trakhtenberg S (2001) Comparioson of some biochemical characteristics of different citrus fruits. Food Chem 74:309–315

Ho SC, Lin CC (2008) Investigation of heat treating conditions for enhancing the anti-inflammatory activity of citrus fruit (Citrus reticulata) peels. J Agric Food Chemistry 56:7976–7982

Hossain SJ, Tsujiyama I, Takasugi M, Islam MA, Biswas RS, Aoshima H (2008) Total phenolic contents, antioxidative, anti-amylase, anti-glucosidase, and antihistamine release activities of Bangladeshi fruits. Food Sci Technol Res 14:261–268

Hossain SJ, Aoshima H, El-Sayed M, Ahmed F (2009) Antioxidative and anti-histamine-release activities of Excoecaria agallocha L. Pharmacologyonline 2:927–936

Hossain SJ, Basar MH, Rokeya B, Arif KMT, Sultana MS, Rahman MH (2012) Evaluation of antioxidant, antidiabetic and antibacterial activities of the fruit of Sonneratia apetala (Buch.-Ham.). Orient Pharm Exp Med. doi:10.1007/s13596-012-0064-4

Itoh T, Ohguchi K, Iinuma M, Nozawa Y, Alao Y (2008) Inhibitory effects of polymethoxy flavones isolated from Citrus reticulate on degranulation in rat basophilic leukemia RBL-2H3: enhanced inhibition by their combination. Bioorg Med Chem 16:7592–7598

Jeong SM, Kim SY, Kim DR, Jo SC, Nam KC, Ahn DU, Lee SC (2004) Effect of heat treatment on the antioxidant activity of extracts from Citrus peels. J Agric Food Chem 52:3389–3393

Kaliner M, Shelhamer JH, Ottesen EA (1982) Effects of infused histamine: correlation of plasma histamine levels and symptoms. J Allergy Clin Immunol 69:283–289

Kanda T, Akiyama H, Yanagida A, Tanabe M, Goda Y, Toyoda M, Teshima R, Saito Y (1998) Inhibitory effects of apple polyphenol on induced histamine release from RBL-2H3 cells and rat mast cells. Biosci Biotechnol Biochem 62:1248–1289

Kris-Etherton PM, Hecker KD, Bonanome A, Coval SM, Binkoski AE, Hilpert KF, Griel AE, Etherton TD (2002) Bioactive compounds in foods: their role in the prevention of cardiovascular diseases and cancer. Am J Med Sci 113:71S–88S

Li S, Lo CY, Ho CT (2006) Hydoroxylated polymethoxyflavones and methylated flavonoids in sweet orange (Cutrus sinesis) peel. J Agric Food Chem 54:4176–4185

Marks DR, Marks LM (1993) Food allergy. Postgrad Med 93:191–201

Matsuo N, Yamada K, Mori M, Shoji K, Ueyama T, Yunoki S, Yamashita K, Ozeki M, Sugano M (2000) Inhibition by dietary tea polyphenols of chemical mediator release from rat peritoneal exudates cells. Biosci Biotechnol Biochem 64:1437–1443

Mubassara S, Hossain SJ, Ahmed F, Yamamoto M, Tan N, Aoshima H (2009) Potentiation of the response of GABAA receptors by Bangladeshi medicinal plants. Food Sci Technol Res 15:315–324

Mubassara S, Takasugi M, Iga R, Hossain SJ, Aoshima H (2011) Inhibition of the histamine and leukotriene B4 release from rat peritoneal exudates cells by six Bangladeshi plants. Pharmacologyonline 2:76–85

Murakami A, Nakamura Y, Torikai K, Tanaka T, Koshiba T, Koshimizu K, Kuwahara S, Takahashi Y, Ogawa K, Yano M, Tokuda H, Nishino H, Mimaki Y, Sashida Y, Kitanaka S, Ohigashi H (2000) Inhibitory effect of citrus nobiletin on phorbol ester-induced skin inflammation, oxidative stress, and tumor promotion in mice. Cancer Res 60:5059–5066

Park HH, Lee S, Son HY, Park SB, Kim MS, Choi EJ, Singh TSK, Ha JH, Lee MG, Kim JE, Hyun MC, Kwon TK, Kim YH, Kim SH (2008) Flavonoids inhibit histamine release and expression of proinflammatory cytokines in mast cells. Arch Pharm Res 31:1303–1311

Shore PA, Burkhalter A, Cohn VHA (1959) A method for the fluorometric assay of histamine in tissues. J Pharmacol Exp Ther 127:182–186

Tachibana H, Koga K, Fujimura Y, Yamada K (2004) A receptor for green tea polyphenol EGCG. Nat Struct Mol Biol 11:380–381

Takasugi M, Shimada K, Yamada K (2002) Studies on inhibitory effect of soy isoflavones on release of allergy-related mediators from rat peritoneal exudates cells. Soy Protein Res 5:99–102

Vinson JA, Proch J, Bose P (2001) Determination of quantity and quality of polyphenol antioxidants in food and beverages. Method Enzymol 335:103–114

Younginger JW (1992) Anaphylaxis. Ann Allergy 69:87–96
Acknowledgments
The authors thank Dr. Mikako Takasugi in Department of Applied Chemistry and Biochemistry, Faculty of Engineering, Kyushu Sangyo University for guidance with measuring the release of histamine from rat PECs.
About this article
Cite this article
Tsujiyama, I., Mubassara, S., Aoshima, H. et al. Anti-histamine release and anti-inflammatory activities of aqueous extracts of citrus fruits peels. Orient Pharm Exp Med 13, 175–180 (2013). https://doi.org/10.1007/s13596-012-0093-z
Received:

Accepted:

Published:

Issue Date:
Keywords
Anti-allergy

Anti-histamine release

Anti-inflammation

Citrus peel

Polyphenols