Abstract
Siraitia grosvenorii, an herbaceous perennial vine, is native to Southern China and Northern Thailand. This species is well known for its fruit, which is commonly called "luo han guo" or "luo han kuo" in Chinese; "la han qua" in Vietnamese; or arhat, Buddha, or monk fruit in English. Phytochemical research has shown that the fruit of this species is rich in triterpene glycosides that are very sweet, low in calories, and may be used as a substitute for sugar. In addition, many compounds have been isolated from the vines and leaves of S. grosvenorii, including β-amyrin, aloe emodin, aloe-emodin acetate, 5α,8α-epidioxy-24(R)-methylcholesta-6,22-dien-3β-ol, p-hydroxyl benzyl acid, n-hexadecaoic acid, 12-methyltetradecanoic acid, β-sitosterol, and daucosterol. Moreover, a new flavandiol, siraitiflavandiol, has been obtained from ripe S. grosvenorii fruit, while 2 kaempferol glycosides have been isolated from the unripe fruit. Pharmacological results have also shown that S. grosvenorii extracts and purified mogrosides exhibit antidiabetic, anticarcinogenic, antibacterial, antioxidant, and antiallergic effects. Overall, S. grosvenorii could potentially serve as an important source of pharmaceutical and sweetener compounds for a wide range of food products.
This is a preview of subscription content, log in to check access.
Access options
Buy single article
Instant access to the full article PDF.
US$ 39.95
Price includes VAT for USA
Subscribe to journal
Immediate online access to all issues from 2019. Subscription will auto renew annually.
US$ 99
This is the net price. Taxes to be calculated in checkout.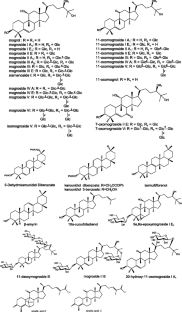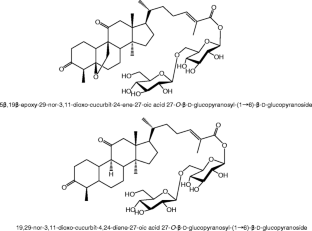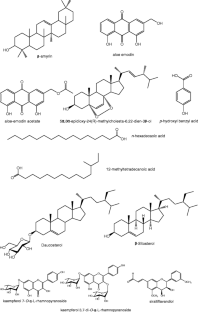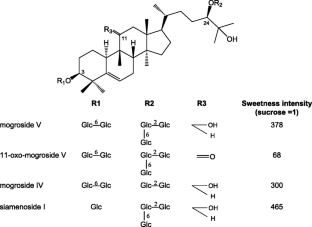 References
Akihisa T, Hayakawa Y, Tokuda H, Banno N, Shimizu N, Suzuki T, Kimura Y (2007) Cucurbitane glycosides from the fruits of Siraitia grosvenorii and their inhibitory effects on Epstein-Barr virus activation. J Nat Prod 70:783–788

Chaturvedula VSP, Prakash I (2011a) Comparative phytochemical studies of the commercial extracts of Siraitia grosvenorii. J Pharm Res 4:3166–3167, Journal of Carbohydrate Chemistry

Chaturvedula VSP, Prakash I (2011b) Cucurbitane glycosides from Siraitia grosvenorii. J Carbohydr Chem 30:16–26

Chen WJ, Wang J, Qi XY, Xie BJ (2007) The antioxidant activities of natural sweeteners, mogrosides, from fruits of Siraitia grosvenori. Int J Food Sci Nutr 58:548–556

Dharmananda S (2004) Luo Han Guo–sweet fruit used as sugar substitute and medicinal herb. The ITM website. http://www.itmonline.org/arts/luohanguo.htm. Accessed 26 June 2012

Hossen MA, Shinmei Y, Jiang S, Takubo M, Tsumuro T, Murata Y, Sugiura M, Kamei C (2005) Effect of Lo Han Kuo (Siraitia grosvenori Swingle) on nasal rubbing and scratching behavior in ICR mice. Biol Pharm Bull 28:238–241

Jia Z, Yang X (2009) A minor, sweet cucurbitane glycoside from Siraitia grosvenorii. Nat Prod Commun 4:769–772

Konoshima T, Takasaki M (2002) Cancer-chemopreventive effects of natural sweeteners and related compounds. Pure Appl Chem 74:1309–1316

Lee C (1975) Intense sweetener from Lo Han Kuo. Experientia 31:533–534

Li D, Ikeda T, Matsuoka N, Nohara T, Zhang H, Sakamoto T, Nonaka G (2006) Cucurbitane glycosides from unripe fruits of Lo Han Kuo (Siraitia grosvenori). Chem Pharm Bull 54:1425–1428

Li D, Ikeda T, Nohara T, Liu J, Wen Y, Sakamoto T, Nonaka G (2007) Cucurbitane glycosides from unripe fruits of Siraitia grosvenori. Chem Pharm Bull 55:1082–1086

Li D, El-Aasr M, Ikeda T, Ogata M, Miyashita H, Yoshimitsu H, Nohara T (2009) Two new cucurbitane-type glycosides obtained from roots of Siraitia grosvenori SWINGLE. Chem Pharm Bull 57:870–872

Ling Y (1995) A new compendium of materia medica. Science, Beijing

Lu F, Li D, Fu C, Liu J, Huang Y, Chen Y, Wen Y, Nohara T (2012) Studies on chemical fingerprints of Siraitia grosvenorii fruits (Luo Han Guo) by HPLC. J Nat Med 66:70–76

Matsumoto K, Kasai R, Ohtani K, Tanaka O (1990) Minor cucurbitane-glycosides from fruits of Siraitia grosvenorii (Cucurbitaceae). Chem Pharm Bull 38:2030–2032

Murata Y, Yoshikawa S, Suzuki YA, Sugiura M, Inui H, Nakano Y (2006) Sweetness characteristics of the triterpene glycosides in Siraitia grosvenori. Nippon Shokuhin Kagaku Kogaku Kaishi 53:527–533

Qi X, Chen W, Liu L, Yao P, Xie B (2006) Effect of a Siraitia grosvenori extract containing mogrosides on the cellular immune system of type 1 diabetes mellitus mice. Mol Nutr Food Res 50:732–738

Qi XY, Chen WJ, Zhang LQ, Xie BJ (2008) Mogrosides extract from Siraitia grosvenori scavenges free radicals in vitro and lowers oxidative stress, serum glucose, and lipid levels in alloxan-induced diabetic mice. Nutr Res 28:278–284

Shi H, Hiramatsu M, Komatsu M, Kayama T (1996) Antioxidant property of fructus momordicae extract. Biochem Mol Biol Int 40:1111–1121

Si JY, Chen DH, Tu GZ (2005) Siraitic acid F, a new nor-cucurbitacin with novel skeleton, from the roots of Siraitia grosvenorii. J Asian Nat Prod Res 7:37–41

Suzuki YA, Murata Y, Inui H, Sugiura M, Nakano Y (2005) Triterpene glycosides of Siraitia grosvenori inhibit rat intestinal maltase and suppress the rise in blood glucose level after a single oral administration of maltose in rats. J Agric Food Chem 53:2941–2946

Suzuki YA, Tomoda M, Murata Y, Inui H, Sugiura M, Nakano Y (2007) Antidiabetic effect of long-term supplementation with Siraitia grosvenori on the spontaneously diabetic Goto-Kakizaki rat. Br J Nutr 97:770–775

Takasaki M, Konoshima T, Murata Y, Sugiura M, Nishino H, Tokuda H, Matsumoto K, Kasai R, Yamasaki K (2003) Anticarcinogenic activity of natural sweeteners, cucurbitane glycosides, from Momordica grosvenori. Cancer Lett 198:37–42

Takemoto T, Arihara S, Nakajima T, Okuhira M (1983) Studies on the constituents of Fructus momordicae. II. Structure of sapogenin. Yakugaku Zasshi 103:1155–1166

Takeo E, Yoshida H, Tada N, Shingu T, Matsuura H, Murata Y, Yoshikawa S, Ishikawa T, Nakamura H, Ohsuzu F, Kohda H (2002) Sweet elements of Siraitia grosvenori inhibit oxidative modification of low-density lipoprotein. J Atheroscler Thromb 9:114–120

Ukiya M, Akihisa T, Tokuda H, Toriumi M, Mukainaka T, Banno N, Kimura Y, Hasegawa J, Nishino H (2002) Inhibitory effects of cucurbitane glycosides and other triterpenoids from the fruit of Momordica grosvenori on Epstein–Barr virus early antigen induced by tumor promoter 12-o-tetradecanoylphorbol-13-acetate. J Agric Food Chem 50:6710–6715

Zheng Y, Liu Z, Ebersole J, Huang CB (2009) A new antibacterial compound from Luo Han Kuo fruit extract (Siraitia grosvenori). J Asian Nat Prod Res 11:761–765

Zheng Y, Huang W, Yoo JG, Ebersole JL, Huang CB (2011) Antibacterial compounds from Siraitia grosvenorii leaves. Nat Prod Res 25:890–897

Zhou Y, Zheng Y, Ebersole J, Huang CF (2009) Insulin secretion stimulating effects of mogroside V and fruit extract of luo han kuo (Siraitia grosvenori Swingle) fruit extract. Yao Xue Xue Bao 44:1252–1257
About this article
Cite this article
Jin, J., Lee, J. Phytochemical and pharmacological aspects of Siraitia grosvenorii, luo han kuo. Orient Pharm Exp Med 12, 233–239 (2012). https://doi.org/10.1007/s13596-012-0079-x
Received:

Accepted:

Published:

Issue Date:
Keywords
Siraitia grosvenorii

Luo han kuo

Cucurbitaceae

Mogroside

Triterpene glycoside