Abstract
The present study was carried out to investigate the anti-pyretic and anticonvulsant activity of petroleum ether, ethyl acetate, n-butanol and ethanol extracts of Smilax zeylanica Linn, leaves using experimental animal models. The extracts were screened for alkaloids, steroids, proteins, flavanoids, saponins, mucilage, carbohydrates, tannins, fats and oils. Anti-pyretic activity was evaluated using the brewer's yeast-induced pyrexia in rats. The extracts in dose levels of 200 mg/kg orally were used for anti-pyretic studies. The petroleum ether extracts of leaves of Smilax zeylanica Linn produced significant (P < 0.01) anti-pyretic activity. Anticonvulsant activity of above extracts was evaluated by using strychnine induced tonic convulsion of Swiss albino mice. All extracts were able to reduce convulsion in mice. The Ethyl acetate extracts of Smilax zeylanica was found to have good anticonvulsant activity in comparison to other extracts which was verified as statistically significant by using one way ANOVA at 1% level of significance *shows P value < 0.01.
Access options
Buy single article
Instant access to the full article PDF.
USD 39.95
Price excludes VAT (USA)
Tax calculation will be finalised during checkout.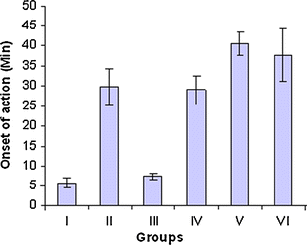 References
Available at www.right health.com, retrieved on 12th December 2009

Barnes BV, Wagner WH, Trees M (1990) A guide to the trees of michigan and the great lakes region. The University of Michigan Press, ANN arbor, p 654

Bolton S (1997) Pharmaceutical statistics-practical and clinical application, 3rd edn. Marcel Dekker, New York, p 213

Ecobichon DJ (1997) The basis of toxicology testing. CRC Press, New York, p 43

Fernald ML (1950) Gray's manual of botany, 8th edn. American Book Company, New York, p 1231

Gupta G (1967) Herbal monograph. Indian J Med Res 55:723

Kirtikar R, Basu BD (1991) Indian medicinal plants, vol 4. Basu Publications, Allahabad, p 2496

Milton AS (1982) Prostaglandins and fever. Trends Pharmacol Sci 40:490–492

Rabbani M, Sajjadi SE, Zarei HR (2003) J Ethnopharmacol 89:271

Sandabe UK, et al. Veterinarski Arhiv. 2003; 73 (2): 103.B.V. Owoyele, S.B. Olaleye, J.M. Oke, R.A. Elegbe, Anti-inflammatory and analgesic activities of leaf extracts of Landolphia owariensis, Afr. J. Biomed. Res., 4, 131 (2001)

Sofowora LA (1993) Medicinal plants and traditional medicine in Africa. Harborne: Spectrum Books Ltd, Ibaban, p 321

Thorn GW (1977) Harrison's Principles of internal medicine. Mc Grew Hill, New York, p 1088

Trease GE, Evans WC (1989) Trease and Evans' pharmacognosy: a Physician's guide to herbal medicine, 13th edn. Bailliere Tindall, London, p 912

Vidyarthi RD (1977) A textbook of zoology, 14th edn. Chand and Co. Press, New Delhi, p 329

Vigar Z (1984) Atlas of medical Parasitology, 2nd edn. Publishing House, Singapore, p 216

Vogel HG (2002) Drug discovery and evaluation pharmacological assays, 2nd edn. Springer, New York, p 7
Acknowledgement
Authors wish to thank to local people of Baipariguda and Biju Pattnayak Medicinal Plants Garden and Research Centre, Dr. M.S. Swami Nathan Research Foundation, Jeypore, Koraput (Dist), Orissa, for providing valuable information about the plant and its identification. Authors also wish to thanks School of Pharmaceutical Education and Research, Berhampur University, Ganjam, for providing facility to carry out this research work.
About this article
Cite this article
Jena, P.K., Dinda, S.C. & Ellaiah, P. Phytochemical investigation and simultaneous study on antipyretic, anticonvulsant activity of different leafy extracts of smilax zeylanica Linn. Orient Pharm Exp Med 12, 123–127 (2012). https://doi.org/10.1007/s13596-011-0052-0
Received:

Accepted:

Published:

Issue Date:

DOI: https://doi.org/10.1007/s13596-011-0052-0
Keywords
Smilax zeylanica

Anti-pyretic

Anticonvulsant

Brewer's yeast induced pyrexia

Strychnine Hydrochloride
Clonazepam.