Abstract
The study concerns the evaluation of natural gum odina as novel sustained release matrix forming material in tablet formulation. Matrix tablets were prepared by wet granulation technique. Diclofenac sodium was used as model drug. The tablet weight (250 mg) and diameter (9 mm) was kept constant. The tablets were evaluated for physicochemical properties, drug content uniformity and in vitro drug release kinetics. The effect of gum concentration (10, 20, 30 and 50% w/w with respect to total tablet weight) on in-vitro drug release profile was examined and compared with diclofenac sodium (Voveran SR-100), the slow release marketed formulation developed in India. The drug–gum (excipient) interactions using FTIR (Furrier Transform Infrared) spectrum ensures its safe use as matrix forming material. The prepared matrix formulations were found to be having near zero order release kinetics of diclofenac sodium with good strength and acceptable physicochemical properties. The formulations were found to be sustained delivery of the drug up to 24 h. The t1/2 of the various matrix tablets (with 10%, 20%, 30% and 50% w/w of gum odina) found to be more than 11 h, where as that of the marketed formulation (Voveran SR) found to be 8 h. It has been found that as the %ge of gum increases the retardation of drug release from the formulation also increases. The matrix tablet with 20% w/w of gum odina was found suitable to formulate swelling controlled matrix that releases the drug by diffusion. It is concluded that the gum odina possess substantial matrix forming property that could be used for sustained drug delivery.
Access options
Buy single article
Instant access to the full article PDF.
USD 39.95
Price excludes VAT (USA)
Tax calculation will be finalised during checkout.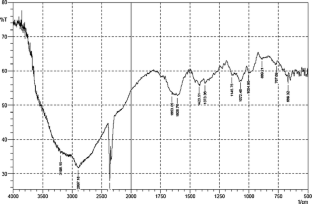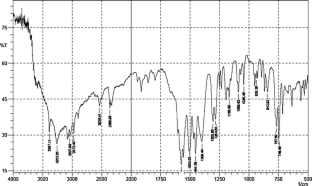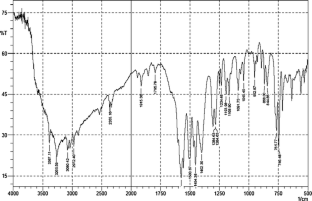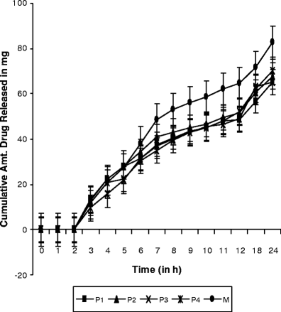 References
Cao QR, Choi YW, Cui JH, Lee BJ (2005) Formulation release characteristics and bio-availability of novel monolithic HPMC matrix tablets containing acetaminophen. J Control Release 108(2–3):351–361

Gilman AG, Rall TW, Nies AS, Taylor P et al (1991) The pharmacological basis of therapeutics. Pergamon, New York, p 669

Isikawa T, Watnabe Y, Takayama K, Endo H, Matsumoto M (2000) Effect of HPMC on the release profiles and bioavailability of poorly water soluble drug from tablets prepared using macrogol and HPMC. Int J Pharm 202(1–2):173–178

Morkhade PM, Fulgel SV, Satturwar PM, Joshi SB (2006) Gum copal and gum damar: novel matrix forming material for sustained drug delivery. Indian J Pharm Sci 68(1):53–58

Mukharjee B, Samanta A, Dinda SC (2006) Gum odina—a new table binder. Trends Appl Sci Res 1(4):304–316

Murli Mohan Babu GV, Himasankar K, Cheruvu PS, Ramanamurthy KV (2001) Controlled release of Diclofenac sodium by Gum karaya-Chitosan complex coacervate: in-vivo evaluation. Indian J Pharm Sci 63(5):408–412

Murli Mohan Babu GV, Prasad CDS, Himasankar K, Gourisankar V, Kumar NK, Ramanamurthy KV (2002) Development of new controlled release formulation of flurbiprofen: invitro-invivo correlation. Indian J Pharm Sci 64(1):37–43

Pandey VP, Manavalan R, Rajan S, Ganesh KS (2003) Formulation and release characteristics of sustained release diltiazem hydrochloride tablet. Indian J Pharm Sci 65(1):44–48

The United States Pharmacopoeia (2002a) USP/NF, 25/20. The U. S. Pharmacopoeial Convention, Rackville, 596

Rao YM, Veni JK, Javasagar G (2001) Formulation and evaluation of diclofenac sodium using hydrophilic matrices. Drug Dev Ind Pharm 27(8):759–766

The Indian Pharmacopoeia (1996) Govt. of India, ministry of health and family welfare. Vol-II. The Controller of Publications, New Delhi, p 244

The United States Pharmacopoeia (2002b) USP/NF, 25/20. The U. S. Pharmacopoeial Convention, Rackville, pp 2008–2012

Willioms RO 3rd, Reynolds TD, Cabelka TD, Sykara MA, Mahaguna V (2002) Investigation of excipient type and level on drug release from controlled release tablets containing HPMC. Pharm Dev Technol 7(2):181–193

Yan G, Li H, Zhang R, Ding D (2000) Preparation and evaluation of a sustained release formulation of nifidipine HPMC tablets. Drug Dev Ind Pharm 26(6):681–686
Acknowledgement
The study was supported financially by Dr. V. Ravichandran Endowment trust, Jadavpur University, Kolkata, India.
About this article
Cite this article
Dinda, S.C., Mukherjee, B. & Samanta, A. Gum odina: a novel matrix forming material for sustained drug delivery. Orient Pharm Exp Med 11, 131–136 (2011). https://doi.org/10.1007/s13596-011-0022-6
Received:

Accepted:

Published:

Issue Date:

DOI: https://doi.org/10.1007/s13596-011-0022-6
Keywords
Gum odina

Matrix tablet

Odina wodier and sustained release