Abstract
The objective of the present investigation was to evaluate the therapeutic efficacy of Silymarin in DOCA salt induced hypertension in unilateral nephrectomized rats. Unilateral nephrectomy was performed in female Wistar rats (150–200 g). A week after unilateral nephrectomy, hypertension was induced by DOCA (25 mg/kg, once a week; s.c; for 4 weeks) dispersed in cottonseed oil. The effect of Silymarin (300 mg/kg and 500 mg/kg, p. o., for 4 weeks) was evaluated in DOCA salt induced hypertensive rats. Systolic blood pressure (BP) was measured once every week during the treatment schedule. After completion of treatment schedule, heart rate, arterial blood pressure and vascular reactivity to various drugs were recorded. Rats from individual group were sacrificed, the heart was dissected out and antioxidant enzyme level SOD, CAT, GSH and TBARS were measured. Urine excretions were measured by flame photometer. Silymarin (300, 500 mg/kg/day, p.o.) significantly (p < 0.05) reduced systolic blood pressure, heart rate, basal arterial blood pressure and pressor responses to NA, Adr, PE and 5-HT in animals treated with DOCA salt as compared with DOCA-salt hypertensive rats. Silymarin significantly increased antioxidant enzyme level of SOD, CAT, GSH, urinary Na+ excretion and decreased TBARS level, urinary K+ excretion compared with DOCA hypertensive group. Silymarin exhibits significant antihypertensive activity in DOCA salt model of hypertension.
This is a preview of subscription content, log in to check access.
Access options
Buy single article
Instant access to the full article PDF.
US$ 39.95
Price includes VAT for USA
Subscribe to journal
Immediate online access to all issues from 2019. Subscription will auto renew annually.
US$ 99
This is the net price. Taxes to be calculated in checkout.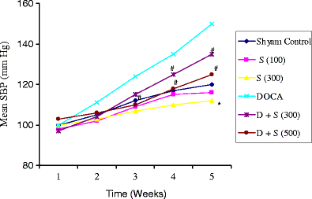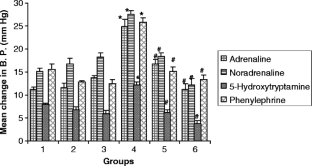 References
Badyal DK, Lata H, Dadhich AP (2003) Animal model of hypertension and effect of drugs. Indian J Pharmacol 35:349–362

Balaraman R, Hingorani N, Rathod SP (1993) Studies on the antihypertensive effect of abana in rats. Indian J Pharmacol 25:209–214

Banappa SU, Basangouda MP (2009) Apocynin improves endothelial function and prevents the development of hypertension in fructose fed rat. Indian J Pharmacol 41:208–212

Beers RF, Sizer IW (1952) A spectrophotometric method for measuring the breakdown of hydrogen peroxide by catalase. J Biol Chem 115:133–140

Bereck KH, Barron KW, Webb RL, Brody MJ (1982) Vasopressin CNS interaction in the development of DOCA hypertension. Hypertension 4:131–137

Beswick RA, Dorrance AM, Leite R, Webb RC (2001) NADH/NADPH oxidase and enhanced superoxide production in the mineralocorticoid hypertensive rat. Hypertension 38:1107–1111

Ceriello A (2008) Possible role of Oxidative stress in the pathogenesis of hypertension. Diabetes Care 31:S181–S184

Connell JM, Davies E (2005) The new biology of aldosterone. J Endocrinol 186:1–20

Dixit N, Baboota S, Kohli K, Ahmad S (2007) Silymarin: a review of Pharmacological aspects and bioavailability enhancement approaches. Indian J Pharmacol 39:172–179

Edward ES, Field PF (1986) Extracellular calcium and altered vascular responsiveness in the deoxycorticosterone acetate salt-treated rat. Hypertension 6:527–532

Elio A, Soria AC, Aldo R, Eynard AB, Patricia L, Quiroga A (2007) Differential effects of quercetin and silymarin on arsenite-induced cytotoxicity in two human breast adenocarcinoma cell lines. Life Sci 81:1397–1402

Ellman GL (1959) Tissue sulphydryl groups. Arch Biochem Biophysics 82:70–77

Gazak R, Svobodova A, Pstova J, Sedmera P et al (2004) Oxidized derivatives of Silybin and their antiradical and antioxidant activity. Bioorgan Med Chem 12:5677–5687

Han MH, Yoon WK, Hyunju Lee et al (2007) Topical application of silymarin reduces chemical-induced Irritant contact dermatitis in BALB/c mice. Inter Immunopharmacolo 7:1651–1658

Katholi RE, Naftilan AJ, Oparil S (2007) Importance of renal sympathetic tone in the development of DOCA-salt hypertension in the rat. Hypertension 2:266–273

Lassegue B, Griendling KK (2004) Reactive oxygen species in hypertension. Am J Hypertension 17:852–860

Makino JB, Skelton MM, Zou AP, Roman RJ, Cowley AW (2002) Increased renal medullary oxidative stress produces hypertension. Hypertension 39:667–672

Misra HP, Fridovich I (1972) The generation Superoxide radical during the autooxidation of hemoglobin. J Biol Chem 247:6960–6962

Nakagawa M, Nasjletti A (1998) Plasma rennin concentration in Deoxycorticosterone salt hypertension. Hypertension 11:411–415

Nancy L, Kanagur R, Webb C (1996) Increased responsiveness and decreased express of G. proteins in DOCA hypertension. Hypertension 27:740–745

Niehaus WG, Samuelsson B (1968) Formation of malondialdehyde from phospholipids arachidonate during microsomal lipid peroxidation. Eur J Biochem 6:126–130

Pradhan SC, Girish C (2006) Hepatoprotective herbal drug, Silymarin from experimental pharmacology to clinical medicine. Indian J Med Res 491–504

Saggu H, Cooksey J, Dexter D (1989) A selective increase in particulate Superoxide dismutase activity in Parkinsonin subtansia nigra. J Neurochem 53:692–697

Seyle H, Bois P (1957) The hormonal production of nephrosclerosis and periarteritis nodosa in the primate. Br Med J 1:183–186

Stephen M, Sagar B et al (2007) Future directions for research on Silybum marianum for cancer patients. Integr Cancer Therap 6:166–173

Toklu HZ, Tuba TA, Erkanli G, Yuksel M (2007) Silymarin, the antioxidant compound of Silybum marianum, protects against burn induced oxidative skin injury. Burns 33:908–916

Trease EG, Evans WC (1983) Textbook of pharmacognosy, 12th edn. Alden Press, Singapore

Vaziri ND, Rodriguez-Lturbe B (2006) Mechanisms of disease: oxidative stress and inflammation in the pathogenesis of hypertension. Nat Cli Pract Nephrol 2:582–593

Vogel HG, Wolfgand WH (eds) (1997) Drug discovery and evaluation-pharmacological assays, 2nd edn. Springer publication, Germany, pp 122–124

Weiss R, Fintelmann V (2000) Herbal medicine, 2nd edn. Thieme, Stuttgart, pp 109–111
Acknowledgement
Authors are thankful to Management and Principal for providing all facilities for the research work. Authors are also thankful to University of Pune for funding research work and Manager of MICRO Lab PVt. LTd. GOA for providing gift sample of Silymarin.
About this article
Cite this article
Jadhav, G.B., Upasani, C.D. Antihypertensive effect of Silymarin on DOCA salt induced hypertension in unilateral nephrectomized rats. Orient Pharm Exp Med 11, 101–106 (2011). https://doi.org/10.1007/s13596-011-0018-2
Received:

Accepted:

Published:

Issue Date:
Keywords
Hypertension

Silymarin

Deoxycorticosterone acetate

Antioxidant