Abstract
Cancer remains as one of the most common cause of mortality worldwide. Cancer chemoprevention by natural products is well accepted nowadays. Phytoserols are natural products, showing anticancer activity, besides other activities. The purpose of this study was to examine the antitumor and antioxidant activity of stigmasterol, a phytosterol isolated from aerial parts of Bacopa monnieri Linn. against Ehrlich Ascites Carcinoma (EAC) in swiss albino mice. The effect of stigmasterol on the growth of transplantable murine tumor, life span of EAC bearing hosts, simultaneous alterations in the hematological profile, liver biochemical parameters (lipid peroxidation, antioxidant enzymes) and histopthological studies of liver were examined. Stigmasterol decreased tumor volume, packed cell volume and viable cell count, and increased mean survival time thereby increasing life span of EAC tumor bearing mice. Hematological profile reverted to near normal levels in stigmasterol treated mice. Stigmasterol decreased the levels of lipid peroxidation and increased the levels of glutathione, superoxide dismutase and catalase in the liver of EAC bearing mice. Histopathological study of liver tissues showed that stigmasterol had significant protective effect against EAC bearing mice, which corroborates the above findings. Lactate dehydrogenase (LDH) activity in ascitic fluid increased while membrane microviscosity of the EAC cells decreased upon stigmasterol treatment indicating its effect in the membrane integrity functions. The antitumor activity of stigmasterol might be mediated through the activation of protein phosphatase 2A by ceramide causing apoptosis, as is shown by structurally similar phytosterol.
This is a preview of subscription content, log in to check access.
Access options
Buy single article
Instant access to the full article PDF.
US$ 39.95
Price includes VAT for USA
Subscribe to journal
Immediate online access to all issues from 2019. Subscription will auto renew annually.
US$ 99
This is the net price. Taxes to be calculated in checkout.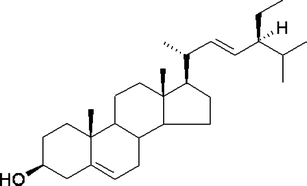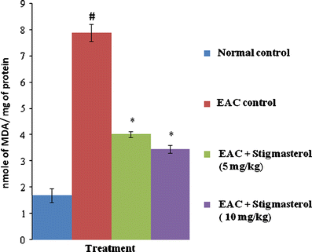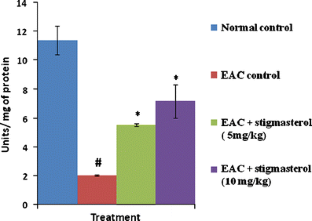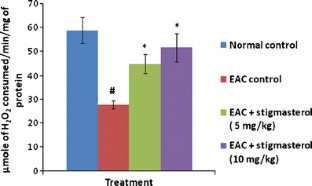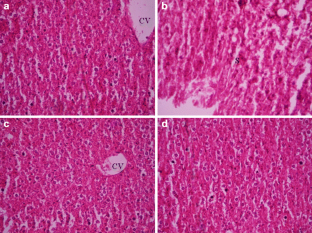 References
Abdullaev FI (2001) Plant-derived agents against cancer. In: Gupta SK (ed) Pharmacology and therapeutics in the new millennium. Narosa Puplising House, New Delhi, pp 345–354

Aebi H (1974) Catalase in vitro. In: Packer L (ed) Methods in enzymology. New York, Academic, pp 121–126

Ahmed B, Rahman A (2000) Bacosterol, a new 13, 14- seco- steroid and bacosine, a new triterpene from Bacopa monniera. Ind J Chem B39B:620–625

Anonymous (1985) Indian herbal pharmacopoeia, vol. I. Indian Drug Manufacturer's Association, Mumbai, pp 30–36

Bernad AA, Tokes LJ (1977) Electron impact induced fragmentation of cholesterol and related C-5 unsaturated steroids. Org Chem 42:725

Bhandari P, Kumar N, Singh B, Kaul VK (2006) Bacosterol Glycoside, a New 13, 14-Seco-steroid Glycoside from Bacopa monnieri. Chem Pharm Bull 54(2):240–241

Chopra RN, Nayar SL, Chopra IC (1986) Glossary of Indian medicinal plants. National Institute of Science and Communication, New Delhi, p 32

D'Armour FE, Blood FR, Belden DA (1965) The manual for laboratory work in mammalian physiology, 3rd edn. The University of Chicago Press, Chicago, pp 4–6

Dacie JV, Lewis SM (1958) Practical hematology, 2nd edn. JA Churchill Ltd, London, pp 38–48

De Jong A, Plat J, Mensink RP (2003) Metabolic effects of plant sterols and stanols (Review). J Nutr Biochem 14(7):362–369

Elangovan V, Govindasamy S, Ramamoorthy N, Balasubhramanian K (1995) In vitro studies on anticancer activity of Bacopa monnieri. Fitoterapia 66:211–215

Ellman GL (1979) Tissue sulphydryl groups. Arch Biochem Biophys 82:70–77

Fenninger LD, Mider GB (1954) Advances in cancer research, vol 2. Academic, New York, p 244

Ghosh M, Sadhu U, Bhattacharya S, Dutta S, Bhattacharya B, Sanyal U (1999) Evaluation of toxicity of β-tethymustine, a new anticancer compound, in mice. Cancer Lett 138:107–114

Gupta M, Mazumder UK, Rath N, Mukhopadhyay DK (2000) Antitumor activity of methanolic extract of Cassia fistula L. seed against Ehrlich ascites carcinoma. J Ethnopharmacol 72:151–156

Haslam G, Wyatt D, Kitos PA (2000) Estimating the number of viable animal cells in multi-well cultures based on their lactate dehydrogenase activities. Cytotechnology 32:63–75

Hogland HC (1982) Hematological complications of cancer chemotherapy. Semin Oncol 9:95–102

Jamal AK, Yaacob WA, Din LB (2009) A chemical study on Phyllanthus columnaris. Eur J Sci Res 28(1):76–81

Janezic SA, Rao AV (1992) Dose dependant effect of dietary phytosterols on epithelial cell proliferation in the murine colon. Food Chem Toxicol 30:611–616

Kakkar P, Dos B, Vishwanathan PN (1984) A modified spectrophotometric assay of superoxide dismutase. Ind J Biochem Biophys 21:130–132

Kavimani S, Manisenthilkumar KT (2000) Effect of methanol extract of Enicostemna littorale on Dalton's lymphoma. J Ethnopharmacol 71:349–352

Kiritikar KR, Basu BD (1994) Indian medicinal plants, vol I. Bishen Singh Mahendrapal Singh, Dehradun, p 1816

Lowry OH, Rosebrough NJ, Farr AL, Randall RJ (1951) Protein measurement with the Folin-phenol reagent. J Biol Chem 193:265–275

Marklund SL, Westman NG, Lundgren E, Roos G (1982) Copper and zinc containing superoxide dismutase, manganese-containing superoxide dismutase, catalase, and glutathione peroxidase in normal and neoplastic human cell lines and normal human tissues. Cancer Res 42:1955–1961

Ohkawa H, Onishi N, Yagi K (1979) Assay for lipid peroxidation in animal tissue by thiobarbituric acid reaction. Anal Biochem 95:351–358

Pandey BN, Mishra KP (1999) Radiation induced oxidative damage modification by cholesterol in liposomal membrane. Radiat Phys Chem 54:481–489

Price VE, Greenfield RE (1958) Anemia in cancer. In: Greenstein JP, Haddow A (eds) Advances in cancer research. Academic, New York, pp 199–200

Qureshi S, Al-Shabanah OA, Al-Harbi MM, Al-Bekairi AM, Raza M (2001) Boric acid enhances in vivo Ehrlich ascites carcinoma cell proliferation in Swiss albino mice. Toxicology 165:1–11

Rao AV, Janezic SA (1992) The role of dietary phytosterols in colon carcinogenesis. Nutr Cancer 18:43–45

Ratnayake WMN, L'Abbe MR, Muellar R, Hayward S, Plouffe L, Hollywood R, Trick K (2000) Vegetable oils high in phytosterols make erythrocytes less demormable and shorten the life span of stroke-prone spontaneously hypertensive rats. J Nutr 130:1166–1178

Sinclair AJ, Barnett AH, Lunie J (1990) Free radical and auto-oxidant systems in health and disease. Br J Hosp Med 43:334–344

Sun Y, Oberley LW, Elwell JH, Sierra RE (1989) Antioxidant enzyme activities in normal and transformed mice liver cells. Int J Cancer 44:1028–1033

Von HRL, Fink CS, Awad AB (1998) β-Sitosterol activates the sphingomyelin cycle and induces apoptosis in LNCaP human prostate cancer cells. Nutr Cancer 32:8–12

Wolff RA, Dobrowsky RT, Bielawski A, Obeid LM, Hannun YA (1994) Role of ceramide-activated protein phosphatase in ceramide-mediated signal transduction. J Biol Chem 269:19607–19609

Wr'oblewski F, LaDue JS (1955) Lactic dehydrogenase activity in blood. Proc Soc Exp Biol Med 90:210–213

Yagi K (1991) Lipid peroxides and human diseases. Chem Phys Lipids 45:337–351
Acknowledgements
The authors are grateful to the taxonomists of the Botanical Survey of India, Govt. of India for proper identification of the plant and authorities of Jadavpur University for providing necessary facilities to carry out the research work.
About this article
Cite this article
Ghosh, T., Maity, T.K. & Singh, J. Evaluation of antitumor activity of stigmasterol, a constituent isolated from Bacopa monnieri Linn aerial parts against Ehrlich Ascites Carcinoma in mice. Orient Pharm Exp Med 11, 41–49 (2011). https://doi.org/10.1007/s13596-011-0001-y
Received:

Accepted:

Published:

Issue Date:
Keywords
Bacopa monnieri

Stigmasterol

EAC

Antitumor effect