Climate, tree masting and spatial behaviour in wild boar (Sus scrofa L.): insight from a long-term study
Abstract
Key message
Climate factors affect seed biomass production which in turn influences autumn wild boar spatial behaviour. Adaptive management strategies require an understanding of both masting and its influence on the behaviour of pulsed resource consumers like wild boar.
Context
Pulsed resources ecosystem could be strongly affected by climate. Disantangling the role of climate on mast seeding allow to understand a seed consumer spatial behaviour to design proper wildlife and forest management strategies.
Aims
We investigated the relationship between mast seeding and climatic variables and we evaluated the influence of mast seeding on wild boar home range dynamics.
Methods
We analysed mast seeding as seed biomass production of three broadleaf tree species (Fagus sylvatica L., Quercus cerris L., Castanea sativa Mill.) in the northern Apennines. Next, we explored which climatic variables affected tree masting patterns and finally we tested the effect of both climate and seed biomass production on wild boar home range size.
Results
Seed biomass production is partially regulated by climate; high precipitation in spring of the current year positively affects seed biomass production while summer precipitation of previous year has an opposite effect. Wild boar home range size is negatively correlated to seed biomass production, and the climate only partially contributes to determine wild boar spatial behaviour.
Conclusion
Climate factors influence mast seeding, and the negative correlation between wild boar home range and mast seeding should be taken into account for designing integrated, proactive hunting management.
Keywords
Masting 
Mast seeding 
Seed consumer 
Deciduous forests 
Hunting management 
Apennine forests 
1

Introduction

The understanding of species responses to climate variation is essential for designing proactive management strategies (Heller and Zavaleta 2009). Changes in climate and land use affect distribution, phenology and population dynamics of several organisms (Bellard et al. 2012; Pagel and Shurr 2012). Changes can affect inner ecosystem processes and functioning at various scales and both flora and fauna have to cope with or adapt to these phenomena (Walther et al. 2002; Parmesan 2007). However, making predictions about the particular response of a species to climate change is difficult because the predictions hinge on knowing how climate influences them directly and indirectly. This implies that an integrated approach is required to properly understand the exact nature and direction of emergent effects because they are the net result of multiple species responding to multiple changes in their environment.

Several studies have demonstrated that plant physiology and phenology are often driven and altered by climatic variables (Michelot et al. 2012; Reyer et al., 2013) and this can create phenological mismatches between different trophic levels within ecosystems (DeLucia et al. 2012; Jamieson et al. 2012; Reed et al. 2013). These effects, in turn, are expected to alter trophic interaction within food chains. Therefore, understanding climatic constraints on plant species is crucial as plants represent the base of ecological food chains (Voight et al. 2003; Barton et al. 2009).

Mast seeding (or masting) is a natural process where pulsed resources create lagged responses in successive trophic levels of ecological communities. Numerous studies have demonstrated that mast seeding in many plant species is driven by external factors such as variations in climate (Williamson and Ickes 2002; Lusk et al. 2007; Drobyshev et al. 2010; Cutini et al. 2015). For example, this was the case of beech masting, which typically occurs after a year characterised by high summer temperature and low precipitation (Piovesan and Adams 2001; Övergaard et al. 2007; Drobyshev et al. 2014). Such strong interplay between plant masting and climate is in line with the environmental prediction hypothesis namely, "large reproductive episodes are timed to anticipate favourable conditions for establishment" (Kelly 1994). In this context, plant reproduction become extremely important in shaping forest ecosystem response to global climate change as the vulnerability or ability of plants to adapt will affect all of the food chain. This relationship between producer and consumer is more evident in pulsed resource ecosystems, where the equilibrium between mast seeding plants and vertebrates heavily relies on their synchronisation (Kelly and Sork 2002; Clotfelter et al., 2007; Boutin et al. 2006; Wauters et al. 2008; Cutini et al. 2013).

In the next century, the Mediterranean basin will be one of the regions most affected by climate change (Giorgi and Lionello 2008) and this could have severe consequences on forest productivity (Boisvenue and Running 2006) including mast seeding. Indeed, masting is a typical feature of the Fagaceae (Hiroki and Matsubara 1995; Hilton and Packham 2003; Espelta et al. 2008; Montserrat-Martì et al. 2009), a tree and shrub family that includes the prevailing species of the Mediterranean region, i.e. beech (Fagus sylvatica L.), chestnut (Castanea sativa Mill.) and various evergreen and deciduous oak (Quercus spp.) species (Skjøth et al. 2008). Nonetheless, the interaction between mast seeding, climate and seed-consumers in the Mediterranean region have received limited attention, particularly regarding ungulate species that are of economic interest from a forest management perspective (Bieber and Ruf 2005; Cutini et al. 2013; Canu et al. 2015; Vetter et al. 2015). Therefore, a comprehensive understanding of the mechanisms involved between climate, forest and ungulate dynamics and behaviour represents an important issue for an effective management of forest and wildlife resources (Chianucci et al. 2015; Cutini et al. 2013).

Among ungulates, the wild boar (Sus scrofa L.) exhibits strong responses to food pulses (Groot Bruinderink et al. 1994; Cutini et al. 2013). The increasing wild boar densities observed in Europe during the last five decades (Apollonio et al. 2010) have led to recent increase in human-wildlife conflicts. As a consequence, ecologists have only relatively recently paid attention to the role of pulsed resources and climate-induced variations in wild boar population dynamics (e.g. Cutini et al. 2013) and life-history traits (e.g. Servanty et al. 2009; Canu et al. 2015). On the other hand, the understanding of climatic effects on direct and indirect trophic interactions requires a long-term perspective and a temporal sequence of information including climate, forest and fauna data.

Several factors could influence both wild boar spatial behaviour and plant reproduction but to better understand their interaction and the role of climate as a first contributor, we decided to analyse 23 years masting data in three most common broadleaved tree species in the Apennines (Fagus sylvatica L., Quercus cerris L., Castanea sativa Mill.) and 8 years wild boar spatial behaviour to assess: (1) if climatic variables trigger masting patterns, identifying weather cues that better explain seed biomass production; and (2), by controlling the direct effect of climate experienced by each individual, if a relation exists between wild boar spatial behaviour, i.e. its home range, and mast seeding. This was motivated because wild boar diet in the Apennines heavily relies on acorns, chestnuts and beech nuts (Massei et al. 1996, 1997). Hence, according to the 'food-exploitation hypothesis' of Larter and Gates (1994), home range size of a species is inversely related to food availability. Hence, we hypothesised that wild boar home range extension should increase when food availability decrease.
3

Results
3.1

Mast seeding

The autocorrelation function did not show masting patterns for any of the three surveyed tree species, even though a more pronounced autocorrelation was observed in Turkey oak and chestnut; beech showed a weak masting pattern (Online Resource 1). This indicates that reproductive investment each year was not strictly related to the seed produced in the previous year. For all three species, Sen's slopes are positive (beech 0.012; chestnut 0.035; Turkey oak 0.026), but not statistically significant (beech: tau = 0.111, p = 0.475; chestnut: tau = 0.238, p = 0.139; Turkey oak: tau = 0.169, p = 0.284).

Seed biomass production differed in amount and timing between the tree species (Fig. 

2

). Annual seed biomass was similar between Turkey oak (mean ± SE = 0.72 ± 0.15 Mg ha

−1

) and chestnut (mean ± SE = 0.68 ± 0.08 Mg ha

−1

; Tukey's HSD

p

 = 0.964), but was significantly lower in beech (mean ± SE = 0.12 ± 0.04 Mg ha

−1

; Tukey's HSD,

p

 < 0.001) compared to the other two species.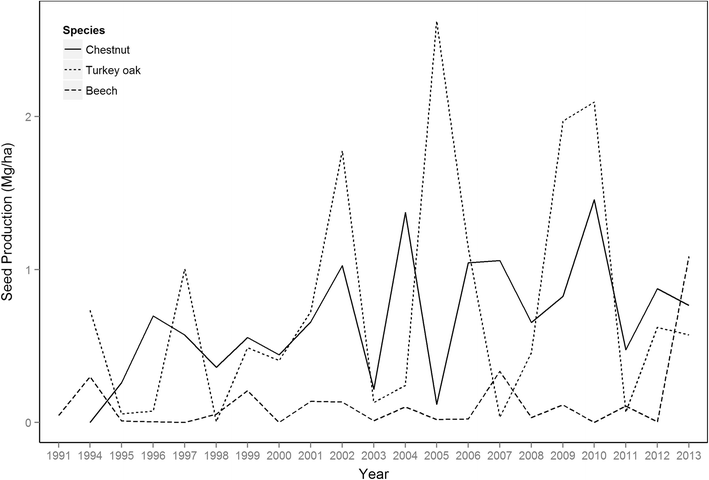 3.2

Effects of climatic variables on mast seeding

According to the model testing for climate effect on masting, Online Resource

2

reports the first 20 models selected based on the AICc information. Only the first two models had a delta AICc< 2; goodness of fit of the two models are respectively 0.153 for model 1 0.162 for model 2. The average model includes climate variable of year t

−1

and specifically 'Temperature of Spring t

−1

' and 'Precipitation of Summer t

−1

', both exhibiting a negative effect on seed biomass production, and 'Spring Precipitation of year t' with a positive effect (Table

1

).
|   | Estimate | Standard error | Z value | P |
| --- | --- | --- | --- | --- |
| Intercept | 0.368 | 0.187 | 1.940 | 0.052 |
| Temperature of spring year t−1 | − 0.084 | 0.231 | 0.358 | 0.720 |
| Precipitation of spring year t | 1.621 | 0.671 | 2.365 | 0.018 |
| Precipitation of summer of year t−1 | − 1.7362 | 0.566 | 3.005 | 0.003 |
3.3

Mast seeding and wild boar home range

Models with and without random effects have been run on the same dataset; we only showed results of the model without random effect as AICc value was lower (924 vs 1557); in this model seed biomass production was negatively significantly correlated with wild boar home range size (seed biomass production = − 85.37, SE = 12.12, t = − 7.045, p < 0.001), precipitation was positively correlated (autumn precipitation = 436.87, SE = 126.61, t = 3.45, p < 0.001) and temperature was negatively correlated (− 125.14, SE = 38.96, t = − 3.12). All terms were statistically significant and seed biomass production accounted for the 38% of the total deviance, while temperature accounted for 4.8% and precipitation only for 4%. R2 was 0.47 and model residuals were normally distributed (Shapiro-Wilk normality test = 0.930).

Only one synchronous null masting event was observed (2003); during this year, wild boar home range size (adults and subadults) averaged 779 ha (SE = 113 ha), compared to a total average of 407 ha (SE = 29 ha).
5

Conclusions

This study indicates that climate factors may shape forest dynamics through their influence on mast seeding, but also that the negative correlation between mast seeding and wild boar home range size is an important mechanism whose consequences should be taken into account. Adaptive management strategies require both an understanding of masting and their influence on the behaviour of pulsed resource consumers like wild boar, supporting an integrated wildlife-forest management approach.
Notes
Acknowledgements
We thank all other participants of PRIN project who contributed in discussion and shared unpublished results giving important indication to improve first draft of this manuscript. We further acknowledge the Ufficio Territoriale per la Biodiversità for climate data supply and all students and field assistants for wild boar data collection. We thank John Gurnell for useful comments. Finally, we acknowledge the Editor and two anonymous Reviewers for their precious comments.
Funding
This work was partially supported by the Italian Minister of Education, University and Research (PRIN 2010-2011, 20108 TZKHC).
Compliance with ethical standards
Following the Italian law 157/92 on wildlife management, the authors acquired the permission of catching wild boars in 2002 and 2005 from the Regional Government of Tuscany.
Conflict of interest
There are no conflicts of interest and research integrity and ethical standards are maintained.
Copyright information
© INRA and Springer-Verlag France SAS, part of Springer Nature 2018