Abstract
Context
Black truffle (Tuber melanosporum) cultivation is a promising agro-forestry alternative for Mediterranean rural areas, but adequate weed control at seedling establishment still remains a challenge in black truffle plantations.
Aims
The aim of this study is to evaluate the effects of several weed control strategies on early development of Quercus ilex seedlings and the symbiotic T. melanosporum.
Materials and methods
In a young black truffle-inoculated holm oak plantation, we assessed for 3 years the effects of two types of mechanical weed control and five mulches in a young Q. ilex plantation inoculated with T. melanosporum. Herbaceous cover, seedling growth and abundance of T. melanosporum mycelium, based on PCR analysis of soil DNA extracts using T. melanosporum-specific primers, were estimated to determine the effectiveness of these treatments in controlling weeds and supporting the growth of both the host tree and the target fungus.
Results
The amount of T. melanosporum mycelium in the soil 30 cm around the seedlings was larger under double-layer white mulch than in the rest of treatments tested. Under the white colour mulches, which had the largest light reflection, we registered the cooler soil temperature, and the best weed control was observed on the single- and double-layer black truffles and double-layer white mulch.
Conclusion
The effects of double-layer white mulch on herbaceous cover, soil temperature, reflected light, and the expansion of T. melanosporum bring us closer to being able to substitute traditional tilling of truffle orchards for the less expensive mulching treatments.
Access options
Buy single article
Instant access to the full article PDF.
US$ 39.95
Tax calculation will be finalised during checkout.
Subscribe to journal
Immediate online access to all issues from 2019. Subscription will auto renew annually.
US$ 79
Tax calculation will be finalised during checkout.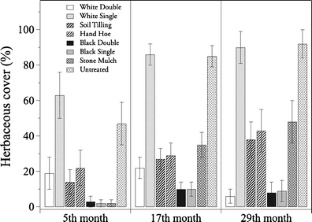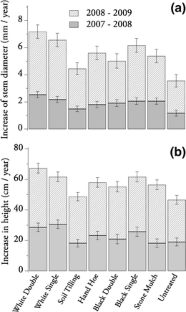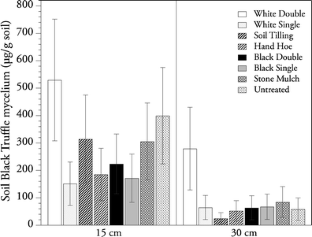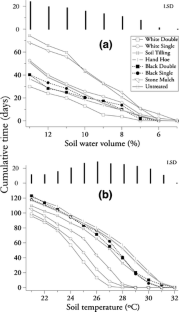 References
Águeda B, Fernández-Toirán LM, de Miguel AM, Martínez Peña F (2010) Ectomycorrhizal status of a mature productive black truffle plantation. For Syst 19:89–97

Allen RG, Pereira LS, Raes D, Smith M (1998) Crop evapotranspiration. Guidelines for computing crop water requirements. FAO Irrigation and drainage paper 56, Rome

Atkinson CJ, Dodds PA, Ford YY, Le Miere J, Taylor JM, Blake PS, Paul N (2006) Effects of cultivar, fruit number and reflected photosynthetically active radiation on Fragaria x ananassa productivity and fruit ellagic acid and ascorbic acid concentrations. Ann Bot 97:429–441. doi:10.1093/aob/mcj04610.1093/aob/mcj046

Bonet JA, Fischer CR, Colinas C (2006) Cultivation of black truffle to promote reforestation and land-use stability. Agron Sustain Dev 26:69–76. doi:10.1051/agro:2005059

Bourrieres D, Ricard JM (2008) Effects on soil management on the evolution of young plants mycorrhized with Tuber melanosporum. 3° Congresso Internazionale Di Spoleto Sul Tartufo. Comunità Montana del monti Martani e del Serrano, Spoleto, p 102

Brüggemann J, Stephen JR, Chang YJ, Macnaughton SJ, Kowalchuk GA, Kline E, White DC (2000) Competitive PCR–DGGE analysis of bacterial mixtures: an internal standard and an appraisal of template enumeration accuracy. J Microbiol Meth 40:111–123

Büntgen U, Egli S, Camarero JJ, Fischer EM (2012) Drought-induced decline in Mediterranean truffle harvest. Nat Clim Chang 2:827–829

Bustan A, Ventura Y, Kagan-Zur V, Roth-Bejerano N (2006) Optimized conditions for mycorrhiza formation between the pink rockrose (Cistus incanus) and the black Pèrigord truffle (Tuber melanosporum). Isr J Plant Sci 54:87–96

Castrignanò A, Goovaerts P, Lulli L, Bragato G (2000) A geostatistical approach to estimate probability of occurrence of Tuber melanosporum in relation to some soil properties. Geoderma 98:95–113

Colinas C, Capdevila JM, Oliach D, Fischer CR, Bonet JA (2007) Mapa d'aptitud per al cultiu de la tòfona negra (Tuber melanosporum Vitt.) a Catalunya. CTFC, Solsona

Davis MA, Wrage KJ, Reich PB, Tjoelker MG, Schaeffer T, Muermann C (1999) Survival, growth, and photosynthesis of tree seedlings competing with herbaceous vegetation along a water-light-nitrogen gradient. Plant Ecol 145:341–350

Díaz-Pérez JC, Dean Batal K (2002) Colored plastic film mulches affect tomato growth and yield via changes in root-zone temperature. J Am Soc Hortic Sci 127:127–136

Domínguez Núñez JA, Serrano JS, Barreal JAR, González JAS (2006) The influence of mycorrhization with Tuber melanosporum in the afforestation of a Mediterranean site with Quercus ilex and Quercus faginea. For Ecol Manag 231:226–233. doi:10.1016/j.foreco.2006.05.052

Green SR, McNaughton KG, Greer DH, McLeod DJ (1995) Measurement of the increased PAR and net all-wave radiation absorption by an apple tree caused by applying a reflective ground covering. Agr Forest Meteorol 76:163–183

Guidot A, Debaud JC, Marmeisse R (2002) Spatial distribution of the below‐ground mycelia of an ectomycorrhizal fungus inferred from specific quantification of its DNA in soil samples. FEMS Microbiol Ecol 42:477–486

Heißner A, Schmidt S, von Elsner B (2005) Comparison of plastic films with different optical properties for soil covering in horticulture: test under simulated environmental conditions. J Sci Food Agric 85:539–548. doi:10.1002/(ISSN)1097-0010

Hytonen J, Jylha P (2005) Effects of competing vegetation and post-planting weed control on the mortality, growth and vole damages to Betula pendula planted on former agricultural land. Silva Fenn 39:365

Kües U, Martin F (2011) On the road to understanding truffles in the underground. Fungal Genet Biol 48:555–560. doi:10.1016/j.fgb.2011.02.002

Kummel M, Lostroh P (2011) Altering light availability to the plant host determined the identity of the dominant ectomycorrhizal fungal partners and mediated mycorrhizal effects on plant growth. Botany Bot 89:439–450

Le Tacon F, Zeller B, Plain C, Hossann C, Brechet C, Robin C (2013) Carbon transfer from the host to Tuber melanosporum mycorrhizas and ascocarps followed using a 13C pulse-labeling technique. PLoS One 8(5):e64626. doi:10.1371/journal.pone.0064626

Lefevre C, Hall I (2001) The status of truffle cultivation: a global perspective. V International Congress on Hazelnut, ISHS, Corvallis, pp 513–520

Lipecki J, Berbec S (1997) Soil management in perennial crops: orchards and hop gardens. Soil Tillage Res 43:169–184

Littell RC, Milliken GA, Stroup WW, Wolfinger RD, Schabengerger O (2006) Analysis of repeated measures data, in SAS for mixed models. 2nd. SAS Institute Inc. Carry, edn pp 159–202

Martínez de Aragón J, Fischer C, Bonet JA, Olivera A, Oliach D, Colinas C (2012) Economically profitable post fire restoration with black truffle (Tuber melanosporum) producing plantations. New For 43:615–630. doi:10.1007/s11056-012-9316-x

Navarro Cerrillo RM, Fragueiro B, Ceaceros C, del Campo A, de Prado R (2005) Establishment of Quercus ilex L. subsp. ballota [Desf.] Samp. using different weed control strategies in southern Spain. Ecol Eng 25:332–342. doi:10.1016/j.ecoleng.2005.06.002

Olivera A, Fischer CR, Bonet JA, Martínez de Aragón J, Oliach D, Colinas C (2011) Weed management and irrigation are key treatments in emerging black truffle (Tuber melanosporum) cultivation. New For 42:227–239. doi:10.1007/s11056-011-9249-9

Paolocci F, Rubini A, Riccioni C, Granetti B, Arcioni S (2000) Cloning and characterization of two repeated sequences in the symbiotic fungus Tuber melanosporum Vitt. FEMS Microbiol Ecol 34:139–146

Parladé J, Hortal S, Pera J, Galipienso L (2007) Quantitative detection of Lactarius deliciosus extraradical soil mycelium by real-time PCR and its application in the study of fungal persistence and interspecific competition. J Biotechnol 128:14–23

Parladé J, de la Varga H, de Miguel AM, Sáez R, Pera J (2013) Quantification of extraradical mycelium of Tuber melanosporum in soils from truffle orchards in northern Spain. Mycorrhiza 23:99–106

Peñuelas J, Filella I, Llusia J, Siscart D, Piñol J (1998) Comparative field study of spring and summer leaf gas exchange and photobiology of the Mediterranean trees Quercus ilex and Phillyrea latifolia. J Exp Bot 49:229–238

Pinty B, Widlowski J-L, Verstraete MM, Andredakis I, Arino O, Clerici M, Kaminski T, Taberner M (2011) Snowy backgrounds enhance the absorption of visible light in forest canopies. Geophys Res Lett 38:1–5. doi:10.1029/2010GL046417

Rajapakse NC, Shahak Y (2007) Light quality manipulation by horticulture industry. In: Whitelam GC, Halliday KJ (eds) Annual plant reviews. Light and plant development, vol 30. Blackwell, Oxford, pp 290–312

Ramakrishna A, Tam H, Wani S, Long T (2006) Effect of mulch on soil temperature, moisture, weed infestation and yield of groundnut in northern Vietnam. Field Crop Res 95:115–125. doi:10.1016/j.fcr.2005.01.030

Ramsey F, Schafer D (2002) The statistical sleuth: a course in methods of data analysis, 2nd edn. Buxbury, Pacific Grove

Reicosky DC, Allmaras RR, Shrestha A (2003) Advances in tillage research in North American cropping systems. In: Shrestha A (ed) Cropping systems: trends and advances Part I. Haworth, New York, pp 75–125

Rey Benayas JM, Navarro J, Espigares T, Nicolau JM, Zavala MA (2005) Effects of artificial shading and weed mowing in reforestation of Mediterranean abandoned cropland with contrasting Quercus species. For Ecol Manag 212:302–314. doi:10.1016/j.foreco.2005.03.032

Rubini A, Paolocci F, Granetti B, Arcioni S (1998) Single step molecular characterization of morphologically similar black truffle species. FEMS Microbiol Lett 164:7–12

Samils N, Olivera A, Danell E, Alexander I, Fischer CR, Colinas C (2008) The socioeconomic impact of truffle cultivation in rural Spain. Econ Bot 62:331–340. doi:10.1007/s12231-008-9030-y

SAS Institute Inc. (1999) The MIXED procedure, in SAS/STAT V8 User's Guide) SAS Institute Inc., Cary, pp 5234–5426

Saxton KE, Rawls WJ (2006) Soil water characteristic estimates by texture and organic matter for hydrologic solutions. Soil Sci Soc Am J 70:1569. doi:10.2136/sssaj2005.0117

Suz LM, Martin MP, Colinas C (2006) Detection of Tuber melanosporum DNA in soil. FEMS Microbiol Lett 254:251–257. doi:10.1111/j.1574-6968.2005.00029.x

Suz LM, Martín MP, Oliach D, Fischer CR, Colinas C (2008) Mycelial abundance and other factors related to truffle productivity in Tuber melanosporum-Quercus ilex orchards. FEMS Microbiol Lett 285:72–78. doi:10.1111/j.1574-6968.2008.01213.x

Verdú A, Mas M (2007) Mulching as an alternative technique for weed management in mandarine orchard tree rows. Agron Sustain Dev 27:367–375. doi:10.1051/agro:2007028

Wallander H (2006) External mycorrhizal mycelia—the importance of quantification in natural ecosystems. New Phytol 171:240–242

Zambonelli A, Iotti M, Zinoni F, Dallavalle E, Hall IR (2005) Effect of mulching on Tuber uncinatum ectomycorrhizas in an experimental truffière. N Z J Crop Hortic Sci 33:65–73

Zampieri E, Rizzello R, Bonfante P, Mello A (2012) The detection of mating type genes of Tuber melanosporum in productive and non productive soils. Appl Soil Ecol 57:9–15
Acknowledgement
We thank Lluís Bonet and Jordi Bonet for allowing us to use their truffle orchard to carry out this study and for their help in treatment application, C.R. Fischer for helpful suggestions and English support, and the reviewers and editors that helped improve the quality of this manuscript.
Funding
This study was partially funded by the Subdirección General de Proyectos de Investigación, Ministerio de Ciencia e Innovación of Spain (research grant AGL2010-22354-C02-0) and by the Direcció General de Desenvolupament Rural, Departament d'Agricultura, Ramaderia, Pesca, Alimentació i Medi Natural, Generalitat de Catalunya.
Additional information
Contribution of the co-authors
José Antonio Bonet: writing and supervising the work
Lorena Palacio: running laboratory and field works
Bing Liu: running laboratory and field works
Carlos Colinas: coordinating the research project and writing and supervising the manuscript
Handling Editor: Ana Rincon
About this article
Cite this article
Olivera, A., Bonet, J.A., Palacio, L. et al. Weed control modifies Tuber melanosporum mycelial expansion in young oak plantations. Annals of Forest Science 71, 495–504 (2014). https://doi.org/10.1007/s13595-014-0360-x
Received:

Accepted:

Published:

Issue Date:
Keywords
Tuber melanosporum
Quercus ilex

Mulch

Soil mycelium

Weed control