Abstract
Context
Cluster planting has become a conventional establishment method for oaks in Central Europe, where the spacing of seedlings within clusters varies between 'nests' (0.2 × 0.2 m) and 'groups' (1 × 1 m). Although the space between clusters is expected to fill with voluntary regeneration, its competitive effect on oak growth and quality had not been studied yet.
Aims
The aim of the study was to analyse the effects of inter- and intraspecific interactions on growth and quality of oaks grown in cluster plantings by quantifying the influence of neighbouring trees. In addition, we analysed whether the spatial position of oaks within groups (inner section or periphery) influenced their quality development.
Methods
Using Hegyi's competition index, the influence of competition from intra- and interspecific trees from early, mid- and late-successional species, on diameter, height, slenderness and quality (length of branch-free bole) of 10- to 26-year-old oaks grown in cluster planting stands was quantified at seven sites in Baden-Württemberg and Hessen, Germany.
Results
In general, mid- and late-successional trees exerted a stronger competitive influence on growth of target oaks in clusters than the conspecific oaks and pioneer tree species. Oak quality development benefited from intraspecific competition, but self-pruning was not further promoted through additional interspecific competition. Within groups, inner oaks had a higher probability of developing into potential future crop trees than outer oaks.
Conclusion
Our study showed that intra- and interspecific competition had different effects on target oak trees and that these effect differed between nest and group plantings. The development of naturally regenerated and planted trainer trees in group plantings should be monitored carefully and if necessary be controlled through thinning or pollarding.
Access options
Buy single article
Instant access to the full article PDF.
US$ 39.95
Tax calculation will be finalised during checkout.
Subscribe to journal
Immediate online access to all issues from 2019. Subscription will auto renew annually.
US$ 79
Tax calculation will be finalised during checkout.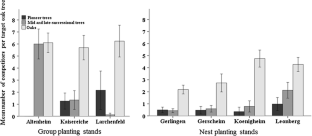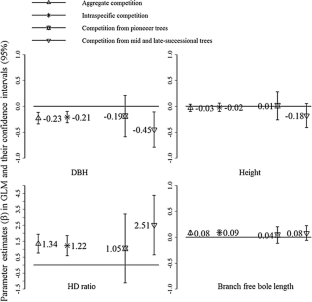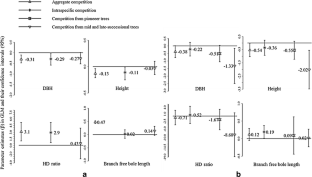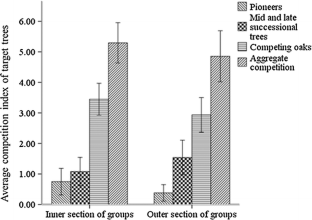 References
Ammer C, Dingel C (1997) Investigating the effects of strong competition by inferior tree species on growth and quality of young European oaks. Forstwiss Cent Bl 116:346–358

Ammer C, Ziegler C, Knoke T (2005) Assessing intra- and interspecific competition in thickets of broadleaved tree species. Allg Forst Jagdztg 176:85–94

Anderson ML (1930) A new system of planting. Scott For J 44:78–89

Binkley D, Campoe OC, Gspaltl M, Forrester DI (2013) Light absorption and use efficiency in forests: why patterns differ for trees and stands. For Ecol Manag 288:5–13

Börner M, Guericke M, Leder B, Nutto L, Stähr F, Weinreich A (2003) Erhebung qualitätsrelevanter Parameter am Einzelbaum—Aufnahmestandards für junge bis mittelalte Laubhölzer als Grundlage für wissenschaftliche Untersuchungen. Forstarchiv 74:275–282

Brang P, Bürgi A (2004) Trupppflanzung im test. Zürcher Wald 36:13–16

Dong P.H., Eder W, Muth M (2007) Eichen-Nesterpflanzungsversuche in Rheinland-Pflaz—Ergebnisse eines 15jährigen Beobachtungszeitraums. Paper presented at the Eiche im Pfälzerwald, Trippstadt, Germany. http://www.wald-rlp.de/fileadmin/website/fawfseiten/fawf/downloads/Mitteilungen/Mitteilung-63_2007/Mitteilung-63_2007-2_Dong-Eichen-Nesterpflanzungen.pdf. Accessed 21 Oct 2013

Drouineau S, Laroussinie O, Yves Birot, Terrasson D, Formery T, Roman-Amat B (2000) Joint evaluation of storms, forest vulnerability and their restoration. Discussion paper 9. European Forest Institute, Joensuu, Finland. ISBN: 952-9844-81-6

Ehring A, Keller O (2006) Eichen-Trupp-Pflanzung in Baden-Württemberg. AFZ/Der Wald 61:491–494

Fischer H (2000) Qualitätsverbesserung bei jungen Traubeneichen (Quercus petraea Liebl.) allein durch innerartliche Konkurrenz. Forst und Holz 55:377–382

Gauer J, Aldinger E (2005) Waldökologische Naturräume Deutschlands - Forstliche Wuchsgebiete und Wuchsbezirke, mit Karte 1: 100.000. Mitteilungen des Vereins für Forstliche Standortskunde und Forstpflanzenzüchtung. Freiburg i. Br. 43: p. 324

Gaul T, Stüber V (1996) Der Eichen-Nelder-Verbandsversuch Göhrde. Forst und Holz 51:70–75

Gea-Izquierdo G, Canellas I, Montero G (2008) Site index in agroforestry systems: age-dependent and age-independent dynamic diameter growth models for Quercus ilex in Iberian open oak woodlands. Can J For Res 38:101–113

Gockel H (1995) Die Trupp-Pflanzung, Ein neues Pflanzschema zur Begründung von Eichenbeständen. Forst und Holz 50:570–575

Guericke M, Petersen R, Blanke S (2008) Wachstum und Qualität von Eichennestern in Nordwestdeutschland. Forst und Holz 63:58–63

Gürth P, Velasquez C (1991) Qualitätsuntersuchungen an Eichenjungbeständen im Markgräflerland. Forst und Holz 46:671–677

Hegyi F (1974) A simulation model for managing Jack-pine stands. In: Fries J (ed) Growth models for tree and stand simulation, research notes Nr 30. Royal College of Forestry, Stockholm, pp 74–90

Kuehne C, Kublin E, Pyttel P, Bauhus J (2013) Growth and form of Quercus robur and Fraxinus excelsior respond distinctly different to initial growing space: results from 24-year-old Nelder experiments. J For Res 24:1–14

Leder B (1996) Weichlaubhölzer im Eichen- und Buchen-jungbeständen. Forst und Holz 51:340–344

Leder B (2007) Wachstum und qualitative Entwicklung von Eichennestern. AFZ/Der Wald 62:420–423

McCullagh P, Nelder J (1989) Generalized linear models. Chapman & Hall/CRC, London

McLeod KW, Reed MR, Nelson EA (2001) Influence of a willow canopy on tree seedling establishment for wetland restoration. Wetlands 21:395–402

Olano JM, Laskurain NA, Escudero A, De La Cruz M (2009) Why and where do adult trees die in a young secondary temperate forest? The role of neighbourhood. Ann For Sci 66:105

Petersen R (2007) Eichen-Trupp-Pflanzung—erste Ergebnisse einer Versuchsfläche im NFA Neuhaus. Forst und Holz 62:19–25

Petersen R, Schüller S, Ammer C (2009) Early growth of planted pedunculate oak (Quercus petraea) in response to varying competition by birch (Betula pendula) over 8 years. Forstarchiv 80:208–214

Pretzsch H, Biber P (2010) Size-symmetric versus size-asymmetric competition and growth partitioning among trees in forest stands along an ecological gradient in central Europe. Can J For Res 40:370–384

R Development Core Team (2011) R: a language and environment for statistical computing, 2.14.0 edn. R Foundation for Statistical Computing, Vienna

Rock J, Puettmann KJ, Gockel HA, Schulte A (2004) Spatial aspects of the influence of silver birch (Betula pendula L.) on growth and quality of young oaks (Quercus spp.) in central Germany. Forestry 77:235–247

Röhrig E, Bartsch N, Lüpke vB (2006) Waldbau auf ökologischer Grundlage. Eugen Ulmer, Stuttgart

Saha S (2012) Development of tree quality, productivity, and diversity in oak (Quercus robur and Q. petraea) stands established by cluster planting. Dissertation, Albert Ludwigs University of Freiburg

Saha S, Kuehne C, Kohnle U, Brang P, Ehring A, Geisel J, Leder B, Muth M, Petersen R, Peter J, Ruhm W, Bauhus J (2012) Growth and quality of young oaks (Quercus robur and Q. petraea) grown in cluster plantings in central Europe: a weighted meta-analysis. For Ecol Manag 283:106–118

Saha S, Kuehne C, Bauhus J (2013) Tree species richness and stand productivity in low-density cluster plantings with oaks (Quercus robur L. and Q. petraea (Mattuschka) Liebl.). Forests 4:650–665

Swanson ME, Franklin JF, Beschta RL, Crisafulli CM, DellaSala DA, Hutto RL, Lindenmayer DB, Swanson FJ (2010) The forgotten stage of forest succession: early-successional ecosystems on forest sites. Front Ecol Environ 9:117–125

Szymanski S (1986) Die Begründung von Eichenbeständen in "Nest-Kulturen". Forst- und Holz 41:3–7

Tonioli M, Escarre J, Lepart J, Speranza M (2001) Facilitation and competition affecting the regeneration of Quercus pubescens Willd. Ecoscience 8:381–391

von Lüpke B (1991) Einfluss der Konkurrenz von Weichlaubholz auf das Wachstum junger Traubeneichen. Forst und Holz 46:166–171

von Lüpke B (1998) Silvicultural methods of oak regeneration with special respect to shade tolerant mixed species. For Ecol Manag 106:19–26

Wagner S, Röker B (2000) Birkenanflug in Stieleichenkulturen. Untersuchungen zur Dynamik der Konkurrenz über 5 Vegetationsperioden. Forst und Holz 55:18–22

Waring RH, Schlesinger WH (1985) Forest ecosystems: concepts and management. Academic, Florida

Wykoff WR (1990) A basal area increment model for individual conifers in the northern Rocky-mountains. For Sci 36:1077–1104
Acknowledgments
The author gratefully acknowledges the receipt of a PhD scholarship from the German Academic Exchange Service (DAAD). We thank the State Forestry Administration of Rheinland-Pfalz, the Georg-Ludwig-Hartig Stiftung, and the Graduate School 'Environment, Society and Global Change' of Albert Ludwigs University of Freiburg for providing financial support. We are thankful to Prof. Dr. Ulrich Kohnle of the Forest Research Institute of Baden-Württemberg for providing valuable information on cluster planting trials. We thank Dr. David Forrester for providing comments and suggestions on a previous version of the manuscript and English corrections. We are also thankful to Ms. Charlotte Krebs who helped with field data collection and database preparation.
Additional information
Contribution of the co-authors
Somidh Saha and Jürgen Bauhus jointly developed the research concept and experimental design. Jürgen Bauhus provided doctoral supervision to the first author. Somidh Saha carried out the field work and did all statistical analysis. Somidh Saha, Christian Kuehne and Jürgen Bauhus wrote the manuscript. Christian Kuehne also participated in field data collection. Parts of the results in relation to the first hypothesis were presented as a poster at the German Forestry conference: 'Forest-Climate-Energy' (Forstwissenschaftlichen Tagung, 'Wald-Umwelt-Energie'), at Weihenstephan, Germany, from 19 to 22 September 2012. However, only the abstract (ca. 200 words) was published in the conference proceeding.
Handling Editor: Jean-Michel Leban
About this article
Cite this article
Saha, S., Kuehne, C. & Bauhus, J. Intra- and interspecific competition differently influence growth and stem quality of young oaks (Quercus robur L. and Quercus petraea (Mattuschka) Liebl.). Annals of Forest Science 71, 381–393 (2014). https://doi.org/10.1007/s13595-013-0345-1
Received:

Accepted:

Published:

Issue Date:
Keywords
Intraspecific competition

Interspecific competition

Facilitation

Stem quality

Cluster planting

Generalized linear models